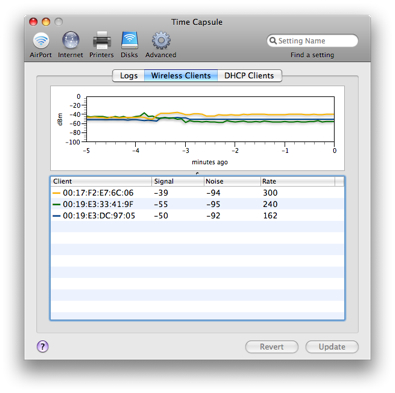 Earlier versions of the WiFi specification all used the 2.4GHz radio spectrum. The new 802.11n standard, supported in Time Capsule, the square AirPort Extreme, and recently shipping AirPort Express units, allows users to alternatively select the use of 5GHz channels. This segment, the third of six, compares the pros and cons of using this new section of frequencies, which can be both problematic and provide a major boost in speed.
Continues: Exploring Time Capsule: WiFi 802.11n and the 5GHz band
Previous articles related to Time Capsule and its AirPort Extreme cousin:
Exploring Time Capsule: theoretical speed vs practical throughput
Exploring Time Capsule: how it fits into Apple's AirPort family
An in-depth review of Apple's 802.11n AirPort Extreme Base Station
Apple Time Capsule unboxing and preview
A Look Inside Apple's New Time Capsule
Answers to Time Capsule reader questions
March 31, 2008 2 Comments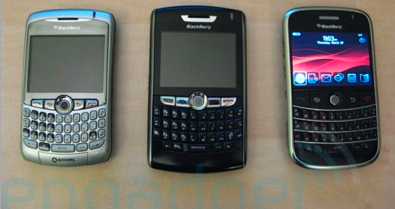 Daniel Eran Dilger
Engadget profiled RIM's new iPhone styled BlackBerry 9000 (above on the right, aping the iPhone's chrome and black style but lacking its touchscreen), calling it sexy and praising its "beautiful user interface, which has been totally revamped from the ground up; gone is the cartoonish look and feel of the current lineup, replaced with a modern, warm theme with wireframe icons and slick animations."
March 31, 2008 26 Comments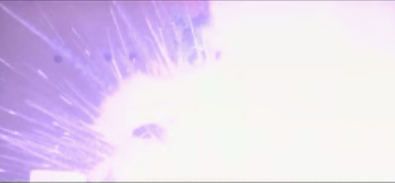 Daniel Eran Dilger
Responding to the article "Mac Shot First: 10 Reasons Why CanSecWest Targets Apple," Thom Holwerda of OSNews wrote a point by point essay titled "Countering Misinformation" that described my article as "an unrivaled wealth of misinformation, [with] some things even bordering on slander." Of course, one can't write slander (it's called libel), but his serious accusations failed to refute any of the points I raised, and really betray his effort to smear me rather than correct any facts I presented. He's wrong, here's why.
Countering misinformation, OSNews
Mac Shot First: 10 Reasons Why CanSecWest Targets Apple
March 31, 2008 22 Comments