Is Number Two Amazon Rivaling iTunes in Music Sales? Haha No
March 27th, 2008

Daniel Eran Dilger
Jefferson Graham of USA Today reports that Amazon's MP3 store "has quietly become No. 2 in digital sales since opening nearly six months ago," behind Apple's iTunes. That idea is being widely publicized by the big music labels, who hope to gain some leverage against Apple in order to push their own plans for the future of music sales. But is it accurate, is Amazon any threat to Apple's iTunes, and what effect will the rumored plans for iPod-bundled music have on the online music industry? Here's a look.

Amazon takes on Apple with copy-protection-free music – USATODAY.com

EMI and iTunes Plus
Graham noted that Apple pioneered DRM-free track sales with EMI, and hoped to expand the "iTunes Plus" deal to other major music labels. Apple offered the labels a cut of premium priced $1.29 tracks in exchange for DRM-free distribution of higher quality, 256kps audio files for users
Steve Jobs was so certain that DRM-free distribution would be a win for both users and labels that he predicted that half the music in iTunes would be DRM-free by the end of 2007. As Graham noted, the big labels outside of EMI scrambled to set up shop with other vendors instead. Only about a third of iTunes' music is currently DRM-free.
The music industry was already spooked that Apple had amassed too much clout as a music retailer and was changing the business too rapidly. Previous efforts by the labels to set up their own online music stores had all been massive failures, and efforts to partner with Microsoft's PlaysForSure Windows Media music store licensing programs had similarly tanked. There has not been, and there current is not any music retailer that even approaches the success of iTunes. That left Apple with a lot of leverage, too much in the eyes of some music executives.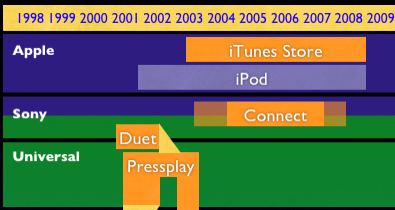 Rise of the iTunes Killers Myth
The iTunes-iPod Monopoly Myth.
Prior to the announcement of iTunes Plus, pundits were insisting that Apple was using DRM to monopolize the market by tying music sales to the success of the iPod. However, the reality was that DRM on music downloads was a condition placed by the music labels, not by Apple.
Further, the relatively small amount of music being sold via iTunes was not a significant factor in tying people to the iPod, nor was the DRM difficult to remove for use on other devices, from CD-R players to alternative MP3 devices.
Unlike the Windows PC, where every software title purchased tied the user to Windows, the average iPod user only has around 25 iTunes purchased tracks. That means they only have to burn two CD-Rs before they are free to switch to any other MP3 player. There was no tied up, anti-competitive market distortion going on; the iPod was simply a much better product than what other vendors were selling, and it continues to be today.
Interestingly, despite all the lamentation by pundits about the cruel domination of iTunes, it was Microsoft's Windows Media, Sony's ATRAC, and Real Networks' Rhapsody that sought to tie users to buying specific hardware. Apple openly supported interoperable formats from the beginning in both the iPod and iTunes. That had far more to do with Apple's success than the trivial amount of FairPlay tracks purchased by the average iPod users.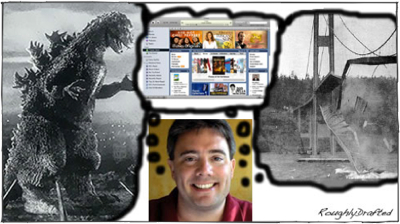 The iTunes Monopoly/Failure Myth
The DRM Dilemma.
Jobs publicly voiced Apple's opinion of DRM in a letter posted under the title "Thoughts on Music." The media largely reported this as a desperate turnaround in position, despite the fact that Jobs had said the very same things in a 2003 RollingStone interview before iTunes had even ever taken off dramatically.
Jobs had consistently maintained for years that the labels' insistence on DRM for music downloads didn't make any sense because they were also selling the same music on CD, which lacked any DRM protection. DRM was only impeding the market for legitimate online sales.
Music sales differed from movies in that films were being sold on DVD, which was already protected by DRM (albeit somewhat ineffectually). Jobs wasn't vilifying DRM as a way to manage digital rights; he was simply pointing out that DRM wasn't really serving anyone's interests in the music business. By removing DRM, Jobs insisted that the labels could legitimately sell far more music, offsetting any minor increase in casual piracy.
Apple – Thoughts on Music
Steve Jobs and the iTunes DRM Threat to Microsoft
Amazon, You're Our Only Hope.
Shortly after being shamed by Apple's iTunes Plus deal with EMI, the other three big labels, Warner, Sony/BMG, and Universal, began selling DRM-free music through Amazon in the older MP3 format. Those three labels have refused to sell DRM-free music in iTunes.
Their intent was clear: the labels hoped to water down Apple's retail marketing power. Apple had pushed for lighter-duty DRM back in 2003 (compared to the totalitarian Windows Media DRM), and won. Apple pushed for single track sales and won. It pushed for simple 99 cent pricing and won. It now was pushing for DRM-free delivery and was making progress. The big labels were furious that Apple was reforming the stuffy RIAA to serve the needs of listeners and musicians rather than seeking to advance the failed status quo, as Windows Media had.
If Apple continued to gain retail stature, the labels feared that iTunes would be able to liberalize the music business even further, perhaps even promoting independent labels with enough market presence to render the big music labels irrelevant.
By throwing their DRM-free support behind Amazon and other retailers, including Wal-Mart, Rhapsody, Best Buy and Target, the labels hoped to undermine the success of iTunes. Once completed, the labels could then return the music business back to a comfortable market fantasy where music:
was only available as complete albums,
was only available in draconian new DRM formats,
and was only available at variable pricing set by the labels to get the most out of popular tracks while also using low tier pricing as a leveraged threat to negotiate with their music acts. In other words, "sign here or we'll make you a fifty cent bargain bin band." Labels love the power of variable pricing that iTunes killed.
Universal vs Apple in the iTunes Store Contracts
Are the Labels Winning?
The three labels colluding to refuse to sell DRM-free music in iTunes are trying to spin the tale that their ploy is working, and that the success of iTunes is coming undone while their new partners, including Amazon, are ascending to an equal status. That is not really happening by any stretch of the imagination however.
Apple has a 6 million track catalog, of which 2 million are DRM-free tracks from EMI and independent labels. Amazon has 4.5 million DRM-free tracks from all four of the top labels. That's over twice as many DRM-free tracks as iTunes, but Amazon also lacks a million and a half indie tracks that fill out iTunes' catalog.
Even more important than the catalog size is Amazon's actual sales. The retailer won't say how many MP3 tracks it's selling, just as it won't say how many Kindle book readers it has sold, just as Microsoft won't say how many Zune units its sold, and just as Apple won't release how many Apple TV units it has sold. Nobody brags about sales numbers that aren't impressive.
On the other hand, Apple has widely publicized sales of over 4 billion tracks and its iTunes business is accelerating. iTunes has become the number two retailer of music worldwide after Wal-Mart, which sells the vast majority of its music as loss-leader CDs. According to Nielsen SoundScan figures cited by USA Today, the market for CDs has declined from 89.2 million to 74.3 million year over year between 2007 and 2008, a fall of nearly 20%. In the same period, digital downloads have grown from 189 million to 239 million tracks year over year, an increase of 26%.
The digital downloads market is still considerably smaller; 239 million tracks are equivalent to around 24 million albums, or roughly a third of the 74 million CDs sold. Still, Apple's retail acceleration and the stagnancy of CDs means that iTunes is poised to become the world's biggest music retailer later this year.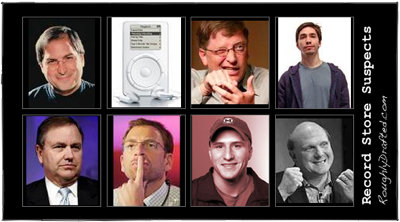 Did iTunes Kill the Record Store?
In What Sense Is Amazon Number Two?
What about Amazon? While the labels are working hard to spin Amazon as the "number two retailer of music downloads," in order to suggest that iTunes has stiff competition, the reality is that Amazon is so far behind iTunes that it is approaching irrelevance. Apple continues to hold on to 80% of the market for digital downloads, leaving Amazon a very small slice of the pie–which also shared with every other online music retailer–making its "number two" status nothing noteworthy.
Amazon is number two because outside of iTunes, there are no effective retailers selling music that a large population wants to buy. The market for selling music–or more accurately licensing music playback rights–is not very profitable. Wal-Mart and the big box retailers snuffed out record stores by offering CDs at low loss leader prices as a way to get shoppers into their stores.
If there were huge profits to be made in selling music, there would be music stores on every corner and digital outlets would be springing up everywhere. In reality, the labels themselves live off the largest cut of music sales, and trickle some money down to the performing artists. Retailers have very little left to make any money on. That's why online music retailers have been going out of business and regrouping nearly faster than they've sprung up, and is again why being number two behind iTunes means so little, even if the labels are working hard to publicize the presence of a "number two" in order to create the appearance of something that isn't the case.
iTunes Does The Most With The Least.
At the unveiling of the iFund for iPhone software development, venture capitalist John Doerr described entrepreneurs as those that "do more than anyone thinks possible with less than what people think is possible."
Using the razor thin margins of media sales, iTunes has done just that. It has turned around the music industry, offering a way for labels to earn legitimate sales on convenient, cheap file downloads designed to appeal to users. The reason other digital retailers have failed to match iTunes has little to do with the success of the iPod, and more to do with those other players trying to earn too much in a business that is expensive to run.
Apple turned things around by making iTunes simply a reason to buy the iPod. Microsoft was hoping that Windows Media DRM would provide massive profits from software sales that would float a complex arrangement of media stores and device manufacturers. It didn't work out because there was no huge demand for buying digital music, particularly when encumbered with the over the top DRM restrictions of Microsoft's Windows Media.
Apple grew iTunes progressively without demanding back huge profits. In fact, the company has consistently maintained that iTunes is purposely run at just slightly above breaking even in order to primarily serve as an auxiliary service to lubricate the sales of iPods. That was repeated in Apple's most recent earnings report. Given that Amazon's MP3 store actually serves the same purpose of delivering iPod-friendly tracks, Apple is not threatened by its existence. Amazon's MP3 sales align with Apple's desire to maintain a healthy market for Mac and iPod compatible music.
Analysts, Investors Take Apple to Task For its Best Quarter Ever
Best Quarter Ever: a closer look at Apple's record Q108 earnings
Does Amazon Threaten iTunes At All?
Apple doesn't need to own the music business, it just needs to control enough of it in order to prevent Microsoft or others from instituting a DRM monopoly that lacks compatibility with the Mac and iPod hardware, as Windows Media did. If a thousand retailers begin offering DRM-free music in MP3 or AAC formats, they will only serve the needs of Apple. The only threat to iTunes is a resurgence of proprietary DRM that won't work on the iPod, an increasingly dim prospect in a world where "iPod" is now synonymous with music player.
While the music industry is trying hard to suggest that Amazon is in second place and that iTunes must therefore be weakening, the reality is that there's no big money in music sales for retailers. That's the real barrier to online music sales. iTunes isn't a fiercely anti-competitive player, it's just doing the most with the least in a way that is very difficult for lessors to compete against.
While Warner, Sony/BMG, and Universal may hope to undermine iTunes in an effort to shift bargaining power from Apple as a retailer back to a 1990s label-centric model where RIAA members consistently raised music prices and arbitrarily forced bad deals upon musicians, that bad dream is now dead. Apple has opened the music industry up in a way that can't be stuffed back into a box.
Wide scale piracy and the emergence of a variety of competing sources of entertainment have put the music industry up against the wall. Its best hope is to partner with retailers who are pioneering new delivery mechanisms to sell their product, rather than trying to marginalize their best seller in an ill fated attempt to turn back the clock.
Music as a Sponsored Utility.
Fortunately, the RIAA hasn't learned anything in the last decade, and its ineffectual actions are doing nothing to sideline the concerted, entrepreneurial efforts that Apple is investing in iTunes to democratize music and convert music retail sales from a profiteering business into a utility that serves up culture, sponsored by sales of the company's hardware.
That's an attractive proposition for artists, who have historically been best served by and liberated from artistic constraints when sponsored by a wealthy patron rather than being forced to hawk their art as a commercial product themselves, or even worse, being pimped out by a middle man (label) who profits from their work more than they do.
Apple's sponsorship role in distributing music for the labels, as well as independent labels and musicians who act as their own label, has resulted in cheap and flexible music sales that actually support the work of artists. The next step, as rumored in recent reports, is for Apple to bundle music playback licensing into sales of its iPod and iPhone hardware. This would take advantage of the concept I like to repeat that consumers like to buy hardware but are loath to pay for software.
The idea of bundling music access into the hardware price of playback devices has already raised the ire of other music retailers, particularly eMusic, despite the rumored plans not even being public nor officially sanctioned yet. Such an argument sounds like bookstores complaining about Andrew Carnegie sponsoring libraries, Hollywood complaining about Canada sponsoring filmmakers, or TV producers irate that the BBC or PBS sponsors programming.
Profiteers of culture beware: Apple's multibillion dollar clout is going to continue to sponsor and promote music, video, and software through iTunes at a price point that will seriously undercut your business plan of making money off the work of artists. And seriously, it will be hard to feel any pity for you.
I really like to hear from readers. Comment in the Forum or email me with your ideas.
Like reading RoughlyDrafted? Share articles with your friends, link from your blog, and subscribe to my podcast! Submit to Reddit or Slashdot, or consider making a small donation supporting this site. Thanks!
Technorati Tags: Apple, Apple TV, DRM, History, iPhone, iPod, Microsoft, Software, the Media