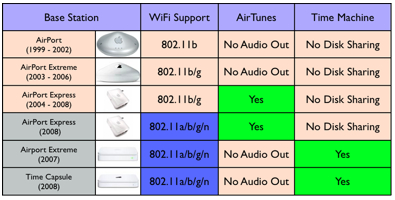 Time Capsule, announced at this years' Macworld Expo, serves as a simple rebranding of the AirPort Extreme with an integrated hard drive and power supply. Apple sells the new Time Capsule next to last years AirPort Express and the compact AirPort Express. This segment, the first of six exploring Time Capsule in depth, highlights the differences between the members of Apple's AirPort family.
Continues: Exploring Time Capsule: how it fits into Apple's AirPort family
March 27, 2008 2 Comments

Daniel Eran Dilger
Jefferson Graham of USA Today reports that Amazon's MP3 store "has quietly become No. 2 in digital sales since opening nearly six months ago," behind Apple's iTunes. That idea is being widely publicized by the big music labels, who hope to gain some leverage against Apple in order to push their own plans for the future of music sales. But is it accurate, is Amazon any threat to Apple's iTunes, and what effect will the rumored plans for iPod-bundled music have on the online music industry? Here's a look.
March 27, 2008 39 Comments