iPhone Predicted 40 Years Ago Along With Flying Cars
March 26th, 2008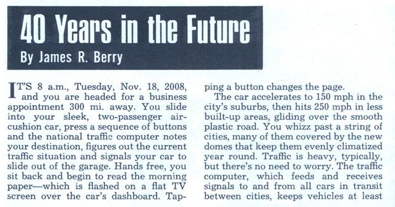 Daniel Eran Dilger
Blogs have been buzzing about an article in Mechanix Illustrated from 1969 that made a series of predictions for life in 2008: flying cars that whisked commuters to work on autopilot at the speed of bullet trains, supersonic rocket planes, homes automated by a central computer, a society fed seaweed that tastes like steak, intelligence pills, and other science fiction ideas. Nobody has pointed out that the main prediction that has become a reality is represented by the iPhone.

The article's first paragraph, hosted by Modern Mechanix in the blog entry What Will Life Be Like in the Year 2008?, describes reading the morning paper on a flat screen and tapping a button to change the page. Yes, the iPhone also swooshes with a finger swipe and zooms with a double tap or pinch, but none of that could be expected to have been on the radar of mainstream futurists in the late 60s.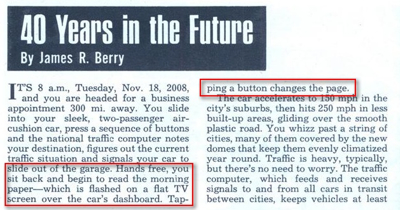 Judging by how few of the rest of the predictions have come to pass, it's even more impressive that Apple delivered the iPhone last year. Back in January 2007, Microsoft executives shrugged off the iPhone dismissively and pundits weighed in immediately to insist that it needed a fold out keyboard. They've since been forced to reevaluate their position, as the iPhone trounced Windows Mobile, Palm and Symbian in the North American smartphone market to become the second best selling platform (behind the RIM BlackBerry) and the first best selling smartphone model.
Canalys, Symbian: Apple iPhone Already Leads Windows Mobile in US Market Share, Q3 2007
Microsoft is now talking about delivering apps for the iPhone, while fierce Windows Enthusiasts such as Lance Ulanoff of PC Magazine (who a half decade ago reported that he "was happy to learn earlier this month about the discovery of a significant security hole in the Jaguar and Panther versions of the Apple operating system" and announced that "the truth is that the Mac OS is just as vulnerable as Microsoft Windows. Overall, maybe OS X is better than Windows, but that's not the point.") have started writing up plaudits for the iPhone that insist it will replace the desktop PC as the computing platform of the future.
10 FAS: 10 – Apple's Mac and iPhone Security Crisis
Not so fast, cries John Dvorak, who has served as one of the iPhone's primary critics. The problem with the iPhone, Dvorak explains in PC Magazine, is that it can be dropped into a toilet. Humanity will never settle on technologies that are small enough to be flushable. Imagine dropping your keys, credit cards, currency, wedding ring, watch, digital camera, passport, or some other cell phone into the toilet!
Of course, that would be impossible, because society has mandated that everything valuable or important must be too big to fit into a toilet bowl. That also means we will be stuck with smartphones the size of a Dell Extreme Tower PC for the foreseeable future. Unless of course, we have an iPhone and have eaten enough intelligence pills to avoid precariously dangling it over a toilet.
John Dvorak Concedes 2007 was a "Crappy Year" for Windows Enthusiasts
I really like to hear from readers. Comment in the Forum or email me with your ideas.
Like reading RoughlyDrafted? Share articles with your friends, link from your blog, and subscribe to my podcast! Submit to Reddit or Slashdot, or consider making a small donation supporting this site. Thanks!
Technorati Tags: Apple, Bloggers, History, iPhone, the Media