Roger Kay's Wax Wings of Icarus vs the Flight of Apple
March 19th, 2008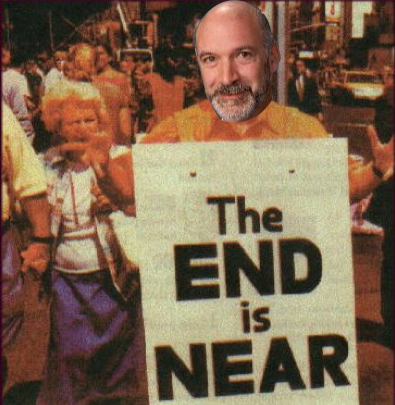 Daniel Eran Dilger
Roger Kay has resorted to religious fantasy in order to find something assailable about Apple's rapid growth in consumer electronics and its mounting impact on the enterprise. Using more idioms than one could shake a gilded lily at, Kay strung together a series of weak complaints that ranged from misstatements to completely false assertions, bound together by a non sequitur (and non secular) mortar of inanity.
Auf Deutsch: Roger Kay – oder die Flügel des Ikarus im Vergleich zum Höhenflug von Apple
Übersetzung: digital express

The oddest portion of Kay's rambling missive was slapped into the BusinessWeek editorial's title: Apple was being condemned for daring to fly too high, and like Icarus, its wax wings would melt, plunging it into the sea. Kay reinforced his mythology with random stitches from unrelated Bible proverbs, such as pride goes before destruction. Which educational system failed Kay remains a mystery, but according to the Greeks, Icarus fell because he was having too much fun flying, not because of some over-confident hubris reined in by the gods.
Kay didn't touch on the matter of why the ill-fated Apple Icarus was confined to the Isle of Crete and needing waxed wings to escape, and was silent on the relevance of Icarus' father Daedalus, who built a fake cow that allowed King Minos's queen to get it on with a bull, resulting in both the monstrous Minotaur race and Daedalus' imprisonment along with Icarus. How does that all play in here? Or do the ancient Greeks really have little to offer in our understanding of twenty first century business?
Given Apple's expanding operations in retail stores, online merchandising, a pioneering lead in online media and software sales, and the fantastic growth of the Mac and iPhone, the company seems more like a worldwide airline running its planes in a carefully orchestrated clockwork than a mythical boy with feathers waxed to his arms, flying too close to the sun. Of course, science also tells us that flying up into the atmosphere would result in more problems related to the cold than with any hot proximity with the sun. What's a few hundred feet of elevation when the sun is 93 million miles away?
Pants on Fire.
Kay doesn't just play fast and loose with Greek mythology. He also warns that Apple is soon to face the same security crisis as Microsoft's Windows, due to the increasing popularity of the Mac and the runaway success of the iPhone. After noting the rapid growth in Apple's Mac platform, Kay wrote, "It's little surprise then that reports of Mac viruses have been rising steadily."
But that's not true at all. There are no reports of Mac viruses, let alone any steady rise in reports. Kay can babble about mythology and attribute accusations of sinful pride to corporations who do not pay him for his services all he likes, but by stating that "reports of Mac viruses are rising steadily," he's veered away from insane rambling and entered the world of false reporting, dragging down BusinessWeek's reputation as a credible journal along with him.
Kay also tries to make much of the homebrew developer community, who have been working to install unsupported apps on the iPhone. Is this a security problem for Apple, or evidence of very healthy interest in the iPhone, interest that has yet to materialize for Windows Mobile and other less exciting mobile platforms that are more likely to support Kay as a pundit/consultant? He also carefully ignores Apple's plans for signed applications on the iPhone, which will make the security issues related to homebrew hacking irrelevant to regular users.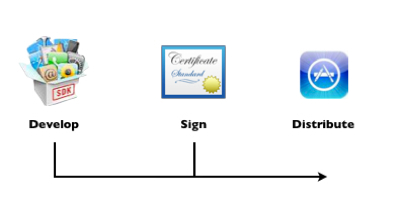 iPhone 2.0 SDK: How Signing Certificates Work
The Unkindest Cut.
Kay also takes Apple to task over its 30% revenue share with developers, saying "taking such a large cut just for distributing software is no more generous a policy than any coming out of Microsoft." Apparently, Kay is yet unaware that Microsoft's Danger takes 50% from mobile developers, as do most other mobile software outlets. Microsoft recently upped its 30% take of online Xbox 360 Live Arcade gaming revenues to 65% for indie developers.
Rumor: Microsoft Cuts Indie Royalties in Half
Does Kay also not know that Microsoft earns an 81% profit margin on sales of Windows in a market with no effective competition, and has worked to take 100% of the application market away from its Windows developers as it rolled together Office, its development tools, and other suites designed to liquidate the value of independent third party developers on Microsoft's platform? It's really not that hard to be more generous than Microsoft.
Microsoft's Outrageous Office Profits
Office Wars 3 – How Microsoft Got Its Office Monopoly
Office Wars 4 – Microsoft's Assault on Lotus and IBM
Kay relates Apple's success with Icarus in a bizarre analogy that suggests Apple is ignoring the warning of its father, who is never identified. Is Apple fated to fall for ignoring the fear, uncertainty and doubts promulgated by pundits like Kay, who make more money from the status quo? Is Apple supposedly not taking adequate measures to deliver a safe and secured platform with the iPhone, which simply isn't true? Is is that the Mac is poised to someday suffer the wrath of "hackers," a problem prophetically announced by Windows Enthusiasts back in 2004, but yet to materialize?
Or is Kay just taking advantage of BusinessWeek's lax editorial control in order to present more melodramatic claptrap in a desperate effort to spread false information that might buy him another year or two of a career as a professional proponent of Microsoft licensing and a loyal reflector of Bill Gates' blinding vision for Tablet PCs and other dim failures?
10 FAS: 10 – Apple's Mac and iPhone Security Crisis
I really like to hear from readers. Comment in the Forum or email me with your ideas.
Like reading RoughlyDrafted? Share articles with your friends, link from your blog, and subscribe to my podcast! Submit to Reddit or Slashdot, or consider making a small donation supporting this site. Thanks!
Technorati Tags: Apple, Development, iPhone, iPod, Microsoft, Software, the Media