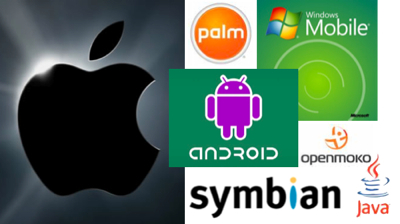 Daniel Eran Dilger
In the smartphone business, Apple is like a Microsoft combined with a Motorola and a RIM; it makes money on software, hardware, and services. It also makes money at retail and with accessories, and software and media sales, and earns money back from its service partners. Other hardware makers can't compete with Apple in all these areas because they're all fixed into position as pawns of the mobile providers.
Apple's iPhone Vs. Other Mobile Hardware Makers: 5 Revenue Engines
But what about pure software makers? Will Microsoft or Google or the open source community deliver a good enough equivalent version of the iPhones' software features to enable generic hardware makers to catch up in the same way that Microsoft ported Apple's unpatented Mac technology to the PC in the late 80s? Here's a look at the threats posed by rival smartphone software makers, and how well the iPhone will be able to compete against them.
Auf Deutsch: Das Apple iPhone im Vergleich zu anderen Betriebssystemen
Übersetzung: digital express
March 7, 2008 54 Comments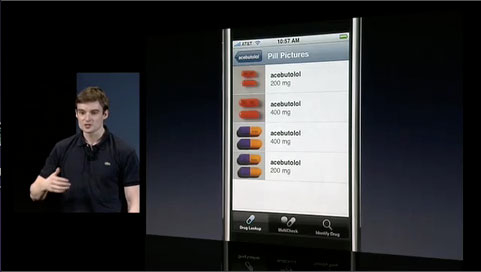 Epocrates, Inc., the developer of mobile applications used by more than 500,000 healthcare professionals, has announced plans to bring its clinical software products to the iPhone. The popular prescription management software was highlighted by Steve Jobs during the iPhone Software Roadmap media briefing alongside demonstrations by Salesforce.com, AOL's Instant Messenger service, and games from EA and Sega.
"By putting so much computing power into such an elegant mobile device, Apple has opened up tremendous opportunities for application developers," said Kirk Loevner, Epocrates Chairman and CEO. "The technology and software in the iPhone OS will allow us to create new and innovative applications that help improve patient safety and provide healthcare professionals with an unsurpassed user experience."
Continues: Epocrates answers call of iPhone-wielding healthcare professionals
Technorati Tags: Apple, Development, iPhone, Software
March 7, 2008 1 Comment