Fresh From Cupertino, Daniel Eran Dilger Does Dallas
March 5th, 2008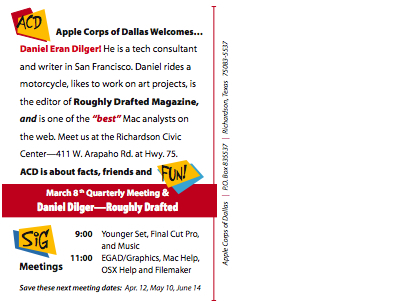 Daniel Eran Dilger
This weekend, I'll be visiting the Apple Corps of Dallas to give a roughly drafted presentation on Apple, me, technology, and whatever else tumbles from my mouth, followed by a question and (hopefully) answer session. If you're in the Dallas area, it would be great to meet you at the event, being held at the Richardson Civic Center on March 8, 2008. There's more information on the group's website at www.acd.us.

I can't promise to not be jet-lagged and at least partially traumatized by a two hour layover in the Las Vegas airport on the way over, but I should look at least as coherent as I do in the photo the Apple Corps sent out with their mailer, which captured me in an overwhelmed sense of roughly glamorous, exhausted bliss while riding around sweaty and unkempt on a motorcross bike in the rice fields between the caves I was exploring in Laos.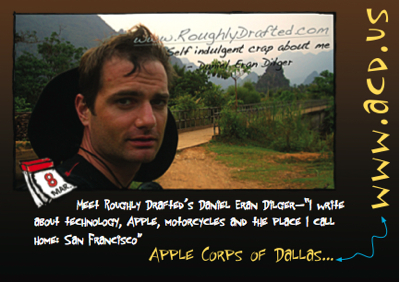 Previous speakers have assured me the group is a lot of fun, and it should be interesting to see what comes out of my mouth because I haven't given a similar presentation since I was invited to Lawrence Livermore Labs to talk shop deep within the bowls of one of the Bay Area's highest security installations last year.
The Road to Apple.
I am run a bit ragged with all the Apple news coming out, and have also been distracted by my new (to me) motorbike, a Suzuki SV1000S that is a little faster than I need it to be. Yesterday I rode it down to Cupertino to attend Apple's shareholder meeting in order to cast a vote for the shareholder proposed (and board opposed) corporate accountability group and take the opportunity to ask Steve Jobs as many questions as he would humor. I managed to get in four, breaking my record of three from last year.
On the way out, I also got a second hand answer for one of my yet unasked questions from a reader and Apple employee who had already asked executives the same thing I'd planned to ask. I had another two questions in reserve, but they weren't anything incredible, and I was satisfied with being able to monopolize the mic as long as I did.
As I figure, if SVTC, Greenpeace, and the AFL-CIO could manhandle the mic at previous years' meetings to push their political agendas as nominal shareholders, why shouldn't I do the same to represent the questions Apple users and RDM readers would want to ask? Incidentally, thanks to readers for suggesting ideas in the Forum.

Answers from Steve Jobs at Apple's Shareholder Meeting 2007
Top Secret: Greenpeace Report Misleading and Incompetent 2006
The SVTC's "Toxic Trash" Attack on Apple 2005

DED vs. the Corporate Media.
My questions apparently raised the ire of some members of the press, who were all shuttled off into the overflow room to watch the event on closed captioned TVs. After saying hi to a few attendees who recognized me on the way out, I was accosted by Zoon awardee Troy Wolverton of the San Jose Mercury News, who brow beat me over his long standing irritation of my criticism of his often sloppy and downright inaccurate and misleading iPhone launch coverage last year.
Rather than clearing up any of the errors as he promised to do, Wolverton again took issue with my jocular suggestion that he could not be for real, and was perhaps an imaginary character. This guy dodges issues with the political flexibility of a presidential candidate.
For the record, I have never seriously doubted that Wolverton is a real person and have instead outlined his career arc from The Street to the Merc as a very real (but often disingenuous) writer who frequently covers Apple with a witch hunt bias that doesn't seem to be applied to other companies. That tone seems to have been dialed down slightly as of late, which is nice to see, but I also haven't been paying much attention to the Merc since it began its massive layoffs.
Comments made by Wolverton and others suggested that some members of the corporate media confined to the overflow room were also irritated that I attended the meeting as a nominal shareholder rather than as a press member, and that I used the opportunity to ask Jobs questions they could not. It is therefore ironic that none in the corporate media cited any of the questions I raised or elaborated on any of the answers Jobs or other members of the executive staff gave in response. They certainly had the same access to hear those answers as I did.
Instead, nearly all mainstream media coverage of the event revolved around a question asked by a shareholder regarding stock buyback or dividends, which wasn't really that newsworthy as the same question and answer were given last year. Apple isn't a dividend stock and the company–in contrast to Microsoft–isn't out of ideas and needing to buyback its stock to get rid of its accumulated cash. Apple has lots of opportunities for growth and has stated publicly what its plans for that cash hoard are.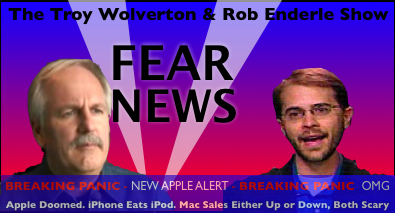 Troy Wolverton Digs Up Rob Enderle In Desperate Apple Attack
Troy Wolverton Documents Faux Apple Shareholder Outrage
10 FAS: 9 – Troy Wolverton, Neil Cavuto, and the Apple Stock Scandal
More on Troy Wolverton, the Street, and Apple Scandal
I Am Not a Stock Analyst.
Which brings me to another issue raised by some members of the corporate media: I am not a stock analyst and do not recommend the buying and selling of securities. I have never intentionally advocated the purchase of or targeted the future valuation of any stock, including Apple. I have cited comparisons of stock valuations as evidence of market trends and profitability, but do not materially benefit from the content I chose to cover or the manner I present that information in the articles I write.
I write about subjects I find interesting, and do not receive any money from Apple or other manufacturers or software developers to review or comment on their products. I also do not directly advertise for any products or services on my site; I do have ads placed on my site by a third party, but I do not exercise any editorial control over the content or makeup of those advertisements, nor do I edit my content to fulfill the interests of any advertisers. I also have affiliate relationships with iTunes and Amazon, but I haven't really made any effort to push either one, and readers have to go out of their way to find the links to use them.
In order to credit me for an Amazon purchase, readers can click an Amazon link or enter the Amazon ID number into my affiliate URL (in place of the 0321278542):
http://amazon.com/exec/obidos/ASIN/0321278542/rosaicom-20
To credit me for an iTunes purchase, readers can click on an iTunes link like this one before making a purchase:
Movie Rentals Now Available on iTunes
A Crash Course in High Finance.
For the record, I do own some shares of companies including Apple, but the majority of my personal wealth derives from the business of collecting settlements from drivers who plow into me. For anyone who wants to contribute towards this business plan, I only ask that you carry suitable liability insurance, as it is very disappointing to be run over and left broken on the street with smashed equipment only to find that the antagonist didn't have valid coverage.
I haven't written many motorcycle stories for a while, so I might document my most recent crash (from a couple years ago) and finally write up my adventures from 2006 involving bikes catching on fire while touring national parks in Thailand, skidding to the ground on an oily laned turn and nearly under a chicken bus in Chang Mai, and braving the hot rain in the wilds of Laos. My first big crash was back in 2004, which I documented using my Palm Treo in a series of unflattering and sometimes downright gnarly pics.

Incidentally, if I don't post anything for a long time, you might want to send me an email to make sure I'm still around. On the flip side, I do have a Donor Dot on my license and am pretty healthy apart from the metal plates and scars, so I should be around for a long time in one shape or another.
What do you think? I really like to hear from readers. Comment in the Forum or email me with your ideas.
Like reading RoughlyDrafted? Share articles with your friends, link from your blog, and subscribe to my podcast! Submit to Reddit or Slashdot, or consider making a small donation supporting this site. Thanks!