Apple's iPhone Vs. Other Mobile Hardware Makers: 5 Revenue Engines
February 27th, 2008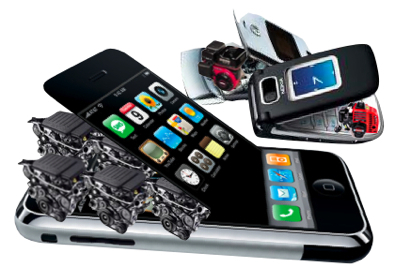 Daniel Eran Dilger
While pundits like to fixate on how Apple may possibly be making less than they first postulated, and then mercilessly torture their invented strawman like a voodoo proxy for the as yet bulletproof iPhone, the reality is that Apple has built a series of revenue engines that will not only make the company money, but will also support the ongoing development of the iPhone platform and keep it well ahead of rivals.
Auf Deutsch: Das Apple iPhone im Wettbewerbervergleich: Die Kraft der fünf Profitcenter
Übersetzung: digital express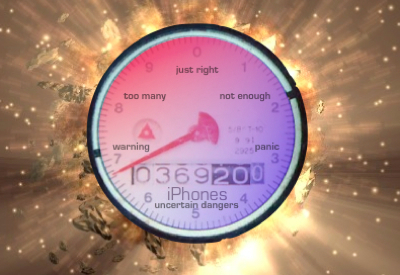 Toni Sacconaghi Alert: Excessive iPhone Demand Reason to Panic
There are five interrelated profit centers related to the iPhone that nobody seems to recognize as unique, trailblazing, and difficult to replicate; these factors will allow Apple to maintain its lead in a competitive industry with entrenched players. Phone handset makers have the potential to earn profits from manufacturing, from retail sales, from carrier service revenue shares, from accessory sales, and from software and media sales. Guess what company is making money in every area? It's Apple of course.
Other hardware makers, including Nokia, Motorola, HTC, Palm, LG, Samsung, RIM, and Sony Ericsson, all face obstacles in earning the same revenues Apple can. The result is that Apple will be able to afford to invest more into the iPhone, maintaining a lead in smartphones just as it maintained a profitable, technical lead over the last two decades with the Mac over rival PC makers all stuck in a poorly differentiated, cutthroat commodity business.
I earlier observed that the iPhone was to existing phones as the 1984 Mac was to the various DOS PCs of the era. The difference is that this time around, there is no Microsoft in the smartphone business; no one cloning Apple's unpatented technology as an inside developer and then reselling it to hardware makers as a recipe for cloning.
The worldwide phone market is dominated by the aging Symbian OS, which is a platform fractured into regions that all use incompatible software. Palm dropped its early lead and Microsoft's effort to push Windows Mobile has failed spectacularly, leaving the game wide open to innovative companies with a unique product to offer, including RIM's BlackBerry and Apple's iPhone.
The Egregious Incompetence of Palm
The Spectacular Failure of WinCE and Windows Mobile
Origins: Why the iPhone is ARM, and isn't Symbian

The Five Mobile Revenue Engines.
For hardware manufacturers, this level playing field could be an opportunity, but most are not in a position to compete. They've all entered into deals with the mobile service providers that limit what they can do and how much they can earn in the mobile phone market. Here are five areas where hardware makers are falling behind Apple's iPhone:
1. Manufacturing profits come from being able to offer an integration of hardware components and software utility that are greater than the cost of the sum of their parts. Outside of Apple, smartphone makers are typically forced to design their phones to appeal to the mobile service providers rather than end users. That's because mobile companies have set up a business where the value of phone hardware is minimized; their advertising makes phones appear to be free as an inducement to sell buyers on thousands of dollars of mobile service over the term of a contract, rather than emphasizing any value in the phone itself.
Nokia, Motorola, Palm, RIM, Sony Ericsson and others are all left unable to set fair market prices for their phones, because the entrenched mobile contracts business forces them to compete against free phones. Outside of a few high end models that some users will go out of their way to buy, phone makers have to depend upon mobile providers as their resellers and take whatever scraps they are given.
Mobile providers prefer to subsidize cheaper, simple phone sets that don't cost them very much to offer for free as loss leaders. That leaves little profit potential for phone makers, as they have to develop phone models that hit very low price targets within a year or two on the market.
This is very similar to the PC business, where Microsoft has enslaved hardware makers into a role where they produce the hardware Microsoft recommends at cutthroat prices and razor thin margins while Microsoft earns vast revenues from software licensing that is automatically sold by the hardware companies. HP and Dell can't really sell their hardware outside of Microsoft any more than Motorola and Palm can sell their phones without dependance upon mobile operators.
Apple can. Just as it sells Macs without paying the Microsoft tax, it sells the iPhone directly to consumers rather than through service providers as a subsidized unit. This allows Apple to set a hardware price that results in a sustainable profit, but also enables the company to add features that mobile providers have railed against.
The providers all want phones to depend entirely upon their paid network services, from pay per bit data to pay per photo MMS. The iPhone not only includes WiFi for direct network access off the mobile grid, but also introduced the idea of free desktop-style email with photo attachments that don't incur fees for the mobile providers.
The rest of the iPhone was attractive enough to bring AT&T and other providers new subscribers, so those mobile companies accepted the loss of revenue from MMS fees in order to sell service for it. Additionally, they also gave up other features they insist that other manufactures support, including the junkware related to rental games and applets, overpriced ringtones, and on-demand paid video clippings.
Apple redefined what mobile operators could ask from phone set manufacturers, and set up a business profitably selling hardware that consumers actually want to buy despite the availability of phones that appear to be free or seem to cost much less in advertisements. While other phone manufacturers may benefit from Apple's lead in declaring independence from operator's whims, they will find it harder to replicate Apple's successful model because they lack other elements of the company's game plan.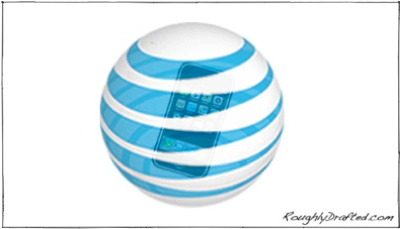 How AT&T Picked Up the iPhone: A Brief History of Mobiles
10 FAS: 2 – The iPhone's Anti-Competitive AT&T Contract
2. Retail profits are a significant example of how Apple can maintain provider independence. Other phone makers rely almost entirely upon mobile providers selling their phones for them. However, service companies aren't in the business of making hardware makers rich; they push phones that sell minutes of service, not which offer the best features to end users.
Mobile providers are uninterested in focusing any attention on phones that do things other than bill service minutes. Some providers have even restricted phones from being useful off their network. Verizon Wireless has long been opposed to WiFi and even USB desktop syncing; it even forced Palm to set up a complex HotSync system that pushed PDA data over its mobile network to sync with Verizon's servers rather than syncing directly with a PC. Many phone users don't sync their phone with their PC because they don't know they can; providers emphasize using their own network rather than serving their customers' needs.
The mobile providers' self interests mean that hardware makers are not only limited in how much money they can earn through innovative phone design and manufacturing, but are also squeezed out of earning any retail profits. Not Apple; it maintains its own stores, and designed a phone that could be purchased directly from Apple and authorized at home over the Internet using iTunes rather than solely from a provider retail outlet.
Apple works to sell the majority of its own phones rather than selling them through provider partners. It was no accident or mistake that prevented Apple from selling iPhones through AT&T partner affiliates such as Radio Shack. Just as Apple earns both manufacturing profits and retail profits on all the Macs and iPods it sells itself, it also brings in the majority of the iPhone's retail profits because it can market the unit itself.
Apple encouraged long lines and fanfare around its retail stores at launch, despite the iPhone's ready availability at AT&T retail stores. This not only brought in free advertising as news crews filmed lines of excited buyers, but also established that the iPhone could be purchased outside of a mobile provider. That allowed Apple to erase buyers' loyalty to their existing mobile provider by making the iPhone available outside of the context of a cell phone store affiliated with a specific provider.
Verizon and Sprint customers don't have to go to an AT&T store and worry about switching details, they can simply buy the iPhone from Apple directly. Other manufacturers can't really copy this strategy because most don't have any retail presence–Palm is now shutting down its retail stores, while other makers have little or no retail outlets–and are already bound to every provider. They're all stuck in servitude to the mobile providers and can't pull out to offer any long term exclusive partnerships or independent offerings.
Apple isn't. It can make more money selling more smartphones with one provider per region than its competitors who have relationships with every provider. That's because being exclusive enables Apple to offer unique features that other manufactures can't, such as Visual Voicemail. It also means Apple has to power to bring providers new subscribers.
Every new subscriber a provider gets is worth far more than some junkware ringtone sales; other manufactures can't create such pull because they can't afford to offer years of exclusivity to one provider. That's because they aren't making enough per unit on manufacturing profits and aren't earning any retail profits. They're all suck in entrenched, lethal business models under the thumb of providers. Apple isn't. The company isn't just ahead, but has pioneered a path other hardware makers will find difficult to follow because of their existing obligations and relationships.
3. Carrier service revenue sharing isn't something Apple invented. RIM's popular BlackBerry involves two related business models: the first asks for revenues from providers for supplying messaging relay services unique to the BlackBerry. The second asks for licensing revenue from IT shops running BES systems that relay corporate email to BlackBerry units. Other hardware makers have no ability to demand anything back from mobile service providers, and it shows in their stock performance relative to RIM.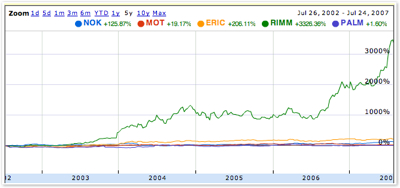 Apple's revenue sharing agreements are unique in that the company isn't providing a service that providers are reimbursing it for as is the case with RIM. Instead, Apple is asking back a share of service revenue because it offers a phone platform that is far more attractive to users and therefore can influence switchers. In the cutthroat business of signing up subscribers, gaining new users and stemming the lost of defecting customers is extremely valuable. The iPhone does both.
Apple is asking service providers to support its business model by both lowering their fees and providing a rebate directly to Apple as long as the iPhone subscribers maintain their service contract. Other manufacturers can't really demand anything similar because they are enslaved to serving every provider equally and can't really offer anything that will dramatically cause long term switching in a way that benefits any particular phone service provider.
10 FAS: 3 – Apple's iPhone Kickbacks vs RIM, and Verizon vs AT&T
4. Accessory sales are another profit center among mobile phones, and every manufacturer works to sell cables and other add-ons that add profit to their sale. However, only Apple has a significant retail presence that enables it to make significant extra profits from accessory sales. Apple now licenses "made for iPhone" accessories in the same manner as its iPod licensing program, and also earns retail profits on reselling third party accessories from its stores.
While the retail markup on Macs, iPods, and iPhones is actually not very high, accessories are typically sold at a significant profit. Apple prices iPhone accessories at artificial prices, typically from $29 to $39, regardless of the actual cost of the product. The company proportionally earns more profits from accessory sales than from higher revenue hardware sales; the combination of offering both in the same store fuels the sales of each. This is part of why Apple's retail stores are outselling Tiffany's per square foot of retail even while other hardware makers, including Gateway, Palm, Sony, and Dell, have failed miserably at breaking even in retail attempts.
While other makers offer cables and batteries and other accessories, Apple sells a huge amount of third party accessories in a way that subsidizes ongoing development of its hardware and builds an established ecosystem of developers and manufactures around its products. Because other phone manufacturers rely on service providers to sell their phones for them, they also forgo the majority of accessory retail sales, which are collected by service providers instead. Compare the amount of retail space devoted to accessory sales in the Apple Store with that on display in a typical cell phone retail outlet, and its clear which company is making the most on mobile accessories.
5. Software and media sales are also out of reach to most other hardware manufacturers. Apple hasn't yet started selling software for the iPhone, but has established a business in low priced, $5 iPod games designed to sell in high volume. Additionally, the iPhone fits into Apple's iTunes business for selling songs, TV shows, movies, and now renting movies. With the new WiFi Store, Apple is now selling media directly from the iPhone, too.
That isn't a business Apple runs to earn huge profits, but it adds significant value to the iPhone in a way that induces hardware sales, accessory sales, and carrier revenue sharing income. No other hardware maker can put together a similar business because erecting an iTunes competitor is a huge amount of work with little profit potential. Additionally, hardware makers have curried the favor of their service provider masters by building in support for the junkware media sales that only profit the service providers. They can not now compete against them.
Apple's iTunes business is so strong that the company could push AT&T to drop its demands that the iPhone support its video clipping service and expensive ringtone fees. Using GarageBand and iTunes, users can build their own ringtones and upload their own home videos and pictures without paying service providers any fees for the privilege of moving around their own personal bits.
Other hardware makers lack an iTunes or a GarageBand, and there isn't any business model that allows them to line up a similar set of applications to offer the same kind of abilities as iPhone users have. They also have no capacity to build a software or media store that compares with iTunes, nor the ability to sign up commercial content providers.
They all face a Catch-22 of having no media audience to sell to and no media merchandise to offer. Building both simultaneously is far harder than Apple made it appear with iTunes, and finding another superstar vehicle like the iPod to fund the development of such a business is not likely either.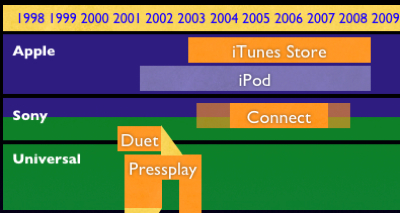 Rise of the iTunes Killers Myth
There is One More Thing.
While media pundits seem to all think that Apple's hardware competitors will pull out an iPhone competitor real soon now, nothing close has arrived within a year of Apple's original iPhone announcement. The above five factors will all act as barriers to prevent the sudden development of an iPhone killer clone.
Of course, over the last decade no hardware maker has been able to offer a popular iPod replacement either, which should cause at least some pundits to rethink their fantasy position on the imminent arrival of a far more complex product to take on the iPhone, and by extension, its sophisticated iPod Touch cousin, both of which make the original, unrivaled iPod look like a rather simple gadget.
Looking back further, no hardware makers have been able to introduce a Mac replacement either. The closest runner up has been the Windows PC, which was based directly upon a copy of the Mac's software by Microsoft as Apple's early development partner. That naturally raises the question: does the iPhone face a similar threat, and how will the iPhone stand up to phone software makers? The next article takes a look.
What do you think? I really like to hear from readers. Comment in the Forum or email me with your ideas.
Like reading RoughlyDrafted? Share articles with your friends, link from your blog, and subscribe to my podcast! Submit to Reddit or Slashdot, or consider making a small donation supporting this site. Thanks!
Technorati Tags: Apple, Content, iPhone, Mac, Software, the Media