The iPod Crisis Myth
February 22nd, 2008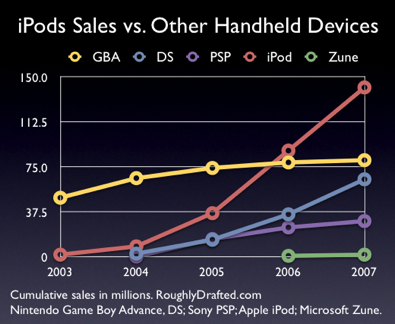 Daniel Eran Dilger
Pundits are using scary math and dangerous sounding language to portray the imminent collapse of Apple's leading position with the iPod. Silicon Alley Insider has been plotting out a tumbling graph depicting falling iPod sales growth while iSuppli just released an announcement that Apple was "slashing" its Flash RAM orders. Taken together, it sounds like the economic outlook for 2008 will rip the iPod and iPhone apart. That's wrong, here's why.

Statistics as Performance Art.
Dan Frommer of Silicon Alley Insider, who I occasionally have to take to task for his creative math, published a graph a month ago plotting the plunging growth factor in iPod sales year over year in the winter quarter.
Looking at iPod sales growth year over year and charting this number to produce a landslide drop graph does make for a dramatic projection of doom (below), but isn't really a very useful or relevant way to look at the iPod market.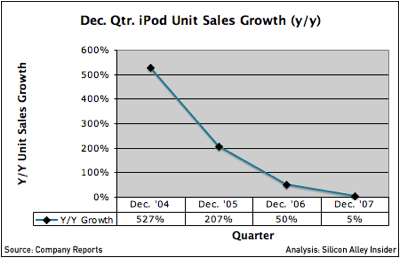 Apple Q1: The iPod Has Left The Building (AAPL) – Silicon Alley Insider
The graph depicted that Apple enjoyed 527% unit growth in the Q1 December quarter in 2004, 207% growth in 2005, 50% growth in 2006, but only 5% growth in 2007. That sounds bad until you actually look at the sales numbers. Had Apple sustained 527% growth over the last three years, it would have had to sell:
10.5 million ipods in Q1 2005
55.5 million ipods in Q1 2006
292.7 million ipods in Q1 2007
Next winter, Apple would have to sell 1.55 billion iPods in 3 months of winter. The world just doesn't have that much wealth. Clearly, growth percentages are easier to achieve when ramping up from hundreds of thousands of units into the millions that climbing from high millions. Who would have guessed that?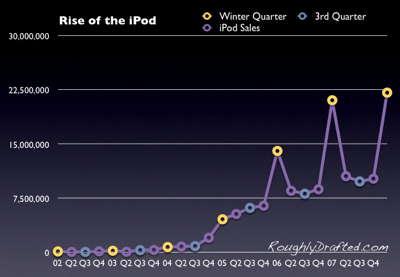 Why Ignore the Rest of the Year?
Additionally, by only looking at growth in the blowout December quarters, Frommer conveniently steps around the fact that annually, iPod sales grew by 30% in fiscal 2007 or 13% in the calendar year 2007. That's a lot of new sales for a market Apple owns the majority of: iPods jumped from 39.4 million to 51.6 million in the fiscal year and from 46 million to 52 million in the calendar year. That's not cumulative growth in the iPod installed base, but rather 51.6 million new iPods sold. By only considering Q1, Frommer pared away the real story of significant growth throughout the year, which is plainly there whichever way you look at it.
Again, it's far easier to attain an attractive growth percentage number when looking at sales over a long term rather than comparing peak sales in the frantic winter quarter. Thirteen percent calendar growth year over year represents sales of 6 million new iPods in addition to the record setting 46 million sold last year. A million new iPods were sold in Q1 2007 compared to Q1 2006, not counting the three million iPhone sold, which clearly replaced some standalone iPod sales.
Additionally, the 22 million iPods sold this winter hit a higher average sales price, meaning there's demand for Apple's higher range models like the iPod Touch, which is not only more profitable but also builds value for a new platform of wireless mobile devices that further distinguish Apple's offerings from cloners and other music player competitors.
In the fiscal year, Apple sold twelve million additional iPods (again, not counting iPhone units). That's roughly as many new iPods in 2007–on top of its record 2006 numbers–than the rest of the industry sold in iPod-killers put together. Attempting to find something wrong with this kind of stellar growth by plotting out proof that exponential sales unit growth is difficult to maintain seems simply desperately contrived.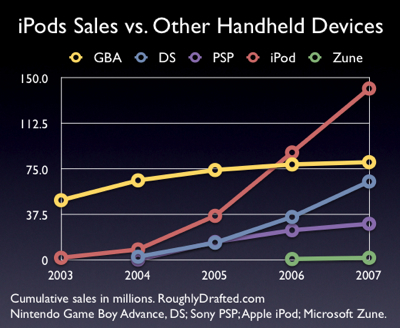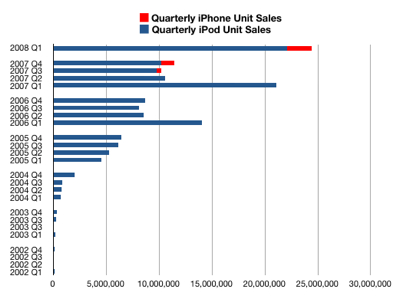 The Unrealized Potential of Apple's Hybrid Platform: Mac, iPod, iPhone, and TV

And Now For Something Completely Different.
To put into perspective the growth of the iPod, compare sales of another consumer electronics product: Microsoft's Xbox 360. From 2006 to 2007, Xbox shipments didn't increase by 30% or even 6%, but fell by over 33%. Nobody worries about the freefall in Xbox sales, only about the percentage of growth on the iPod.
Why is that? And why are contrived statistics required to inspire panic in a profitable product that is leading the industry and faces little effective competition? That's an exercise for the reader to analyze.
Video Game Consoles 2007: Wii, PS3 and the Death of Microsoft's Xbox 360
iSuppli's Wild Roller Coaster of Slashing.
After announcing that Apple would fuel a significant 27% growth in sales of Flash RAM components this year by increasing its own orders by 32.2%, iSuppli is now reporting that it now thinks Flash RAM sales will only grow in the single digits, in part because of fears Apple would "slash" its orders by some unreported amount. Apple did not comment on the report.
"Slash" is a big word, and requires some definition when used in a press release. iSuppli reported that in 2007, the market for Flash RAM grew by 12.5% overall, but revenues actually fell by 2.4% in the winter quarter as the economy entered a slowdown. Interestingly, Apple isn't a maker of Flash RAM, but a reseller of components. Softening demand for Flash RAM is good for Apple because it means more favorable component pricing.
While Flash RAM profits dipped in the winter quarter for manufacturers, Apple reported record unit sales and profits on its largely Flash-based iPods and iPhone. The company also reported a positive outlook related to favorable Flash RAM pricing going into 2008. The reason iSuppli referenced Apple in its report was because Apple is the third largest buyer of Flash RAM world wide. It purchased $1.2 billion worth of Flash RAM components in 2007, eating up 13.1% of the global supply.
How much will Apple "slash" its Flash RAM components orders? The iSuppli report avoids any details, but says it expects the Flash RAM market to only grow in the single digits in 2008. That means Apple isn't the only Flash buyer dialing back on its orders. While the press has fixated on the idea of Apple "slashing" its Flash RAM consumption, they seem to have forgotten that a major component of Apple's iPod costs relate to Flash RAM.
As demand levels off across the industry, Apple's profits on iPod sales will increase, its ability to add more Flash to the iPhone and iPod Touch at affordable prices will increase, and its ability to price its players competitively will increase. Even if Apple were to see minimal new growth in its iPod lineup, it can only possibly make more money on each sale, and faces less competition from rivals who have less clout in arranging long term Flash contracts.
This reality was already evident in the winter quarter, when Apple's iPod sales grew slightly in the US and even better internationally, despite shrinking sales among competitors, who were hit harder by rough economic conditions. In PCs, Apple did even better, recording record growth in Macs around four times that of the overall PC industry.

iSuppli Corporation : iSuppli Warns of NAND Flash Slowdown in 2008

There is One More Thing.
While Apple is pushing to establish the iPhone and iPod Touch as a wireless mobile application platform that will have a voracious appetitive for Flash RAM into the future, its also selling smaller iPod Shuffle devices with as little as 1GB of Flash for $50. This will help isolate iPod volume sales from price sensitivity, allowing the company to report the kind of numbers pundits like to chart in graphs.
Apple is diversifying its iPod business. This leaves the company with a finger in every market: it owns the low end and the high end, and sells products that complement each other. An iPhone buyer might pick up a Shuffle to use in the gym, knowing that both work with the same iTunes ecosystem. And iPod users are far more likely to expand or replace old models with new iPods rather than buying something designed to use PlaysForSure DRM or tied to Real's Rhapsody service for the same reason. Apple has recession-proofed its business.
Whether Apple sells more low end models or take advantage of soft Flash RAM prices to sell more high end iPods, it will come out with another year of incremental growth in iPod sales despite fears of a weakening economy. Apple would have to lose 15 million units of iPod sales this year to hit the kind of negative growth experienced by Microsoft's Xbox 360, which nobody seems to be too worried about. Since that's an unlikely scenario, it really causes pause to consider why the media is frantic about iPod growth percentages.
Further, Apple isn't the only company facing a conservative market: its iPod competitors are being hit harder because they lack the cash position to craft long term Flash RAM deals, develop desirable products that buyers will seek out regardless of their price, and build out retail operations that Apple has already successfully put into position. Anyone worrying about the hottest product of the decade has some serious credibility issues to address.
All About the iTunes.
If Apple's hardware business isn't enough to blow away fears, consider that iTunes is now regularly being advertised on TV by a variety of major networks hoping to send viewers to the iTunes Store to buy up past and future shows.
What is the market value of having iTunes and the Apple logo plastered up on the screen during prime time in lower third ads on a regular basis? Apple is simply soaking in free publicity for iTunes and the iPod. Apple is also now promoting its movie business with 99 cent rental specials, which along with the networks' TV promotions will help establish iTunes as the way to download video in the way that it has become the primary way to legitimately download music.
Nothing else really comes close to the scope of iTunes, and no hardware comes close to the integration between the iPod, iPhone, Apple TV, PC, and iTunes. That means Apple offers strong reasons for people to buy iPods even if consumers become more selective about where to spend their money this year. Any attempt to penetrate that reality with contrived fears simply looks desperate.
Apple TV Digital Disruption at Work: iTunes Takes 91% of Video Download Market
What do you think? I really like to hear from readers. Comment in the Forum or email me with your ideas.
Like reading RoughlyDrafted? Share articles with your friends, link from your blog, and subscribe to my podcast! Submit to Reddit or Slashdot, or consider making a small donation supporting this site. Thanks!