Is Apple Shedding its Final Cut Pro Apps at NAB?
February 12th, 2008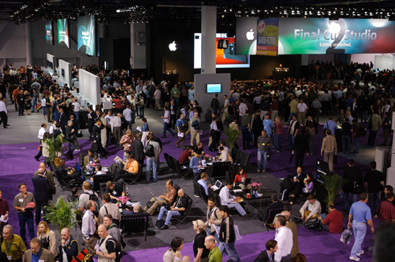 Daniel Eran Dilger
Apple's announcement that it wouldn't be exhibiting at this year's National Association of Broadcasters trade show sent the rumor mill into high alert, resulting in claims that the company may soon exit the Pro App business with a sale of its Final Cut Studio software to a third party after having lost its interest in the market for video editing software. They're wrong, here's why.

Internet Killed the Trade Show Star.
The first clue that the Apple Pro App abandonment rumors might be a tad overzealous is that Apple isn't alone in pulling out of the NAB trade show. Avid announced plans to do the same thing just days prior, explaining that it had better ways to spend the $6 million it had allocated for the event. Avid's outlay would work out to around a $60 investment per attendee of the show, despite the fact that NAB doesn't actually result in many direct sales.
Digital video veterans will recall that Avid got started in the video workstation business twenty years ago at the 1988 NAB, with a system based on Apple's then new Macintosh II. Avid's $150,000 editing workstations cost big bucks, but allowed editors to do work that had previously required a far more expensive custom studio setup.
Two decades later, the market has changed dramatically. Avid's lock on film editing workstations was busted wide open by Final Cut, a software package Apple spared from certain death in 1998 and turned around to become a $1300 professional quality editing package that runs on a standard Mac. Avid has responded with lower end software packages of its own.
As the products being shown at NAB have changed from specialized workstations to more reasonably priced software packages, the need to bring them to a trade show has also waned. That's because the web allows vendors to publish interactive information and support services, announce new offerings, and sell products directly without setting up banners and booths. Additionally, both Avid and Apple can demonstrate their products without needing an official presence at the show.
NAB isn't the only conference grinding into irrelevance. COMDEX, the summer Macworld, and E3 have all been canceled in recent years, and those trade shows that remain have scaled back while critics discuss their decreasing importance. Over the last several years, Apple combined its QuickTime Live and IDG's summer Macworld contributions into its own WWDC event, saving money while integrating its developer and third party support services and training programs.
In any event, we don't really need to speculate about why Apple pulled out of NAB; Macworld cited a company spokesman as saying that Apple "is participating in fewer trade shows every year because often there are better ways for us to reach our customers."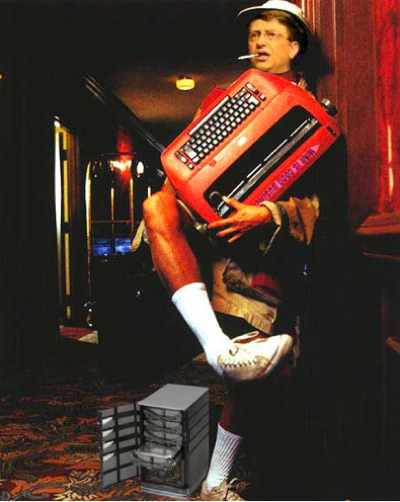 CES: Fear and Loathing in Las Vegas
Innovation: Apple at Macworld vs Microsoft at CES
An iPhone SDK? Predictions for WWDC 2007!
Abandoning Pro Apps?
Ending its participation at NAB was supposed to be critical evidence pointing to Apple's lack of interest in continuing development related to Final Cut Studio. At every previous NAB since 1998, Apple's turnaround strategy and its relation to the video editing and post production market has grabbed the attention of show goers.
In 1998, Apple canceled its planned Power Express line of pro Mac towers, which would have replaced the old Power Mac 9500/9600 with a new six PCI slot high end Mac using the then new G3 processor. Without such a model, Apple appeared to be planning an exit from the pro video space, because Macs with more than 3 slots were required by hardware-based systems such as those offered by Avid. The video market appeared to be falling to PCs running Windows NT, and it appeared Apple was intentionally withdrawing from the market.
However, Apple had plans of its own. Reports of the time talked about "two long-anticipated digital video software packages: the wildly expensive, Windows NT-only Digital Studio from Softimage Inc. (a Microsoft Corp. subsidiary) and the more reasonably priced Final Cut (possibly arriving on Windows NT first?) from Macromedia Inc. Both are Avid-inspired nonlinear editing systems that will feature advanced compositing, and Digital Studio will have paint functions."
Macromedia privately demonstrated Final Cut at NAB 1998, but clearly didn't have much remaining interest in the product by that point because it didn't even want to pay for an NAB booth. Apple purchased the product from Macromedia later that year and by the 1999 show, was ready to introduce it running on the moderately priced, three slot Power Mac G3. This introduced an entirely new target of price, performance, and capacity that severely undercut Avid workstations while handling a variety of entry level tasks.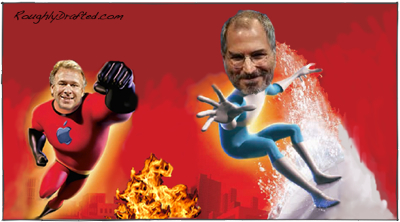 Why Apple Bounced Back
How Microsoft Pushed QuickTime's Final Cut
Final Cut Takes Off.
In 1997, Microsoft had invested in Avid and directly worked to influence the end of its support on the Mac platform, so Apple's defensive play with Final Cut Pro was critical to keeping the Mac relevant in the digital video market. After its initial release, Apple worked to rapidly improve the product and expand its capabilities by building and acquiring companion applications, which were later bundled together as Final Cut Studio.
NAB 2000 Final Cut Pro 1.2.5 with support for 16:9 video format and native YUV color space, Matrox real time video cards.
NAB 2001 Final Cut Pro support for more real-time DV hardware from Pinnacle, Canopus and Matrox.
NAB 2002 DVD Studio Pro 1.5
NAB 2003 Final Cut Pro 4, LiveType, Soundtrack, Compressor, DVD Studio Pro 2, Shake 3.5
NAB 2004 Final Cut Pro HD, Motion, DVD Studio Pro 3
NAB 2005 Final Cut Studio, Motion 2
NAB 2006 Shake 4.1, 500,000 Final Cut users
NAB 2007 Final Cut Studio 2, Color, Motion 3, Final Cut Server. 800,000 Final Cut users
However, NAB hasn't served as the sole event for Apple to unveil new pro applications. DVD Studio Pro, Motion, Shake, and other applications were released outside of NAB and even new versions of Final Cut Pro haven't all been tied to NAB dates. The idea that Apple needs NAB to release or update video pro apps is entirely unfounded, and the idea that it is pulling out of NAB because it has nothing new to show is similarly wrong.
Between 2006 and 2007, the number of paid Final Cut users Apple reported increased by 60%. The popularity of Apple's complete editing package, paired with Mac hardware for less than $5000 total, has changed the market and prompted Avid to respond with its own lower priced, software-oriented solution.
In addition to Final Cut Pro, Apple also acquired Nothing Real's Shake in 2002 and converted it from a $9900 product into a $2999 and then $499 product for Mac OS X. In 2006 it bought Silicon Color and turned its $25,000 FinalTouch into Color, an application bundled into the Final Cut Studio 2 package at no additional cost.
The latest application to be introduced was Final Cut Server, an video asset management tool based upon Proximity ArtBox. Announced at last year's NAB, the package is yet to be officially released, but it is scheduled for "early 2008" according to Apple's website. Also yet unreleased is a new reworking of Shake, rumored to be released under the name Phenomenon. The existing Shake 4.1 currently uses a foreign user interface that reflects its history prior to Apple's purchase and porting to the Mac.
Strategic Parts of a Whole.
Excited rumors have woven together the idea that Apple's pull out from NAB has something to do with the fact that it hasn't yet released Final Cut Server or the revised new Shake, and then jump to the far off conclusion that Apple is abandoning its entire Pro Apps business because it isn't making money, it can't develop its apps fast enough, and it isn't selling the consumer hardware Apple has been focusing upon in its retail efforts.
There are several problems with this theory. First, Apple's Pro Apps aren't designed to pull in dramatic revenues on their own or the company wouldn't have slashed their prices and bundled them into a $1299 package. If Apple were running its pro software business as an independent business unit, it would make sense to keep prices as high as its competitors and offer all of its products for PCs running Windows, too. Pro Apps are obviously designed primarily to sell Macs and establish markets around Apple's Mac OS X platform.
Final Cut Studio sells Mac Pros, which are a shrinking slice of Apple's volume sales as the company rapidly expands its markets for iMacs and laptops. However, the higher end Mac Pros are more profitable, and include the majority of Cinema Display sales. Final Cut Studio also sells Xserves and Xserve RAID units in volume to broadcasters, helping the company to build its presence in Enterprise class hardware. If Final Cut Studio wasn't selling hardware, Apple wouldn't be investing millions every year into acquiring and developing new directions for the product.
In addition, the development efforts invested in Final Cut Studio apps are also recycled for the consumer market. Apple introduced iMovie 08 as a new product last fall, but it was really a port of much of the latest work done for Final Cut Pro. It enabled home users to tap into sophisticated new technology for editing mixed format and resolution content in a single timeline. Other consumer apps, including iDVD, are similarly based upon their pro counterparts. Apple charges next to nothing for its iLife suite, and bundles it free with new Macs.
Apple couldn't afford to do this if it weren't sharing its development costs with a higher end paid version, and if both editions (as well as the middle prosumer version) weren't successfully working to sell Mac hardware. The suggestion that Apple is trying to dump Final Cut Pro upon a third party is ridiculous. Apple doesn't need the money that sale would generate as much as it needs the control over which platforms Final Cut Studio supports and the shared efforts that result in first class consumer applications that add a lot of value to its consumer Macs.
After working for a decade to doggedly and successful defend its QuickTime platform from assimilation by Microsoft's Advanced Streaming Format and Windows Media, Apple isn't going to hand off its crowning achievement and the keystone of its applications strategy to a third party with less cash, less clout, and no interest in selling Apple's hardware.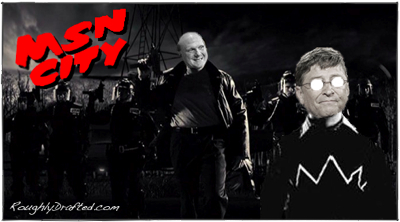 Microsoft's Plot to Kill QuickTime
The Expanded Pro Apps Strategy.
Video business rumor mongers also forget that Apple is also building new markets with other pro apps. It bought Logic and converted it into a Mac-only application that recently received a full Mac-specific user interface overhaul and a companion Main Stage product designed to make the Mac even more visible for performing musicians. The Logic Suite now bundles Compressor 3 and Soundtrack Pro 2, which are also sold as part of Final Cut Studio. If Apple sold off Final Cut, it would have to spin off Logic Studio along with it.
Additionally, Apple's Logic technology powers the video-oriented Soundtrack Pro and the consumer GarageBand. There is simply no line that can be drawn around Apple's Pro Apps in order to sell them off; they're all interconnected in a series of related technologies. Apple is certainly not going to split off its entire software development efforts after spending the last decade building them, and nobody would want to inherit a series of interconnected pro and consumer apps, particularly since the consumer apps don't generate any revenues but do consume significant development efforts.
Sometimes a rumor is just idle talk. In 2005, Apple expanded its Pro Apps to include Aperture, which like other pro apps, bears relations with a consumer version in iPhoto. Within the year, the Think Secret rumor site was insisting that Aperture would be dismantled and that Apple had "asked the engineering team behind its Aperture photo editing and management software to leave." Aperture has since been updated several times and is still offered for sale and promoted as a key application.
Another application that fits into the pro space is Motion, which seems to exists primarily to demonstrate the power of Mac OS X's Core Image and show off the new FxPlug technology. These plugins serve as a development platform for combining OpenGL, Quartz, Quartz Composer, and Core Image to create unique, GPU accelerated effects with on-screen controls and custom UI elements that run within a host application to serve as video filters, video generators, and video transitions.
Motion shares this FxPlug architecture with Final Cut Pro. Is Apple going to spin off its entire pro software operation, and along with it its entire interconnected consumer iApps business and all of the connections to its operating system technologies to a third party, just because some observers don't understand the value Apple's software development efforts add to its hardware business?
Rather than pulling out of software, Apple appears to be expanding its efforts to mesh together pro app developments in audio, video, publishing, biotech scientific visualizations, and other high end markets to share costs and technologies between them. Apple's Qmaster and Xgrid distributed rendering and processing, Xsan storage area network, Leopard Podcast Producer, and iTunes U all fit together as part of a tightly integrated set of technologies and products that involve Final Cut Pro. Yanking out any part of the strategy to spin out to a third party to run would be nonsensical and destroy the very reason Apple built up a professional applications development group to start with.
The Future of Pro Apps.
Apple's departure from NAB isn't a sign of Pro App death, but a symptom of the increasing irrelevance of expensive trade show events. If Final Cut Server and the next Shake have been delayed, it's not because Apple gave up, but rather a matter of priorities. Last year, Apple delayed the release of Leopard in order to launch the iPhone, not because Leopard wasn't important, but because the iPhone needed additional focus first and would contribute more to Apple's bottom line than an additional six more months of Leopard sales.
Pundits began shrilly screaming in panic about the grave consequences of delaying Leopard and missing the opportunity to take advantage of the weakness of Windows Vista, but it turned out that there wasn't any big problem. Apple launched the iPhone as the biggest consumer electronics product launch of the year and still managed to complete Leopard, win acclaim, and show up Vista in a year where the rest of the phone industry couldn't manage to deliver a worthy iPhone rival, Microsoft couldn't manage to stem the blood loss of Vista, PC makers in general couldn't match the sales growth of the Mac, and nobody–including Microsoft–could rival the sales or the increasing sophistication of the iPod.
Perhaps the predictable wags need to start directing their fear, uncertainty and doubt toward Apple's rivals rather than Apple itself. It's the competitors who are in trouble right now and need the attention of pundits and their grave concerns.
More Reasons This Makes No Sense.
Given the abject incompetence of major software developers to keep Mac titles up to par with Apple's OS development efforts–Microsoft's Office 2008 was over half a year late and ended up extremely disappointing, while Quark and Adobe just got around to releasing Intel savvy Universal Binaries that still have issues with Leopard–would it make any sense for Apple to rip away its pro apps and sell them off to a third party to manage?
What would that accomplish apart from destroying the company's prospects in the hot markets where Apple has made itself a leading vendor? Should Apple greatly increase its dependence upon third party developers who don't share its goals?
It's actually far more likely that Apple will continue to push its application development efforts in new directions. It recently released iWork to compete against Microsoft's Office in the consumer market, and Aperture is sold against Adobe's Lightroom. It wouldn't be shocking to see Apple expand further into publishing with new pro apps. New audio, video editing, compositing, and animation tools, as well as new CADD and rendering utilities are also likely as Apple works to expand the Mac market.
What do you think? What new Pro Apps will Apple be likely release, and what acquisition targets are on the horizon?

I really like to hear from readers. Comment in the Forum or email me with your ideas.
Like reading RoughlyDrafted? Share articles with your friends, link from your blog, and subscribe to my podcast! Submit to Reddit or Slashdot, or consider making a small donation supporting this site. Thanks!