Is the MacBook Air Another Cube?
January 30th, 2008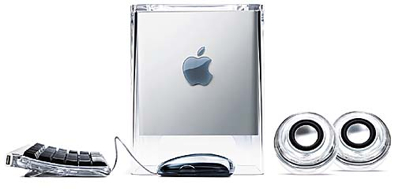 Daniel Eran Dilger
Despite its reputation as a vendor of fashion-conscious products–and a resulting exposure to the risk of looking foolish to a specification centric market with fickle taste and an insatiable demand for perpetual improvement–the New Apple hasn't made many poorly conceived concept product mistakes. In the past decade, the closest Apple has come to releasing a form over function flop was the 2000 Power Mac G4 Cube, an elegantly designed PC in a Kleenex-shaped lucite box.

Fashion Squared.
The premium priced, iconic model found its fans, but didn't appeal to a broad audience. Then, just months after its release the dotcom bubble burst and dried up the market for luxurious concept computing models and other less than practical gadgets and toys.
The dramatic economic downturn in the tech world not only killed off any hopes for the Cube but also marked the end of the road for everything from the Palm Pilot to Dean Kamen's mysterious Ginger, which turned out to be the Segway Personal Transporter, an expensive alternative to walking that made as much sense after the end of President Clinton's longest peacetime expansion in American history as Herman Miller's $700 Aeron dotcom chairs.
In July of 2001, Apple discontinued the $1799 Cube in a terse press release headlined "Apple Puts Power Mac G4 Cube on Ice," which announced that the company would "suspend production of the Power Mac G4 Cube indefinitely." It quoted Phil Schiller as saying, "Cube owners love their Cubes, but most customers decided to buy our powerful Power Mac G4 minitowers instead."
While the Cube wasn't an outstanding success, it was really not a failure on par with such product concepts as Tablet PC or the "Origami" Ultra Mobile PC. Three and a half years later, the Cube was resurrected in a smaller form factor and at a much cheaper price point as 2005's $499 Mac mini. While the mini hasn't blown down any doors, it has sold well enough to maintain its position in the Mac lineup over the last three years.
Why Cube?
The G4 Cube was among Apple's first big attempts to scale up demand and attention for the Mac since the company's recovery from near ruin in 1996. After acquiring NeXT and inheriting the leadership of Steve Jobs, the New Apple had scraped away its operational problems, turned around its moribund software development efforts, and introduced a new flare of excitement under its utilitarian beige and black plastic products.
The 1998 iMac used curvey translucent plastics to usher in a new design language that transformed Apple's stale and poorly differentiated product lineup into an easily recognizable iconic brand. The next year, Apple's pro line of Power Mac towers got a matching makeover, and were joined by the colorful new "toilet seat" iBook consumer laptops.
In 2000, Apple released the Cube at the peak of a Mac resurgence fueled by the company's newfound strength and a surging US economy. It was clearly a nod to the 1988-1993 NeXT Cube (below), which Jobs left Apple to develop in 1986. Like the original Cube at NeXT, the new G4 Cube was elegant and attractive but priced out of the range of most consumers, particularly when compared to the less elegant but faster and more expandable standard Power Mac towers. When the economy tanked, the entire concept of a premium priced elegant box fizzled.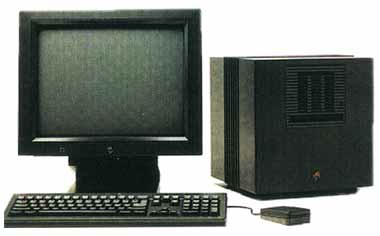 1990-1995: NeXT, Be, and the Mac PC
Steve Jobs and 20 Years of Apple Servers

Was the Cube a Failure?
Other computer makers have shipped fancy PC boxes designed to serve more as glitzy advertisements than as high volume sellers, but Apple's Cube has frequently been targeted for contempt by pundits as an epic blunder, despite its prominent appearance everywhere from the Drew Carey Show to Absolutely Fabulous to 24 and at the Museum of Modern Art in Manhattan. This condemnatory posturing seems excessive.
Apple didn't lose billions of dollars on the Cube as Microsoft has with its series of consumer hardware failures that similarly began in 2000 but which have continued downhill in flames ever since: the Handheld PC, Pocket PC, Tablet PC, UMPC, MSN TV, Ultimate TV, Mira, SPOT, Media2Go, PlaysForSure, Zune, and even the Xbox have collectively syphoned off tens of billions of dollars in investment and revenues into the ground, and most have served more as laughingstock embarrassments than showy corporate advertisements.
In contrast, while the Cube failed to meet sales expectations, it didn't burn up billions of R&D or rack up huge losses. Instead, it helped to established Apple's increasingly upscale brand and luxury image and solidified its position as a risk taking innovator. Much of the engineering work invested in producing the unique Cube was recycled for use in subsequent Mac desktops and laptops.
The Spectacular Failure of WinCE and Windows Mobile
Innovation: Apple at Macworld vs Microsoft at CES
CES: Fear and Loathing in Las Vegas
Cube Critics Blow Hot Air.
When today's pundits aren't calling the MacBook Air a toy for silly women, they're comparing it to the G4 Cube. Like the Cube, the MacBook Air is designed to look good. But the Air's form is its function; the Cube offered little functional advantage over the cheaper and more powerful Power Mac G4 tower.
The Air is also premium priced. However, it is also competitive with other ultra mobile laptops. It's not designed to lower the average selling price of Apple's MacBook line and catch shoppers looking for a low end bargain. The Air is nothing like the Asus EEE PC, which sheds features, usability, and performance to sell for around $400. The Air doesn't need to be, because Apple already has a mobile device designed to fit that price target, and it fits in your pocket a lot better, too.
The Air also appears to share one last similarity with the Cube: it showed up just prior to an economic decline. However, the difference is that Cube existed at a time when Apple relied exclusively on channel partners to sell its products. Apple has its own retail stores now, and they appear to have a huge impact on insulating Apple's sales from the slipping sales of competitors. The company had a blowout quarter in Macs, in iPhones, and despite the worries of analysts, significantly boosted its iPod revenues (even without counting iPhone sales) in a quarter where competitors fought over a shrinking market for music players and disappointing PC sales.
The Air doesn't need to be the thinnest laptop, nor include a full sized backlit keyboard or a video conferencing camera of a higher caliber than most other competing laptops. That's because like the Cube, the Air is designed not only to sell, but to impress and cast a halo of inspired design across the MacBook line around it. Even if it only ever served to draw in customers who then bought a MacBook Pro, it would be a success.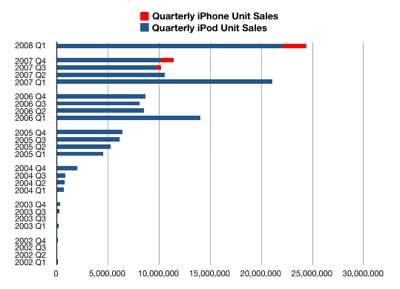 Analysts, Investors Take Apple to Task For its Best Quarter Ever

Small is the New Big.
But the MacBook Air isn't just attractive, it's also functionally lighter and more mobile than the rest of Apple's laptop line. It's also priced very competitive with other light thin laptops at a time when the mobile form factor is rapidly growing in popularity. The current market for ultra mobile laptops is a small premium priced niche, but as consumers have leaned toward laptops in general it has been growing.
Many have long begged Apple to return to building something like the pioneering PowerBook Duo line canceled in 1997, but those models were axed for good reason. Until recently, ultra mobile laptops have often been less than practical and subsequently sold poorly.
While delivering mediocre performance and small 10" screens with a limited graphics resolution, the Duos still cost in the range of $3000 to $4000 for color models. Dramatic improvements in component prices and the availability of high resolution LCDs and high performance but low power mobile CPUs have changed the market for smaller lighter devices.
Apple's entry price of $1799 on the Air is significantly lower than most rivals, particularly when considering that it includes a fast CPU for its class, plenty of RAM standard built in, Bluetooth and WiFi N, and a full sized keyboard and display. Other models are priced as high as $2200 and up for comparable specifications, or simply don't match the Air's features at any price.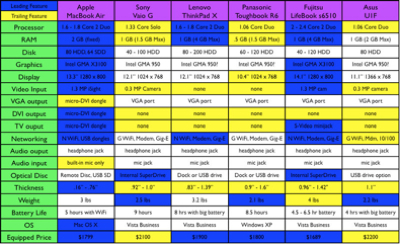 How the MacBook Air stacks up against other ultra-light notebooks

The Air in Something New.
Apple is also in a very different market position at the release of the Air. Unlike the Cube, which was released as Apple was struggling to gain volume sales of its Mac and finalize its Mac OS X strategy, the Air is sailing into a retail channel propelled by brisk sales of Macs and buoyed by strong interest in Mac OS X Leopard.
Rivals' ultra mobile laptops have been hamstrung by the Titanic sinking of Windows Vista, which anchors down their performance and requires the use of Windows XP as a lifeboat.
Apple's Macs are now outgrowing PC sales in general and leading the growth curve in the laptop market in particular. The company is also leading in wireless and in software technologies that mitigate the engineering compromises needed to deliver light and thin devices:
the Remote Disc alternative to building in a physical optical drive
Wireless Migration Assistant for importing files from an existing system
NetBoot firmware features for booting from a remote network volume
And while the outlook for the US market may currently be disappointing, Apple now has an extremely strong retail presence of its own, filled with consumers who are less price sensitive than mail order bargain buyers and who have little interest in alternatives to Apple-branded products. The Air also targets international markets such as Japan, where there is more room for expansion.
So while the Air might have some similarities with the Cube, they're mostly flattering. It remains to be seen how well the Air will sell, but it's pretty ridiculous to worry about Apple putting it on ice next year.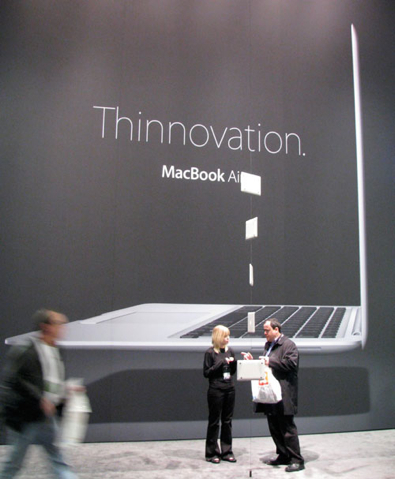 Apple's Adventures in Retail
First Look: Apple's new MacBook Air
How the MacBook Air stacks up against other ultra-light notebooks
What do you think? I really like to hear from readers. Comment in the Forum or email me with your ideas.
Like reading RoughlyDrafted? Share articles with your friends, link from your blog, and subscribe to my podcast! Submit to Reddit or Slashdot, or consider making a small donation supporting this site. Thanks!
Technorati Tags: Apple, History, Mac, Microsoft, Software, the Media