Pundits Pounce On Apple in a Contest of Epic Idiocy
January 28th, 2008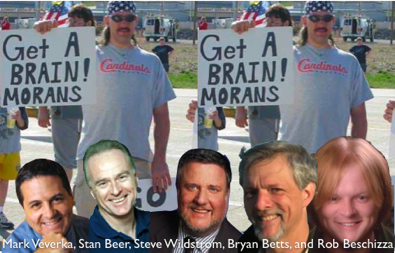 Daniel Eran Dilger
Every Tuesday at noon, the entire city of San Francisco is alerted to civil defense sirens that dramatically blare for a moment, followed by an announcement that nothing really happened and there's nothing to worry about. Only once a year, at the Macworld Expo, that warning is followed by a worldwide media announcement that Steve Jobs' keynote disappointed and that everyone should be upset. Like the City's weekly sirens, that predictable response by pundits makes for a bit of an attention arresting, jarring noise but is then quickly forgotten.

This Is Only A Test.
Despite the best efforts of the tech media to consistently downplay the interest and novelty of Jobs' Macworld presentation, this year Apple:
presented plans to expand upon its lead in consumer wireless appliances
released software updates for the iPhone and iPod Touch that prepare the way for its new WiFi mobile platform
demonstrated an entirely new movie rental business for iTunes, iPods, the iPhone, and Apple TV
unveiled a new ultra thin laptop to expand the hot selling MacBook line into competition with the existing high end, slim and light models offered by rivals.
Apple was also the first manufacture to release systems using Intel's new Harpertown Quad Core Xeon, making the Mac Pro the most powerful PC on the planet. However, the company didn't even find that news important enough to distract from its four February product announcements at Macworld; it simply slipped the introduction out in a minor press release prior to the event with as little fanfare as the announcement of a new pink iPod Nano in the week after the show.
Apple's deliverables at Macworld are particularly impressive when compared with the combined efforts of Microsoft and the rest of the industry demonstrating their own futures at CES. Microsoft's big HD-DVD presentation had the wind kicked out of its sails before it could even air, leaving the company to talk about last year's sleepy Windows Home Server and the still unfinished Surface bathtub.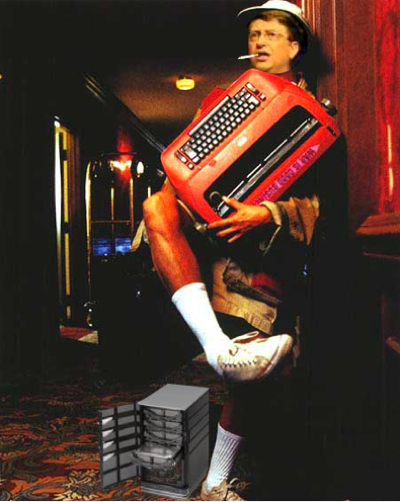 CES: Fear and Loathing in Las Vegas
Innovation: Apple at Macworld vs Microsoft at CES
Desperate House Lies.
It was impossibly difficult for pundits to lay down enough nails to stop the ambulances rushing to give Apple free publicity for its new products. Wags attacked the MacBook Air for not being the MacBook Pro, or alternatively for not being the entry level MacBook, but none believed their own asinine ramblings enough to actually pit the new Air against comparable ultramobile models, and instead bleated about missing FireWire and Ethernet cables for the highly portable laptop.
Echoing Paul Thurrott–who likes to associate Macs with his wife in order to denigrate them as womanly devices that real men wouldn't deign to use–CNET bloggers and their ilk have taken to describing the MacBook Air as something only a hysterical female stereotype could find attractive, and only because she was too stupid to realize that a gamer PC could be built from Egghead mail order parts for less.
Has the great nation of America become so enraptured with the current craze to dig oneself to the bottom of the stupid pile that even the tech industry has resorted to adopting Neanderthal chest beating and excrement slinging whenever presented with a challenge to how one currently looks at the world? Is there anything really impressive or attractive about feigning a capacity of intelligence two orders of magnitude lower than one was actually gifted with at birth? When did masculinity become inextricably linked with the idea of being a mouth breathing meathead unable to adapt to use modern tools?
The blame may lie with Tim Allen and all the cocaine he did before aping it up as a tool on "Home Improvement," but let's rise above the mistakes of the past and move forward as intellectuals. That means you, tech media.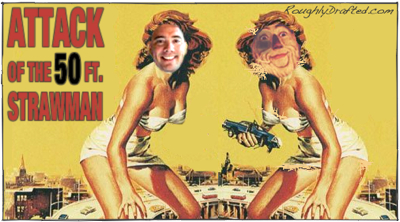 Paul Thurrott's Merciless Attack on Artie MacStrawman
WWDC Secrets Paul Thurrott Hopes You Miss

The Rush To Moron Mountain.
While little can be expected of the CNET/ZDNet crowd and a peripheral gaggle of Windows Enthusiasts, why is it that the mainstream media pundits are rushing to prove themselves incompetent at discussing technology? Can anything possibly drive this fashionable idiocy out of vogue?
Here's a smattering of what I'm talking about, pulled from top stories that purport to exist on a plane above the general din of blogdom:
Barron's Mark Veverka: "Is Apple's iPhone really a hit? I would argue it's not, and certainly not a home run. The company achieved some lowball sales projections — which is Apple's modus operandi — and now even those are coming into question." Right, delivering a hot product that:
sank Palm on its initial announcement
dumped the entire pantheon of Windows Mobile licensees into third place in its first quarter of sales
scared Nokia into copying the iPhone
is regarded as the year's hottest product and a household name
is the smartphone every other model is compared against
… can't possibly be a "hit," even though Apple surpassed its sales guidance and analysts' unit sales expectations, despite selling in a competitive market offering cheaper phones at highly subsidized fake prices during a recession. Veverka, hand in your typewriter and go back to school.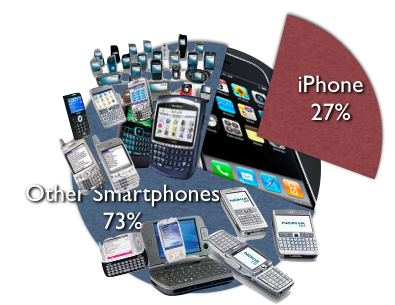 iPhone Grabs 27% of US Smartphone Market
ITWire's Stan Beer: "While new mobile phones entrant Apple struggles to to achieve its goal of moving 10 million iPhone handsets by the end of 2008, the 2007 results of mobile phone leader Nokia has put into perspective the market that Apple is now playing in. Nokia, which commands a 38% share of the global cellphones space, sold a staggering 437 million handsets in 2007 with revenues of more than $75 billion."
Of course, the vast majority of handsets Nokia sells are low end, low profit models. Beer points out that Nokia sold 11 million N-series convergence media smartphones and 2 million E-series business oriented smartphones in the fourth quarter. That's just 5.5 times as many units as Apple sold with its single model, but it also represents Nokia's worldwide sales as the long term, established leader in mobile phones.
Selling primarily in the US, the iPhone grabbed a enough of the market–and of worldwide mindshare–to prompt Nokia to demonstrate a me-too video showing a vaporware iPhone clone as its future. Perhaps the company really isn't so secure in its own future at the moment?
Beer also notes that the flagship Nokia N95, which is frequently compared against the iPhone, "is considerably higher priced than the iPhone," a reality that has been contested by everyone up to this point. After sensationalizing the price of the iPhone compared to its bill of materials, iSuppli quietly admitted that it "expects similar margins" for the N95. However, most resellers mask the high price of the N95 with contract subsidies.
While high priced, the N95 doesn't really appear premium priced to consumers, as Beer tries to maintain in order to explain why the N95 failed to outsell the iPhone despite its much wider availability and its bundling with cheaper tariffs compared to Apple's iPhone partners in Europe. Nokia has only sold 6 million N95 units worldwide this year since releasing it in late March. Apple has sold 4 million iPhones, again principally in the US, since it began selling them on the first weekend of July. Per month sold, that's nearly identical. Apple certainly isn't playing the Zune to Nokia's iPod here.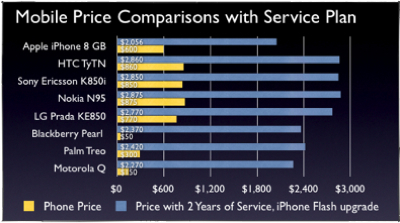 10 FAS: 1 – iPhone Price and Profits vs Nokia, LG, HTC, RIM, Palm
While making a big deal about 3G, Beer failed to note that Apple's iPhone can finish rendering web pages faster using the slower EDGE than Nokia's lower end E and N-series phones using a speedier 3G network, due to a better operating system foundation (OS X vs Nokia's Symbian) and better browser software. Using the still far faster WiFi, there's no contest against 3G, and several of Nokia's E and N-series phones don't support WiFi.
Nokia and Apple also collaborate on WebKit, the web browser engine used by Safari, which helps boost the performance of Nokia's phones that use it. Even so, Nokia continues to use a different browser and OS (Linux) as the basis of its slow selling and rather impractical N800 Internet Tablet because Symbian isn't suited for the task. Apple's iPhone and iPod Touch both use the same WiFi mobile platform, a decided advantage.
In any case, the reality is that Nokia and Apple can both cooperate and compete to deliver consumers a wider variety of high quality options, something Beer seems unable to grasp in his desperate attempts to downplay Apple's success. Neither company has to lose for consumers to win.
Origins: Why the iPhone is ARM, and isn't Symbian
Readers Write About Symbian, OS X and the iPhone
Canalys, Symbian: Apple iPhone Already Leads Windows Mobile in US Market Share, Q3 2007
BusinessWeek's Stephen Wildstrom: "it would be nice if Apple would end its pigheaded insistence on a single mouse button [on the MacBook Air], as it has on desktop mice." Yes, a real man needs a laptop with an extra physical mouse button to perform a right click, because anyone who does real man PC work has lost enough fingers in Nam or using a Skillsaw that multitouch trackpads just don't cut it.
Of course, even the Mighty Mouse lacks a physical right button, making this regurgitated 1996 "how do I right click on a MAC?" argument even harder to fathom.
Wildstrom's article title "MacBook Air: A Little Too Pretty?" is also hard to take seriously, but the demand for a right click button on a far more sophisticated multitouch trackpad is just absurd. Would Wildstrom also complain that a car with an automatic transmission was lacking a clutch pedal?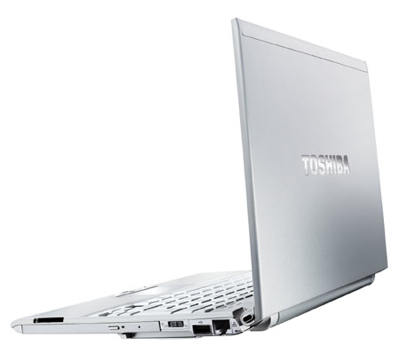 TechWorld / PCWorld's Bryan Betts: "[Toshiba] points out that its lightweight laptops are thinner, lighter and more capable than Steve Jobs' new [MacBook Air] machine, and they cost less as well." In reality, the Toshiba Portege R500 is only slightly lighter, due to its flimsier plastic body and smaller 12" display.
The MacBook Air is considerably thinner and significantly more powerful, with a faster standard processor and an even faster upgrade option (the Toshiba is stuck at 1.2 GHz vs 1.6 to 1.8 GHz options on the MacBook Air), as well as having 2 GB RAM standard. The cheapest Portege model only comes with 1GB and is then only expandable to 1.5GB RAM total (achieved only by throwing away its 512 MB stick and replacing it with a 1GB DIMM), but still costs more than the MacBook Air.
In fact, when compared in terms of equal features, even though the Portege can't offer to match the MacBook Air's speed it still costs hundreds more. Toshiba's site asks $2149 for the still slower, 1GB model that can be expanded to 2GB, which the MacBook Air comes with standard.
While the Portege effectively has a built-in 3 port USB hub, Gigibit Ethernet, unpowered FireWire, and a built in optical drive, its $350 price premium for a slower, larger box with less RAM is hardly fair to describe as "more capable" and costing less. What's the point of fast wired networking and camcorder video input on a laptop strapped for RAM and processing power and really only designed to do basic mobile web, email, and office work?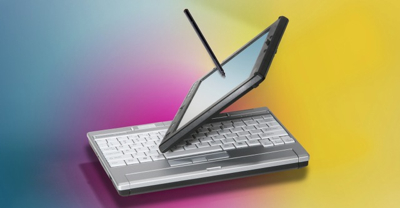 Wired's Rob Beschizza: "[Fujitsu is] the first to announce a new model since Apple stormed along with the MacBook Air. The Fujitsu P1620 is lighter, cheaper, and packed with features the Air doesn't have — while lacking some of those it does."
While Beschizza doesn't concern his readers with any of those lacking features, he seems oblivious to the fact that he's comparing the MacBook Air laptop to a Tablet PC with a tiny 8.9" screen, the same anemic processor as Toshiba's Portege R500, a toy-sized keyboard, much slower WiFi (g vs. n), optional Bluetooth support, a comical fraction of the RAM (512 MB), and an unwieldy, thick, clumsy swivel display.
It's also a whopping $50 less, unless you actually want the Bluetooth, 80GB disk, 1GB of RAM, and a functional "recommended" battery rather than the basic 3 cell placeholder. That model, still slower and less usable than the MacBook Air, will cost you $2224, a $425 premium over the Air. The P1620 best serves as a good explanation of why Microsoft's Tablet PC concept is not selling.
Fujitsu makes some nicer laptops, but this engineering joke is hardly a "neatly-packaged box of criticism leveled against Cupertino's upstart," as Beschizza claims. It looks like it was designed to have its photo taken in a studio, not to actually be used. It's ergonomically absurd, requires messing with a stylus, and is effectively an atrociously priced 1.36" slab for reviewers to talk about.
I know it's a lot to ask, but please, wags of the world, stop making me look like a genius for pointing out the absurdity of your looney trolling, ridiculous naysaying, and insistence that up is down. Together we can enjoy a less stupid world, if you want it.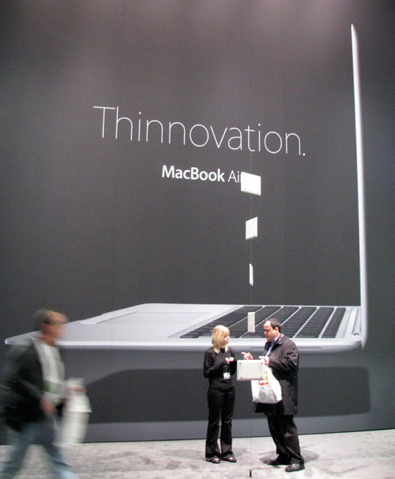 First Look: Apple's new MacBook Air
How the MacBook Air stacks up against other ultra-light notebooks
What do you think? I really like to hear from readers. Comment in the Forum or email me with your ideas.
Like reading RoughlyDrafted? Share articles with your friends, link from your blog, and subscribe to my podcast! Submit to Reddit or Slashdot, or consider making a small donation supporting this site. Thanks!
Technorati Tags: Apple, Bloggers, iPhone, iPod, Mac, Microsoft, Software, the Media