Analysts, Investors Take Apple to Task For its Best Quarter Ever
January 23rd, 2008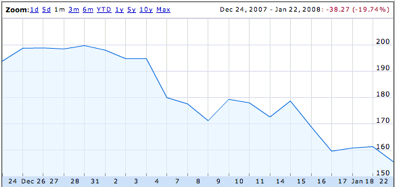 Daniel Eran Dilger
According to Dan Frommer of Silicon Alley Insider, the Era of the iPod is over. That dramatic conclusion comes from the limited new iPod unit sales increase year over year in the December quarter; this year, Apple sold just five percent more iPods that it did last winter. However, reality isn't quite so simple, and there's no reason to buy into the professional panic being advanced by the usual suspects.

Lost in the Numbers.
It's hard to be too upset about Apple's iPod sales. It sold 22,121,000 iPods, which while only five percent more units compared to the winter quarter last year, represented 17 percent higher revenues. That's because Apple brought a more powerful and expensive iPod to market, the iPod Touch. Brisk sales of the higher end model bumped up revenues and profits and raised the average selling price of iPods in general. Apple enjoyed the highest growth rate in revenue for the iPod in a year.
Consumers enjoyed the best iPod ever. In addition to the new Touch, Apple also released the new video playing Nano, converting its product lineup into one than can play both music and video purchased from iTunes. More recently, they can also handle rented movies as well. Perhaps the company knows what its doing after all.
Another secret that seems to have slipped through the fingers of every analyst on the planet is that the iPhone is also an iPod. It's essentially an iPod Touch with a camera and a mobile phone. Apple sold 2.3 million iPhones in the winter quarter, so if you add those into the iPod units, you arrive at 24.4 million iPods, which is what analysts were looking for, albeit in the wrong column of the report.
The other difference between the iPhone and the standard iPods is that the iPhone generates steady, subscription-accounted income as well as a share of mobile operator service fees. The nibbling cannibalization of iPod sales by the iPhone is kindest competition Apple could hope for.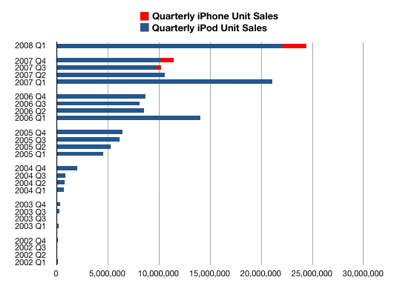 Apple's Changing Strategy.
Getting lost while searching for straight unit sales growth seems to be an ignorant perspective of Apple's business. Analysts have been complaining for some time that there was nowhere for the iPod to go; it appeared that the only future would be ever larger capacity devices, which at some point would reach a point of diminishing return for users.
Apple solved that problem before it sprouted by converting the iPod lineup into thinner Flash RAM devices with less capacity. Before anyone could complain about having no need for the extra storage in a 160GB iPod, Apple jumped on a new horse to deliver the message small is the new big.
The thin new iPod Nano took over doing everything the regular iPod Classic was doing (apart from spinning a hard drive), and the iPod Touch reinvented what the iPod was going to become in the future. Rather than being a hard drive wrapped in a simple UI, suddenly it charted out a course as a handheld WiFi multitouch mobile computer.
New iPod Reviews: 3G iPod nano, iPod classic, iPod touch
The Do More iPod Platform.
To drive that strategy home for investors and analysts, Chief Operating Officer Tim Cook articulated the concept repeatedly in the Q1 conference call. The iPod is no longer just an MP3 player, but is now "the first mainstream WiFi platform for mobile applications."
Apple isn't trying to maintain impossible exponential growth of iPods anymore. Instead, it's redefining the iPod while maintaining its current sales volume and market share, in order to increase profitability and create sustainable, valuable growth.
Rather than just bumping up numbers year over year, Apple is selling devices that do more, both for consumers and for Apple. In 2007 more iPods gained video playback, and this year they'll gain third party software execution features.
Imagine if Sony and Microsoft were actually earning profits from sales of their game consoles instead of losing billions of dollars, while still developing the potential for a lucrative future platform for software sales and online service revenues. That dreamy business plan is what Apple is knee deep in right now with the iPhone and iPod Touch, and it's only ever been making money while rolling the strategy out.
Blu-ray vs HD-DVD in Next Generation Game Consoles
Pay Attention, Microsoft.
Back in 2006, I chided Microsoft for releasing the Zune as a clunky brick aimed at Apple's high end iPod. That winter, I announced that Apple would likely follow what it did the last two winters: release and market low priced, simple iPods that drove sales volumes. That's what Microsoft should have done in 2006, while the game was perhaps still open to new players.
Last fall, Microsoft attempted to do what probably would have worked in 2006: deploy cheaper Flash Zune models. However, Apple also rejiggered its product line dramatically, besting the Zune on the low end with the iPod Nano, and trouncing it on the premium end with the Touch. Having cleaned up the iPod market, Apple shifted much of its marketing budget to advance the iPhone rollout, which also cast a halo over the iPods.
The result was that Apple sold more iPods than ever, made substantially more revenues and profits, maintained its dominant market share position, and established both the iPhone and Touch as a new WiFi mobile platform, just in time to invite developers to code for the several million strong installed base of OS X/Cocoa handhelds this spring.
Are the analysts really so stupid that they'd have preferred to see Apple just dump more cheap iPod Shuffles into the market to achieve 30 million unit sales at lower revenues, lower profits, and at the expense of boring the public with another year of the same thing?
Should Apple have driven the iPod off a Thelma and Louise cliff for a dramatic ending instead of swerving to motor on into a series of increasingly profitable sequels?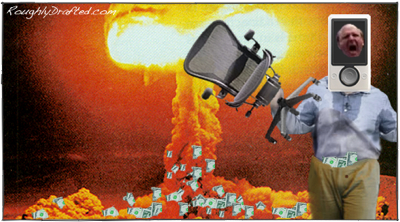 Strike 3: Why Zune will Bomb this Winter
Why Microsoft's Zune is Still Failing
It's So Much Easier to Bluff.
Were Apple Microsoft, perhaps it could simply release an MP3 player that doesn't work, and promise a patch to fix it sometime over the next two years. That's what Microsoft has done with Vista and every other release of Windows, and has essentially been the company's strategy for Windows Smartphones, Media2Go, PlaysForSure, the Zune, Windows Home Server, and even the Xbox line.
If you listen to the Windows Enthusiasts, they'll let you know that Microsoft is gearing up to compete with the 2007 iPhone and Leopard at some point in 2010, and might even inexplicably deliver its new operating systems ahead of schedule sometime next year.
That's right, Microsoft is supposed to deliver its new operating systems well in advance this time around because it hasn't even showed anything off yet, and it's not busy fixing Vista, repairing the Xbox 360s, rethinking HD-DVD, or working on the Surface bathtub. Keep praying for that you nutty bunch of knuckleheads out there in Windowsland.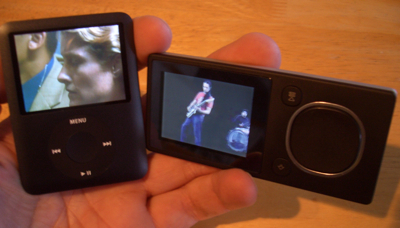 Winter 2007 Buyer's Guide: Microsoft Zune 8 vs iPod Nano
Scratching the Surface of Microsoft's New Table PC
CES: Fear and Loathing in Las Vegas
What You Expected, What You Got.
What do you get for beating your own guidance and even exceeding the dizzy expectations of Wall Street? Not much if you're Apple.
Apple's guidance called for $9.2 billion in revenue and $1.42 in earnings per share.
The Street was expecting $9.46 billion in revenue and $1.60 in earnings per share.
Apple actually delivered $9.6 billion in revenue and $1.76 in earnings per share.
The company also blew away expectations for Mac shipments, iPhone sales, and exceeded its guidance for iPod sales. Analysts' response has been to bewail the fact that the company didn't meet even higher expectations for iPods set by speculators or exceed fanciful "whisper numbers" based more on optimistic conjecture than solid research.
What drove down Apple's stock price in aftermarket trading was the company's more conservative guidance for revenue and earnings in Q2, which ends in March. The company forecast sales of $6.8 billion and earnings per share of 94 cents, below analysts' consensus expectation of earnings of $1.09 per share on sales of $7.0 billion.
Clearly, Apple would rather impress than disappoint. The company does face weaker economic conditions, but also just managed to walk through a fiery holiday season unscathed and emerge stronger in its US sales and, to an even greater extent, pulled off exceptional international growth in both iPods and Macs.
It also trounced Microsoft's efforts to make significant inroads into its iPod business, even with its rival leveraging all its tricks and dumping millions into ad campaigns and sponsorships. Over the last summer, the company followed around acts like the Chemical Brothers, offering concertgoers buying merch the opportunity to get a Zune logo silkscreened on their t-shirts. I bet Microsoft would have been enraptured to have taken the additional five percent of iPods Apple sold in the last quarter, but no cigar.
Apple is proving to be a difficult competitor.
Never Mind the Sex Pistols, Here's the Bollocks.
Apple's best ever quarter, with record sales of Macs, iPhones, and iPods, was profiled with a particularly negative spin in Forbes by Ruthie Ackerman. Reader Gabe Stein sent in a link to the bizarre article, which spun the company's stellar earnings under the fanciful title "Shine Comes Off Apple."
Ackerman managed to find an analyst willing to describe the iPhone as a "failed strategy" for not yet providing a voice dialing feature, and complained that "the company is trying to rely on the Mac and the iPod to compensate."
With writing like this from an apparently legitimate magazine, who needs CNET?
What do you think? I really like to hear from readers. Comment in the Forum or email me with your ideas.
Like reading RoughlyDrafted? Share articles with your friends, link from your blog, and subscribe to my podcast! Submit to Reddit or Slashdot, or consider making a small donation supporting this site. Thanks!
Technorati Tags: Apple, iPhone, iPod, Mac, Microsoft, Software, the Media