Who Was the Biggest Loser at Macworld?
January 22nd, 2008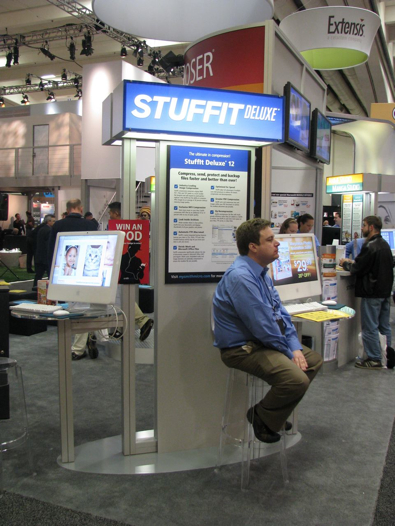 Daniel Eran Dilger
There are winners and losers in life, and in accordance with the First Law of Thermodynamics, the heat and light generated by winners must result in a cold, dark shutout for an equal number of losers. Who won and lost a Macworld 2008?

Macworld vs. CES.
Macworld itself was a winner, with a giddy, satisfied audience radiating everything that was missing from CES a week prior. Apple released four major new product family advances in arenas where it's already leading, and plenty of third parties introduced interesting software and new gear as well.
CES: Fear and Loathing in Las Vegas
Innovation: Apple at Macworld vs Microsoft at CES
Apple TV vs. Vudu, NetFlix, UnBox, Xbox 360.
Steve Jobs dropped the expected bomb of movie rentals from iTunes and HD rentals through Apple TV. That has to suck for Vudu, which has instantly become an iPod's Zune. It also makes NetFlix' mailers the buggy whip of the auto age, relegates UnBox to the Tivo niche, and empties the 360 of any advantage it held as a fractional percentage market share statistic in the online video downloads market.
First Look: Apple TV 2.0 and iTunes Movie Rentals
Apple TV Promises to Take 2008
Apple TV Digital Disruption at Work: iTunes Takes 91% of Video Download Market
Time Capsule vs. Microsoft Windows Home Server.
Last year, I thought it comical how Windows Enthusiasts simultaneously wrote off the Mac market as inconsequential while trying to also tout Leopard's Time Machine as the perfect vehicle for Microsoft's Windows Home Server. In other words, Macs don't matter but will result in a watershed of support for Microsoft's attempt to shoehorn licensing revenue into home storage.
In a "Von Trapp Family Singers!" style announcement, Microsoft has twice herald out the name of Windows Home Server to polite applause without the product actually ever actually appearing. What is it that's so sophisticated about the box that has the company struggling to get it out in a usable form and taking more time to do so than Apple TV?
Whatever the reason, it certainly doesn't appear that anyone cares, the least of whom might be Mac users running Time Machine. Why buy a big PC box that does little more than file and print sharing, and then be forced to use Internet Explorer to administer it when you can already buy a faster wireless N AirPort Extreme for less?
That's no theoretical question. Windows Home Server isn't selling units at all, but Apple's AirPort Extreme is. In fact, NPD designated Apple as the number one 802.11n router maker last year. Apple now has 5 million Time Machine users interested in a backup target. Which are they going to choose?
At Macworld, Apple made the decision even easier by slapping a server drive in the AirPort base station and branding it as Time Capsule. Microsoft also helped to throw things in favor of Apple's solution by introducing a file corruption feature in Windows Home Server so that files saved directly to or edited on its Home Servers' shares could have an exciting Russian Roulette style chance of being toasted automatically whenever the planets fail to align properly.
Oh the humanity!
First Look: Time Capsule, AirPort, and Time Machine
Windows Home Server vs AirPort Extreme
MacBook Air vs. Existing Ultra Light Laptops.
Other ultra light laptops might be cheaper with a fraction of the horsepower and graphics savvy, or lighter when their battery is detached, or thinner like the $6000 experimental laptop CNET's Michael Kanellos dredged up from ten years ago in order to quibble with Apple's "thinnest" claim, but none are as full featured as the Air, as light as the Air, or as thin as the Air, and as price competitive as the Air… all at the same time.
Another big deal in Apple's favor is that the Air is a Mac, meaning that the company has a locked up demand for light, thin laptops that run Mac OS X. While you could theoretically run Vista on the new MacBook Air, doing so would rob you of about 20% of its overall performance, particularly if you have third party anti-virus (and/or virus) software running.
Other laptop makers have no choice, and are either forced to build in performance that users will never actually see running Vista, or ship their ultra light hardware running the ancient Windows XP from 2001. Don't laugh; the XP Downgrade DVD is actually a hot accessory among ultralight laptops, and often comes bundled as a feature.
When put on the spot, Sony was quick to point out that it made light, thin laptops first. Yes Sony, we even know it was you that designed the first Apple PowerBook. You are great at designing incredibly thin hardware. The problem is that you have no sense when it comes to software, so stand in line behind the Diamond Rio and keep telling yourself that you did it first while the world moves on. And don't make me tell you where to put your proprietary Memory Stick, just keep advertising the rated life for your laptops using an optional, heavy, bulky battery that you have to buy separately.
First Look: Apple's new MacBook Air
Apple vs. the Media.
The media seemed intent on marginalizing Apple's engineering decisions compared to other hardware makers, but none appeared to be quick enough to really get the fact that Apple has solved a number of ultralight laptop problems for the MacBook Air in software:
a more capable multi-touch trackpad that goes far beyond what a finger joystick or standard pad can do.
Remote Disc networking and discovery software that makes an optical disc drive largely unnecessary.
a Wireless Migration Assistant that magically imports settings and files from another computer.
Yes, reporters, we are all aware that Apple hasn't been in the light laptop game for over a decade. Rather than trying to tell us what we know, point out something really notable. Apple just did to the ultra light laptop market what it did last year to the smartphone market : plan out a much better product designed to hit the actual needs of consumers, execute it flawlessly, and release it to the public so smoothly that it appeared to be effortless.
Of course, if it were indeed effortless, we would have seen the same stuff from other vendors long ago. In contrast, Dell couldn't even copy the iPod. Neither could Microsoft, nor any of the companies that were already making audio players. Apple is rapidly entering difficult new territories and blowing away incumbents through smart innovation and engineering work, while competitors are unable to match the success of any of Apple's existing product segments. That's a pretty important song to go unsung so long. Shame on the ignorant media and their advertiser cowering, disingenuous tech coverage.
Zune vs. iPhone: Five Phases of Media Coverage
Ten Myths of Leopard: 10 Leopard is a Vista Knockoff!
iPhone and iPod Touch vs. Crickets.
When Wired and CNET reviewed the latest Zune 2.0, they compared it against Apple's 2005 legacy model iPod Classic. Positioning Microsoft's latest model against Apple's current product lineup would have been far more embarrassing. Big corporate media is so biased against Apple that it's almost comical. Fortunately, all of the anti-Apple scare mongering has had no discernible effect apart from making Apple look like the underdog in markets where it is currently outsmarting, outselling, and outperforming its competitors.
The iPhone software update demonstrates just how far Apple is ahead. Its four million users just got a newly revamped phone with additional features, a harbinger of what's to come. Nokia was left to release an 8GB version of the N95, so that its users will have to replace their hardware at their own expense in order to have what the iPhone originally shipped with.
Nokia is also advertising that it thinks phones should have wide open potential, a competitive dig against the iPhone. The problem for Nokia is that it only has potential. The iPhone actually delivers usability now. And next month, when its SDK ships, the iPhone will offer more than just potential. It you filter out all of the blowhard baboonery about how "the iPhone isn't right for Enterprise," you will see a clear picture of enterprise giants lining up to get their software running on the most capable handheld computer platform available.
If you thought 2007 was a fun ride, buckle up for 2008, as Apple takes on ultra mobile laptops, smartphones, movie rentals and set top boxes, and handheld rich media computers all at the same time.
Steve Jobs vs. Violet Blue.
Sex blogger Violet Blue, who likes her pseudonym so much she sued a young porn starlet with the same handle for 'dilution of her brand,' reported that she approached Steve Jobs on the show floor at Macworld, tugged at his arm and asked for a picture. According to her blog, she said Jobs was standing alone poking at his iPhone. By Blue's account, Jobs reply was that taking a picture "would be rude."
Without witnessing what happened, it wasn't obvious whether Jobs allegedly meant that it was rude for her to demand a photo, or if it would be rude to allow her to take pictures without setting up a booth to allow everyone else to take Santa photos with Jobs, too.
In any case, Blue backed up and took a photo of Job's back anyway, proving her exceptional class and that her account of the events wasn't really straightforward. Blue said Jobs was standing alone, but her "no? I'll take one anyway" picture revealed that Jobs was with an unidentified woman from Apple Katie Cotton, Vice President of Worldwide Corporate Communications and Senior VP of Worldwide Product Marketing / Teddy Bear Phil Schiller, whose backside is recognizable from any angle.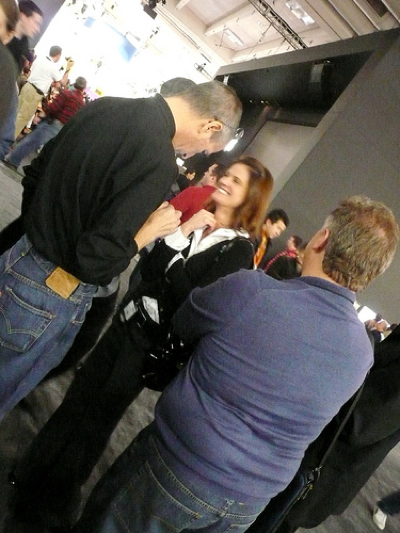 Others at Macworld reported that they approached Jobs to say hi and shook his hand in after a friendly reception. Why did Blue think the reclusive billionaire would welcome a fan photo shoot like LeVar Burton at a Trekkie convention? And why after being shot down over her photo op request did she snap an unflattering rump shot to post in her blog? And why did she then run to the arms of Microsoft blogger Robert Scoble in order to pout about her failed plot to associate herself with someone notable?
Had Jobs enthusiastically jumped into Blue's picture, would the shot have then accompanied her subsequent column in the San Francisco Chronicle, an entry titled "So, I seduced a Mac geek," with the subheading "Violet Blue, a black turtleneck and Macworld Kama Sutra," which went on and on about how she had steamy hypothetical sex that involved various products from the show floor?
There are no "mac geeks" that dress like Steve Jobs, so the black turtleneck was clearly an allusion designed to associate herself with Jobs in some masturbatory fantasy of fan fiction. To link her column tighter to the Mac event, Blue even posted a query hyperlink in the online Chronicle version designed to bring up all Craigslist personal ads that referenced "Macworld" in them, a decidedly uncool stunt to pull.
Personal ads aren't public news, and Blue's attempt to drag the postings into public ridicule for her own fame and profit bear a little too much similarity to the pasty faced geek who posted fake sex ads online and then outed everyone who responded by publicly posting their photos and fetishes. To really add some sensationalism to her otherwise boorish article, Blue even made allusions to demonic religious sacrifice, and tried to associate the Macworld trade show with the Church of Satan's Anton LaVey. What a desperately twisted attempt to fan her own flames.
Before you scramble to read her posting, be forewarned that it is no more interesting to read than any of the other staff op-ed writers that grace the Chronicle, most of whom are out of town suburbanites who complain about tall buildings downtown and advocate parking garages in Golden Gate Park. The SF Chronicle's offices are only physically situated in the City; its editorial viewpoint is clearly housed in the stuffy McMansions of gated communities well outside of San Francisco, which approach in sophistication the crusty red state underbelly of California. That's why we call the paper the Comical.
Blue is paid to write edgy corporate copy, but it's nothing incisive or interesting. She's worked her fingers into the leagues of Forbes' celebrated bloggers, a feat that includes co-appearances in Daniel Lyon's FSJ blog and other cobranded marketing stunts. Perhaps the Real Steve Jobs had a premonition that something Fake was afoot in the photo shoot request, and didn't want to willingly play into it.
Something else Jobs may or may not have known about Blue was her penchant for dropping product mentions for anyone who plays along with her alternative indie charade. She's been touting the Helio Ocean phone ever since the company sent her one for free last year, and immediately after being turned down by Jobs, she rushed to post smack about the new MacBook Air "not being that small" in her blog, recommending a variety of alternatives from Sony and Panasonic instead. Take that, publicity stunt foiler Jobs.
The odd thing is that Blue never really talks about tech until there is a business model for doing so–or a socially transmitted virus she hopes to spread, like the wildfire outbreak of crabs on Digg who were all upset that Jobs didn't vogue for Blue. There's a fine line between being successful and being a sellout (actually there's no line whatsoever), but Blue even managed to blame Apple for contributing to her success by having promoted her podcast content in iTunes.
"It's not a happy feeling to have been the poster child for iTunes podcasts for so long (I still hit the top ten, yo) — even famously when it launched — and be humiliated like that," Blue complained in her blog. Of course, if you're pained with being a "poster child," maybe you shouldn't be signing contracts to poster your face everywhere to begin with. And if, on the other hand, you're a sellout trying to build your pseudonym into a valuable brand, maybe you shouldn't be reviling the executive who gave you a podium to talk about whips and fetishes and whatnot.
Really, boo-frigging-hoo, Ms. Blue. If you think your celebrity makes you worthy of taking pictures with Jobs, maybe you should introduce yourself as who you are, so you don't just come across as another incessant Apple fan with a camera. Try to keep in mind that there's 60,000 of those at Macworld, and less than 500 minutes per day on the show floor to engage them all in photos and polite banter.
Then, try to remember that when you ask permission, one of the possible answers might be no. And try to remember that, as the ladies say, "no means no" whenever asking permission is involved. Also, try to take disappointment like a man, rather than running around portraying yourself as a victim while getting as much airplay as possible for a limp story that just doesn't fit together.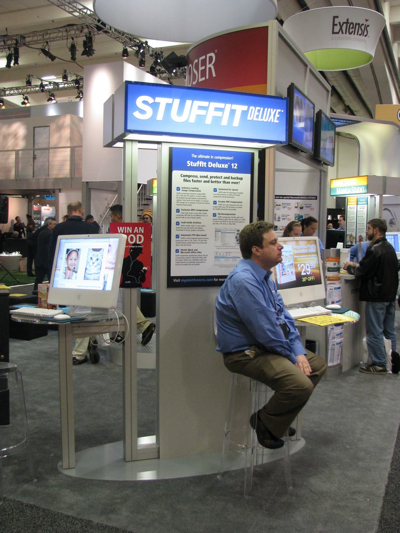 Reality vs. Stuffit.
Back in the day, Mac users downloaded Stuffit Expander to uncompress their file archives, particularly software compressed and archived for Internet distribution. Stuffit's developer decided to monetize its position by forcing users through ugly hoops just to download the free expander utility, and tried to lead them into buying things they didn't really need.
Apple dropped Stuffit and added its own standard compression and archive features into Mac OS X. By 2005, Stuffit wasn't even being bundled by Apple anymore. Since then, nobody really uses Stuffit apart from the random ancient archive that turns up or the odd developer who sends out an installer in the archaic .SIT format.
When a third party developer is rendered obsolete it is usually a sad affair where the needs of the many simply outweigh the needs of the few who made a particular product. Other times, it's more like the fall of Real Networks or Netscape, where their previous misconduct when at the height of their power and influence simply makes it easy to feel a bit of schadenfreude for their now desperate plight.
It's easy to laugh at Stuffit after remembering how difficult the company made it to download their free tools. Why the company is at Macworld in 2008 is a bit of a puzzle, but I thought the lonely Maytag repairman rep made for a great picture. Perhaps if John Hodgman ever gets tired of being PC, this guy can take the role. Although secretly, I hope Hodgman sticks around for a while.
What do you think? I really like to hear from readers. Comment in the Forum or email me with your ideas.
Like reading RoughlyDrafted? Share articles with your friends, link from your blog, and subscribe to my podcast! Submit to Reddit or Slashdot, or consider making a small donation supporting this site. Thanks!
Technorati Tags: Apple, Apple TV, Bloggers, iPhone, iPod, Mac, Microsoft, Software, the Media