How the MacBook Air stacks up against other ultra-light notebooks
January 22nd, 2008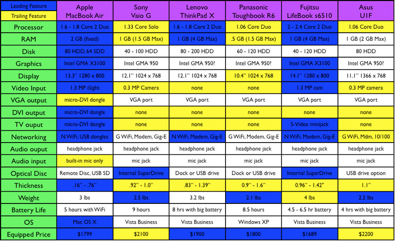 Daniel Eran Dilger
At last year's Macworld Expo, Apple's dramatic unveiling of the iPhone divided the world into two camps: those who were excited about the state of the art being pushed, and those who were irritated that Apple was the one doing it. This year, the role of the iPhone is being played by Apple's new MacBook Air.
As with the iPhone, Apple wasn't inventing a new category of product when it announced the MacBook Air. The ultra light notebook category has been steadily refined and advanced by Sony, Panasonic, Fujitsu, Lenovo, and many others; each manufacturer has delivered product lines designed to match their customers' needs.
Sony targets high end consumers; it leverages its physical media engineering prowess to build DVD burners into most of its models, something that few other light notebook makers even attempt to do. Sony's Vaio line is splashy and feature rich, but isn't commonly regarded as well built or durable.
Panasonic is known for its ruggedized Toughbook line, designed to operate in rough environments. Its models commonly trade off high end performance and features for extremely light weight and compact size. That relegates Panasonic's fans to mobile business users, and makes it less appealing to mainstream consumers.
Lenovo, which bought up IBM's PC division, continues the venerable ThinkPad line as a highly regarded workhorse that delivers top performance in a thin but well constructed case — all work and no play. ThinkPads are also known for their long usable life and their fingertip controllers rather than trackpads, something that polarizes users for or against based on their personal preferences.
Fujitsu is another leader in light and thin notebooks, but also makes more general purpose machines that borrow from its leading edge thin designs. Its larger sized lines are powerful and economical while still remaining thin and fairly light. Fujitsu also makes Tablet PC convertible machines with the flip-around monitors that have yet to prove popular because they are gutless and expensive.
Asus, best known for its popular $350 EEE PC toy notebook, is also making inroads into the light notebook business. It's targeting low powered thin models with small but higher resolution displays than most of the competition.
Of course there are many other makers of light notebooks. Dell and HP both make lighter notebook models, but none are really comparable to the top competitors in the ultralight market; instead, those two companies target the mass market, which hasn't yet started chasing light thin notebooks because of the engineering tradeoffs they require to drop the pounds and millimeters and their commensurate price tags.
Continues: AppleInsider | How the MacBook Air stacks up against other ultra-light notebooks