Apple TV Promises to Take 2008
January 21st, 2008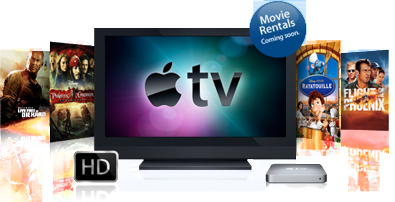 Daniel Eran Dilger
While 2007 was the Year of the iPhone, 2008 appears to be set as the Year of Apple TV. After languishing for a year with weak sales, derisive media scoffing, and an official designation as a "hobby" for Apple, the product's newly unveiled software upgrade has already kick started sales, even prior to the new "take two" software being released.
As one Apple Store employee observed a day after Macworld ended, "Apple TV is crackin. We went from selling one a week to one or two an hour."

The Humble Placeholder.
Apple first announced its plans to deliver a living room set top box in the fall of 2006, shortly before the unveiling of the iPhone. That unusual prerelease preview was clearly made in order to create a bump of attention that would fade just in time for its fated overshadowing by the climate changing, meteoric impact of the iPhone's release.
Once the iPhone hit, nobody had much reason to talk about Apple TV. That was fine because in 2007, Apple wasn't big enough to manage more than the three huge hits on its plate: iTunes and iPods, Leopard and the Macintosh, and the new iPhone. Apple TV was a side dish sharing the spotlight of iTunes, and was commonly described as "an iPod for your TV."
That didn't exactly cause a rush of consumer attention, because everything Apple TV could do was pretty much possible using a long DVI cable, for anyone who has a Mac within close range of their TV. Given the popularity of MacBooks, it's simply not that hard to play iTunes movies on TV, and unlike Apple TV, a Mac of any type can also play DVDs.
Why Apple TV?
Why pay $299 for a box that can only sync with iTunes? Most early Apple TV buyers were enamored with its slick ability to display photos effortlessly and serve as a playback repository for ripped DVDs, but ripping a DVD takes a lot of time and is still somewhat legally questionable. Outside of those users, finding a reason to buy Apple TV was more difficult.
Pundits demanded that the Apple TV play DVDs and HD discs, and act like a DVR for straining content from cable feeds. That wasn't at all what Apple had in mind for Apple TV, however. A more intelligent minority suggested that Apple TV should act more like iTunes itself, allowing users to buy music and movies directly from their TV. I originally argued against this, noting that it's simply much easier to search and shop for content from the rich iTunes interface, and that trying to duplicate that on a TV display would be difficult to do.
It turned out that I was wrong. I first realized this when Apple delivered the WiFi store for the iPhone and iPod Touch. Rather than cramming the full iTunes interface into the small display, Apple put together a custom client for the iTunes Store that was graphical and intuitive and a perfect fit for a mobile device. The WiFi Store not only made shopping easy, but also integrated into iTunes so that purchases could flow from the mobile to any central iTunes desktop library connected to the same account. Once it was released, the obviousness of creating the same thing for Apple TV was evident.
Curious Stuff About the New iPods
Something in the Air: Anticipating Macworld 2008
Windows XP Media Center Edition vs Apple TV
Apple TV Take 2.0.
I'm happy to admit that my initial expectation for the pace of Apple TV development was too conservative. In a single year, Apple TV has jumped from a placeholder product designed to serve as an alternative to manually cabling your laptop to your TV into a full fledged, self contained media computer for watching and ordering Internet content.
Apple's overview of the device's new ability to preview and order any existing iTunes paid content (music, music videos, TV shows, and movies), as well as new HD movie rentals and a new and improved interface for bringing up free YouTube videos, Flickr and .Mac Web Galleries photos, and podcast content streamed directly from the podcasters' servers is big, really big.
When I recommended that Apple plug into alternative networks and allow broadcasters to pump their programming through Apple TV, it didn't immediately occur to me that all the pieces to do this were already in place. Apple already maintains a huge selection of podcasts, all organized and tagged and rated and commented upon by users. Anyone can podcast.
Podcast Prowess Plus.
Apple doesn't archive, manage, or broadcast the podcasts listed within iTunes; it simply hosts the RSS feeds of those programs. When you select and watch a podcast from iTunes (or from the new Apple TV software), you're watching it directly from the server of those hosting the program. That means podcasters can broadcast HD content, line up their own ad supported revenue models, and begin broadcasting simply by giving Apple a simple RSS feed.
That also means Apple has no proprietary lock on podcast content. Apple's contribution has been to encourage the development of standards-based content publishing: MP3 or AAC audio, and H.264 video. Any modern device and software running on any platform can download and play back the free, open content delivered for podcasts. Apple is competing in an open race on a level playing field, competing on the merits of its own ability to deliver smart, convenient software and competitive, compelling hardware.
What Apple has helped to cultivate in podcasting is a worldwide, decentralized, uncensored medium that allows any group with news, entertainment, or a information a way to reach millions of viewers without massive investment and without having to build and maintain a distribution network or court the favor of a broadcasting network that already has.
Apple TV Take Two appears to be among the best ways to watch podcast segments, but it also offers commercial music, TV, and movie downloads, movie rentals, and local and Internet photo viewing. That means while anyone can copy Apple's podcast prowess, to compete with Apple TV, they'll also have to figure out how to match the sophistication of iTunes and the desktop and web-service savvy that Apple has been developing over the last several years. Given the flaccid competition to the iPod and iTunes in general, Apple's position on HDTV integration looks pretty secure.
That means Apple is currently the best shot at deploying this wide open pipe, and consumers who are attracted to movie rentals and pop music downloads will unwittingly open themselves to a wide open font of information with the capacity to broaden their perspective and outlook on the world around them.
Five Ways Apple Will Change TV: 1
Five Ways Apple Will Change TV: 2
Five Ways Apple Will Change TV: 3
Five Ways Apple Will Change TV: 4
Five Ways Apple Will Change TV: 5
Why No Composite Video?
Apple TV observers learned last year that the hardware has the native ability to deliver composite video output for use with older TV sets. There wasn't any obvious reason for Apple to turn this off by default in the existing software. Now that the Take Two software has been unveiled however, the method behind Apple's madness is more evident.
While composite output would have been marginally good enough for many users of the 1.0 software, fewer would have been happy to see an ambitious 2.0 software release that shoehorned in enough features to make the overall experience too soft and unreadable on anything less than a widescreen display offering 480p quality.
Apple clearly had more ambitious plans for Apple TV than it revealed last year, when the unit was rather quietly advanced in the shadow of the far more spectacular iPhone. Both products were 1.0 releases, but the iPhone was a much bigger bet with a much larger payoff, so Apple invested its resources to ensure that the new smartphone would hit the ground running in 2007. Apple TV could hang out as a hobby while Apple lined up the content and finished the software.
With the iPhone now running along smoothly at top speed, Apple now has the opportunity to fire up Apple TV as its fourth engine. This time, the professional naysayers only have a couple weeks to disgorge their rivers of fear, uncertainty, and doubt before Take Two hits the public's hands and shows up their analysis as the stupefying nonsense that it is.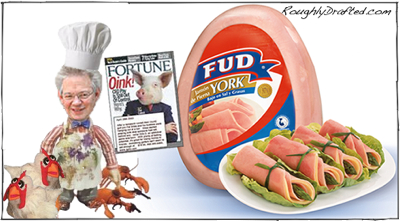 Brent Schlender's Apple TV: Fortune Dud or Fortune FUD?
Scott Woolley Attacks Apple TV in Forbes, Gets the Facts Wrong
Forbes' Fake Steve Jobs Is Also Fake On Apple
The Impact of Apple TV.
So far, the biggest complaints they've managed to lodge relate to the industry standard, 24 hour limitation on movie rentals once the play button has been hit. I've railed against exploding media rentals for years now, and insisted that Apple wouldn't sell a media rental model. While that's still the case in terms of music and subscription media rentals, it turns out that Apple can't always lead every tango.
When the company dances with the Devil in the pale moonlight, it sometimes has to let its partners bust out a few moves of their own. Apple wasn't able to force Cocoa down the throats of its major Mac developers back in the late 90s, so it went out of its way to produce Carbon for them. It couldn't squeeze DRM free tracks from the RIAA labels from the beginning of iTunes back in 2003, and was forced to develop FairPlay to appease them. It couldn't wean AT&T off of pay per message SMS with the iPhone to deliver a standard instant messaging client, it couldn't immediately ship a free ringtone construction set without throwing coins toward the RIAA, and it couldn't get Microsoft to support a variety of Mac OS X features in Office.
Apple also couldn't force all of the labels to sell their movies in iTunes as digital downloads. It could, however, get them all to sign up for movie rentals if it matched the rules the studios have laid out for Pay Per View TV and every other digital rental service. So Apple did. And after things begin to sell, Apple's movie rentals will obsolesce the NetFlix mail model and the mainstream rental store. This is as obvious as the big Apple logo on top of the box.
Apple might have been unable to deliver the NetFlix 'return at your leisure' rental subscription model that I envisioned due to external factors, but the upside is that, as demonstrated, Apple TV's rental model matches the features of other digital competitors without requiring a monthly subscriber fee as NetFlix does. Based on the forums survey related to the iTunes Rentals article I wrote, users will be happier being able to rent when they want on occasion as opposed to signing up to an all you can eat monthly service with the subscription obligation that entails. The service subscription model certainly has been a huge failure for the music business.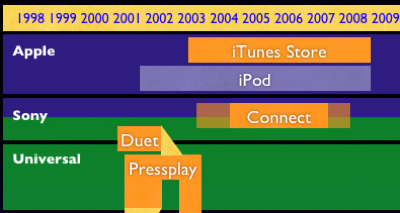 Rise of the iTunes Killers Myth
Cocoa and the Death of Yellow Box and Rhapsody
How FairPlay Works: Apple's iTunes DRM Dilemma
How Apple Could Deliver Workable iTunes Rentals
Rated M for Massive Impact.
Good riddance to Blockbuster and its moral monitoring that prevents the rental distribution of anything that might spin the crusty corpse of the MPAA's Jack Valenti. Apple TV will not make Apple rich on its low profit hardware nor its nickels of rental profits, but it will further establish the company as a major media outlet and bust open the floodgates of content to America's living rooms.
Apple has included easy to use content ratings limitations for families who want to control access to the content their kids watch, but it won't act as the nanny of the nation. This is a company that invited Randy Newman on stage to perform "A Few Words in Defense of Our Country," a song that defends the people of America and observes, "Now the leaders we have, while they're the worst we've had, are hardly the worst this poor world has seen."
Apple didn't just serve as the stage for independent political expression, but also allowed Newman a moment of uncensored speech that the company then broadcast to millions in its streaming keynote feed. Seriously, which is more impressive: Newman casually saying "shit" in an inoffensive context on stage at Macworld, or Apple, Inc. making no effort to bleep it out in its keynote feed?
Apple – QuickTime – Macworld 2008 Keynote
Reality TV, Take Two.
Perhaps once we expose ourselves to enough uncensored, unpolished, unscripted reality, we'll realize that the occasional broadcast of a casual expletive or an exposed boob is really not as big of a deal as widespread corruption that results in the deaths of hundreds of thousands of innocent people and ensures a world full of fundamentalist violence.
Perhaps if we all have access to real news, published by anyone with a camera and a voice rather than by a few huge media organizations with a documented desire to convert the world into a single fascist global government, we'll figure things out for ourselves.
Until this year, the best hope for such a conduit of reality was the Internet. Unfortunately, there's no accountability or security on the Internet, and no way to really know who's behind what's being said. If you trust the Internet, you'll be led to believe that the Microsoft Zune is a phenomenal hit, that Leopard is as problematic as Vista, that iTunes sales collapsed in late 2006, that the iPhone is in critical danger of turning into a spybot network, and that a Trojan is a Virus if Macworld UK wants it to be.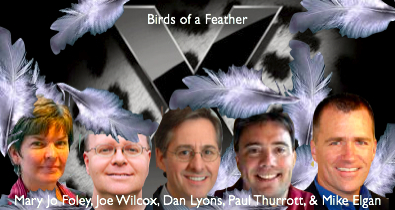 Ten Myths of Leopard: 10 Leopard is a Vista Knockoff!
Zune vs. iPhone: Five Phases of Media Coverage
Free TV.
Apple TV promises to deliver the freedom of the Internet with an additional measure of accountability. Watchers will be able to watch Fox News next to news feeds from around the world and actually decide for themselves what's really happening. It won't single handily force open the minds of people who don't want to face reality, but it will serve up reality to those who want it.
Delivering movie rentals is just a way into living rooms for the new box; once there, Apple TV will pipe the world to users over the impartial Internet Protocol, without any external filters imposed by big businesses. No cable cartels, no telephone company filtering or NSA spying, no Blockbuster, no FCC, no MPAA, no Microsoft, no Think Tanks in the Public Interest, and no witch hunting fundamentalists hell bent on inflaming perpetual wars.
Apple TV will be a commercial success as an expansion of iTunes, but more importantly, it will dramatically challenge the hypocritically puritanical layers of mind-control, groupthink conformity erected by a well meaning but wholly delusional minority that think they need to roundup Americans into the OK Corral.
It is fitting that Apple TV is springing on stage in 2008, the year that will define the future of America as either a deeper dive into the black waters of willful ignorance and fear, or a targeting of the moon as John Kennedy did back in the 60s, when America aspired to lead the world as a well educated, optimistic, liberal minded, progressive role model rather than as a inquisitional holy crusader running roughshod over international conventions and hypocritically killing babies while outlawing stem cell research.
I for one welcome our new set top box liberators.
What do you think? I really like to hear from readers. Comment in the Forum or email me with your ideas.
Like reading RoughlyDrafted? Share articles with your friends, link from your blog, and subscribe to my podcast! Submit to Reddit or Slashdot, or consider making a small donation supporting this site. Thanks!
Technorati Tags: Apple, Apple TV, Bloggers, Content, DRM, iPhone, iPod, Mac, Microsoft, Software, the Media