MacSpeech's Dictate: High Quality Voice Command and Speech Recognition for the Mac
January 17th, 2008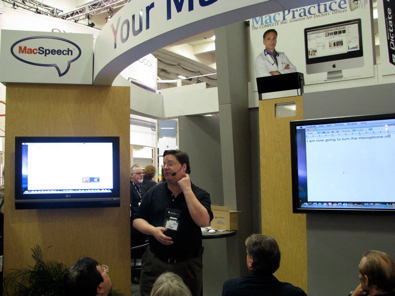 Daniel Eran Dilger
MacSpeech at this week's Macworld Expo unveiled Dictate, its new speech recognition and voice command software currently in beta and slated for release mid February. The new product replaces and improves upon the existing iListen.
Dictate is now based upon the highly accurate speech recognition engine developed by Naturally Speaking; iListen was based upon technology licensed from Philips. MacSpeech supplies the user interface and rich integration with AppleScript and other Mac technologies. It is offering a preorder special of $149 on the $200 regular price, and also offers a $99 cross-grade price for existing users of iListen.
Speech Recognition Accuracy.
Representatives demonstrated the accuracy and intelligence of the new system by dictating live into the system. After being switched on, the system allows the user to both dictate and issue voice commands. It determines which you are doing by analyzing the context of words. Dictate only requires a 5 minute profile creation session, which profiles the mic used and then analyzes the speaker's speech patterns and diction. In addition, the user can supply text that the software will analyze for unfamiliar words, and then speak those words to expand the system's dictionary.
Continues: AppleInsider | MacSpeech's Dictate: high quality voice recognition for the Mac