First Look: Apple's new MacBook Air
January 17th, 2008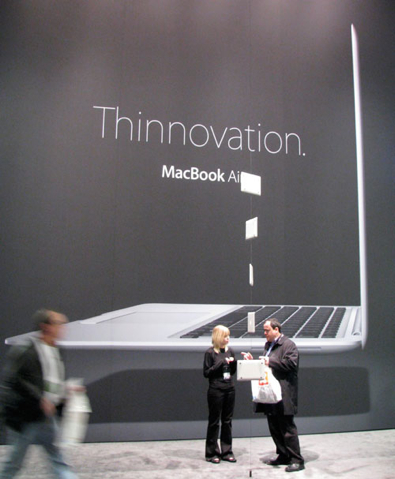 Daniel Eran Dilger
After hoisting teaser Macworld Expo banners of "something in the air," it seemed likely that the slogan would be an allusion to wireless networking. Instead, Steve Jobs exhaled the MacBook Air, a new ultra light laptop widely rumored in advance to be the star of the show.
Echoing the drama of the iPhone presented last year in a glass capsule, Apple suspended a series of MacBook Air units on a cable stretching from the floor to the ceiling at the show.
Apple security first reprimanded anyone touching the models, but by the end of the day people were casually grabbing and commonly spinning the units. If handling the merchandise is any prediction of sales, the MacBook Air should blow off the shelves in gale force winds. The constant, enraptured pawing made it nearly impossible to capture any shots of the new laptops.
Continues: AppleInsider | First Look: Apple's new MacBook Air (with photos and video)