First Look: Time Capsule, AirPort, and Time Machine
January 16th, 2008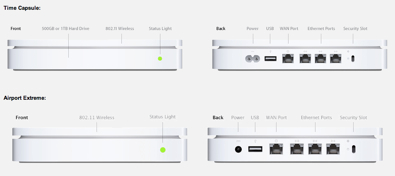 Daniel Eran Dilger
Time Capsule pairs the existing AirPort Extreme with a half or full terabyte hard drive to serve as a backup appliance for Leopard machines running Time Machine, in addition to acting as a simple file and print server. It is offered for both Mac and Windows users, although Windows PCs (or Macs not running Leopard) won't have Time Machine and therefore will access it only as a regular file and print server.
At last year's Macworld Expo, Apple released its first version of the new AirPort Extreme in a slim square box rather than the UFO shape of previous AirPort base stations. In addition to the new form factor, the new version also added support for 802.11n, a considerably faster new version of WiFi that also achieves much greater wireless reach.
Even for those who primarily use an AirPort only to distribute their relatively slow ~1.5 MB Internet connection, the MIMO antenna technology used by the wireless n standard means that the 2007 AirPort Extreme can deliver a more reliable signal over a much larger area. Apple also added a wireless USB hard disk sharing feature to make effective use of the new speed jump.
When AppleInsider reviewed the AirPort Extreme last year in An in-depth review of Apple's 802.11n AirPort Extreme Base Station, the biggest complaint was the lack of Gigabit Ethernet LAN ports. The use of 10/100 Fast Ethernet throttled the unit's capacity to act as a single box router, switch, file and print server, and wireless access point for small business and home users. Apple quietly rectified that limitation later the year with an AirPort Extreme update providing Gigabit Ethernet.
Continues: AppleInsider | First Look: Time Capsule, AirPort, and Time Machine
Technorati Tags: Apple