San Francisco Examiner Throws Me On the Cover
January 15th, 2008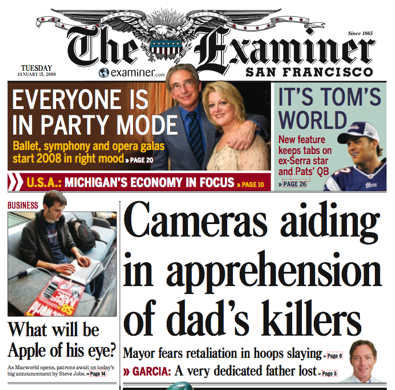 Daniel Eran Dilger
While getting set up for Macworld Expo at Moscone Center on Monday, I found a couch to crash into while trying to recover from an ugly cold. An Examiner photographer taking pictures of the venue approached to ask if it would be okay to take pictures in the area I was sitting. Feeling about 60%, I said that would be fine, not realizing that I had agreed to what turned into a glamor photo shoot that continued for about ten minutes while I awkwardly tried to pretend to type.
After some Codeine-assisted sleep, I headed toward Macworld in a fog of muddle. AT&T's DSL service was out across much of the City, the Muni turnstile choked on my change, and then I found myself pictured on the front page of the Examiner under the headline "What will be the Apple of his eye?"
Steve Jobs wasn't pictured until page 14.