First Look: Apple TV 2.0 and iTunes Movie Rentals
January 15th, 2008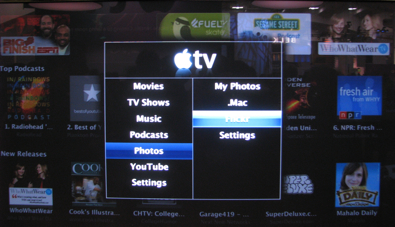 Daniel Eran Dilger
After suffering a year of media mockery and consumer indifference, Apple TV is poised to leverage its tight integration with iTunes to jump to the front of the line in living room media rentals. The best news: existing early adopters will gain all the new features via a software update without needing to replace or upgrade their existing hardware.
Steve Jobs originally floated Apple TV under the temporary moniker iTV back in the fall of 2006. In many ways, the device seemed to be a placeholder designed to inspire confidence in the company's ability to maintain parity with competitors' online movie sales. In parallel with the announcement, Apple upgraded iTunes video to "near DVD" quality, added Dolby Surround sound, and started into the movie sales business initially with only Disney as a partner.
After its official release following last years' Macworld Expo, Jobs described Apple TV as a hobby and later as a 'fourth leg' that he hoped would help hold up the company's platforms. Jobs told USA Today, "We have the Mac business, which is a $10 billion business, and music — our iPod and iTunes business — which is $10 billion. We hope the iPhone is the third leg on our chair, and maybe one day, Apple TV will be the fourth leg."
While the iPhone quickly established itself as a powerful force in the mobile industry, Apple TV didn't seem to get much attention at all. After appearing briefly in a TV ad showing a user moving iTunes video from his computer to an iPod to the living room TV, the device seemed to slip from Apple's radar and spent the better part of 2007 collecting dust in conspicuously low trafficked corners of Apple's otherwise busy retail stores.
Continues: AppleInsider | First Look: Apple TV 2.0 and iTunes Movie Rentals (photos, video)
Technorati Tags: Apple, Apple TV, Content, DRM, History, iPod, Mac, Software, the Media