Something in the Air: Anticipating Macworld 2008
January 12th, 2008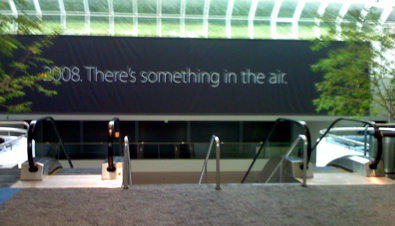 Daniel Eran Dilger
New banners going up at Moscone Center in San Francisco present "There's something in the air" as the tag line for the 2008 Macworld Expo, along with the rising Apple logo from last year. Here's a look at what's likely to be revealed, some promising ideas that are less likely to get delivered, and things that have no chance of happening.
AppleInsider | Apple hoists "There's something in the air" Macworld banners

A year ago, Apple interrupted its usual programming to deliver surprise special announcements that caught many pundits off guard. The debut of the iPhone, Apple TV, and a new AirPort Extreme left little room for the anticipated release of Leopard and new versions of iLife and iWork; those products ended up getting bumped into the fall.
There was also little attention for new Macs or iPods, with the revised iMac and new iPod lineup getting their own unveilings later in the year. Unlike CES, which debuts a few concepts that often don't even get delivered within the following year, Apple has begun using Macworld as its showcase for near term products due within six months; the new AirPort was available right away, the Apple TV within a couple months, and the iPhone by the end of June.
Once the Macworld products shipped, Apple began announcing a series of new products in the second half of the year at regular intervals. Clearly, Apple has a lot of innovation to showcase, and has big plans for the future that just keep getting bigger.
In the Air for Software.
At previous Macworld events, new software application introductions took center stage:
MW 2000 – Mac OS X's new Aqua look and iTools, the free precursor to .Mac
MW 2001 – iTunes, iDVD, and availability of Mac OS X 10.0 in March.
MW 2002 – iPhoto; Mac OS X 10.1 would be installed as the default OS on all new Macs
MW 2003 – Final Cut Express, Safari, and Keynote; introduced the iLife bundle
MW 2004 – Final Cut Express 2, GarageBand in iLife 04
MW 2005 – Final Cut Express HD, Pages with Keynote 2 in iWork 05, iMovie HD in iLife 05
MW 2006 – iWork 06, iWeb in iLife 06
Looking back at 2007 makes it seem unlikely that this year's Macworld will debut anything new in terms of software titles. The Mac OS X 10.6 sequel to Leopard will likely be introduced mid year at WWDC, and iLife and iWork already have a '08 release. However, software also plays a major role in enhancing Apple's hardware products. The most likely big news for Macworld is a new version of iTunes, likely numbered 7.6 or 8, along with a new bump to QuickTime 7.4 or 8. QuickTime serves as the internal engine behind iTunes.
Because iTunes manages the media libraries of iPods, the iPhone, and Apple TV, the rumored expansion into movie rentals makes it seem likely that Apple will roll out new rental features in iTunes along with firmware upgrades for its mobile and living room devices. Along with those updates, expect other enhancements promised by Apple in its ongoing strategy for adding regular new features to the iPhone, iPods, and Apple TV.
Macworld 2007 Wishlist: iLife, iWork and .Mac
Macworld 2007 Wishlist: Mac OS X Leopard
What's New in Apple TV.
Apple TV currently runs using system software based on Mac OS X 10.4 Tiger. In addition to being updated to run Leopard and manage new movie rentals, it seems likely that Apple will add other new features. I earlier recommended that Apple TV hook into programming pods from Current TV, using the same interface and technology already developed for playing YouTube videos.
Apple could also add other on demand programming to Apple TV, although Current makes the most sense, as Al Gore sits on Apple's board, and the network could use alternative distribution apart from being thrown into the nosebleed section of most cable programming packages. By standardizing a user-driven interface for selecting news segments, Apple could bring TV broadcasting into the Internet age, using rich searching and metadata services to provide wider access to alternative programming.
Bill Gates' vision was to turn the PC into a TV chuck full of commercials; Steve Jobs has frequently stated that TV is a passive, brainless activity where computers are actively engaging. Imagine a future where, rather than the web devolving into TV-like channels, broadcast content became something more like news articles on the web, where people actively seek out news and content of interest, discuss it, rate it, and think about it rather than just consume it between commercial messages.
Currently, many networks act under the mercy of national broadcast restrictions and are limited to reaching people via satellite. This was particularly evident in the recent events in Pakistan and Burma. Other networks present news that is simply difficult to find amid the hundreds of cable channels. By making Apple TV a smart client for searching and accessing news and other programming, Apple could democratize programming, provide broadcasters with a wider reach, and better inform users accustomed to scanning through the limited selection of commercial channels chosen for them and delivered to them by cable providers.
Apple already has strong relationships with content producers and broadcasters from their use of Final Cut Studio and Xserve equipment. A year ago, Apple strengthened its position by acquiring Proximity, the developer of Artbox, to deliver Final Cut Server as a video asset management system. Apple also leads in online distribution of paid TV content with a 91% share of the market. Adding on-demand access to broadcast content from alternative networks is the next obvious step.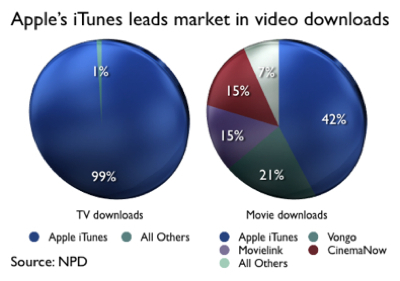 Apple TV Digital Disruption at Work: iTunes Takes 91% of Video Download Market
Five Ways Apple Will Change TV
Windows XP Media Center Edition vs Apple TV
Apple TV at Home.
Apple TV should also inherit the WiFi Store capacity of the iPhone and Touch, enabling users to directly browse, sample and buy tracks and movie rentals rather than having to set everything up from their computer running iTunes. Similarly, Apple TV would add value if it incorporated Internet radio features from the desktop iTunes, enabling it for use as a content streaming stereo system.
Critics seem to think that Apple TV needs a hardware upgrade. However, it already has the capacity to play 720p widescreen TV video, which gives it the potential for delivering an improvement over DVD with more convenient network-delivered content. It also already has the hardware capacity to deliver multichannel, digital surround sound audio. The missing link is the HD content with higher quality digital sound. That's currently an availability issue, not a hardware problem.
Apple needs to refine QuickTime to deliver 5.1 AAC, AC-3, or DTS without first attempting to mix it down to the simpler Dolby Surround format, as it currently does. Both recent Mac models and Apple TV offer no hardware barriers to delivering multichannel digital sound; Apple just needs to solve this problem in its software.
If Apple is inclined to expand into the surround sound speaker business, a product like my Apple Surround could pair Apple TV with wireless satellite speakers for a full entry level home stereo system in two simple boxes. Paired with an iPod rather than or in addition to the Apple TV, the Surround would also make a great Dock and a fitting replacement for the iPod HiFi.
Another, albeit less likely, possibility for Apple TV is the addition of a DVD or Blu-Ray player. However, Apple TV is designed to replace the DVD, not to preserve it. Adding a Blu-Ray player would also make it quite a bit more expensive, and only undermine Apple's efforts to built its own system for distributing HD video programming. Unlike Sony, which can afford to push Blu-Ray at a loss in order to build a market for its new format, Apple would gain little from supporting Blu-Ray playback apart from having to incorporate Windows Vista-style DRM with its onerous HDCP policing.
By delivering an alternative to HD discs, Apple can avoid the draconian DRM those formats demand and provide a simpler, cheaper option for the vast majority of home users with a TV smaller than 60". Apple's iTunes video strategy also supports playback mobility, something that the HD discs haven't made much effort to accommodate.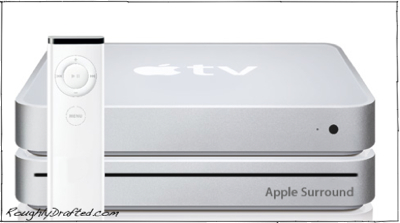 More Predictions for WWDC 2007: Solaris, Google, Surround
Scott Woolley Attacks Apple TV in Forbes, Gets the Facts Wrong
Why Low Def is the New HD
Outside of the Home.
On the other hand, Apple is very likely to introduce Blu-Ray burning and authoring features. Since these weren't outlined in the recent Mac Pro announcement, this is likely to wait until the NAB conference in April, where Apple is also expected to introduce its new compositing replacement tool for Shake. Similarly, with the new Xserve being announced prior to Macworld, there's likely not a lot that will be presented about Apple's latest forays into the Enterprise.
Apple is very unlikely to introduce a home server, particularly given the tepid reaction Microsoft's Windows Home Server has received over the last year. That doesn't mean there's no gap between the low end of Xserves and the DIY consumer server that can be fashioned from an Mac mini. I'm still holding out hope for an Xserve mini, using a smaller case enclosure to make it a good fit for small business users who don't know what to do with a long 1U server designed for a telco rack.
Apple's Leopard Server offers great new web, wiki, and calendaring server tools, although there's still work to be done. I earlier outlined office telephony as a major opportunity for Apple. Leveraging the open source Asterisk PBX software, Apple could deliver a great phone system with voicemail, instant messaging, and email integration, iPhone management features, calendar services, customized web and wiki Intranet services, and more. Expect to hear more about that in Mac OS X Server 10.6 at WWDC, possibly under the name Cougar Server.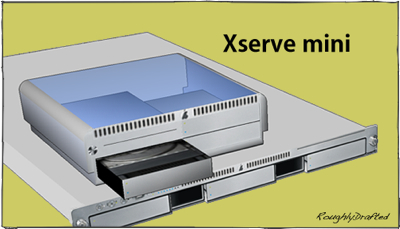 The Xserve mini
Apple's Next Killer App
Windows Home Server vs AirPort Extreme
iPhone and iPod Touch Integration.
Traveling back into the consumer space, one less likely development that should be in the pipeline is iPhone and iPod Touch integration with Apple TV, allowing the use of the handheld devices to control menus and playback of Apple TV content via WiFi.
I presented an outline of how Apple could deliver Bonjour Ready as an interoperable standard for remote control over WiFi, leveraging Apple's open Bonjour discovery protocol and the high quality web browsers in the iPhone and Touch.
Apple has already gotten started in efforts to expand the use of the iPhone and Touch in ordering from iTunes with the WiFi store, and has similar plans to roll out wireless ordering in retail stores such as Starbucks. Expanding this capacity to allow any retailer to offer discoverable services, or to allow any home device to present remote control and programming features via an intuitive, standards-based interface, would go a long way toward making the iPhone and Touch the best remote controls on the planet.
Ten Big Predictions for Apple in 2008
iPhone Bluetooth.
The iPod Touch appears to lack Bluetooth hardware, but the iPhone simply doesn't use its Bluetooth wireless to do much. That's likely to change next week. One of the most anticipated features is A2DP, the Bluetooth profile for delivering a stereo audio signal to wireless headphones. The problem so far has been that A2DP doesn't deliver very good sound quality.
Leopard delivered A2DP Bluetooth audio output on the Mac, indicating that the feature is certainly on Apple's radar. Open Interface North America, the vendor providing Apple's Bluetooth software used in the iPhone, recently debuted a much higher quality lossless codec for sending audio wirelessly, called SOUNDabout Lossless. That will likely be revealed at Macworld as a new iPhone feature.
OINA's new codec doesn't throw away data when transmitting to headphones, preserving sound quality; most A2DP Bluetooth headsets use either additional MP3 compression or the simpler SBC (SubBand Coding). SOUNDabout also features low latency transmission, which means there's much less delay in sending the audio, making it better suited for listening to a video transmission without any loss in lip sync. The new codec does its magic using the processing power available on newer mobiles such as the iPhone.
Open Interface North America Redefines Bluetooth Wireless Stereo

Macs and MacBooks.
Apple clearly didn't need any padding in the announcement schedule for Macworld or it wouldn't have quietly introduced its new 8 core Mac Pro and Xserve models in the days before the show. Back in 2004, the new Xserve was the big Mac announcement:
Macworld 2000 – G4 Cube
Macworld 2001 – Titanium PowerBook
Macworld 2002 – Flat panel iMac G4, 14" iBook
Macworld 2003 – 12" and 17" PowerBooks
Macworld 2004 – Xserve G5
Macworld 2005 – Mac Mini
Macworld 2006 – Intel iMac and MacBook Pro
Macworld 2007 Wishlist: Macs and MacBooks
Instead, the rumor mill is predicting a new ultra mobile laptop this year. The problem with rumors is the people like to dream up features and assign them an unrealistic price tag. Competing ultralight laptops such as the Fujitsu Lifebook, Lenovo X60, and Sony VAIO TX cost between $1500 and $3500. They drop weight and size by using a small keyboard, smaller limited resolution screen, or by excluding an optical drive and other features such as video output. Adding wireless features and processing power quickly inflates their price tags. Ultralight laptops are attractive for their portability; they are not exceptional general purpose machines.
It remains to be seen how Apple will chose to target this market, but a lighter, pro version of the 13" MacBook without an optical disc would be a good starting point. It would be even more impressive if it delivered a Flash based hard drive replacement borrowed from iPhone and iPod Touch development. That could result in a long life, ultra light laptop that ranged from $1500 to $2500, serving as a highly mobile alternative to the faster and larger MacBook Pros.
While the iPhone is tied to AT&T for service, the MacBook line isn't. Mac OS X already supports mobile wireless cards for EVDO, suggesting the possibility that Apple's new laptop could incorporate built-in support for 3G data networking, or alternatively an optional ExpressCard unit that brings Apple into partnership with Sprint and Verizon. Both companies are likely to jump at the opportunity to ride the increasing wave of popularity in Mac laptops, particularly among business users.
An alternative possibility is that Apple could reinforce its position with AT&T by launching a 3G UMTS card for its MacBook line, and give iPhone users special bundled pricing on 3G data service. That would serve as a harbinger for the 3G UMTS iPhone due in the second half of the year, although its possible that such a model would initially be delivered for foreign markets in Japan and Europe, because AT&T's version of UMTS uses different radio frequencies.
International iPhone: Europe, Japan and 3G UMTS
AirPort Extreme.
In addition to 3G mobile data service, Apple currently leads the market in sales of 802.11n routers with the AirPort Extreme introduced at last year's Macworld event, according to NPD. By leveraging its market position to roll out the Ubiquitous WiFi plan I described earlier, Apple could provide a low cost, grassroots network for providing fast wireless connectivity, perhaps in partnership with Google-funded startup Meraki, which is rolling out its Free the Net project in San Francisco following the collapse of the Earthlink WiFi project.
Airport Extreme also supports IPv6 and Wide Area Bonjour, enabling a modernization of the Internet where users can securely advertise services they vend. By rolling out an easy to use system for advertising a local service, Apple could deliver a turn-key Bonjour Ready solution that enables retailers to turn nearby iPhones into remote ordering or information devices.
Pundits cooed like oblivious pigeons when Microsoft unveiled its $10,000 Surface bathtub, spoofed as the "big ass table," but it simply makes more sense to allow customers to use their existing iPhone to access services, place orders, and get information using standard open protocols rather than expecting hotels and restaurants to embed large and expensive tubs throughout their business and develop custom Windows applications to run them. Imagine the embarrassment of blue-screening your clients' $10,000 table. Why not develop a simple web app?
With Bonjour Ready, it will be as if the web transforms from a huge cloud of millions of websites to also become a series of local clouds that vend tailored information and services. Other hardware vendors can barely manage to develop local web administration pages for their wireless routers and other devices; Apple has already solved the problem of simple administration of its AirPort devices, including remote management of lots of devices. Apple's lead in wireless networking is often overlooked. It shouldn't be.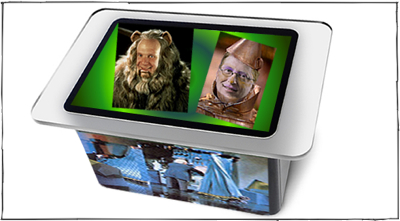 Scratching the Surface of Microsoft's New Table PC
Microsoft Surface: the Fine Clothes of a Naked Empire
WebObjects' Sneak Attack.
A decade ago, Apple acquired NeXT for its operating system foundation and ended up with two additional technologies for free. The first, initially called Yellow Box, morphed into Mac OS X's Cocoa, and now serves as the basis for rapid application development on the Mac. The second was WebObjects, a repurposing of the Yellow Box to serve as a dynamic web applications server.
Cocoa and the Death of Yellow Box and Rhapsody
The outside world didn't recognize any value in either. Apple was unable to garner much attention for Cocoa until it used it to build out its own fleet of applications. The superiority of Cocoa still seems lost upon pundits and even third party developers more familiar with writing code for Windows, but Apple's ability to rival and often outflank competing developments from top tier software developers has begun to light bulbs over the heads of a few. The iPhone SDK, slated for arrival next month, will crank up the voltage a lot more.
In a similar vein, Apple found itself wholly unable to sell WebObjects after acquiring NeXT, despite its legacy of proven success. Rather than trying to market WebObjects toward uninterested clients, Apple put the software to work internally, developing the 1997 online Apple Store within a matter of months. That success was matched by the arrival of the iTunes Music Store in 2003, which presented music for sale within iTunes as a self-contained web client application rather than using the clumsy web.
Since then, Apple has rolled out online web stores serving different regions, education, business, and government institutions, and expanded the iTunes Music Store into a media powerhouse with connections to higher education in iTunes U. Now it's time for Apple to apply WebObjects' web client technology outside of iTunes.
The Finder Store.
While unlikely to be revealed at Macworld, a web client based on the iTunes Store would serve as a major improvement over the disparate web stores vendors now maintain. Back in 2006, I presented the idea as the Finder Store, which integrated a marketplace interface within the Finder as a way to buy from any number of online merchants.
The added intelligence of running outside of the simple web browser environment would enable the system to recommend parts as needed, such as ordering ink carts for the installed printer, ordering RAM compatible with that model, and so on.
Fixing .Mac – Idea 5: A .Mac Marketplace
Since then, something new happened: Apple released Safari as a cross platform browser. Paralleling the advancement of iTunes, Apple could deliver a Safari Store that presented a session based, intelligent web client that worked just like the iTunes Store. It would be completely optional, just like the iTunes Store. However, for those who chose to make use of it, the Safari Store could:
keep track of their purchases for them.
suggest and recommend products.
enable users to post system-wide comments about products.
track their billing and shipping information centrally.
That would go a long way toward opening up the playing field for participating vendors who can't afford to build their own ecommerce infrastructure. It would also put Apple in a retail position similar to Amazon, which Apple already enjoys in the realm of music and media sales. Despite all the wags gushing about how Amazon has lined up MP3 content, Amazon isn't yet selling any significant number of music tracks, let alone movies though its UnBox store that was supposed to force Apple's movie sales out of business back in 2006.
Apple could even partner with Amazon, Best Buy, and other independent retailers to host their online store operations for a commission. Since Apple already has retail partnerships with many big box retailers, such a project could be very symbiotic. Most online consumers would agree that web-based stores leave a lot to be desired when compared to the effortless experience of iTunes.
There is One More Thing: T-Shirts.
With Apple now maintaining its own retail stores throughout the US and growing about as fast as it can, it makes one wonder why Apple isn't selling branded clothing. How hard would it be to stock $15 t-shirts and posters? Retail customers would love it.
Apple operates a company store at its headquarters in Cupertino, and it outfits its thousands of retail employees with dozens of branded American Apparel shirts. At WWDC, Apple operates a store selling hats, tshirts, windbreakers and fleece jackets, and struggled to keep them in stock. In typical stylish fashion, the branded merch is high quality stuff, and reasonably priced. Apple also hands out well built handbags and other swag to partners and clients.
If Apple doesn't start selling this stuff in its retail stores, stockholders should drop the silly options lawsuit and sue Apple for not sealing the deal for customers with a hankering for Apple stuff. Apple is already selling laptop bags and backpacks, so the t-shirt thing is an odd omission.
And if you haven't guessed, at this year's Macworld, Apple will be hosting a company store selling all the stuff they can truck up from the Valley. I bet they'll sell a lot of t-shirts.
I'll be at Macworld reporting on things, so drop me a line if you'd like to meet up and say hi.
What do you think? I really like to hear from readers. Comment in the Forum or email me with your ideas.
Like reading RoughlyDrafted? Share articles with your friends, link from your blog, and subscribe to my podcast! Submit to Reddit or Slashdot, or consider making a small donation supporting this site. Thanks!
Technorati Tags: Apple, Apple TV, Bloggers, Content, Development, DRM, History, iPhone, iPod, Mac, Microsoft, Software, the Media