Ten Big Predictions for Apple in 2008
December 29th, 2007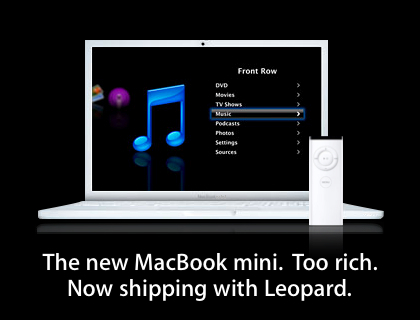 Daniel Eran Dilger
What's Apple going to be up to in 2008? The previous article looked at clues from the Newton MessagePad to the iPhone. Here's a look at the potential future of the rest of Apple's businesses, from hardware to software to services.

MacBook Mini. Rumors suggest a thin new aluminum consumer MacBook tailored after the lines of the ultra thin new Bluetooth Keyboard. With a full resolution 13" screen and multitouch trackpad, the unit could even do without a mechanical hard drive and optical drive reader and instead use a Flash RAM based system borrowing from the development of the iPhone and iPod Touch.
That would remove two of the largest performance bottlenecks and battery hogs. Instead of playing DVD movies, you'd play iTunes files. Built-in WiFi and support for PC Cards using UMTS or EVDO 3G cellular wireless (which many people don't realize is already supported in Mac OS X) would make it the ultra portable for corporate mobile users who don't want to wait around for Windows to resume or reboot.
AppleInsider Bluetooth Keyboard Review + Road to Leopard
WiFi Goodness for the iPhone. The iPhone and iPod Touch really need to use their WiFi to do some amazing stuff. No, I'm not talking about squirting DRM tracks between users, although direct file transfer, web and YouTube bookmark sharing, and photo vcard contact beaming would all be useful.
I'm thinking about the most powerful yet simple remote control ever. Apply the mobiles' WiFi as an interactive link for devices by creating a standard specification for Bonjour-discovered wireless devices that can be commanded by the iPhone, offering a web-based graphical interface that auto-discovers and advertises itself and its features.
Command your stereo and TV using an single adaptive UI displayed on the screen. No more 500 button remotes to sort through. Bonjour would auto-register your devices with the network, and you'd only need to register your mobile with the devices in your house once. From there, your stuff would just work from your mobile. No need to point the remote at an IR receiver; it would work from anywhere in the house.
Each manufacturer could design their own simple, standard HTML interfaces (which the user could adjust to their liking) for remotely controlling their audio and video equipment, home automation gear, kitchen appliances, home security systems, and remote control toys. It wouldn't have to involve anything proprietary to Apple's iPhone, even if nobody else currently makes a mobile web browser that works nearly as well.
You could control everything from the same deliciously consistent widget-like interface, even involving programatic functions such as scheduling the time for the TV to turn off, or progressively dialing the lights down and the music up over time. Touching the screen would send out standard HTTP responses over WiFi to the embedded web servers in your appliances, which could be simple or sophisticated. Adding a security layer to lock control to only your iPhone would not be a technical challenge.
License the package under a brand name like Bonjour Remote Ready so consumers would look for compatible products. The price of adding an embedded web server with support for Bonjour discovery would become trivial. It is already very cheap. Judging from the web interface of current devices such as wireless routers, perhaps most manufacturers would be better off letting Apple design their interface for them as part of the licensing fee.
Software Remote Ready. Apple could first roll the idea out in software by adding a simple web server listener in Mac OS X with modules to allow third parties to advertise services to iPhone devices and interact and respond with them. That would enable input features such as remotely controlling interfaces such as FrontRow/Apple TV, or alternatively output features such as watching a streaming video new podcast, movie, music video from your iTunes library on the iPhone or similar devices.
That would make the premise of an entertainment oriented iPod Slate, described earlier, more meaningful. Think of Sony's LocationFree, but rather than a wireless TV signal, you'd have a wireless interface to everything you can do on an iPhone, in a larger form factor: hands on web, rich media, file access, contacts, calendar, and email. Your iPhone goes in your pocket, the iPod Slate slides into your portfolio.
Both could be standalone devices or the type of magical wireless tablets dreamed up in the era of Network Computers, only to be dismissed as impractical futurism. Since Apple is at least five years ahead, it should have no problem delivering in 2008 the kind of 2013 stuff Microsoft promises in Windows 7.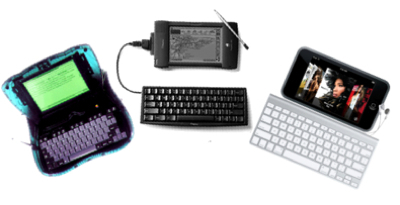 Newton Rising: Is the Next iPhone Device a G3 MessagePad?
A Brief History of Remote Display Part IV – VNC: the other thin client
Wide Area Remote Ready. Thanks to the open web, you could also stream music from your iTunes library over the web anywhere you have WiFi access. Discover your tunes without any configuration via Wide Area Bonjour in Back to My Mac. You could also pull up home photo albums or access your files, calendar, and other documents while traveling. Access Apple Remote Desktop to remotely control your home desktop.
The most interesting thing is that most of this isn't experimental technology waiting to be developed, it's just waiting to be advertised by Apple as a product.
A Global Upgrade for Bonjour: AirPort, iPhone, Leopard, .Mac
Interactive Gaming and Alternative Content. Apple isn't going to rush into the profitless business of developing disposable platforms for console gaming, but with the iPhone, iPods, and Apple TV, it can offer interactive gaming and content that delivers a real market for developers and lots of options for users. Once the iPhone SDK arrives, Apple's OS X platform will be inundated with the largest surge in developer interest ever. Imagine something bigger than pairing the Mac market with NeXT technology: visualize the opposite of the Windows Vista yawn.
Another gaming-related option Apple should consider is making an iTunes Wii channel in partnership with Nintendo. Just as you can download the Opera web browser for Wii, you should be able to download a software module that enables you to stream music from your iTunes library. The Wii could act as the composite video version of Apple TV, and since Apple makes little money on that device, selling a $5 software version to Wii users would only help make iTunes more attractive to a new set of users.
The Wii might not be able to decode and play H.264 video, but it could be an iTunes music player with visualizations and Dolby Surround sound and show off iPhoto albums. Conversely, perhaps Apple could also talk Nintendo into developing games for the Mac, iPhone, and iPods in order to reach a demographic beyond console gamers and the youth-oriented DS handheld.
The Apple Video Game Development Myth
Apple's New Dual Processor Game Console
PlayStation 3 vs. Xbox 360 vs. Nintendo Wii
Ubiquitous AirPort WiFi. A parallel effort Apple should investigate is the creation of a volunteer WiFi network that iPhone/iPod Touch users could sign into on an optional basis. Use encrypted traffic to prevent any data security or wiretapping issues, then offer membership to anyone with an Airport Extreme base station. Roll out a firmware update for AirPort routers that enables .Mac users to login and authenticate with any participating AirPort network. Share yours, I'll share mine and we'll have WiFi nearly everywhere that can be securely and casually used to get Internet access when needed.
Limit accounts to reasonable bandwidth quotas so that nobody ends up noticing the extra traffic. Keep traffic both encrypted and tied to a .Mac account so that there won't be any scandalous use by anonymous kiddie pornographers, Al Queda, or Windows botnets. It won't solve world peace, but will make WiFi on mobile devices far more valuable, spur the deployment of "open but not naively wide open" WiFi, and solve the catch-22 that currently prevents WiFi from being deployed commercially or municipally.
Interestingly, Apple already leads US market share among 802.11n wireless routers according to NPD. With Ubiquitous WiFi, Apple could create a "grassroots" mobile WiFi network without spending $5 billion or more as Google is prepared to do in its 700 MHz bidding. Apple could even resell access to the WiFi pool to other mobile makers, or make it a feature of .Mac subscriptions, with discounts to members who add their AirPort to the network, or perhaps even rebates paid as commissions for shared traffic. That could prompt business users to throw open WiFi networks as a self-supporting altruism without raising privacy or security concerns.
This year, Airport Extreme introduced the idea of wide area Bonjour, followed up with configuration integration with Mac OS X Leopard Server. The idea of having a your desktop or laptop computer interact intelligently with your router to make sure everything "just works" both locally within your network and when using remote features such as Back to My Mac, Remote Desktop, or iChat teleconferencing also holds out the possibility for other examples of what Apple can do when it controls the whole widget. There's more to be done, as the work required for Time Machine backup hosting indicates.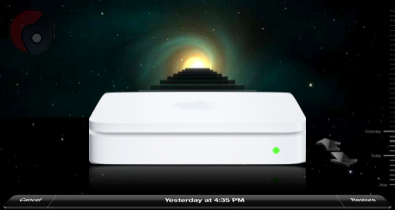 Ten Myths of Leopard: 5 "Back To My Mac" Security Panic!
Why Leopard's Time Machine Doesn't Support AirPort Disks
Xserve mini. I outlined a plan for a personal server back in 2006. The new Mac OS X Leopard Server now delivers on the software side with an entry level setup that is nearly ready for a basic embedded server box. Create a new appliance box along the lines of an Apple TV but focused toward serving data rather than syncing media, and make it as easy to administer as the AirPort Extreme.
Or perhaps take the AirPort itself and add more services so it could handle the email, file, and web serving of a home or small office, complete with the slick shared wiki, blogging, and calendar services offered in Leopard Server.
On the pro end, Apple could add an Asterisk PBX module for office telephony and turn the phone industry upside down with a low cost solution that just works. Then sell Macs to the thousands of small offices that upgrade their phones from their existing creaky old OS/2 PBX boxes. Call it the Macintosh Office.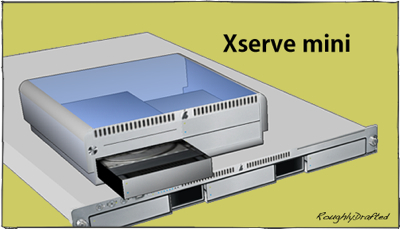 The Xserve mini
Windows Home Server vs AirPort Extreme
Steve Jobs and 20 Years of Apple Servers
Apple's Next Killer App

Made for Mac. Just like Apple's 'Made for iPod' and 'Made for iPhone' licensing programs, which extort fees from accessory makers in exchange for a compatibility seal of approval, Apple needs to make a Made for Mac logo that assures compatibility with Apple's technologies. Among them:
Bonjour for automatic discovery and configuration of printers, WiFi devices such as security cameras and toys, software sharing services that mimic iTunes and iPhoto, audio and video equipment, and other applications that desperately need standards-based autoconfigurability.
I also want to see adoption of support for Mac OS X's Image Capture among scanners, popularized by a Made for Mac program.
Highlight FireWire support for digital video devices and prosumer music gear, and take another stab at establishing FireWire hard drive support by popularizing the new FW 3200 standard that is 8 times faster than standard FireWire or USB 2.0. That's faster than eSATA, plus you can chain together devices in a bus and drives can be powered by the cable.
Add a Ubiquitous WiFi program for licensing third party WiFi routers, as described above.
Highlight QuickTime support for movies and photos under the same branding in cameras, camcorders, photo devices, and other gadgets. Associate in H.264 audio, AAC audio, PNG graphics, and PDF document support to push open, interoperable standards for media.
Throw in guaranteed interaction with FrontRow, Apple TV, Apple Remote, and Apple's Advanced iPod Remote protocol. Sign up stereo and TV makers with Bonjour Ready so everything just works.
Add in specification branding support for Audio Units, Apple Loops, Image Units, Video Units, and Quartz Composer plugins, so that plugin technology can be reused and is widely interoperable.
Advertise reference Dictionary plugins and online reference works for Mac OS X Leopard under the same logo.
Highlight Spotlight Importers, QuickLook plugins, Dashboard Widgets, and .Mac Sync support in Made for Mac software titles.
Outline revised Human Interface Guidelines that apply to mobile Safari apps for the iPhone or desktop apps with a iWork/iLife interface or that are patterned after Apple's Pro Apps.
Then police the Made for Mac program so that users can be confident that buying something with a Made for Mac logo takes full advantage of all the latest technologies. Who wants to buy a scanner from the Apple Store only to find that it comes with HP's horrible software rather than supporting the native Image Capture?
Apple Surround. Back at WWDC 2007, I introduced the idea of a companion product for Apple TV that provided wireless surround audio. Used with Apple TV to decode surround 6.1 AAC audio from new iTunes movies for wireless playback, or used alone like an AirPort Express to channel stereo sound from iTunes throughout the house, there could be multiple options for using the same compact box with optical audio inputs, wireless WiFi streaming, a USB uplink to Apple TV, and a series of wireless speaker units.
Apple could even throw in an optical drive to support DVD playback, CD ripping integrated with a remote iTunes library, or even offer it as its Blu-Ray player, neatly avoiding any need to infiltrate the Mac OS X desktop with all that over the top DRM shoehorned into HD discs.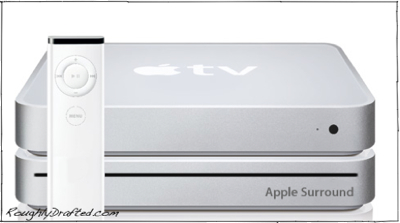 More Predictions for WWDC 2007: Solaris, Google, Surround
Unleash the iPhone's Open Interface Bluetooth. The iPhone's only use of Bluetooth so far is Apple's marginal quality headset and some car integration kits. There's so much more it could do. Reader William Dumass pointed out that Apple selected the Bluecore 4 chipset from CSR and is using the BLUEmagic software stack from Open Interface North America. That wasn't done to provide minimalist support for a earpiece.
Expect to see new Bluetooth integration with Apple's slim keyboard (sheesh, what took you so long, Apple?), smart interaction with Apple's Bluetooth savvy desktops and laptops (selected file transfer, PIM data sync, but not media sync of course), and an explosion of peripherals once the iPhone SDK arrives. Everything from GPS modules to barcode scanners could be used to transform the iPhone into a digital wireless erector set.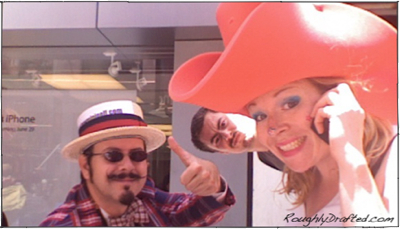 From iDay in SF: A Finer EDGE and New Bluetooth Info

Everything Else. I haven't even scratched the surface of Apple's potential in other markets. Here's another ten ideas to consider:
Commercial applications of Bonjour Ready or an iPod Slate
What's new in Leopard Server, particularly Podcast Producer and its integration into iTunes U for publishing content
The result of Apple's open source Calendar Server and Twisted Wiki and calendaring services
The low priced appeal of the Xserve and RAID combination in the enterprise
The massive impact that iPhone software applications will have on mobile computing
The potential for iWork to eat into significant software sales that have previously defaulted to Microsoft's grossly overpriced Office
The prospect for new applications such as my iLife paint and draw app and professional web and print publishing tool
The new graphics compositing Pro App replacement for Shake based on Motion and code named Phenomenon.
New iTunes rentals and HD content described in How Apple Could Deliver Workable iTunes Rentals
The possibility of code reuse noted in Advancing Software Reuse of Linux, Windows Code on the Mac
Apple in 2008 is going to make it look like nothing happened in 2007. If Apple simply matches its stock performance of 2007, it will surpass Microsoft's valuation by the end of next year. If it meets its lowball goal of 10 million iPhones in 2008, it will own more than half of the US smartphone market.
What do you think? I really like to hear from readers. Comment in the Forum or email me with your ideas.
Like reading RoughlyDrafted? Share articles with your friends, link from your blog, and subscribe to my podcast! Submit to Reddit or Slashdot, or consider making a small donation supporting this site. Thanks!
Technorati Tags: Apple, Apple TV, Content, iPhone, iPod, Mac, Software