Newton Rising: Is the Next iPhone Device a G3 MessagePad?
December 27th, 2007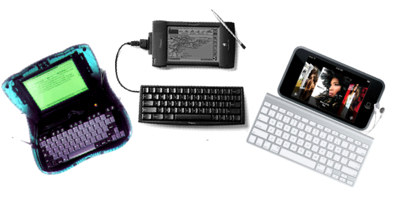 Daniel Eran Dilger
Rumor sites have long been atwitter about Apple resurrecting the Newton MessagePad. While officially dead for nearly a decade, those rumors got a boost this year when Steve Jobs rolled out the iPhone as a combination "mobile phone, iPod, and breakthrough Internet device." The iPhone first appeared to be Jobs' version of the Newton, but after the iPod Touch revealed Apple's long term plans for targeting a wider range of devices, the idea of a tablet assistant gained new credence as a realistic possibility. What does Apple's past reveal about its future? Here's a look.

Jobs: the Anti-Newton?
The popular story has always been that Jobs hated the Newton as a representation of late 80s Apple CEO John Sculley's vision, not his own. That folk history was used to explain why Apple canceled the product shortly after Jobs return in 1997. Reality, of course, is far more complex and nuanced.
Back in the mid 80s, Jobs and Sculley did clash over the future of Apple. Jobs had always pushed for the next big thing. As the Apple II began facing competition from more established vendors, particularly IBM, Apple rushed to deliver the Apple III; that rush resulted in a sequel so infamously disastrous that the company went back to releasing new Apple II models. At the same time, Apple's long term plan was to deliver a major jump in desktop computing that would bring into the mainstream ideas that had previously only been limited to tech demonstrations. Apple invested tens of millions into the Lisa project, and just two years after the Apple III, it delivered the first graphical desktop in a commercial product that businesses could use.
The next big thing was making that technology cheap enough to be viable for consumers. To drive the graphical consumer desktop as the next thing, Jobs jumped into the Macintosh project, which ran in parallel with the development of the Lisa. After its high profile debut, the Macintosh failed to generate sales in line with Apple's expectations. Jobs pushed for an expansion into business as a way to ignite Mac sales, outlining the Macintosh Office strategy to establish the new system as a networked workstation with shared file and print services.
The more conservative Sculley didn't see the potential of the Mac, and instead pushed the Apple II line, which continued to sell profitably. The year the Mac arrived, Sculley introduced the portable Apple IIc and proclaimed "Apple II Forever!" That message resonated with people who had bought the machines, but offered no real hope for progressive development in the future. Sculley pushed Jobs out of Apple by working to narrow his influence. In 1986, Jobs left Apple in disgust to start his own company, develop the next thing after the Mac, and deliver the premise behind the Macintosh Office.
Sculley replaced Jobs with Jean Louis Gassée,who shared Sculley's conservative outlook and worked to position the Mac as a high end PC and low end workstation while Apple continued to sell Apple II machines well into the 90s. While Gassée derided Jobs' plans as the "Mac Oraface," Mac sales only began to take off after desktop publishing pushed Macs into a business role. The LaserWriter had been a key element of Jobs' Macintosh Office strategy for developing practical applications for the new technology Apple had funded.
Steve Jobs and 20 Years of Apple Servers
Enter the Newton.
Apple continued to develop advanced technologies in the spirit of the Lisa and Macintosh; many of these were applied towards the new Knowledge Navigator concept advanced by Sculley. While the company's engineers worked to develop the technology required, the business case for the new platform was unfocused and limited in terms of offering practical applications for what Sculley proposed.
Sculley also drove the product with conservative fears, not progressive idealism. He worried that if the new platform did too much, it would eat into sales of the Macintosh, which by 1990 had grown dramatically and was creating its own weather. After Jobs departure, Apple migrated from the Apple II to the Mac not decisively, but reactively. Now Sculley was about to make the same mistake again in the 90s.
Dubbed the Newton, the conceptual product line originally aspired to do everything, serving as a tablet computer, a handheld mobile communicator, and a desktop multimedia system in various prototypes. By 1992, the concept had been whittled down to a multipurpose handheld device the size of a book. Sculley demonstrated an early prototype at the January 1992 Consumer Electronics Show in Las Vegas, and referred to it as a Personal Digital Assistant.
Over the next two years, Apple's engineers scrambled to ship the device Sculley had unveiled. Jeff Hawkins, who would later start Palm, also worked to develop a comparable product called the Casio Zoomer. It arrived first in 1993 with a $700 price tag. It didn't work well, didn't really try to do what the Newton promised, and ended up an insignificant failure.
The Newton MessagePad arrived in the fall for $700 to $900. Like the Apple III, it had been rushed to market to beat looming competitors. The entire industry was abuzz with pen computing and tablets, but nobody had delivered anything practical that really worked. The Newton had significant problems, but clearly led the pack from its debut through its four year existence.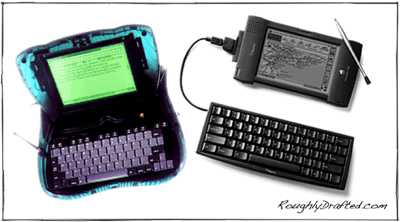 Newton Lessons for Apple's New Platform
The MessagePads.
One major reason why the Newton MessagePads enjoyed an early lead was Apple's partnership with Acorn to develop a custom processor specifically designed for new mobile applications. Called ARM, originally for Acorn RISC Machine, the efficient, fast processor allowed the Newton to do things that systems built from commodity parts couldn't. Apple had earlier attempted to use AT&T's Hobbit processors used in the EO organizer running PenPoint, but they were far outclassed by the results of Apple's ARM partnership. Gassée later took the Hobbit chips to Be Inc. to create the BeBox before later transitioning it to PowerPC.
At the same time, Apple was also pioneering mobile laptop technology. The new PowerBook had debuted in 1991 using a design developed in partnership with Sony. The PowerBook introduced the modern laptop design with a keyboard placed near the screen and a palm rest tracking device below it, rather than the conventional design of the 80s that had placed the keyboard on the front edge of the unit. In the early 90s, Apple's Mac sales made up roughly ten percent of the entire world's PC sales, which enabled Apple to fund development of innovative hardware designs that pushed the state of the art.
In addition to its hardware and processor experience, Apple also had invested millions into developing intuitive interface technology on the Macintosh. That made the Newton MessagePad an incredible intersection of Apple's latest and greatest technologies. Unfortunately, despite all the engineering and design that poured into the Newton, it didn't really have any clear purpose. Mobile workers could envision applications for it in healthcare, transportation, and other industries that needed to manage large amounts of on-demand data in a small package, but none of those niche industries could float the development work needed to maintain that level of hardware and software expertise. Outside of gadget lovers, mainstream consumers didn't see $700 of value in the device.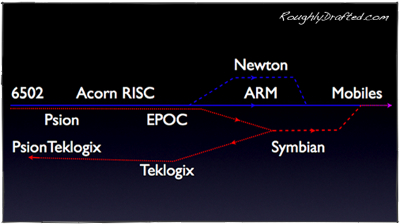 Origins: Why the iPhone is ARM, and isn't Symbian
Newton and the Fall of Apple.
The early 90s Newton wound up very much like the early 80s Mac: an excellent product demonstration with no obvious applications outside of highly specialized markets and bleeding edge enthusiasts. Once markets did begin to materialize, Apple found itself increasingly in trouble in other areas. Sculley's insistence on targeting Apple's Mac technologies at a small but profitable publishing and creative niche limited the company's potential, and his signing away the rights to Macintosh technology to Microsoft back in 1985 resulted in Apple's own sales being challenged by Microsoft's copycat but more expensive Windows software running on shoddy PC hardware.
Sculley began ignoring Apple to pursue a political career and was finally asked to leave shortly before the Newton shipped. The company then drifted under the control of visionless managers appointed to be CEO. The tech press described Apple as enjoying a Golden Age, and historical revisionists still assert that Apple was flying high during the years when it was really coming undone, between 1985 and 1995.
By the time Apple acquired NeXT and brought back Steve Jobs in 1997, there was little room left for fanciful products with no clear market. However, the Newton was not among the first projects shelved in the merciless housecleaning Jobs began to get the company back into the black.
How CPR Saved Apple

Ameliorating the Newton Crisis.
In 1997, Jobs and existing CEO Gil Amelio saw Newton differently. While introducing the NeXT acquisition, Amelio announced plans to spin Newton off into a subsidiary that would license the technology to other makers. Motorola and other vendors were already on board, building devices like the wireless Marco based on Newton technology.
Jobs initially presented the Newton as a product with potential, but only within Apple. After the board promoted Jobs to Amelio's position mid-year in 1997, Jobs immediately pulled Newton back inside Apple, creating the impression among many wags that Jobs was intentionally planning to scuttle the Newton out of a petty grudge against Sculley maintained from a decade prior. There are a number of reasons to think this Cringely-style soap opera dramatization was not an accurate portrayal of reality.
First, Apple was full of other Sculley-era decisions that Jobs didn't attack, including the migration to PowerPC. Jobs not only supported PowerPC at Apple after his return, but had earlier planned to adopt the processor architecture at NeXT until other factors made that impossible. If Jobs were petty about avoiding good technologies just because they were associated with Sculley, surely he would have made different decisions regarding the Macintosh.
Another example is ARM, the mobile processor technology that Sculley oversaw in Apple's partnership with Acorn in the late 80s and early 90s. If Jobs killed the Newton in 1998 out of petty hatred for a CEO he disagreed with, why did he embrace the use of ARM within the next two years to deliver the ARM-based iPod in 2001?
And what about QuickTime, a technology portfolio created at Apple after Jobs left in 1986? At NeXT, Jobs followed the lead of Sculley's Apple in building a compatible framework called NeXTime, and after returning to Apple, Jobs promoted the technology as a key asset of the combined company.
Another example is Ink, the software version of the exceptional handwriting recognition technology developed for Newton 2.0. If Jobs wanted to snuff out Sculley's vision for fragile emotional reasons, why did he resurrect the most obvious element of it for Mac OS X and promote it as a feature?
There are many other examples as well. Rather than trying to bury Sculley's PDA, it appears Jobs worked to salvage every valuable vestige of Newton. His initial plan was clearly keep Newton afloat. Between 1993 and 1996, Apple hadn't really offered anything new apart from some minor performance tweaks and a significant software update that fixed the early issues with its print recognizer. In early 1997, Amelio introduced a new series of Newton products including:
the MessagePad 2000, with a much faster StrongARM processor, networking support, more RAM, and higher resolution 480×320 greyscale screen.
the eMate 300, a lower cost mini laptop Newton designed for education.
After pulling Newton inside Apple a few months later, Jobs reportedly responded to a private email questioning the move, saying "the Emate has a bright future," and "sales of the current MessagePad are brisk. […] Don't worry, we are pulling this group back into Apple so that we can invest even more sales and marketing resources into these products, rather than dumping the products into a small spin-off which lacks such resources."
A month later, Apple released the revised Newton MessagePad 2100 alongside a new, simplified lineup of G3 PowerBooks and PowerMacs and a new online web store. If Jobs had wanted to kill the Newton, releasing another new model would have been a poor way of accomplishing that. However, just six months later, the Newton was canceled. Was Jobs acting out a bizarrely misleading strategy to break the hearts of Newton fans, or were there business realities involved?
The Egregious Incompetence of Palm: Newton Supernova: 1997-1998
Why Jobs Killed the Newton.
There are a number of good reasons for Apple to kill the Newton. The most obvious was that Apple was rapidly losing money and in difficult financial shape. In 1996, Apple had lost $816 million under Amelio. In fiscal 1997, the company announced a net loss of $1 billion, although that included $667 million in expenses related to buying NeXT. The company had to make some difficult decisions to get back on track.
Apple's corporate image was tainted by failure. The company not only losing money, but also quickly losing brains. Talented engineers were leaving to start solo projects or join other companies, and pundits held out little hope for the company's future. Without hardware and software talent, all that remained of Apple was a sales organization in shambles, troublesome operations and logistics, an aging software platform, huge unsold inventories of obsolete hardware and parts, and a kick me sign affixed by every wag in the tech industry.
Apple also had both a Mac and Newton clone program in place. If the Newton licensing contracts were at all similar to the disastrously misguided Mac licensing agreements, its no wonder why Apple shut things down rather than trying to pump blood from the turnip deals.
More Reasons Why Jobs Killed the Newton.
There were also problems specific to the Newton itself. It had been designed with an ivory tower isolation from reality. It used esoteric software technologies that made it highly unique and difficult for many developers to approach. Many of its features were never completed. In particular, its desktop sync software was never really finished, a serious flaw in a device aimed at being a PC companion rather than a laptop replacement.
By 1998, the half decade old Newton OS needed a significant overhaul. Maintaining it would have required supporting and fixing problems discovered by all the licensees and the various customer niches they sold devices to. At the same time, Apple wasn't selling significant volumes of the devices, and licensing contracts couldn't support the amount of new investment required to keep things in motion. Early 90s legacy issues would have dragged down future Newton development potential like a million tiny anchors. Apple was working to scrape legacy from the Mac with the New World USB iMac; doing the same overhaul for a device that had no significant prospects as a mass market seller would have been far less sensible.
Additionally, the Newton's processor hardware was tied to Digital's StrongARM, a business Intel acquired in late 1997. Intel viewed Apple as a competitor, and gave no reason for thinking that the StrongARM roadmap would be favorable or relevant to Apple and the Newton. Apple didn't have the resources to redesign the Newton for a different processor family; given that the Newton OS was developed in the early 90s, it may have been impossibly difficult for Apple to try.
Even More Reasons Why Jobs Killed the Newton.
One of the most significant problems for the Newton's future came from Palm, which by 1998 was flooding the market with $300 organizers. The eMate was $800 and MessagePad was around $1100. In order for Apple to compete, it would need to drop most of what made the Newton useful, and essentially redesign an alternative to the Palm Pilot.
Instead of trying to beat Palm, Apple partnered with the company in 1998, selling it Claris Organizer for use as the Mac Palm Desktop software and encouraging Jeff Hawkins' new Handspring to support the new iMac directly using USB rather than an old serial port dongle that older Palms required. Unsurprisingly, Handspring also copied the translucent colors of the iMac in its own hardware.
That cooperation turned out to be an excellent decision for Apple, because the euphoria related to Palm in the late 90s fell like a lead balloon after the dotcom crunch dried up any market for frivolous PDA toy gadgets.
That pinch hit Microsoft especially hard, because it had done just the opposite in trying to unseat Palm's success with WinCE/Palm-sized PC/Pocket PC. Microsoft's billions invested in WinCE never amounted to anything. Had Apple followed suit, it would have drained off vast resources of its own, but Apple lacked the profit margins of Microsoft to sustain similar losses.
The Spectacular Failure of WinCE and Windows Mobile
Newton's Children.
Instead of trying to copy Palm's existing success, Apple targeted the next thing. In 2001, that was digital music. Sony and Microsoft were fighting to establish proprietary DRM fiefdoms that would lock down music playback to only their own licensed players. Apple used its mobile engineering, software, and device design experience to deliver a music player that had large capacity, fast and easy synchronization with a desktop PC, long playback, and compatibility with existing interoperable music formats.
Wags who today crow about Apple's "DRM lock-in" and monopolization of the music industry conveniently forget to mention that the credible alternatives not only supported DRM optionally like the iPod later did, but actually required music to be encoded into either Microsoft's WMA or Sony's ATRAC formats in an effort to trample standard MPEG MP3 out of existence. Perhaps they're just bitter for being made fools of for their breathless cheerleading in support of Windows Media prior to its spectacular failure.
Rather than draining Apple's core resources as the Newton would have, the iPod helped to polish Apple's corporate image, widen its audience, and served a critical role in rolling out Apple's parallel retail store strategy. Those all contributed to the company's bottom line and helped shore up Mac sales during the crushing 2001 recession that ushered in the Bush presidency, the declaration of war on everything, economic uncertainty resulting from widespread investment in the mercenary industry and fossil fuels, and transportation surcharges related to the new police state fascism. The world needed to tune out, rip, mix, and burn just to cope, and Apple's iPod was the best way to do it.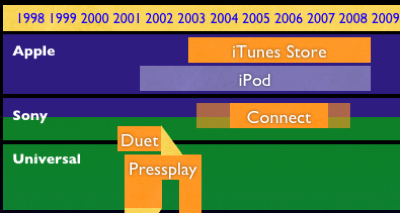 Rise of the iTunes Killers Myth
The iPhone and Beyond.
With the release of the iPhone, Apple leveraged its ability to consistently deliver well built, battery-savvy, connected mobile devices to the mass market in a new way. The company also used its powerful merchandizing presence in retail to promote the iPhone in conjunction with the iPod and Mac products, spurring sales of each. What's next on the horizon?
iPod Slate. While pundits keep repeating hope for Bill Gates' vision for a laptop missing a keyboard that you write on with a stylus, a more likely alternative for consumer attention would be an entertainment tablet that acted as a larger version of the iPod Touch. It could share components and design elements with Apple's rumored ultra portable laptop, adding economies of scale to bring prices down. Don't expect a big Touch to cost less than the existing model. A 7" touch screen might be possible for around $600, or perhaps less if it piggybacked onto an iPhone service plan to deliver ubiquitous mobile data service for a monthly fee that helped subsidize the upfront cost.
Buy iTunes tracks, watch videos on demand, and interact with discoverable data services patterned after Starbucks' iTunes WiFi Store options. Stream content from Bonjour-discovered iTunes libraries and iPhoto albums just like Apple TV. Use it as a picture frame when not in active use. Add a Bluetooth keyboard and the iPod Slate would look a lot like an ultra thin, color Newton without a stylus.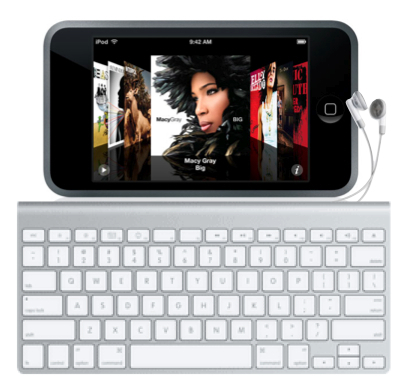 iPhone 08. Obvious hardware advances for the iPhone could include additional Flash RAM and support for UMTS. AT&T's UMTS service in the US works on a different radio frequency than the UMTS service in Europe and Japan, and doesn't yet offer the same level of coverage. Most people enraptured with the 3G buzzword are thinking of EVDO, which is common in the US but will never be supported by the iPhone because it is only offered by GSM rivals Sprint and Verizon Wireless, both of whom invested in Qualcomm's CDMA2000; EVDO is Qualcomm's proprietary 3G.
Among the GSM markets including Europe, Asia, Africa and the Middle East, 3G means UMTS, the WCDMA standard that serves as the 3G upgrade to GSM. UMTS was intended as a joint future for both CDMA2000 networks and GSM providers, but Qualcomm pulled out to sponsor EVDO as its own system instead, dividing the US in half between UMTS and EVDO. In other CDMA2000 markets, particularly in Japan, operators are moving to UMTS instead of EVDO, prompting Verizon Wireless and Sprint to attempt to hide their dead end technology behind the 3G buzzword. Unfortunately for them, most 3G phones are so bad that they can't even browse the web faster than the existing EDGE iPhone, despite having access to a faster network.
Both EVDO and UMTS require more processor power to decode transmissions, resulting in a major hit against battery life that was deemed unacceptable for the first generation iPhone. The iPhone 08 will likely support UMTS for Japan and Europe, and may be offered in a US/AT&T version for early adopters who want faster networking than EDGE in more places that WiFi can be found.
Pundits insisted back in January that the iPhone would have to be "3G" in order to sell in Europe. I predicted Apple might likely sell the existing EDGE version there this fall, and Europeans would buy it just as they bought the EDGE-only LG Prada phone, which even lacks WiFi. They laughed then, and more recently they tried to insist that Apple wouldn't be able to sell any in the EU, but I was right and the original iPhone is selling better than expected right now, despite lacking the 3G seal of approval.
There is similarly no evidence to suggest Apple will or can deliver a 3G iPhone prior to mid or late 2008. When it does so, the 3G version may only work overseas. If Apple does deliver a US/AT&T 3G/UMTS version at the same time, it will spark upgrades among American power users and globetrotters, but it will also create a vibrant resale market for original iPhones at values far higher than any second hand mobile phone has ever seen in history. The 3G hype is highly oversold and I don't get to repeat that often enough.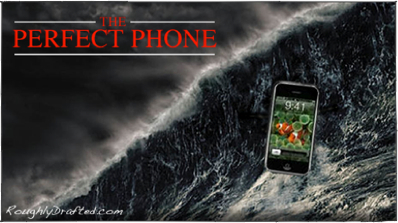 Macworld: Ten Myths of the Apple iPhone
Secret iPhone Details Lost in a Sea of Hype and Hate
iPhone Grabs 27% of US Smartphone Market
I've got more ideas for Apple in 2008 coming up tomorrow in the next article. If you have some good ideas, send them in and I'll post the best ones.
What do you think? I really like to hear from readers. Comment in the Forum or email me with your ideas.
Like reading RoughlyDrafted? Share articles with your friends, link from your blog, and subscribe to my podcast! Submit to Reddit or Slashdot, or consider making a small donation supporting this site. Thanks!
Technorati Tags: Apple, Apple TV, DRM, History, iPhone, iPod, Mac, Microsoft, Software, the Media