The New Apple Patent: WGA Evil or iPhone Knievel?
December 22nd, 2007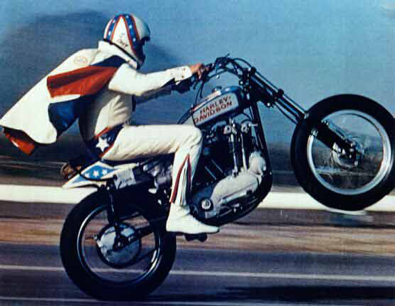 Daniel Eran Dilger
In another example of the "Apple is the new Microsoft" campaign, Computerworld's Gregg Keizer recently reported his speculation that patents Apple filed related to restricted execution of applications were not only similar to Microsoft's notorious Windows Genuine Advantage spyware, but actually a bit worse. That's wrong, here's why.

Apple's patent described a copy protection system for regularly checking to see if code is authorized to run, as often as every five to ten minutes. Keizer noted that the patent application wasn't entirely new but built upon existing patents filed in mid-2005.
Keizer then guessed it was related to WGA, announcing "Apple used an example of a check every five to ten minutes, which is much more often than Microsoft's Windows Genuine Advantage (WGA) technology. In June 2006, Microsoft took heat, then modified WGA, after users found out it was 'phoning home' to the company's servers daily."
Is it true that Apple is racing to duplicate Microsoft's infamously evil WGA, or is it possible that Apple's patent describes something entirely different that leaps over the heads of industry pundits and performs a spectacular arc over the rows of broken down vehicles underneath (some of which may be on fire), to land a new platform and win applause for doing so?
What is WGA?
WGA is Microsoft's phone-home license verification system for Windows. It calculates a figure based on the hardware installed in a PC (including your network card's unique MAC address) and the serial number of a Windows license, then sends this composite of information to the company to track.
If you try to put your Windows hard drive in a different PC, it won't authorize because the hardware doesn't match; Microsoft prefers to assume you cloned your drive to steal Windows rather than, say, moved your hard drive for legitimate reasons such as an upgrade. If you make significant changes to your PC's hardware, it can also fail authorization. WGA can also go offline for days, as it did recently, which will cause XP or Vista to assume you are a thief and lock down your system in basic mode until Microsoft brings the system back online and you can prove you are not.
Since Microsoft invented WGA after the initial release of Windows XP, it has been working hard to get it installed on existing systems; users have been resistant for obvious reasons. Microsoft refers to it as a security patch, which it is not, and tells users "your computer might be at risk" if it is not installed, which is not true either. Users who opt out of installing it have discovered that Windows reports this to Microsoft, too.
Microsoft also tried to force the rollout of WGA by making it a prerequisite for installing Internet Explorer 7, but that made such a dent in IE7 installations that the company recently relaxed that mandate. Even ZDNet Windows enthusiasts like Ed Bott call WGA's installation "deceptive and misleading" before making excuses for it and advising readers to bend over, relax, and just insert it anyway.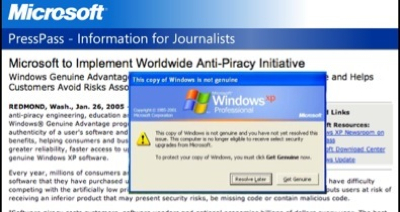 WGA the Dog: Microsoft's WGA Failure Earns Zoon Nomination

Apple vs Microsoft in Copy Protection and Spyware.
Apple currently has no copy protection system for Mac OS X at all. You can move a hard drive from one Mac to another, and even boot a system via FireWire target mode, something WGA would not allow even it if were possible on PC hardware.
Apple even uses serial numbers only for certain applications; it also uses a license management system for Mac OS X Server that prevents users from duplicating Server across lots of machines on the same network, but there is no verification or remote authorization process that calls home to report what you're doing.
With WGA, Microsoft doesn't need to phone home every ten minutes because its composite Windows+PC number doesn't usually change. Even so, when it arrived in 2005 it was set to call home daily. What was it communicating? Nobody really knows. After complaints rolled in, Microsoft did make changes; it promised to relax the call home sessions to every couple weeks. Users still don't know what WGA actually communicates, because it sends encrypted traffic.
Over the last decade, Microsoft has also bundled Amazon's Alexa spyware with Windows, which keeps track of the web sites users visit and calls home to report this. Microsoft also made a bid to buy Claria, the maker of the world's most famous adware/spyware, Gator. Microsoft has repeatedly established that it has no interest in users' privacy and will do anything it can to push ads at its customers. Its supporters only make excuses for this behavior.
Three Reasons Why Microsoft Can't Ship (and Apple can): Window's Adware Infatuation
Will Apple Follow Suit with a WGA Clone?
While Keizar rolls out a scenario where Apple matches WGA in Mac OS X and makes it worse by "checking more often," in reality what the patent describes is not really a WGA-like system at all.
We know this because Apple already uses this method of DRM on games for the iPod to prevent users from dumping copies of games on P2P sites. The patent doesn't describe a system to call home repeatedly to validate or authorize software that comes pre-installed on a PC; it describes a DRM system for selectively running software on different hardware platforms, verified locally by the system.
On the iPod, games don't phone home; they authorize against iTunes locally, which keeps track of the songs, movies, and games you buy. There is no mechanism in place to deactivate these later, such as is the case with Microsoft's exploding subscription music rentals in the Zune, Xbox, and PlaysForSure systems.
Apple's Steve Jobs has repeatedly noted that such draconian DRM systems don't really work and has been proven correct since being quoted on that in 2003. While it may be a great embarrassment for Windows Enthusiast pundits to admit, Apple obviously doesn't look to Microsoft for its ideas.
Ten Myths of Leopard: 9 Apple is Spying on Users!
UnWired! Rick Farrow, Metasploit, and My iPhone Security Interview
Hacking iPod Games: How Apple's DRM Works
What's Next: iPhone Software.
A more obvious use of this transparent copy protection described in the patent is in selling software for the iPhone, a mechanism I've been describing for the last year. That's because the problem with the current mobile software market is that there just isn't much of a market.
If someone makes the efforts to develop a significant and useful Palm OS or Windows Mobile app, there's a very limited market to sell to, and once sold, casual piracy destroys any hope of further sales. That offers little hope for retail exposure or promotion that might help things. This reality results in little profit incentive for creating good mobile software. Instead, there are lots of junk apps that commonly demand a $50 to $150 price, knowing that they'll only sell a few copies.
In contrast, Apple plans to do the same thing to mobile software that it did to digital music sales: lower the price to the point where it becomes an impulse buy, and then use transparent copy restrictions to guide users toward paying for the stuff they want at a reasonable price, rather than trying to steal everything simply because they can.
If iPhone apps follow the same kind of pricing as $5 iPod games, developers will find a huge audience of paying customers ready to support real mobile development, and that support will in turn boost the creative and technical achievements available in mobile software. Apple's iTunes will act as a retailer and promoter, helping to build markets for mobile software that is otherwise very hard to sell.
How Closed Is the iPhone?
Steve Jobs Ends iPhone SDK Panic
Inside the iPhone: UI, Stability, and Software
Explosion of the iPhone Software Platform.
Back in January, I profiled the joke that is mobile software in "More Absurd iPhone Myths: Third Party Software Panic." Digging through the top applications people were buying for Windows Mobile, I identified more than $450 of popular third party software that is either already provided with the iPhone or is not necessary because the iPhone lacks problems common to Windows Mobile devices.
If the software for Windows Mobile, Palm, and Symbian looks shoddy now, imagine what will happen when a real market develops for the iPhone, with its 'easier to write code for' Cocoa platform, its unified and compatible installed base supported by a single hardware and software vendor, and the retail transaction simplicity of iTunes.
Apple has already sold 1.5 million iPhones; in its first full quarter it grabbed second place as a platform and first in unit sales, eating up 27% of the US market. It now looks on track to sell another 2 million this quarter. That's roughly 3.5 million iPhones for 2007, and Apple's goal is to sell 10 million more in 2008. By the end of next year, the iPhone platform will have roughly half the installed base of the Macintosh, even assuming that Apple does not roll out additional iPhone-like systems that contribute to sales, and without counting sales of the iPod Touch which will also be able to run the same software.
Apple is dramatically expanding the size of its Cocoa-based Mac platform not just with 40% growth in Mac sales, but in the more than 50% additional expansion from the iPhone and iPod Touch. The growth is not only in numbers, but also in reach; the iPhone is pushing into corporate markets and dragging MacBook Pros along behind it. It also represents expansion among high end users who are happy to vote with their dollars, rather than low end volume expansion like the loss leader sub-$500 desktop PC market that other hardware makers are all ineffectually fighting over.
More Absurd iPhone Myths: Third Party Software Panic

Plan Now or be Sorry Later.
The time to plan how the software market for the iPhone platform will work is now, not after things get too large to fix. Apple is applying lessons it learned in watching desktop platforms develop over the last 30 years. Among them is the finding that allowing anyone to install anything without any safeguards is a bad thing.
Microsoft's ActiveX and other Windows mechanisms for allowing mass rollouts of software only worked within the comfort of a secured LAN where everyone was trusted. Disgruntled employees proved that to be a naive mistake, and the Internet destroyed any remaining shred of hope that Microsoft's "security through proprietary obscurity" was a good approach to software installation and management.
Apple has spent the last couple years perfecting secure mobile software sales and distribution while the rest of the world thought it was chasing its tail with iPod games. Next spring, Apple will roll out a comprehensive system for selling software that will rocket the iPhone out another several years in front of all competitors.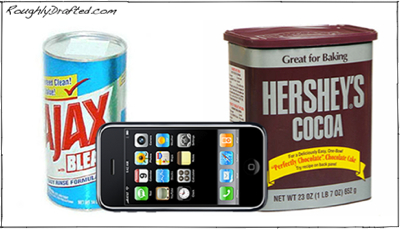 Apple's Secret iPhone Application Business Model
Will Microsoft Ever Catch Up?
Microsoft enthusiasts like to think that the company will simply copy all the good ideas that arrive and turn them into more expensive, proprietary versions that it can force adoption of using its monopoly. However, that ship has sailed. Microsoft has proven that its own efforts at technical leadership are weak and poorly architected, and more recently, that it can't even successfully clone ideas even when attempting to do so almost verbatim, such as with the Zune.
As for mobiles, the WinCE basis of Windows Mobile is nearly a decade old; Microsoft specifically announced Windows Smartphones in 2000. Since then, it hasn't offered anything original and interesting but rather just copied the Palm Treo until it could overwhelm it in marketing clout. In contrast, Apple's first attempt at delivering a phone wiped the floor with what Microsoft had promised for 2007.
Analysts keep talking about remote deactivation and deletion of phone data for corporate users, but Windows Mobile has only supported that in an insecure fashion up to this year. Few Windows Mobile phones are yet running Windows Mobile 6, the first version that could actually delete data from a SD Flash card, where sensitive data would most likely be. Of course, if the fired employee or thief removes the card before it can be wiped, company data is gone.
With the iPhone, Apple has delivered a device with far more RAM, but it's all built in and can't be removed. If a thief recovers a locked phone, they have less opportunity to attempt to get anything off it before a remote authorization system as Apple's patent describes can deactivate it.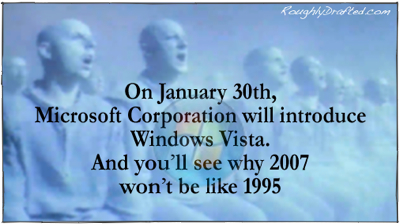 Windows 95 and Vista: Why 2007 Won't Be Like 1995
Why Microsoft's Copy-Killing Has Reached a Dead End
Who Do You Trust?
Further, since Apple doesn't have a three decade long history of scandalous, criminal behavior or a penchant for installing user-hostile spyware as Microsoft has proven it does, it's a lot easier to trust a system with remote termination potential coming from Apple.
The company responds to user complaints and makes real changes, such as when it turned off the iTunes recommendation system that privacy advocates freaked out about. Those same advocates seem cool with the spyware built into Windows and WGA, making it hard to take them seriously. The difference is that Apple answers directly to irate users rather than marketing toward big business and corporate interests at end users' expense.
So no, Apple is not the new Microsoft. We can be extremely glad that somebody with the clout and visibility of Apple is taking on Microsoft to restore competition in the industry and support open source and standards-based development over Microsoft's completely proprietary, standards-hostile, anti-competitive, third rate products dripping with spyware and onerous DRM policing in a way that insults users. Unfortunately, the tech press gets more attention by spinning invented controversy than in simply pointing out the truth.
Symbiotic: What Apple Does for Open Source

What do you think? I really like to hear from readers. Comment in the Forum or email me with your ideas.
Like reading RoughlyDrafted? Share articles with your friends, link from your blog, and subscribe to my podcast! Submit to Reddit or Slashdot, or consider making a small donation supporting this site. Thanks!


Technorati Tags: Apple, Bloggers, Development, DRM, iPhone, iPod, Mac, Microsoft, Software, the Media