Why Microsoft's Copy-Killing Has Reached a Dead End.
December 16th, 2007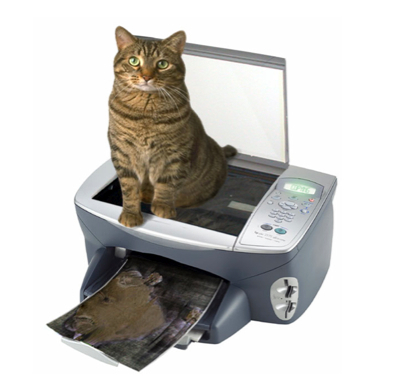 Daniel Eran Dilger
Microsoft's rapid rise to power and its ability to hold onto control over the PC desktop throughout the 90s has long been revered by pundits as a classic example of copying an existing business model and then defeating all competition through price efficiencies, despite the fact that Microsoft's Windows software has only ever gotten progressively more expensive with the passing of time. This copy-killing strategy, also described as "embrace, extend, and extinguish," is now reaching a dead end. Here's why.

The two most famous examples of Microsoft's copy-killing involved Apple's Mac in the late 80s and Netscape's web browser a decade later. Looking at what happened in these two cases helps explain why Microsoft's strategy is unraveling today as an unworkable play no longer relevant against a new type of competitors in a very different environment.
Case I: Microsoft Copy-Kills Apple.
In the early 80s, Microsoft lifted the design of much of the Windows environment directly from Apple's Mac OS architecture, which Microsoft was intimately familiar with as one of the first and perhaps the closest of Apple's early Mac developers. Apple started working with Microsoft to develop Mac software in 1981.
Historical revisionists like to suggest that Microsoft developed Windows in parallel with the Macintosh, and that both lifted all their ideas from Xerox. This idea is conveyed by various Wikipedia articles that credit Microsoft with developing Windows first and then imply that either Apple copied from Microsoft, or that both developed their products largely in isolation.
This artful fabrication of "original research" is partially built on Bill Gates' infamous quote directed at Steve Jobs in 1983, "I think it's more like we both had this rich neighbor named Xerox and I broke into his house to steal the TV set and found out that you had already stolen it." Gates flippant comment didn't factor in the reality that Xerox had invested a million dollars into Apple's development while it had no relationship with Microsoft.
Gates delivered his line after Microsoft announced "Windows 1.0" for the IBM PC in November 1983, a few months prior to the Macintosh shipping in 1984. Years earlier, Microsoft had signed an exclusive development deal with Apple in which it agreed not to introduce mouse based software for IBM's PC until a year after the Mac shipped. Microsoft discovered it could violate its agreement on a technicality, allowing it to advertise Windows–but not release it–prior to the arrival of the original Macintosh.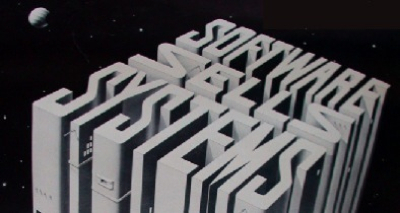 Office Wars 3 – How Microsoft Got Its Office Monopoly
Microsoft's Betrayal of Partners.
Jobs was outraged to be double crossed by the partner he had helped launch into relevance with the Mac; Gates comment suggested Microsoft had no qualms about stealing, originating a pattern of deceit and fraud that continued to weave throughout Microsoft's business dealings with its partners over the next thirty years. "Microsoft Partner" has always been an oxymoron.
Windows was directly pattered after the Macintosh software Microsoft had been given by Apple while work continued on Mac hardware, not an independent parallel effort that that simply shared the same Xerox ancestry. If it were, Microsoft could have started selling Windows 1.0 prior to the Mac shipping.
Microsoft couldn't actually sell Windows until Gates pressured Apple's CEO John Sculley into licensing Macintosh technologies to Microsoft in exchange for continuing exclusive Mac development of Excel. Only after Apple licensed its technology to Microsoft in 1985 did Windows 1.0 go on sale in November of that year.
SCO, Linux, and Microsoft in the History of OS: 1980s
Copy and Kill.
Windows shared virtually nothing in common with other independent software efforts related to Xerox, but wholly independent from Apple's work. That included VisiOn, the Muse that supposedly inspired Windows. Instead, it only closely mimicked the look and feel of the Mac, its overall architecture, and particularly the Mac's graphics routines.
Two years later, Windows 2.0 expanded beyond the Apple licensing agreement and signaled the clear intention of killing off Apple using a port of Excel to the IBM PC.
Apple fought the betrayal in court, which lingered on in hearings that stretched out into 1994, an eternity in tech years. In the meantime, Microsoft pursued additional copy-killing work against Apple's QuickTime, even appropriating Apple's code directly into Windows in order to catch up, as documented in the San Francisco Canyon case.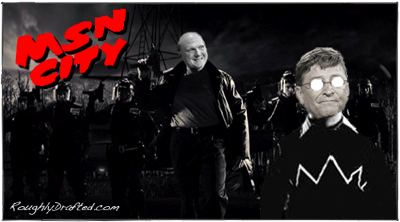 Microsoft's Plot to Kill QuickTime
Legal System Catches Up a Decade Later.
Those cases between Apple and Microsoft established that the legal system wasn't going to prevent or curtail criminal behavior in software development, but could only offer at best a review of copy infringement well after the damage was done. In 1997, Apple resolved its complaints against Microsoft in a deal involving Office, Internet Explorer, and a token $150 million investment.
Other disputes dragged on throughout the 90s, such as Microsoft's copy-killing of Stac, and its later, failed efforts to do the same to Intuit's Quicken. By the end of the 90s, reality reigned in on Microsoft and it began racking up a series of settlement obligations it was forced to pay to other victims of its copy-killing efforts and related anti-trust actions:
Microsoft paid Caldera $275 million for its antitrust actions against DR-DOS.
Microsoft recently settled with IBM in an antitrust suit involving OS/2 and IBM's Lotus SmartSuite applications to the tune of $775 million.
Microsoft paid Novell $539 million to settle its antitrust suit over the NetWare operating system, and Microsoft is still being sued by Novell over claims related to WordPerfect.
Microsoft paid Palm over $23 million to settle an antitrust suit over the unfinished BeOS.
Microsoft settled with Sun in an agreement that included $700 million in antitrust and $900 million in patent infringements, both related to Java.
Microsoft paid AOL $750 million to settle the antitrust suit over Netscape.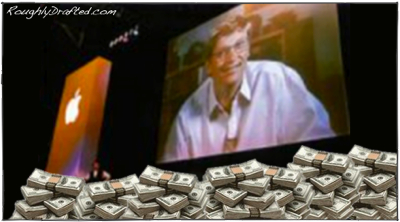 Mac Office, $150 Million, and the Story Nobody Covered
Case II: Microsoft Copy-Kills Netscape.
The copy-killing case of Netscape reveals why Microsoft's old strategy is increasingly ineffective in a world that now involves both cooperative and competitive efforts in open source development. Compare Microsoft's ability to use Internet Explorer to rapidly destroy Netscape, but its failure to do the same to marginalize the open Apache Server using its own Internet Information Server.
Both Netscape and Apache were based upon code from the NCSA Mosaic project: Netscape was the web client, Apache was the web server. Microsoft's Internet Explorer was also originally based upon another branch of the same Mosaic code, obtained from Spyglass in 1996. Microsoft was able to scuttle the solo Netscape effort because it could:
vastly out spend the development efforts of its smaller competitor.
tie its browser together with Windows as a default install at a time when software downloads were more difficult to obtain.
bargain with Apple to push Internet Explorer on the Mac in a way that simply pushed Netscape out of the market.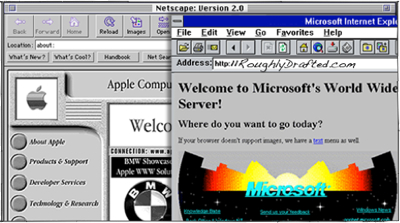 Apple in the Web Browser Wars: Netscape vs Internet Explorer
Microsoft was unable to use any of those tactics to "embrace, extend, and extinguish" Apache on the server side because Apache was a distributed effort from the start, widely invested in by so many other companies that Microsoft found it difficult to match the resources of Apache's distributed development efforts or tie its IIS into sales to the desktop in a way that could marginalize its use.
Of course, IIS was also just a bad product; IIS was the reason why the US Army moved its web servers from Windows NT to Macs in 1999, by which time Netscape as a browser was toast. When Mozilla was reformed from the ashes of Netscape in the same open model as Apache, the browser client rebounded from its death kneel to become a significant factor in reopening the web browser market and reestablishing itself as a sustainable business with Firefox.
The Web Browser Renaissance: Firefox and Safari
Kim Zetter and the iPhone Root Security Myth: The Root Myth
Microsoft's Copy-Killing Arrested in the 2000s.
While Microsoft was able to derail a variety of other centralized efforts, it has found it far more difficult to compete against distributed efforts that involve cooperative competitive elements. For example, Microsoft was able to hijack Sun's Java on the desktop and did its best to kill Silicon Graphic's OpenGL in the Fahrenheit "partnership" involving Microsoft's DirectX.
Sun responded by pushing Java towards being fully open, a step that has helped to broaden its use in the server market that Sun desperately needs in order to continue selling its hardware.
OpenGL has since been adopted and supported by Apple, Sony, Nintendo, and in Linux as collective alternative to Microsoft's proprietary DirectX. In order to hold onto PC gaming, Microsoft is working hard to battle the rest of the industry, but the distributed nature of OpenGL is making that far harder than ever before.
Readers Write About Microsoft's Plot to Kill QuickTime
Windows Media's Failure to Copy-Kill.
Ten years ago in 1998, Microsoft assumed that it could publish its own video codecs and push partners toward abandoning the ISO MPEG standards. Its Windows Media 9 video codec copied from the MPEG-4 Part 2 (H.263), but was released with proprietary extensions.
After the industry collectively backed the original MPEG-4 as a published standard instead, Microsoft was forced to publish WM9 itself, using the SMPTE to deliver VC-1. This converted WM9 from an unpublished, proprietary standard into the openly published, proprietary VC-1 standard.
In the process, Microsoft also discovered that opening up its technology resulted in revealing its use of others' patents. Anyone who licenses VC-1 now also pays patent licenses to the MPEG holders, because VC-1 itself is based on MPEG-4 Part 2 (H.263). Additionally, support from the open source community has resulted in improvements to implementations of MPEG-4 Part 10 (H.264) at a faster pace than Microsoft can deliver with VC-1 itself.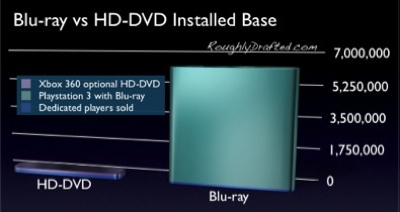 Origins of the Blu-ray vs HD-DVD War
Blu-ray vs HD-DVD in Next Generation Game Consoles
The Vapor Barrier.
The Internet has also combined the dynamic of open development with new, alternative channels of information that together help to dissipate the vapor Microsoft has issued to cloud the market with uncertainty. Promises to deliver competition in the future simply don't compare against the real progress transparently delivered by open projects.
Microsoft's task of maintaining a long tail of legacy support is also making it more difficult to deliver future work at a time when rapid and nimble companies can cooperate together on their competing efforts. One of the best examples is in web browsers, where the three largest alternatives to Internet Explorer are working together to develop standards based interoperability:
Mozilla's Firefox is open source.
KDE KHTML/Apple Safari WebKit is open source.
Opera is not open source, but is standards based.
Progress among these cooperating yet competing efforts is obvious and tangible with regular updates that embarrass Microsoft's increasingly dated and isolated work on Internet Explorer, which is now conspicuously lacking in modern CSS support.
The Future of the Web: Safari, Firefox and Internet Explorer
Going on the Offensive.
Apple's combination of an open source Unix foundation, open source applications such as Calendar Server, open source frameworks including WebKit, and closed technologies such as Cocoa fit together in Mac OS X in a competitive package that makes it impractical to attempt to copy-kill it.
Rather than playing the passive victim, Apple is now on the offensive. It is competing against Microsoft's dominant or at least visible position in a number of markets detailed under the heading "Microsoft's May Day Parade" in the article "Soviet Microsoft: How Resistance to Free Markets and Open Ideas Will the Unravel the Software Superpower".
In addition to open source, Apple appears to have a second, closed weapon up its sleeve nearing launch; the next article will take a look at what that is. Can you guess what it is?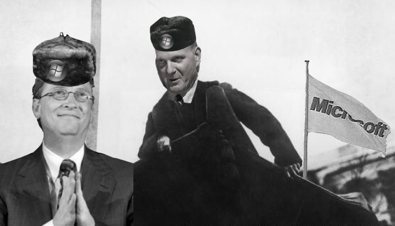 Soviet Microsoft: How Resistance to Free Markets and Open Ideas Will the Unravel the Software Superpower
What do you think? I really like to hear from readers. Comment in the Forum or email me with your ideas.
Like reading RoughlyDrafted? Share articles with your friends, link from your blog, and subscribe to my podcast! Submit to Reddit or Slashdot, or consider making a small donation supporting this site. Thanks!
Technorati Tags: Apple, Development, History, Mac, Microsoft, Software, the Media