Soviet Microsoft: Stockholm Syndrome Among Unswitchable Windows Users
December 15th, 2007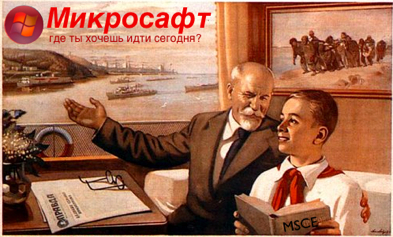 Readers Write
Commenting on the article "Soviet Microsoft: How Resistance to Free Markets and Open Ideas Will the Unravel the Software Superpower," reader Harvey Lubin extended the analogy between Microsoft and the Soviet Union by describing how many of Microsoft's customers have developed a Stockholm Syndrome that prevents them from seeing or readily adopting alternatives.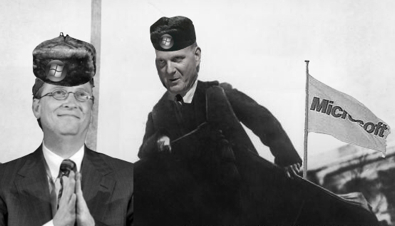 Soviet Microsoft: How Resistance to Free Markets and Open Ideas Will the Unravel the Software Superpower
Lubin writes: "Your article yesterday, comparing Microsoft to the old Soviet Union, was a perfect analogy and it got me thinking how, by extending that analogy, Windows users can be likewise equated to the people of the USSR.
During the Cold War some of the citizens of the Soviet Union escaped to the West and freedom. But the vast majority of the populace remained. People like us, living in more open and democratic societies looked at the impoverished and suffering citizens of the USSR and wondered why are they enduring these hardships?
The citizens who did escape to the West were in the minority. They could clearly see there was a better life awaiting them outside their current borders, and they took action to improve their lives. These people are paralleled by Windows users who made the switch to Mac OS X. We can read many testimonials written by them on the Web, extolling their new found freedom and joy in using a Mac.
But like the majority of the people of the USSR, most Windows users are immovable. There are reasons for this. In the Soviet Union the government bombarded the public with a non-stop barrage of propaganda exalting the government and its political leaders. This indoctrination came to them though the media at home, and it was reinforced in the workplace environment as well. Because of the Soviet Union's isolationist policies, it was very difficult for those trapped behind the "iron curtain" to get any sense of what freedoms awaited them outside of their borders. Without any realistic view of the options available to them, most people stayed in Mother Russia believing that this was the extent of their world, and that there were no other opportunities for them to better their lives.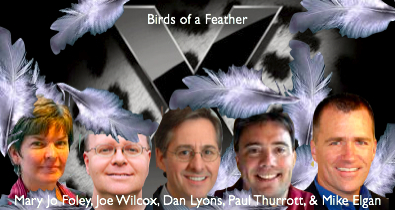 Ten Myths of Leopard: 10 Leopard is a Vista Knockoff!
Microsoft Stockholm Syndrome.
Another explanation as to why many of the citizens of the USSR remained steadfast is the Stockholm syndrome. The Stockholm syndrome is defined as a psychological response sometimes seen in an abducted hostage, in which the hostage shows signs of loyalty to the hostage-taker, regardless of the danger (or at least risk) in which the hostage has been placed. In a way, many Windows users suffer from a more subtle form of the Stockholm syndrome.
Too often we see articles on the web written by Microsoft loyalists about Apple and the Mac OS, that are mean-spirited attacks constructed on exaggerations and lies. These articles defend and praise their use of Microsoft Windows, not by revealing that they are in any way happy with living with the impositions of Windows, but rather by fabricating or regurgitating untruths about Macs. The intent is to make current Windows users believe that the Mac is such an outrageously bad platform, and to be so focussed on this that they do not examine the real conditions they are living with. Magicians refer to this sleight of hand as "misdirection".
One other reason why people stay in bad situations (be it living in the Soviet Union or remaining a Windows user) is because it becomes a way of life that is so instilled that it is hard to break away from.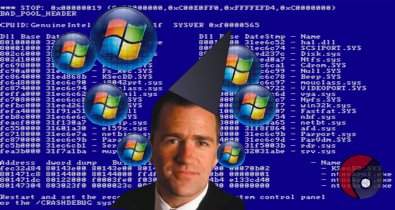 Arrogance Unleashed: The Foul Stench of Computerworld's Mike Elgan

The Unswitchables.
I personally know of an acquaintance who is intelligent and technically knowledgeable, and who a few years ago told me rather than buying himself a new Windows PC, he had made the switch and bought himself a PowerMac. Since this was his first time using Mac OS X I offered to give him a tutorial on using his new Mac. He declined, but a few days later he called and asked for help. He said that he installed an application but couldn't find it. I asked him for the name of the application that he installed, and then told him to look for that named application in the Applications folder. He said "Oh, I was looking something that had an ".exe" file with a different name".
A couple days later he called and asked how he could uninstall an application since it didn't come with an uninstaller. He also wanted to know where the DLL files were located. I explained that he could just drag the application to the trash, and that in the Mac OS there are no DLL files to worry about.
A week later he called me in a panic, and said that his Mac was continually crashing and that he could use my help. After asking him a few questions, it came out that he had been logging in as ROOT and that he had tried to "reconfigure" the System files using the command line. He had been used to doing this in Windows and he wanted to do the same with his new Mac. I tried to explain that what he had done is mess up the operating system, and that there was a good reason for not logging in as ROOT and customizing the System files. But, he insisted that he wanted to continue with this tinkering.
A few weeks later he told me that he became so frustrated with not being able to use the Mac as he was accustomed to, that he sold it and bought himself a Windows PC again.
This may sound unbelievable, but all of this really happened and I just shook my head and accepted it as the way some Windows users are and forever will be."
What do you think? I really like to hear from readers. Comment in the Forum or email me with your ideas.
Like reading RoughlyDrafted? Share articles with your friends, link from your blog, and subscribe to my podcast! Submit to Reddit or Slashdot, or consider making a small donation supporting this site. Thanks!