Canalys, Symbian: Apple iPhone Already Leads Windows Mobile in US Market Share, Q3 2007
December 14th, 2007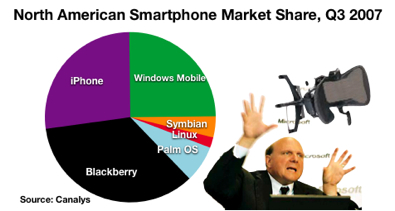 Daniel Eran Dilger
In its first full quarter of sales, the iPhone has already climbed past Microsoft's entire lineup of Windows Mobile smartphones in North America, according to figures compiled by Canalys and published by Symbian. That puts the iPhone ahead of smartphones running Symbian, Linux, and the Palm OS, but behind the first place RIM BlackBerry. The figures mesh with retail sales data already reported by NPD, which similarly described the size of the US market with a 27% chunk bit out by Apple's iPhone.

Apple's debut at second place across the entire North American smartphone market region for the third quarter ending in September is particularly noteworthy because the iPhone was only being sold in the US, and is only available through AT&T; all of the other mobile platforms are available to Sprint, Verizon Wireless, and T-Mobile as well as AT&T.
The iPhone wasn't available in the significant markets of Canada and Mexico, along with parts of the US that AT&T does not service, including much of Vermont, North Dakota, South Dakota, and Alaska. In some of those areas, the Public Service Commission limits competition to just two carriers, such as Verizon Wireless and Alltel in the Dakotas.
iPhone Grabs 27% of US Smartphone Market
Symbian Suddenly Gets Quiet.
Market leader Symbian likes to advertise that it leads smartphone sales worldwide, a market that has more than tripled over the last four years. Symbian has regularly posted the latest quarterly statistics from Canalys on its Symbian Fast Facts web page to prove it.
However, Symbian stopped publishing detailed stats this quarter with the launch of the iPhone. Incidentally, the numbers are no longer flattering to Symbian in the North American market, and hint at the big change threatening to hit the charts in Europe at the end of the current quarter.
I found the numbers through Symbian anyway, in a little publicized document designed to boost moral among Symbian backers. It was a fortunate find, because paying for the report from Canalys is expensive and I didn't want to have to wait another three weeks to to hear Steve Jobs announce the numbers at Macworld Expo.
Symbian Still On Top, Just Not Around These Parts.
Symbian is jointly owned by Nokia, Ericsson, Sony Ericsson, Panasonic, Siemens, and Samsung. However, there are really three Symbian main platforms: Nokia's S60, Sony Ericsson's UIQ, and NTT DoCoMo's MOAP used in Japan. Each Symbian phone platform requires its own specific software.
Symbian lumps all these together worldwide to make for more attractive numbers; this would be similar to Apple jointly advertising the combined market share of Mac OS X, Linux, IBM's AIX, Sun Solaris, SCO Unix, BSD, and the various other Unix-like vendors across all desktop and servers sold as "the POSIX market."
Counted collectively, Symbian's overwhelming dominance of the smartphone market has remained largely unchanged since 2004. Back then, Symbian held more than half of China and a majority market share in Europe, Japan, Asia, Central and South America (below, in orange). In North America, Symbian was in second place to the dominant Palm OS (below in blue), but ahead of Microsoft's third place Windows Mobile (below in green).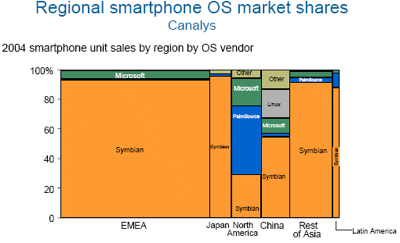 Mobile Phone Development » Blog Archive » Smartphone Market Share 2004
Symbian Fast Facts Q3 2007
The North American Changing of the Guard.
Symbian prefers to publish worldwide market share numbers to minimize its rapidly shrinking presence in the North American market. Since 2004, Symbian has slid from owning more than a quarter of that market to less than 5%.
Symbian hasn't been the only loser in North America. After Palm announced plans to license Windows Mobile from Microsoft, its own share has slipped from the top spot toward obscurity. In the last reported quarter, Palm OS smartphones only amounted to less than a tenth of the North American market, ahead of Symbian's sliver and the even smaller market for Linux-based phones in the US. The top three spots are taken by the RIM BlackBerry, Apple's iPhone, and Microsoft's Windows Mobile.
Microsoft initially made slow progress in selling smartphones since it first announced plans to deliver WinCE-based phone software in 2000. Its biggest break came from gobbling up Palm's market share after the company began selling its newest Treo hardware running Windows Mobile (below, the blue Palm OS is eaten up by green Windows Mobile).
The BlackBerry has rapidly amassed a big enough chunk of the North American and European market to give it a visibly growing profile worldwide over the last three years (below in black). In the Symbian charts below based on Canalys data, EMEA is Europe, Middle East, and Africa, while ROW is the rest of the world.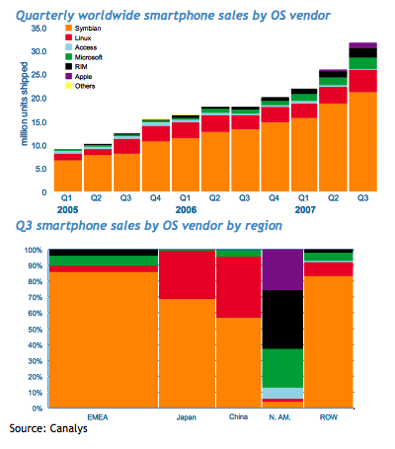 http://developer.symbian.com/main/getstarted/newsletter/MarketRoundUp/SymbianMarketRound-UpIssue2Oct07FINAL.pdf
Worldwide Smartphone Sales.
Linux based phones, sold primarily in China and Japan, have consistently outsold Windows Mobile to remain the second largest mobile OS worldwide (above in red). However, Linux based phones haven't done so well in North America or Europe, and the phones being sold in Asia are mostly closed.
Mac OS X vs Linux: Third Party Software and Security
Apple's performance in its first three months of being on sale demands the attention of rivals (above, in purple). The company's highly publicized move into the UK, Germany, and France along with an aggressive price cut towards the end of the third fiscal quarter appears to have doubled the rate of sales and suggests the potential for Apple to claim the third or fourth place in the West–if not worldwide–by the end of the year.
Why Dan Frommer and Scott Moritz Are Wrong on iPhone Sales
Further Embarrassment for Microsoft, Forrester Research.
The most recent market share numbers are particularly embarrassing for Microsoft, especially after CEO Steve Ballmer announced in January that Apple wouldn't capture more than two to three percent of the market and described his own Windows Mobile platform as having or soon acquiring 60 to 80% of the smartphone market.
It should also be an embarrassment for Benjamin Gray of Forrester Research, who just released another report insisting that IT departments shun the iPhone and limit their support to platforms that are dead, dying, or obscure in North America, such as the Palm OS, Linux, and Symbian.
Gray even listed "Windows CE and Windows Mobile" as two reasons why "IT organizations have been stretched to support whatever platforms their employees have brought into the company." Surely he should know they're the same thing if he's writing reports on the subject.
Grey also repeated old myths about remote administration features that Microsoft just released in Windows Mobile 6, and suggested that the iPhone being tied to AT&T would force businesses to "pay for expensive roaming fees rather than switch the phone temporarily to a foreign provider," as if that would help in a country with incompatible phone networks and subsidized phone contracts that tie phones to providers anyway.
How AT&T Picked Up the iPhone: A Brief History of Mobiles
iPhone Price and Profits vs Nokia, LG, HTC, RIM, Palm
Using Apple's iPhone in the Enterprise
Analyst: iPhone simply isn't meant for enterprise – AppleInsider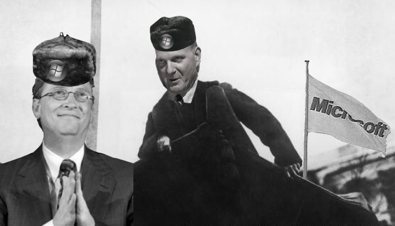 Soviet Microsoft: How Resistance to Free Markets and Open Ideas Will the Unravel the Software Superpower
Smartphone Software Platforms.
By next spring, Apple expects to release its iPhone SDK, which will provide official support for third party iPhone applications. While the details of its iPhone development tools are yet to be seen, Apple already manages the world's second largest and fastest growing desktop platform with Mac OS X.
The development of additional third party iPhone software, which will also work on the iPod Touch, will give Apple's smartphone even more market power in throughout 2008, and pave the way for it in territories where Apple isn't yet selling the iPhone but is selling the Touch.
Steve Jobs Ends iPhone SDK Panic
In contrast, Symbian is an aging OS originally developed for PDAs made by the now defunct Psion. Symbian software development is also commonly regarded as complex and difficult, in addition to being fractured between the three major sub-markets, each with its own unique user interface.
Origins: Why the iPhone is ARM, and isn't Symbian
Readers Write About Symbian, OS X and the iPhone
The WinCE operating system behind Windows Mobile is also poorly regarded, and even Microsoft hasn't done much with it over the last several years. The company rejected WinCE for use in the Xbox after disappointing attempts to use it in the Sega Dreamcast console, and more recently passed over WinCE when delivering the Origami handheld PC form factor, the very application WinCE was designed to fill. Efforts to push WinCE in other applications–from handheld gaming consoles to automotive carputers to iPod rivals to the Mira terminal–have fallen apart and regularly lost big money over the last decade.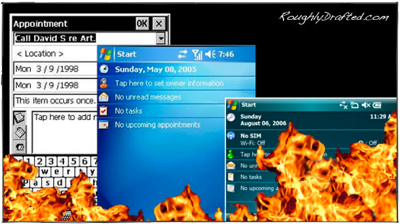 OS X vs. WinCE: How iPhone Differs from Windows Mobile
The Spectacular Failure of WinCE and Windows Mobile
Innovation: Apple at Macworld vs Microsoft at CES
The remaining wild card is Google's Android, which many pundits hoped would rise to defeat the iPhone. Instead, Google delivered the Open Handset Alliance, a consortium of hardware makers using open source development to build interoperable phone applications. That targets Symbian, Windows Mobile, and the existing Linux phones shipped by Motorola in China, rather than the iPhone.
Number One On the Web, Even vs 3G Phones.
Earlier statistics compiled by Net Applications found that more iPhone users were showing up in the web stats it tracks nearly equal to all other mobile web browsers combined; use of the iPhone's mobile Safari, which had exceeded Windows Mobile use back in September, is now tied with the entire installed base of web browsers in use on Windows Mobile phones, Pocket PC PDAs, the Danger Hiptop, and Nokia's Symbian Series60 phones combined. Other mobile browsers were statistically irrelevant.
Net Applications' statistics are based on a composite of web stats compiled from a range of major sites. While mobile browsers only amount to a tiny slice of overall web traffic, the numbers correlate with unit sales of smartphones reported by Canalys for the US market. The iPhone's browser is likely over represented in web stats compared to its installed base because it works well enough to actually use.
The browser software on WinCE devices, including PocketPC and Windows Mobile phones, is not very practical but there is a minor installed base trying to use it. Some WinCE users might spoof their browser identification to mimic the desktop Internet Explorer, but more likely, they're actually using their desktop instead of the mostly useless Pocket IE. Browsers on BlackBerry and Symbian phones with their smaller screens aren't very usable either.
Shouldn't the fabled 3G networks that are supposed to make every other smartphone on the planet so much faster than the iPhone result in those other phones being used to browse the web more often? MacDailyNews recently linked to a YouTube video created by a German site demonstrating the 3G Nokia E61i struggling to download common pages as fast as the iPhone over 2.5G EDGE.
While 3G networks are faster, the web browsing experience isn't better if pages are actually rendered slower on a smaller screen. Across the board the iPhone downloaded and completed page rendering seconds faster than 3G competition, and presented a web page that looked like a web page, not an awkwardly zoomed document hiding behind a tiny window.
MacDailyNews – Apple iPhone (2.5G EDGE) vs. Nokia E61i (3G UMTS)
Market share for browsers, operating systems and search engines – Net Applications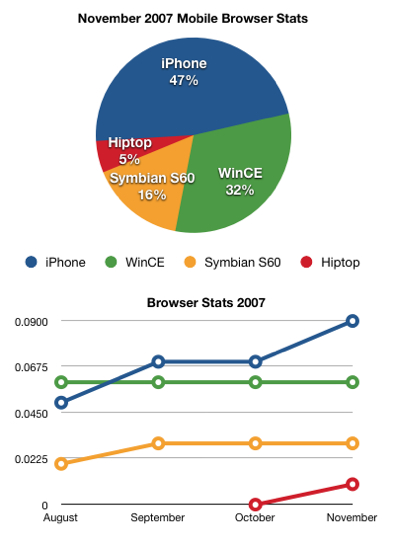 In addition to the overall sampling of general web stats performed by Network Applications (above), RoughlyDrafted's own web stats (below) represent a specialized market for readers who can handle more than a paragraph long blurb. Traffic over the last month broke down roughly equal between Windows and Macs, with iPhone users nearly tied with Linux visitors.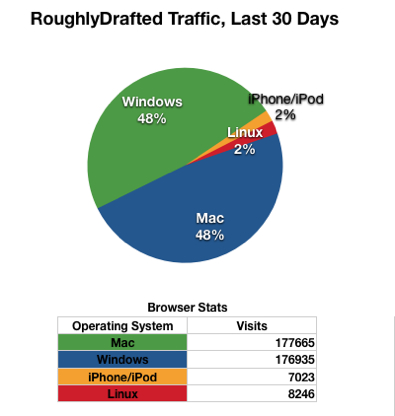 What do you think? I really like to hear from readers. Comment in the Forum or email me with your ideas.
Like reading RoughlyDrafted? Share articles with your friends, link from your blog, and subscribe to my podcast! Submit to Reddit or Slashdot, or consider making a small donation supporting this site. Thanks!
Technorati Tags: Apple, Development, iPhone, iPod, Mac, Microsoft, Software, the Media