Soviet Microsoft: How Resistance to Free Markets and Open Ideas Will the Unravel the Software Superpower
December 13th, 2007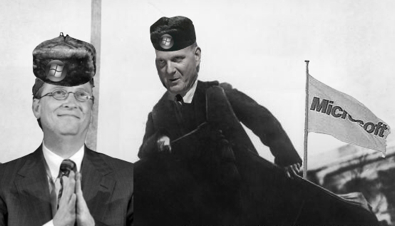 Daniel Eran Dilger
Somewhat ironically, one of the most financially successful capitalist companies of the 90s has positioned itself as a modern counterpart to the old communist Soviet Union. Microsoft's ideological contempt for and resistance to free markets and the open expression and propagation of fresh ideas and technologies is not only a close parallel of the old USSR, but also a clear reflection of why Microsoft is currently failing and why its troubles have only just begun. Here's a comprehensive look at why this is the case.

Talk to the Hand.
The free market is hailed for its powers as a magical omniscient hand that sorts winners and losers objectively based on merit. It also sets prices with accuracy and precision, rewarding excellent products with premium prices and rewarding efficient production with higher sales volumes.
In the last century, passionate intellectuals fought against the powerful, all knowing hand of the market and lost. They hoped to solve the frequently brutally and indiscriminate actions of the capitalist free market, which set prices that bankrupted the weak and rewarded the rich without regard for grandmothers and children, wars and disease, fraud and treachery, and various other side effects of humanity.
The Communists hoped to replace the free market with a planned economy, where growth would only proceed orderly in one direction. Anyone in the way of such progress could be carefully removed by the appropriate bureau and reassigned to a different role that served everyone else collectively in the best possible way.
In the same way, Microsoft ushered in Windows as a common platform for all computers in the 90s. Windows promised to replace the risk and uncertainty of a world splintered by different platforms under just one operating system. Anyone who didn't play along with the official party line was ostracized to a Siberian gulag, or at least ridiculed as an enemy of compatibility and a threat to low Total Cost of Ownership. Pundits warned of the risks of associating with alternative platforms, and expressed fear, uncertainty, and doubt concerning the future prospects of anything independent of the Microsoft Mother.
The Problem with Communism.
The problem with the ideas from the left edge of reason is that nobody on Earth is smart enough to plan such an economy, and everyone else is smart enough to be wary of anyone ready to accept the challenge. The only way to usher in communism is to remove alternative thought by convincing the populace that the only good choice is no choice, overturn the establishment, and then prop up the centrally planned system with misinformation campaigns that assure everyone they're better off not wanting to experiment with dangerous outside ideas.
On the other hand, the best way to prevent anyone from trying to take over and establish such a centrally planned system that insists on making all the decisions is to marginalize power in an informed democracy, so that any political change based on unworkable ideas is at best glacial and difficult.
The less forced political change can occur, the more the invisible hand of the market can make decisions that benefit individuals. Socialist ideas about insuring the health of the populace, educating children, transporting people and goods effectively, and looking after the welfare of the weak and less fortunate can be addressed by the market with minor changes that don't demand misinformation, removal of choice, or violent political upheaval to enact.
The Power of the Invisible Hand is People.
That's because the free market isn't really an invisible hand, but a collective of individual human actions that involve conscience. The market is both the world's democracy and its commune. Every dollar spent is a vote, and every dollar earned is political capital to carry out plans. Once the hippie generation realized that the free market was actually the ultimate commune, the most competent members sprang into action and changed the world in a way that really changed the world.
Apple's Steve Jobs was a long haired dropout experimenting with Eastern philosophy and LSD. However, he saw the potential in personal computer toys and teamed up with hardware genius Steve Wozniak to develop and market them. He then saw the potential in technology being developed by Xerox and worked to make it affordable and relevant to consumers. He then saw the potential of object oriented development and the leveraging of open source code at NeXT, and later returned to Apple in 1997 to turn around a dead corporation and give it a new vitality and productivity that no Ten Year Plan could have have ever decreed in a state sponsored program.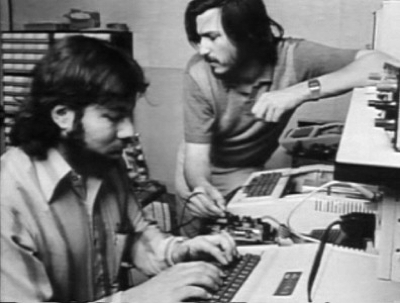 Silicon Valley is full of old liberals who once thought that human nature could be shed along with the trappings of the past to usher in an Age of Aquarius where everyone was just cool and everything just worked out. They discovered that their parents had been right in a manner of speaking; you can't change everything about yourself even if you do change everything about yourself.
Individuals with a humanity large enough to share were attracted to the rebellion against old thinking in the 60s, but the 70s began to slowly teach us that rebellion has its own problems. Our ancestors have amassed too much knowledge to ignore, and at least some of the solutions they created for dealing with the problems of life are far too valuable to simply throw out. Ignoring the wisdom of the past is as dangerous as ignoring fresh ideas for the future.
Bridging The Gap.
That leaves humanity stuck with no easy answers. How much of the old ways of thinking are worth holding onto, and how quickly should new ideas be adopted? Over the last thousands of years of recorded history, it seems clear and predictable that the old will demand an end to change and the young will always push for complete revolution. The only way to allow anything to get done is to balance things out so that the old can push their efforts to stop progress and the young can force efforts toward change without either side winning all of the time.
Of course, being old or young politically isn't just a product of age and experience. There are conservative youth groups just as there are plenty of progressive older people, some of whom have done the most to affect positive change because of their experience and wisdom. In fact, while the youth culture has made the most light and noise, it has rarely done as much to actually introduce real change without also ushering in disastrous consequences on the side.
The power for political and social change has to be orchestrated with the same objectivity as the overall economy, leveraging the same hyper-intelligent collective of thought that sets prices and sorts out competitors. Politics and culture need a free market.
Hacking the Market.
The biggest problem with free markets is that most aren't really free. Free markets represent the needs and demands of consumers. The collective buying decisions of millions of people statistically reveal the collective reasoning of the masses. The problem is that this virtual network of human supercomputers is easy to pollute with viral misinformation, and like any system, can only return garbage output when it is fed false information.
When vendors manipulate the market to limit the availability of competing products or dump bad products on the market to overflow its buffers in an attempt to hack control in the future, the market no longer reflects the composite intelligence of a huge audience, and instead inherits all the problems of a communist planned economy where a few people making decisions simply can't outthink the needs of millions, despite their best intentions.
This is what Microsoft did in erecting artificial barriers to competition to Windows and Office in the 90s, and what Microsoft and both NBC Universal and Paramount/Dreamworks are doing in media, and what Microsoft is doing in opposition to free and open source software: reigning in on the free market in efforts to instead establish a politburo where Microsoft remains the only game in town.
Universal vs Apple in the iTunes Store Contracts
The New Soviet Union.
Microsoft isn't evil for being Microsoft, but because its leadership values control above delivering good products or advancing the state of the art. Rather than competing in the market, Microsoft's leadership has pursued a strategy of repeatedly deceiving the market. The result has been decades of productivity losses that negatively impact the rest of the world's economy and distract humanity away from technical achievement to instead fiddle with shoddy software that is weak because it was developed outside of competitive pressure.
The other result is that one of the richest companies in the world is falling apart for the same reason the Soviet Union did: both attempted to develop power and influence by restricting ideas and forcing adoption. Those restrictions worked in the short term; the USSR roughly maintained and sometimes exceeded the technological capacity of the West across three decades, just as Microsoft briefly eclipsed independent development in a variety of areas.
However, the iron fist of resistance to outside ideas was as destructive to the USSR as the inbreeding of royalty was to Europe's empire nations before it. Microsoft is facing the same failure by arrogantly pushing old strategies and ignoring the potential of open source. Microsoft's anti-open rhetoric even sounds a lot like the Soviet's view of free markets, laced with fear-based propaganda that promises dire consequences for experimenting with the open source ideas that are already proven to work outside of the Red Square of Redmond.
The Hot New Cold War.
As the USSR's failure to maintain parity with the West became increasingly obvious, a conservative American movement launched in the early 80s alongside President Ronald Regan increasingly claimed credit for winning the Cold War. It fought battles of little consequence in Nicaragua and invested billions in Star Wars technologies theoretically intended to shoot down incoming missiles. Neither did anything to really accelerate the demise of the USSR and its network of satellite nations behind the Iron Curtain.
In the same way, companies such as Netscape and Sun launched ineffectual wars of rhetoric against Microsoft's monopoly, but ended up doing very little to actually challenge its dominance.
What really destroyed the USSR was the rapid advancement of technology developed within the fires of cooperative competition among Western nations. The Soviets had brilliant scientists and researchers, but they couldn't outmaneuver the efforts of thousands of individual companies, whose efforts were being selected by merit in a free market by millions of consumers.
Individual Western companies would have found it extremely difficult to compete against the vast resources of the Soviet Bloc. Similarly, many of the individual companies that launched into direct competition with Microsoft failed. Working collectively and in competition however, Western companies exponentially outpaced development of the USSR. This type of collective competition will also be the undoing of Microsoft.
After the failed ashes of Netscape were formed into the Mozilla open source project, it grew under the support of a number of companies to become Firefox and rival Microsoft's domination of the web browser market. Parallel efforts by Opera and KHTML/Safari have cooperated and competed with Firefox to offer an even stronger standards-based challenge to Microsoft's Internet Explorer. That threat induced Microsoft to ship IE7 after years of leaving the web browser to stagnate, and has more recently forced it to exempt users from installing its Windows Genuine Advantage compliance/spyware system in order to download it.
Apple in the Web Browser Wars: Netscape vs Internet Explorer
The Web Browser Renaissance: Firefox and Safari
The Future of the Web: Safari, Firefox and Internet Explorer
Winning By Merit.
Throughout the first half of the 90s, Apple offered ineffectual competition against Microsoft because it was developing all of its own technology just like Microsoft, while lacking the same access to resources that Microsoft had. When Apple began incorporating an infusion of open source technologies in the second half of the 90s, it broadened its ability to compete by leveraging the work already done elsewhere.
Microsoft's refusal to participate in open development and its vilification of open source signal that the company still doesn't understand what is happening in the world around it. Having established itself as an enemy of open development, it now faces the embarrassing prospect of being beaten by open companies while being unable to open itself to change, its only real recourse.
At some point, Microsoft will have to reorganize itself in a way that opens the door to open development and exposes itself to competition. Doing so will require the company to give up its buffer zone of comfort provided by its satellite bloc of competitive barriers, to disband its astroturf misinformation and propaganda ministries that underhandedly function like the KGB, and to participate in the global economy by dialing down its doomsday clock and ambitions to rule the world using the technology from previous decades.
iPod vs Zune: Microsoft's Slippery Astroturf
Microsoft's May Day Parade.
Instead, what Microsoft is actually doing is falsely proclaiming victory across its failing businesses in a way that looks a lot like a Soviet May Day parade: lots of impressive tanks that rumble past the harsh reality of a starving populace.
Just within this year, Microsoft CEO Steve Ballmer proclaimed in January that his Zune music player had grabbed 20 to 25% of the market within a few months of being on sale, despite knowing that the company hadn't sold any significant amount. The Soviet looking player got shipped to 30,000 stores, but nobody bought any until the price was dropped in a fire sale clearance sale ten months later. Microsoft then tried to stoke the story that its bargain bin sales were indicative of high demand for its Zune products.
Facing the conundrum of selling PlaysForSure DRM that doesn't play on its own Zune product, and vice versa, Microsoft has now rebranded PlaysForSure DRM as "Certified for Windows Vista," using the same logo it uses for Zune DRM content. This muddies the waters to confuse customers so they lose sight of the fact that Microsoft is selling two artificially incompatible DRM formats, and further suggests Vista as a solution, when nothing in Vista helps sort this problem out at all.
Why Microsoft's Zune is Still Failing
Winter 2007 Buyer's Guide: Microsoft Zune 8 vs iPod Nano
Microsoft Re-Brands PlaysForSure — DRM — InformationWeek
Ballmer also mocked the iPhone for being the "most expensive phone in the world" while in reality, his own Windows Mobile phones all cost significantly more to own. He also suggested that Microsoft had or would soon claim 60 to 80% of the market for smartphones but that Apple would be lucky to get 2%. In reality, Windows Mobile had a worldwide market share close to 6% at the time. After just one full quarter of sales in the US, Apple has already outpaced Microsoft in US mobile market share, which is the largest regional market for Windows Mobile by far. As Apple rolls out the iPhone globally, Microsoft's efforts will look increasingly weak.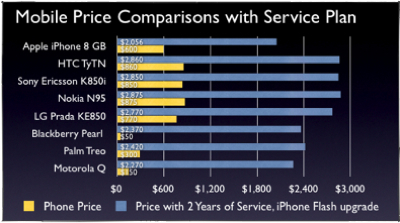 iPhone Price and Profits vs Nokia, LG, HTC, RIM, Palm
iPhone Grabs 27% of US Smartphone Market
Microsoft has also laughed off competition from Apple on Windows desktops, but the Mac maker has since surpassed Dell and HP in valuation because Apple's sales are growing several times faster than its PC rivals. Apple's laptops scored a major jump among consumers throughout the year, but Mac desktops are now seeing similar growth. Changewave is also pointing to forward looking plans by both consumers and corporate buyers that indicate a significant rise in plans to buy new Apple hardware.
Among consumers, Changewave found that expectations to buy new Apple systems had interest in both HP (21%) and Dell (28%) in laptops and beat HP (24%) and approached Dell (31%) in desktops. Just a year ago, Dell exceeded 40% of the vote in both categories, while Apple lagged at 11 to 16%. Apple is also up significantly in corporate purchasing plans, jumping from 2% to a 6 to 7% share of future plans, but still lags behind Dell and HP. Following its blockbuster year of 2007, those plans suggest that Apple is just getting started in its market share expansion.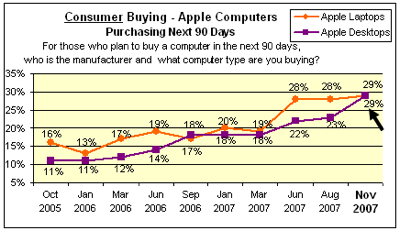 Apple Macs: Dominant PC Story of 2008 – ChangeWave
Fueling that growth in part is Apple's strong showing with Mac OS X, recently upgraded to the Leopard reference release. Reviews of Leopard have been stellar. Despite the usual efforts needed to migrate to a new system, the new update has suffered none of the show stopping problems of the year old Windows Vista, which has been plagued with poor sales and consumer resistance. Pundit's efforts to tar and feather Leopard with Vista's problems have been vigilant, but ineffectual.
Ten Myths of Leopard: 10 Leopard is a Vista Knockoff!
In desktop applications, Microsoft has tight control over Office, but this year was forced to announce a reduction in the entry price on the Mac side from $300 to $150 in order to compete against Apple's new $79 iWork 08. Within just weeks of being on sale, iWork 08 has captured 16% of the Mac market. On the Windows side, the lack of any strong competition has kept Office 2007 expensive and unrivaled in overwhelming market share. That lack of competition has also resulted in no new updates for Office for a three to four year period.
Microsoft's Outrageous Office Profits
Microsoft also likes to talk about its position in digital media. It is vigorously pushing its Windows Media/VC-1 in HD-DVD and its Xbox Live online video download store. However, the reality is that HD-DVD only has any support because Microsoft and Toshiba are propping the failure up by paying one studio to exclusively support it: Paramount (which also owns Dreamworks). The agreement excluded Steven Spielberg films, but not those by director Michael Bay, who has expressed fervent disapproval of the ploy, because it will result in putting a damper on HD sales of his blockbuster CGI movies such as "Transformers."
Blu-ray vs HD-DVD in Next Generation Game Consoles
Among downloads, Microsoft's online TV and movie business with Xbox Live isn't significant enough to be counted among the top 99% of sales. That comes despite the fact that Microsoft maintains monopoly control over the PC market and can ship its media player software on all new PCs. When free market choice is involved, Microsoft frequently can't win even with a huge head start.
Apple TV Digital Disruption at Work: iTunes Takes 91% of Video Download Market
Should Apple TV Copy Tivo and Media Center?
The Xbox 360 entered the market with a year long lead over rival new consoles from Sony and Nintendo. Despite using a strategy that flooded the market with unsold inventory and then advertised a huge margin in its installed base, Nintendo outsold the 360 within months, and Sony has outsold the 360 in every market outside the US. Even in the US, Sony's Playstation 3 has achieved first year sales that compare to Microsoft's.
In its rush to create the appearance that it controlled the gaming market, Microsoft ended up rolling out hardware with significant heat issues that resulted in a billion dollar Red Ring of Death recall. Gamers also complain about the noise of its disc player and its penchant for scratching up media.
Nintendo Wii vs Sony PlayStation 3 vs Microsoft Xbox 360: Q2 2007
PlayStation 3 vs. Xbox 360 vs. Nintendo Wii
The consumer market is voting against Microsoft's products everywhere it has a choice. The result is that stock market is also voting against Microsoft's future, leaving its stock flat over the last half decade. The conservative Dow Jones Index has outpaced Microsoft's stock by a factor of two; Apple has outpaced Microsoft's valuation increase by a factor of 100 over the same period. (click to expand)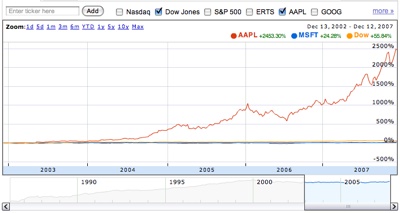 The Floodgates of Competition.
While the USSR struggled to maintain the appearance of parity with the West in terms of flashy technology, it left its citizens unsupported and unfed. Similarly, while Microsoft can throw out clever impersonations of the Apple iPod, Google search, Adobe Flash and PDF, MPEG video, the Apache web server, and other leading products, it's sticking its core customer base with old software, high prices, and unsolved problems such as security concerns, malware, and instability.
Once the people of the former Soviet Union gained access to Western goods refined by a competitive marketplace, they increasingly sought more independence and more competition. Microsoft still has yet to suffer the full brunt of competitive efforts currently tearing down its walls.
For example, Apple's Mac desktops are competing against Windows hegemony and challenging the idea that homogeneous desktop solidarity is the only way to deliver software to the people. As Apple pioneers successful independence from Windows, other competitors with less marketing clout will also be able to make inroads to compete against Windows.
Once the competitive barrier cracks, alternative desktops and appliances running Linux or BSD will rapidly eat into the volume of Microsoft's Windows PC empire, offering far lower prices for basic computers that browse the web and email. That will in turn destroy the market for Office for Windows, replacing it with a common office document format that can be read by any vendor's software, just as the web and emails can be accessed by any browser and mail client.
Like the old Soviet hard line, Microsoft will initially respond with tanks and more barbed wire to contain its losses, as it did when attempting to stifle development of the XO laptop for children in developing countries, or in threatening open source developers with patent lawsuits, or its attempts to pad standards committees with paid votes to declare its ambiguous and interoperability-resistant OOXML Office format as the lingua franca of business for the next decade.
At some point however, Microsoft will be forced to face the reality that it can't contain its citizens behind its walls forever, and that resistance to free and open markets is futile. The process will be painful for Microsoft's users, who will face coping with a rapid upgrade of technology. For independent spectators, watching Microsoft's hard liners fall will be a mixture of long awaited celebration and a new era of optimism in the future of free and open technology markets.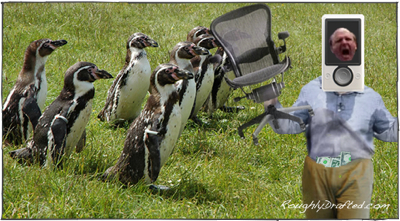 Microsoft's Unwinnable War on Linux and Open Source
What do you think? I really like to hear from readers. Comment in the Forum or email me with your ideas.
Like reading RoughlyDrafted? Share articles with your friends, link from your blog, and subscribe to my podcast! Submit to Reddit or Slashdot, or consider making a small donation supporting this site. Thanks!
Technorati Tags: Apple, Content, Development, DRM, History, iPhone, Mac, Microsoft, Software, the Media