Should Apple TV Copy Tivo and Media Center?
December 12th, 2007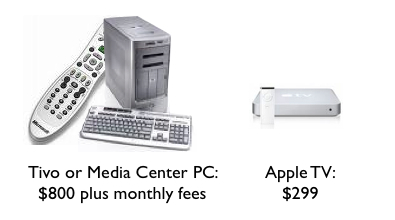 Daniel Eran Dilger
With Apple holding onto 91% of the market for digital video downloads, one might think that the company's rapid ascendancy in movie sales would have received more attention by the media. Instead, reporters have suggested reasons why the figures don't really matter and analysts are offering their advice on how to "fix" Apple's digital strategy. Most of the suggestions involve Apple stooping to copy the failure of Microsoft's DRM-centric rental revocations or the Media Center/Tivo DVR money pit between the rock of cable providers and the hard place of consumers looking for cheap hardware.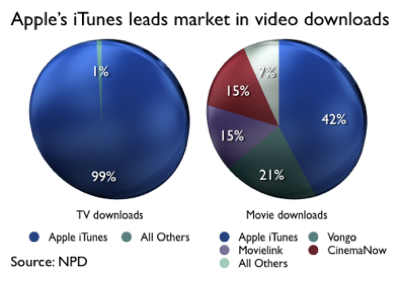 Apple TV Digital Disruption at Work: iTunes Takes 91% of Video Download Market

If It Ain't Broke, Offer Fixes.
Some aspects of "fixing" Apple TV are as easy for pundits as fixing the iPhone: just add a bunch of expensive hardware, dial up all the specifications a couple notches, and then drop the price in half or so. It's a good thing Apple isn't run by a democratic vote.
Monday, Dan Frommer of Silicon Alley Insider published "How Steve Jobs Can Fix Apple TV," recommending software updates for the existing model, and a whole new hardware strategy to follow up afterward. Here's the steps he outlined.
How Steve Jobs Can Fix Apple TV (AAPL) – Silicon Alley Insider
Frommer's Software Fixes for Apple TV.
Step 1: Get HD content on iTunes immediately.
HD content from iTunes would be great; the problem is bandwidth. It's already a bit much for many US consumers to download existing iTunes content at "near-DVD" rates; that's approximately 100 MB per 15 minutes, or almost half a gig for an hour long show. Will consumers pay any extra for HD content, which is far larger and subsequently slower to download? As Frommer admits, they're not excitedly paying a premium for HD-DVD and Blu-ray.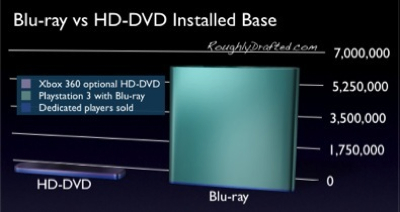 Blu-ray vs HD-DVD in Next Generation Game Consoles
Origins of the Blu-ray vs HD-DVD War
Step 2: get a ton more video content on iTunes, or partner with Netflix or someone who can. iTunes' current selection (and grainy YouTube clips) won't cut it.
The reality is that Apple's current selection is "cutting it" in terms of majority market share. Netflix has a lot of DVDs to rent, but doesn't have the rights to high quality downloads. Netflix' Windows-only playback on demand service is interesting, but in terms of quality, it's only a step above YouTube, not something you could watch on TV. And of course Apple is lining up new content as fast as it can. It's the studios that are balking, because of fears they can rent their expiring content elsewhere or somehow monetize it with ads.
There's also the worry that Apple will continue to push content prices down; many studios are hoping that HD discs will scale movie prices back up to $30 or more. Digital downloads will establish a lower average price for movies than DVDs. A few years ago, the music industry hoped to keep raising CD prices as well, and then blamed their slumping sales on piracy. NBC is following that strategy in withholding TV download sales from iTunes, ensuring that consumers either obtain content its from file sharing or spend their money elsewhere.
Movie studios also fear that major retailers such as WalMart will get angry if Apple can sell digital downloads concurrently with new DVD releases. Compared with DVD sales, Apple has less clout: iTunes' digital downloads only account for 1% of the video market when DVD sales are rolled in. WalMart owns a 30-40% of that larger market, mostly comprised of DVD sales. NPD also lists Best Buy, Target, mail-order club Columbia House, Blockbuster, Amazon, and Circuit City ahead of iTunes in video sales overall.
Just a couple years ago however, the music business was tilted the same way. In just three years Apple crawled up the charts to become to the number three retailer of all music behind Wal-Mart and Best Buy, and now holds more than a 10% share of music sold in the US. Digital downloads are growing rapidly as CD sales stagnate. Big box retailers don't even expect to make a profit on CD sales; they carry them as a loss leader to get consumers to visit stores.
Did iTunes Kill the Record Store?
WalMart is leveraging its current DVD sales volumes to exert pressure on the studios because once digital movies become as easy to download as iTunes music, there won't be much WalMart can do to stop or reverse the slide. That also plays into the efforts of retailers to push HD discs, since they offer something that downloads can't currently deliver. What is running in Apple's favor is that the mass market doesn't yet see an advantage in paying a steep premium for HD content, particularly with the extra DRM limitations involved.
In terms of quality, purchased iTunes video looks better on HDTV than most digital cable programming. It's not Blu-ray, but it also doesn't cost $400-600 for the player and $40 a movie. From 10 feet away, users will not see much of a difference if any between Apple TV movies and HD content. And again, for TV content, iTunes is typically better than the highly compressed digital HD cable users will compare it against, plus there's no ads and no $50-100 monthly fee.
A lot of ignorant reviewers have plugged in the Apple TV, described the way pixels look 6" away from the screen, and dismissed it as poor quality. That's because they are morons who have no practical experience in critically reviewing technology or what consumers want, and can only parrot press releases and cite specification numbers.
Brent Schlender's Apple TV: Fortune Dud or Fortune FUD?
Step 3: Let people rip their DVDs to their Apple TVs/computers the same way they can rip CDs to play on iPods.
Apple does nothing to limit users from doing this using Handbrake. However, Apple can't directly provide the tools because it is limited by DVD licensing legalese. Additionally, ripping DVDs is not the same as ripping a CD; DVDs are already compressed with MPEG-2, but to really be portable enough, they need to be transcoded into H.264. That makes an 8 GB movie closer to 1 GB, but literally takes hours of heavy processing work to accomplish. Most consumers are more likely to wait around for a download to finish.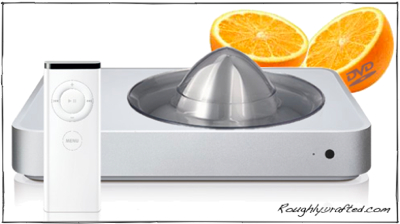 Apple TV: Using DVDs and other Video Sources
Step 4: Open Apple TV to any videos we have on our computers, whether downloaded from iTunes or not.

Has Frommer actually used an Apple TV? It can play "any video you have on your computer," either directly or by converting it within iTunes, just like an iPod. It's not just a movie watcher box, but also works with home movies, video captured with a DVR such as EyeTV, and other sources. One expansion Frommer didn't note was rental movies in iTunes, which could make sense if executed properly.
How Apple Could Deliver Workable iTunes Rentals
Step 5: Put a Web browser and an email app on Apple TV, and let us use the USB port for a wireless keyboard/mouse.
I'm all in favor of extending the Apple TV in new directions, but prepare to be underwhelmed when using a processor architecture designed only to run Front Row to use significant desktop applications like a web browser. Apple's best bet is to open an SDK that allows direct development of Front Row modules and see what third parties dream up.
Inside Apple TV
Why Apple Will Change TV
Will Apple TV 2.0 Become Last Year's Media Center PC/Tivo?
Frommer next described his vision for fixing the Apple TV in hardware by imagining a product that has already failed. He suggests adding DVR software and interfacing with the cable box to transcode content for iTunes and the iPod, alternatively adding a CableCARD slot and tuner, throwing in a bigger hard drive, a fancier remote, and keeping the price the same or dropping it by a third to $200.
It's hard to see why it would make sense for Apple to copy existing products that don't sell well rather than keeping the Apple TV as what it was intended to do. Part of the reason why decent products like the TiVo aren't selling is that, as Fommer noted, "cable boxes rent devices out for $8 a month." There is no market for third party cable set top boxes when the provider is renting out units at cost in the hopes subscribers will blindly pay rent for several years without thinking about it.
If Tivo–which has a devoted following and a highly regarded product–is struggling to sell its DVR in competition with those offered by cable and satellite providers, how will Apple jump into that market and dramatically accomplish anything different using Tivo's same strategy?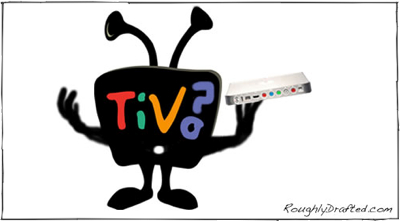 Apple's iTV & The Case of the Missing DVR
Expensive Hardware, No Market: Media Center.
The FCC's CableCARD was supposed to open the set top box market up, using a PC Card that could plug into any DVR. In theory, it would enable any device the user selected to decipher encrypted cable channels that the subscriber purchased. Unfortunately, it's not that simple; CableCARD turned out to be a failure for consumers, did nothing to really open up the playing field, and suffers technical deficiencies and compatibility problems. It also only applies to cable, not satellite service, so it would make the Apple TV more expensive for everyone while only being of any potential use to cable users.
There simply is no practical way to offer a universal DVR tuner that works with all the features of every cable system and satellite provider in the US, let alone a worldwide product. If DVRs were selling like smartphones and music players, it might make sense for Apple to target those markets. Since there's already too many DVRs all fighting over a limited market, it makes more sense for Apple to create an independent service that directly delivers the TV programming consumers want, rather than salvaging through the river of content to dredge up clippings of TV from a provider's raw feed.
Further, imagine the blog rage if Apple partnered with cable provider to roll out a DVR, which would be pretty much essential to selling any. Just as with AT&T and the iPhone in the mobile industry, pundits would howl that Apple isn't spreading itself thin across every provider, and would stir up association of whoever Apple partnered with bad service and high rates, regardless of the fact that no dominant service providers anywhere are ever very good.
Outside of that, the expectation that Apple could somehow muscle in on the cable providers and compete against a $99 a year rental unit is absurd, especially after assuming Apple could also add Firewire DV input, CableCard DRM, and/or multiple DVR tuners. The Apple TV is already being offered for barely more than its hardware actually costs. It sure is easy to demand that Apple deliver hundreds of dollars of hardware that does everything while charging the user nothing, but that really isn't really a fix, its a break.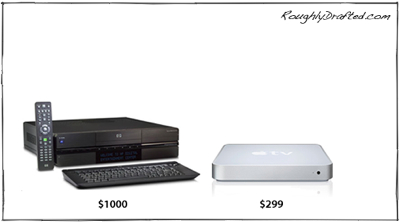 Windows XP Media Center Edition vs Apple TV
Apple TV 2007 = Media Center/Tivo 2010.
Microsoft's Media Center strategy is bogging the company down in supporting technologies that are rapidly becoming obsolete. Buying expensive TV tuner cards for Media Center PCs is the same upgrade game Microsoft facilitates on the PC gaming side with quickly outmoded video cards. That will keep the tinkerers busy, but won't impress the mainstream market that wants content, not an indebted dependance upon cable companies.
For the record, users who bought $275 DVR tuner cards for their Media Center PCs in 2005 got to upgrade to a new $150 HD DVR card last year to replace it, or two if they wanted to watch and record video at the same time. This year, it's time to upgrade to Windows Vista's Media Center ($160 upgrade), which might force users upgrade to a new dual tuner HD card that can be had for $175. The great deal is that hardware keeps getting cheaper! Of course, cable adds another $600 – $1200 to the annual cost of a Media Center PC, too. That kind of money pays for a lot of downloads.
Tivo is losing tens of millions of dollars a quarter trying to sell boxes, and only has 1.7 million subscribers. Last year, it only added another 136,000 subscribers. That's half the number of Apple TV units McQuivey estimated Apple has sold so far in two quarters of its being on sale at a sustainable profit.
If Apple TV sells anywhere close to the 800,000 unit figure McQuivey pulled out of a hat as the estimated sales for the entire year, it would be an outstanding success. It would be very good if it sold a quarter million units. It would be even better if the potential users of Apple TV all decided to buy a Mac mini instead. Apple itself hasn't announced any plans to sell a certain amount, but has recognized that it is a tough market.
It's also important to note that the 'disappointing' ratio of McQuivey's projected estimate vs his sales guesstimates comes from the same critic of iTunes who has been wrong on Apple's media efforts repeatedly this year. Why is McQuivey banging the drum about the "failure" of Apple TV and recommending an ad-sponsored alternative strategy like Tivo's if in reality Tivo is the real failure, and direct downloads are doing fine? I'll leave that as an exercise for the reader.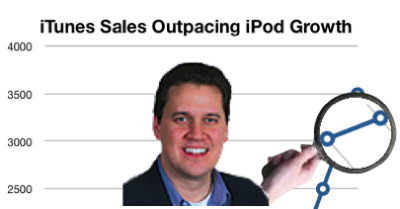 Forrester Research: Epic Terror of iTunes and Apple TV
Forrester's James McQuivey Announces the Death of iTunes, Again

What do you think? I really like to hear from readers. Comment in the Forum or email me with your ideas.
Like reading RoughlyDrafted? Share articles with your friends, link from your blog, and subscribe to my podcast! Submit to Reddit or Slashdot, or consider making a small donation supporting this site. Thanks!
Technorati Tags: Apple, Apple TV, Bloggers, Content, DRM, Microsoft, Software