Apple TV Digital Disruption at Work: iTunes Takes 91% of Video Download Market
December 11th, 2007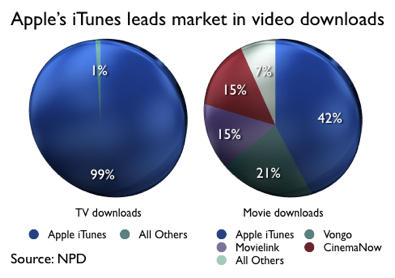 Daniel Eran Dilger
This quarter's NPD report on video downloads flies in the face of claims made by certain analysts claiming to have the answers required to turn around the supposed "failure" of Apple TV. Echoing his earlier claims that iTunes faced a dire future, Forrester Research's James McQuivey recently took Apple TV to task, fretting that his guesstimate of sales didn't match his earlier sales prediction. Based on McQuivey's guesswork, Silicon Alley Insider's Dan Frommer offered suggestions for "fixing" it.
While it has become fashionable to mimic the complaints of others when talking about Apple TV, the more shocking reality is that the product is actually working as intended to strengthen Apple's plans for the digital disruption of television. Here's why.

The Reports of My Failure Have Been Greatly Exaggerated.
Pundits are having a field day launching barbs against what they like to describe as the "failure" of Apple TV. Shortly after its release, Steve Jobs referred to the product as a "hobby," and so far Apple hasn't released any official forecasts or actual sales figures for it, making the "failure" claim seem a bit premature.
After all, the definition of failure is missing intended objectives. What many wags have failed to grasp is the objective Apple aimed toward with the Apple TV. The most troubling problem for Apple TV naysayers, however, is that Apple leads the industry in video downloads by a wide margin. Apple TV also has no real leading competitor. No doubt Apple's video rivals would love to be saddled with that sort of failure.
Compared to the record shattering sales of Apple's iPods, the iPhone, and its line of Mac computers, the lack of any solid information on Apple TV sales does stand in stark contrast. It's not just that Apple TV sales haven't been reported yet; retail checks and estimates by third parties aren't unearthing any hint of wild underground interest in Apple TV either.
However, Apple TV hasn't ever been positioned as an expected hot retail seller by Apple. Unlike the iPod at its release in 2001, or the iPhone earlier this year, there is no existing fire under the market for products that do what the Apple TV does. In that respect, the Apple TV is more like Amazon's Kindle ebook reader, which is attempting to pave a road that has never been well traveled.
In-depth review: can Amazon's Kindle light a fire under eBooks?
A Decade of Failure in TV Set Top Boxes.
It would be hard to imagine a tougher industry to successfully enter. There are already plenty of participants losing big money. In the TV set top box business, hardware makers exist at the mercy of content providers. It's not just a simple game of building a better mouse trap, but rather a daunting task of delivering competitive features that require expensive hardware while competing against effectively free products, all to sell content that has little room for profit potential. There have been many casualties along the way.
In 1995, employees from Apple and its General Magic spin off started WebTV. It used a slim RISC box to turn a TV into a basic web and email client using a dialup link. Microsoft bought the group in 1997 and later converted it into a WinCE device tied into cable TV service called MSN TV. While WebTV was initially profitable, Microsoft lost big money trying to port it from a Sun Solaris based platform to a Windows NT backend, and killed it in the process.
Readers Write About Media Center, Apple TV, HDTV
In 1997, Tivo got started selling its Digital Video Recorder, which worked like a VCR but time-shifted broadcast content using a hard drive rather than tape. Tivo started profitably selling hardware, but then ran into competition from cable and satellite providers who copied the same idea and bundled the hardware price into their subscriber service fees.
Tivo depends upon cable or satellite broadcast TV for content, which puts it in a difficult position to compete against the direct offerings of service providers. Primary reliance on broadcasts also means Tivo charges regular fees for obtaining programing guides. Recently, Tivo has worked to develop video podcasts and pop up ads to keep itself afloat as it hemorrhages cash: it lost $52 million last year, and is on track to lose even more this year.
Apple's iTV & The Case of the Missing DVR
After giving up on selling a standalone TV box, Microsoft released Media Center as a Tivo-like DVR application for Windows, and bundled it with specially equipped PCs. It also rolled out Media Center Extenders with hardware partners such as HP to deliver the TV captured on a Media Center PC on an actual TV. HP pulled out of the MCE business last year to get started on its own efforts, but consumers haven't responded with enthusiasm for PC DVRs or extenders.
Apple TV: Turn DVI into HDTV; HP Drops Microsoft
Windows XP Media Center Edition vs Apple TV
Microsoft also tied Media Center features in the Xbox 360, which can similarly relay content from a Media Center PC. It has also began selling direct downloads of video content from its Xbox Live store. While Microsoft has announced shipping lots of Xbox 360s to stores, as of November it has only signed up 8 million Live subscribers, despite the fact that the unit comes with a free trial Live subscription.
Live is also primarily used for gaming, not downloading video content. That's why Microsoft doesn't place anywhere in the top 99% of video downloads: it only has a minuscule fraction of the installed base of iTunes. While certain pundits like to talk about Microsoft's video offerings as much as they like to talk about the future potential of the Zune, consumers aren't actually buying either of them.
Forbes' Fake Steve Jobs Is Also Fake On Apple: When Cost Is No Object: Microsoft Media Center
Ten Myths of the Apple TV: Xbox and Hardware
The closest direct competitor to the Apple TV is Vudu, a new company offering a box with hardware support for 1080p HD and Dolby Digital surround. Currently, its main catalog of movies offers a picture with less than DVD quality, although it plans to offer more HD movies in the future. Downloading HD movies requires a fast Internet connection and high compression, making it a middling alternative between Apple TV and HD disc players.
Apple TV Advantages.
How does Apple TV compare? Apple is where Tivo would like to be; Apple TV is integrated into a large selection of video podcasts, but also offers TV and movies on demand. Tivo, like Microsoft's Media Center, relies on integration with a cable provider. Once users are locked into a $50 – $100 cable contract however, the prospect of paying for more content on demand from an alternative service makes little sense. That has helped to marginalize Microsoft's efforts to follow the success of Apple's iTunes sales.
Unlike Apple TV, Vudo only offers movies; it makes an expensive alternative to a service like Netflix, which offers true HD quality media discs and a much wider selection of DVDs than Vudu can. Vudu costs $400 and individual movies range from $1 – 4 for rentals, and $5 – 20 for purchases. Once downloaded, there's no way to use Vudu rentals or purchases outside of the unit itself.
Apple TV isn't tied into a cable subscription and isn't dependent upon subscription rentals or media sales. It's an alternative viewer that puts iTunes content on your widescreen TV. In addition to playing iTunes TV, movies, and video podcasts, it also plays music from your iTunes library and shows off photos from your iPhoto albums. Apple also added a direct viewer for YouTube content, and promises to offer additional free features via software updates.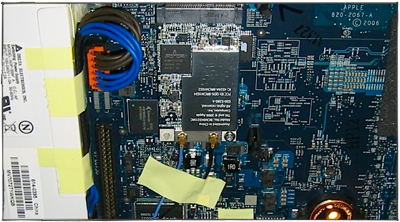 Inside Apple TV

How Apple TV Fits.
Because it works with iTunes, all the content you buy for it can also be used on iPods an the iPhone. That places Apple TV in a position unmatched by anything else on the market. Apple TV is also a standalone purchase, not a loss leader hoping to boost Apple's future media sales aspirations.
Rather than being an expensive razor with expensive blades like the Vudo, or a superfluous razor that plugs into an electric shaver like a cable DVR solution such as Tivo or Media Center, Apple TV is an alternative razor handle that works with the blades people are already buying. Apple doesn't make much money on the box; it offers it as an alternative way to use content so that consumers can feel confident buying Apple's other shaving products.
That business model means Apple doesn't have to sell millions of Apple TVs for the product to be successful. Apple TV only has to prevent people from leaving iTunes to sign up for an alternative service to use with their TV. Saying that Apple TV is a failure for not selling into the millions is like complaining that Apple didn't sell a lot of 4GB iPhones. If iTunes users are buying the more full featured Mac mini or using an iPhone or iPod with video output cables in order to watch their iTunes video on TV, it's actually good news that they're not buying the cheaper and less profitable Apple TV instead.
Pundits like to talk about their fears of cheap products cannibalizing the sales of more expensive ones, but seem entirely oblivious of the possibility that the opposite could happen. Perhaps they're looking too hard to find bad news on Apple.
Scott Woolley Attacks Apple TV in Forbes, Gets the Facts Wrong
Thinking Inside the Box.
Apple is already selling iTunes video content for the studios at a pace that is generating its own weather. Why are analysts insisting that Apple drop its successful strategies that are working and instead chase the failure of DVR makers fighting for relevance in a competitive market controlled by cable and satellite providers?
The real potential for TV lies online, in selling content that isn't beholden to another distributor. Integrating Apple TV with cable providers would be about as successful as relying on Sears to retail its computers; Apple only really boosted Mac sales after it began selling them in its own retail stores. Similarly, the expectation that cable and satellite providers would happily pay Apple to get involved as a middle man between them and their subscribers is not well thought out.
But that's exactly what Microsoft is doing as it works to involve itself in IPTV, an acronym that relates to cable TV distribution using the Internet Protocol. Despite its name however, IPTV don't really involve the Internet or anything open; it's just a modern signaling system for distributing digital video over the same closed networks the cable providers already control, commonly as exclusive municipal monopolies.
IPTV vs TVoIP.
IPTV sounds a bit like VoIP, the technology that promises the potential for replacing proprietary, closed telephone networks with voice traffic over the open Internet. In reality, IPTV is more like the shift to digital signaling in cell phone and long distance networks, which boosted network efficiency for operators, but didn't change anything for consumers or challenge the power structure of the status quo.
TVoIP is an alternative name for actually using the open Internet to deliver video in the pattern of VoIP. While people asking for TVoIP often have something else in mind, Apple's iTunes is delivering that right now. It's not just a candidate in the race; it has already won by a landslide.
Give us TVoIP, not IPTV | Brad Ideas
According to data published this quarter by NPD, based on sales from early 2007, Apple has a 91% share of all video downloads and a 99% share of all online TV programing. Of all video downloads, the 9% that doesn't belong to Apple represents movie sales, a market segment Apple also leads with a 42% majority share. The remainder is split between Vongo (21%) which offers a subscription movie service, and two competitors that both sell and rent movies: Movielink (15%) and CinemaNow (15%).
That leaves Microsoft's Xbox Live, Amazon Unbox, WalMart, and others all scrambling over 7% of 9% of the video downloads market, a 0.63% remainder. A year ago, pundits suggested Amazon would trample iTunes right out of the gate with its competitive movie downloads service.
The Apple iTMS vs Amazon Unbox Rivalry Myth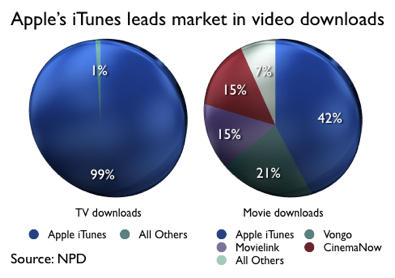 NPD Group: Electronic sell-through has slow growth – 10/5/2007 – Video Business
It's All Downhill From Here.
Vongo, Movielink, and CinemaNow were all created by broadcasters or movie studios, and all compete to rent out exploding media DRM. All are jokes even among the studios; Movielink was shopped around and finally unloaded on Blockbuster a few months ago.
It's no coincidence that they all sound a lot like the recording industry's failed attempts to push exploding media DRM in music–Rhapsody, Duet, Pressplay, and Napster 2.0–and it should come as no surprise that iTunes has been steadily gaining on them since Apple entered the movie business just a year ago.
Rise of the iTunes Killers Myth
Apple hasn't released new video download sales figures since January. However, Apple's video downloads grew faster over the previous year than its music sales did: between January 2006 and 2007, iTunes doubled its iTunes cumulative song sales from one billion to two billion, but more than tripled video sales from 15 million to over 50 million downloads.
Apple's iTunes sales have since surpassed three billion. Is it likely that video sales subsequently slowed down dramatically in 2007 with the release of Apple TV, the iPhone, and video capable iPod Nano? The numbers NPD published were based on video sales that occurred before Apple had released any of those video-friendly products.
In other words, Apple took over 99% of TV downloads in its first year of selling video, and managed to gobble up 42% of the movie market within a few months of offering movies in iTunes in late 2006. In comparison, CinemaNow was founded in 1999, Movielink in 2002, and Vongo in 2004. No wonder there are so many industry wags complaining about Apple's media sales: iTunes ate into movie sales faster than the iPhone has displaced smartphones. I bet you've never read that before.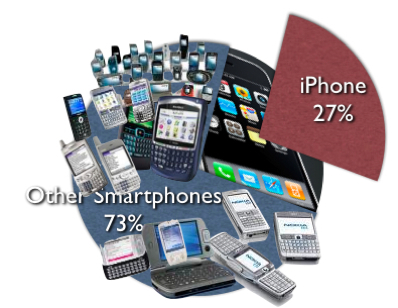 iPhone Grabs 27% of US Smartphone Market
Next: Should Apple TV's success be "fixed" by converting it into a Media Center clone?
What do you think? I really like to hear from readers. Comment in the Forum or email me with your ideas.
Like reading RoughlyDrafted? Share articles with your friends, link from your blog, and subscribe to my podcast! Submit to Reddit or Slashdot, or consider making a small donation supporting this site. Thanks!
Technorati Tags: Apple, Apple TV, Bloggers, Content, DRM, iPhone, iPod, Mac, Microsoft, Software, the Media