In-depth review: can Amazon's Kindle light a fire under eBooks?
December 10th, 2007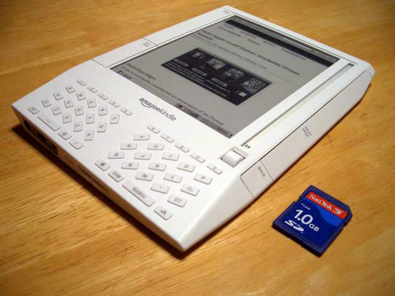 Daniel Eran Dilger
Amazon's new Kindle ebook reader is billed as the iPod for digital reading. Will it inspire a new era of mainstream electronic reading, just service a dedicated niche of hard core readers, or simply fizzle out into failure? We put the new device through its paces to find out.

eBook vs iPod: Amazon's Digital Strategy
The deck isn't stacked in Amazon's favor. Unlike Apple's iPod, which only improved upon the technology and design of music players that already enjoyed an established market, the Kindle attempts to outmaneuver existing ebook devices that have never really achieved mainstream popularity. The Kindle faces the daunting task of cultivating ebook adoption in the scorched soil that failed to yield sustainable growth for earlier ebook vendors over the last decade.
If anyone could make ebooks work, it's likely to be a company like Amazon with the clout and connections to line up content and reach a wide market of avid readers. Last year, Borders, the second largest US book vendor, similarly partnered with Sony to sell its new Reader. Barnes and Noble, the number one bookseller, turned down the offer to participate, telling the Associated Press, "We have sold e-readers before and they haven't done particularly well."
Continues: AppleInsider | In-depth review: can Amazon's Kindle light a fire under eBooks?