How Apple Could Deliver Workable iTunes Rentals
December 7th, 2007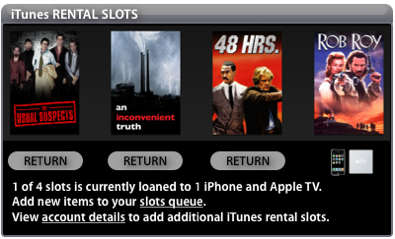 Daniel Eran Dilger
Apple is reportedly considering an expansion of its iTunes offerings to include video rentals. How can Apple succeed in a market where so many other online media outlets have failed or are struggling for relevance? By taking an new approach that follows what works in the real world, and respects the existing culture rather than trying to overturn it. Here's what's involved in the complex world of digital rentals.

The Mythical Market for Exploding Media Rentals.
Back in July of 2006, ThinkSecret predicted Apple would unveil a new iTunes movie rental store at its summer WWDC 2006. In response, I published "The Online Music and Movie Rental Myth," where I explained why I thought the rental subscription rental model was flawed and why Apple was extremely unlikely to open the door to movie rentals.
It was easy to be right on the subject. Microsoft and Real Networks, two of the main proponent of rental media subscriptions, have been unable to make subscription rentals attractive enough to develop a sustainable business. Back in 2003, Steve Jobs described the failure of music rentals as a reason why Apple wasn't interested in copying Real's Rhapsody and Microsoft's Media2Go/Janus DRM/PlaysForSure initiatives.
Sure enough, it's nearly 2008 and rental subscription music hasn't made any progress. A few months ago, Real partnered with MTV to pull its URGE music store out of Microsoft's Windows Media Player in order to bolster Rhapsody's subscription service with paid downloads.
Microsoft has been similarly forced to downplay its subscription services and pattern its Zune brand after Apple's iPods and iTunes business, even following Apple's lead in offering DRM-free music. That's an anathema for Microsoft, which is mortified that its Windows Media DRM investment is obsolete before ever being driven around the block. The dream of exploding media rentals has fallen apart.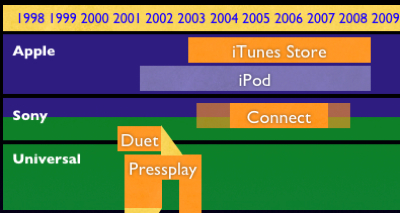 The Online Music and Movie Rental Myth
Rise of the iTunes Killers Myth
Rental Music vs Rental Movies.
One reason why rental music has been such an absolute failure is that American culture has long involved owning music. Rental CD stores are actually illegal under 17 USC 109 (b)(1)(A), which restricts commercial rent, lease, or lending of an audio recording in any format "unless authorized by the owners of copyright." It excludes library or educational lending of audio recordings, but doesn't cover video rentals.
That means in order to open a CD rental store, you'd first have to obtain permission from the labels for each CD you intended to offer for rent. Other countries, such as Japan, have no restriction on rentals but instead charge compulsory licensing fees of CD rental shops. In those countries, music rentals stores even offer CD-R blanks with the rental, because there's no illusion about the intention of the renters.
The American video rental business is entirely different than the music business. In the 80s, movies on VHS or LaserDisc were often "priced for rental" at $150 or more, as many studios assumed there was no significant market for selling films at retail. That changed with the appearance of DVDs in the late 90s, which were priced and packaged similar to CD to appeal to consumers as a retail purchase.
Movie rental stores helped introduce DVDs to a broad audience, but studios were ecstatic to discover a way to sell movies directly to a much wider audience, including the early adopters of home video who had already amassed collections of movies in VHS. The CSS DRM on DVDs limited casual copying to analog outputs and roughly VHS quality, which protected sales of new DVDs.
That worked so well that the DVD Consortium tried to co-market DVD-Audio as a high definition replacement to the CD, which had no remaining copy protection mechanism after the practical limits of dealing with 550 MB of raw data were overcome in the mid 90s. The failure of DVD-A proved that what works for movies won't necessarily work for the very different business of music.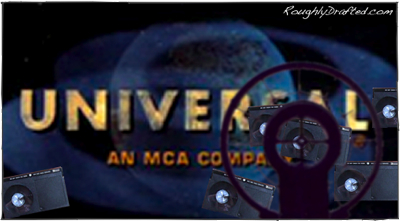 Movie Studios vs. Consumers in Home Theater
Physical vs. Virtual Movie Rentals.
In 1998, long after the practice of renting movies had become commonplace, Circuit City partnered with studios to introduce DIVX, a superset version of a DVD player that had to be plugged into a phone jack to authorize rental DIVX discs. Consumers were supposed to pay around $4 for a DIVX disc, and would get 48 hours to watch it. After that period, they'd have to pay fees to keep watching it, or could throw it away.
Being a rental medium, DIVX movies were commonly released as pan-and-scan versions rather than letterboxed, and lacked the bonus features of DVDs. That inspired additional alarm from home theater users. Consumers in general hated it and DVD rental stores incited protest against it. Because the new format used stronger encryption, certain studios began releasing new movies in DIVX exclusively, including Dreamworks and Paramount, the same two studios who now support HD-DVD over Blu-ray.
DIVX quickly died. A variety of other exploding rental formats have also been rejected in the market place. Why did DIVX fail despite the popularity of movie rentals? Because it injected a layer of control that policed users' experience. Circuit City is not an entity that thinks a lot about consumer service. Its stores post a "greeter" to evaluate you as you walk in, and shake you down on the way out. DIVX felt like the same police state experience of a Circuit City retail store at home, but with more fees.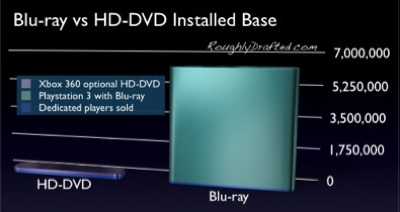 Blu-ray vs HD-DVD in Next Generation Game Consoles
Digital Movie Rental Problems.
Video store rentals let you walk out with a normal, functional DVD, use it as long as you want, and then charge you based on how long you keep it. The involvement of a plastic disc gives the DVD a feeling of value, and returning it adds something tangible to the rental agreement. While you're really just renting intellectual property on the disc, the medium makes it feel like its a real item, not just an idea.
Delivering a similar experience digitally is difficult because most consumers don't understand the value of software or intellectual property. If you buy a disposable DVD, throwing it away makes you feel like it wasn't worth much. People value an item in direct proportion to what they paid for it. If Apple offered the iPhone for free with a higher subscription plan, its users wouldn't think of it as a valuable device, making it much harder for Apple to sell the iPod Touch next to it at any price. Setting prices is both an art and a science.
Just like Circuit City, Microsoft gave little value to how consumers would feel about media rentals. It delivered a DRM system that focused purely on meeting the objectives of content providers. In doing so, Microsoft ensured that no consumers would use it, particularly if they had any alternatives. Windows Media-DRM has some of the same flaws as DIVX: you have to regularly authorize your permission to use media files, and your flexibility in playback is hampered by time limits that self destruct after 24 hours.
Apple can't do the same thing as Microsoft and expect things to work any differently, just because it has smart marketing and nicer looking hardware. That's why Apple hasn't delivered the foundations needed to deploy a rental media store patterned after Microsoft's PlaysForSure failure.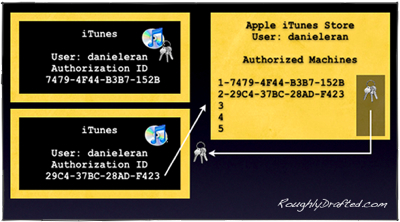 How FairPlay Works: Apple's iTunes DRM Dilemma
Will Steve Jobs License Apple's FairPlay DRM?
Copying a Successful Model.
Apple's success in the iTunes Store comes from copying what made the increasingly rare independent record stores so attractive: the ability to find specific music or causally browse; the ability to audition music before buying it; music suggestions and effective merchandizing; and largely unrestricted use of the music you buy.
The movie industry is different than music. Last year Apple expanded its iTunes offerings into movies following a similar model to the record stores that expanded to sell DVDs. The movie studios required more restrictions in iTunes than the music labels did, resulting in videos content comparing with audio tracks in a similar way that physical DVDs compare to CDs.
While lots of people buy DVDs, the rental market is even broader. Outside of cult favorites, family movies, and spectacular films, there's a lot of movies that are only worth watching once, or at least are hard to rationalize buying at retail. How will iTunes succeed in digital rentals in ways that other attempts from DIVX to PlaysForSure have failed? Again, by copying a successful model.
DVD rental stores and mail-in services like Netflix are very popular. They involve the handling of a tangible disc, they don't explode in 24 hours, and don't require asking permission to play. Apple could copy the same success by delivering a slot-based media rental within iTunes.
Did iTunes Kill the Record Store?
Forrester's James McQuivey Announces the Death of iTunes, Again
Playing the Slots.
Rather than renting one-use access to media rentals that are timed to explode, it seems more likely that Apple will deliver a slot-based media offering, where users could buy a certain number of slots on a subscription basis. When finished with a movie, the user returns it to the slot and can replace it with another download. This would copy how Blockbuster and Netflix run their DVD rentals, within the virtual realm.
The difference for consumers is that they would decide when they are done with a title, rather than it expiring or limited them to one play on one device, as is the case for Microsoft's Windows Media rentals for the Xbox 360 Live service. It would also be possible to sync iTunes' slots to mobile devices, as iTunes already manages their library sync. Those devices would "loan out" the item in slots, and return them to get new items.
For example, within iTunes you could sign up for four slots for a monthly fee, then select movies you want to download in those four slots. After receiving them, you'd have files that could be synced with Apple TV or to iPods or the iPhone. In order to download additional movies into your four slots, you'd first have to return a movie within iTunes, which could only be done if the devices that had loaned it out were re-synced to remove the title.
Users might figure out how to somehow defeat the system to intercept and hoard movies, just as one can ripping Netflix DVDs, but most consumers would be happy to have a selection of slots they could always fill with whatever download they want, use however they want, and return whenever they want. That's the same reason Netflix is popular.

Another similarity: Netflix takes a day or two to ship new DVDs, but having an allotment of three DVDs means that users can manage that limitation themselves, keeping two around while one cycles back through the mail. With iTunes slots, Apple could also deliver higher definition movies downloads that it currently can, because users won't have to wait for a new purchase to download; they can simply "order" movies to fill slots as desired and leave them to download in the background.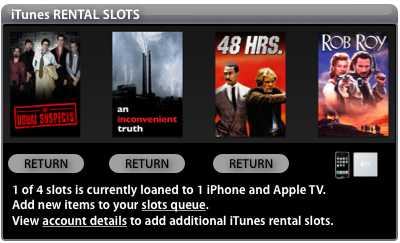 Side Benefits of Rental Slots.
Such a program would make iTunes movies more popular for users with slower Internet connections as well, as content could be queued up. It would also generate recurring revenues for the studios, whether iTunes users were families with children who kept watching the same few Disney movies over and over, or adults who chose to watch a different movie several times a week. The more movies you want available at once, the more slots you sign up for in your monthly plan.
In addition to a subscription plan, Apple could also offer a single rental experience with one slot. Select a movie, download and watch it, and then return it at a set interval. If you chose not to return it, it would become a regular iTunes movie download and you'd pay the difference. If you return it, iTunes recycles the bits and your rental period ends.
Such a system could also monetize iTunes' significant selection of TV programming and Audible audio books. The ability to pay a regular subscription for a few content slots would make iTunes a viable alternative to cable TV for many users who currently play $50 – $100 a month just for the few programs they actually watch.
With an unlimited plan tied to slots, Apple could bring in enough revenue for studios and cover its delivery bandwidth while allowing users to cycle through regular content without worrying about archiving or throwing away the TV content they bought at full price.
Of course, in order to account for bandwidth use, the subscription fee would have to be high enough to make sense. Don't expect to pay $20 per month to watch all the content you can download. Apple could accommodate different users' needs by throttling each slot to a certain number of downloads per week, so users who want lots of content could buy more slots, and more causal users could pay for fewer. Such a plan would scale from the needs of occasional movie renters to those who used iTunes as a full alternative to cable.
Forrester's James McQuivey Announces the Death of iTunes, Again
iTunes Prepaid.
Such a prepaid system would also free users to download content more regularly from iTunes, rather than worrying about how much each item they download costs. The same rental system could be applied to iPod games, utilities and games for Apple TV, and even apply to iPhone software, enabling new options for paying for utilities and tools, personalized push content, and access to other services over time rather than as a one time purchase.
Imagine being able to sign up for iPhone or iPod Touch WiFi service on a monthly basis right within iTunes, and then having the access account information synced to your device so that it would automatically login to a given WiFi provider whenever it discovered the network. I currently have access to AT&T's hotspot network as part of my DSL plan, but rarely bother to try to connect one of the various networks affiliated with AT&T because I can't recall the connection accounts required for each network.
It's easy to do rentals wrong, but getting rentals right would unlock a lot of options for regular content and services that would benefit both consumers and providers. The value Apple can add is simplicity within iTunes, portability on the iPod and iPhone, integration with home theater via Apple TV, and access to a broad collection of content.
In addition to renting Hollywood movies and other rental services, iTunes also provides access to vast amounts of education content from iTunes U, public archives and alternative content in iTunes' podcasts, and users' own home movies and photos. Nobody else is providing anything similar. That makes it key for Apple to pull off rentals in a way that works and isn't offensive or abusive to users. Doing nothing will squander a major opportunity, but if Apple plays its cards correctly, it will allow iTunes to grow in important and lucrative ways that make its current blockbuster success look minor.
As alluded to in "Why Low Def is the new HD," there's another area Apple is rumored to be expanding into with iTunes besides rentals, which I'll look at in a future article.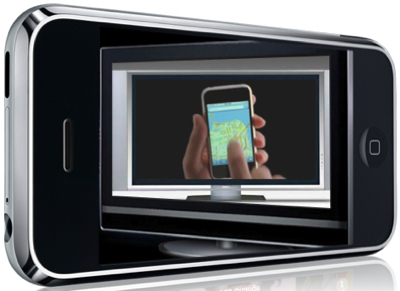 What do you think? I really like to hear from readers. Comment in the Forum or email me with your ideas.
Like reading RoughlyDrafted? Share articles with your friends, link from your blog, and subscribe to my podcast! Submit to Reddit or Slashdot, or consider making a small donation supporting this site. Thanks!
Technorati Tags: Apple, Apple TV, Content, DRM, iPhone, iPod, Mac, Microsoft, Software