Winter 2007 Buyer's Guide: Microsoft Zune 8 vs iPod Nano
December 3rd, 2007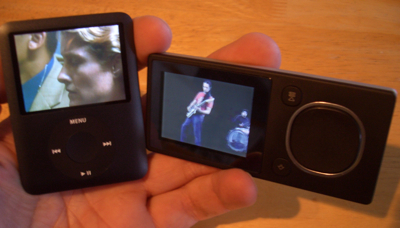 Daniel Eran Dilger
If you're comparing the iPod with Microsoft's new line of Zune music players, there's several important facts you should consider before making a purchase. It can be difficult to find a realistic, direct comparison between Apple's iPod + iTunes and Microsoft's Zune MP3 player and its accompanying Zune software.
As a tech consultant, digital outfitter, and the author of a variety of in depth consumer electronics reviews for popular technology web sites, I keep close track of the consumer electronics industry. I've prepared a free buyer's guide based on my hands on experiences with both product lines, as well as my work with individuals and groups who buy computers and electronic devices both for business and for personal use.
If you find this comparison useful, you can follow the links at the end of the article to purchase a player. Any commissions I earn are unrelated and independent of the recommendations I make, and I don't earn any support or ad revenue from any of the products I review.
This article compares the Flash-based Zune 8 with the identically priced 8 GB iPod Nano. There are also a wide variety of competing products from Creative, SanDisk, Archos, and other makers worth comparing as well, but much of the attention for iPod competitors has been placed on Microsoft's Zune, resulting in most undecided buyers looking at these two brands.

The Products: Microsoft's Zune vs Apple's iPods.
Apple has four product categories in its iPod family:
• the standard Classic based on its previous iPod designs.
• the thin new 3G Nano, which packs the Classic's features into a much smaller form factor.
• the ultra simple, low cost Shuffle only plays music and is nearly as small as its play button.
• the thin, touch screen, wireless Touch, which uses iPhone technology to deliver a wireless features.
Only the iPod Classic continues to use a mechanical hard drive; the Nano, Shuffle, and Touch models all use Flash RAM chips to store music.

Microsoft offers two product categories under its Zune brand:
• the small Zune 4 and 8 also use Flash RAM, making them comparable to the iPod Nano.
• a larger sized, hard drive based Zune 80 lies somewhere between the iPod Classic and the Touch in features.
The Zune 80 is not yet widely available (below, center model). This winter, Microsoft has focused on selling out its existing supplies of the previous Zune model (below, model on right) introduced last year–rebranded as the Zune 30–and the smaller Zune 4 and 8 models (below, model on left), which provide the same 4 or 8 GB Flash RAM capacity as the iPod Nano.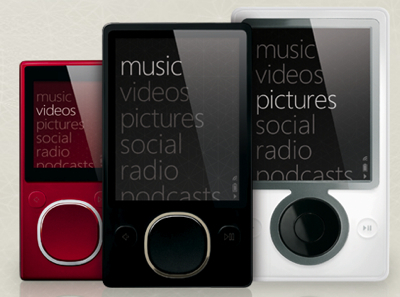 Flash Zune and iPod Nano: Price, Size, and Colors.
Last year, Apple reduced the price of its iPod lineup, which forced Microsoft to follow suit. The original Zune was intended to be sold for $300, but Apple's price drop moved Microsoft to match the iPod's $250 price.
Even so, very few Zunes were actually sold over the last year. Microsoft shipped 1.2 million units to stores over the first eight months, while Apple actually sold over 40 million iPods to customers in the same period. Since June, Microsoft's retail partners have been working to sell those first million Zunes to consumers at fire sale prices as low as $80. Apple has subsequently sold another ten million iPods, and is on track to sell another 25 million more this winter.
The original Zune had a variety of show stopper problems that Microsoft has worked to address in this year's models. This fall, Apple also dramatically improved its iPod models at the same price. The Nano compared here morphed from a thin, music-only player the size of a stick of gum into a shorter, wider unit with larger screen and video features. Microsoft matched some of the new iPod features in its new Zune models, but has also left some significant feature gaps that dramatically affect the overall value it offers.
Apple offers the 4GB iPod Nano only in silver, and the 8GB Nano in a wider variety of colors: metalic silver, blue, green, black, and (Product)RED. The Zune 4 and 8 are both sold in red, olive, pink, and black. Both the Nano and Zune are $149 for the 4GB version or $199 for the 8GB version. While their storage capacities are identical, their features are not.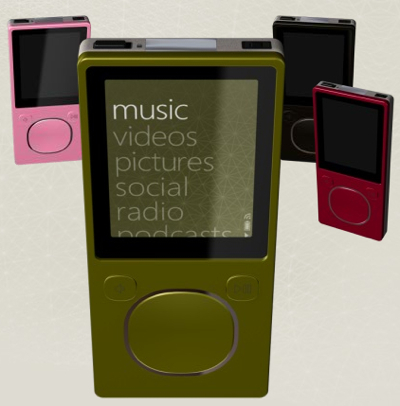 Video Features.
The biggest new feature of the iPod Nano is that it now has video features and can play video games. The Nano even bundles in three games for free: iQuiz, a music guessing game based on songs your loaded library (it can optionally be extended with trivia sets you can design yourself); the Klondike solitaire card game (below); and Vortex, a 3D breakout game Apple developed internally.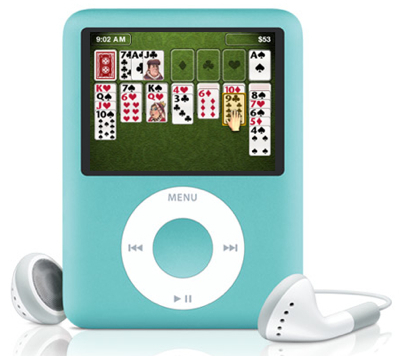 There are more games that can be downloaded from iTunes for $5 each, including Texas Hold'em, Tetris, Ms Pac-Man, Sudoku, and Phase, a new game reminiscent of Guitar Hero. Apple releases new games at regular intervals through iTunes.
The iPod Nano can also be used like a VCR to hold TV programs and full length movies which can then be output to watch on a TV (below, an iPod Nano playing a TV download from iTunes on a 32" HDTV). In addition, it can also be used like a digital slide projector to display albums of thousands of your digital photos on TV, as well presentation graphics developed using an application such as PowerPoint or Keynote.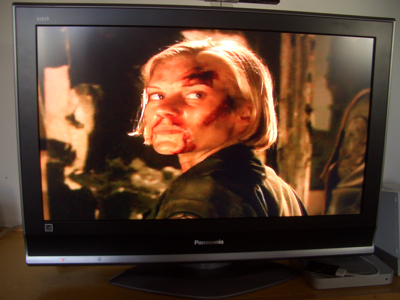 The Nano's video output feature is similar to the SanDisk Sansa TakeTV, a device with no display of its own that is sold only for that purpose. The Nano simply incorporates video, photo, and graphic playback on TV as an extra feature.
Apple's iTunes software syncs photos, videos, and graphics from your Mac or PC, and the Nano itself then plays them back individually or as part of a slideshow with music. You can connect the Nano to any standard TV, video projector, or flat screen HDTV set with the appropriate cables. Video output is very good, comparable to digital cable.
The Flash-based Zune models have a slightly smaller screen than the iPod: 1.8" on the Zune versus the Nano's 2" screen. The Nano's screen is nearly as wide as the device itself, but the display on the Flash-based Zunes has a wide black margin around it, leaving its visible area very narrow (below).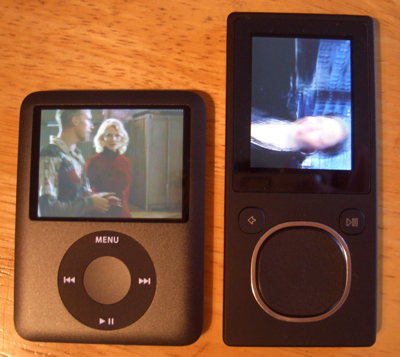 Unlike the Nano, the Flash Zune models don't offer to play games and don't provide any video output at all, either for playback of TV and movies or for photos. It appears Microsoft was trying to clone Apple's older models; the new Zune is almost the same size and form factor as the original Nano from 2005, although slightly wider and taller and almost a quarter thicker.
While Microsoft was copying its old models, Apple introduced a significantly improved new one that is thinner and redesigned to accommodate the largest screen possible in a tiny player. The result is a device more suitable for a variety of video features.
Display Orientation.
When held sideways, the vertically-oriented Zune screen is only slightly smaller than the screen on the Nano. Most videos play back sideways in this landscape view. There's no option for choosing the orientation; the Zune ad included with the unit plays back vertically.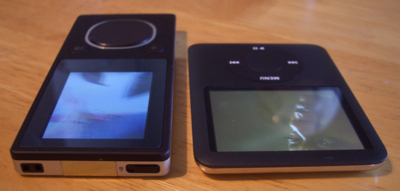 The Zune's menus are only designed to work vertically, however. This requires flipping between tall and wide orientation as the device is used, which is somewhat awkward because its buttons and touch controller both do and don't change with the orientation: the touch pad controls do change, so for example vertical clicks in the tall orientation adjust the volume, but when held sideways, vertical clicks in the wide orientation adjust the volume.
However, the menu and play/pause buttons–which appear like the eyes of a howling monkey face when held vertically–shift 90 degrees out of sync with the touch pad when the device is turned to horizontal mode.
The iPhone and iPod Touch have a similar vertical orientation that changes to landscape for video playback, but playback controls are built into the screen and therefore they change with the orientation. On the Zune, the play and menu buttons are separate from the touch pad, so in sideways orientation you have to look at the buttons on the Zune to use them.
Critics worried that the iPhone's physical volume switch would confuse users holding it in landscape orientation, but there are volume controls built into its touch interface as well. The Zune's controls are all physical, and move independently from the view, making it less intuitive to use.
The iPod Nano's single, wide orientation means it is always held the same way and the controls are always under your thumb when holding it, regardless of whether your right or left handed. The Zune's display needs to be held in sideways mode for video, which results in a clumsy long package for watching videos.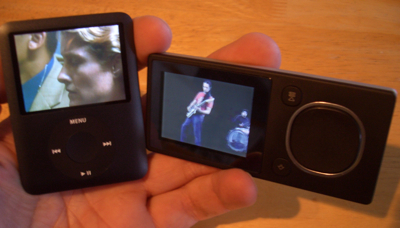 Touch Sensitive Controls.
Because there is only one physical button surface on the Zune's postage stamp sized pad, it's easy to hit the button off center. If you push to click, the squricle pad–the screaming mouth of the monkey face–registers as a center click or as an up, down, right, and left button, depending on where you click it.
The controller pad on the new Zunes also now has adds touch sensitivity on top of its click functions, so that if you swipe vertically or horizontally with your finger, you can register a progressive up and down or side to side input. This allows you to turn up the volume with one motion rather than a series of clicks.
However, the pad doesn't register continuous motion like the iPod's clickwheel, which can rapidly spin though long lists of albums. The Zune pad is also occasionally erratic in registering touch.
The Zune's click-and-touch pad behavior results in overloaded, complicated navigation because touching and clicking on the pad doesn't always trigger the same behavior. The Zune's touch feature ended up complex enough for Microsoft to offer a preference for turning it off, which leaves the device working like the former Zune model with just a 5-way, round click button.
In contrast, the clickwheel on the iPod Nano presents a clearly defined center button that looks and feels different, and separate, circular, touch sensitive ring for spinning up and down through menus, volume settings, star ratings, and forward and reverse content navigation. The integrated menu, play/pause, and skip/scan buttons are all labeled with icons. The device orientation doesn't change the Nano's controls, either.
Navigation and Menus.
The Zune offers various artistic backgrounds and incorporates fades, flashes, zooms and other transitions when items are selected, but it really needs simple consistency before heaping on the ornamentation.
Compare the iPod: Apple lists its various functions in menus, which are selected between by the rotational touch control. Click in the middle to do something and click on the Menu button to back up a level. In the latest series of iPods, the menus' functions are reinforced by album art and other graphics, but remain simple enough that they can be controlled without thinking about how the interface is supposed to work.
In contrast, the Twist software menus Microsoft came up with for the Zune are as overloaded and complex as its directional touch pad hardware. The main menu presents major functions as a list of seven items that appear in type so large that they won't all fit on the screen at the same time. That in itself is mind boggling, but it gets worse.
As you scroll between the seven major items, the items highlight. Center-clicking on an item cause it to flash and zoom out, then animations slide in the submenus. These transitions are often jerky and erratic enough to look not quite finished. When you reach the bottom of a menu list, scrolling stops if you use the touch sensitive surface of the pad but keeps going if you click the pad down. This inconsistency breaks user interface predictability.
On the iPod, you can navigate its menus even when they're presented in a foreign language because you don't have to read the interface to use it. It's intuitive and predictable and doesn't require concentrated thought to figure out. It quickly becomes second nature. When you scroll to the end of a menu, you don't wrap around to the beginning sometimes, and just stop in other circumstances; it's always the same.
The Nano's menus, and even its new Cover Flow display, is smooth and fluid. Selecting an album flips it around to view songs listings, and picking a song flips the album art around and begins playing. The way it works just fells well conceived and professional.
The Zune violates various uncontroversial user interface design principles so frequently and sporadically that it simply feels amateur. Like a bad website created in Flash, the Zune menus might make some sense to those who planned them out and might be usable after some training and experience, but they are not intuitive nor consistent. In many ways, navigating the Zune is a lot like navigating the Start menu in Windows: there is a way to do it, but it's clearly not designed primarily to be useful, but rather to just be different, with frivolous ornamentation layered on top.
One example of overloaded navigation is the Zune's submenus. Vertical clicks or finger slides on the touch pad move up and down between the presented options, such as the album submenu in the music listings. However, moving side to side switches to a new submenu list: artists, playlists, songs, and then it wraps around to the album list again. This presents a flood of options at all times, complicating simple tasks.
If you scroll down the artists list to select an act and then click sideways–as you would when selecting items from a menu in any other circumstance–you don't see that artist's music, but are instead dropped into the unrelated playlist menu. This makes no sense at all.

Rather than navigating an easy to understand hierarchy of menus, you're simply presented with every option at once on the same level. It's like navigating a menu bar of drop down menus, but without the two dimensional precision of a mouse, only being able to see one menu at a time, and being dropped into the next menu if you click sideways to select. More accurately, it's a lot like navigating through the Start Menu or a DOS program: unintuitive, overloaded complexity that tries to offer to do everything but really makes every decision a minefield of unintended, confusing results.
In some circumstances, a complex interface is necessary: aircraft controls or 3D animation software can't be simplified too much without dropping important functionality. However, while the Zune layers on complexity and presents so many choices that it's overwhelming, its navigation doesn't enable new features the iPod lacks. It's really the opposite: the Nano offers to do more in an organized fashion, so that features are only there if you choose to use them. The Zune actually does very little, but presents every option in a busy interface that's hard to just use.
The iPod Nano has a variety of functions users can add to the main menu or leave hidden away under the Extras menu: a world clock, desktop-synced calendar and contacts listings, alarms and a sleep timer, a notes function, a sports stopwatch and lap recorder, a graphic equalizer, sound check, a volume limit, and customized menu controls. The Zune does none of those things, but its navigation is still more complicated.
Construction and Physical Design.
Like the iPhone, the new iPod Nanos now feature a more resilient and durable glass screen that is difficult to scratch. Microsoft's Zunes have a similar screen. The Nano is 2" wide, 2.75" tall, and 0.26" thick.
The Flash Zune is narrower due to its smaller screen, but longer: 1.6" wide and 3.6" tall. It's still about a third thicker than the Nano at 0.33" thick. The square corners of the Zune make it feel even thicker and larger than it actually is. The Zune also feels light and hollow compared to the solid feel of the Nano, which gives the sense that it is carved from a single piece of steel.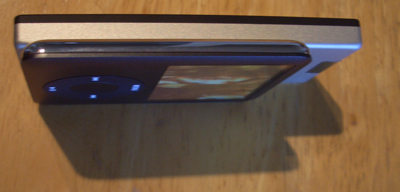 While the higher-end Zune 80 model ships with "premium earphones" the Flash-based models ship with basic headphones that CNET and other reviewers have independently described as being of poor quality. They look extremely cheap and they sound like they look.
Like all iPods and the iPhone, the Nano uses Apple's Dock Connector, which allows it to work with and share a wide variety of third party devices, from car integration kits to speaker systems to FM radio transmitters, microphones, and other peripherals.
Microsoft designed its own connector for the Zune, and provides a variety of cables for it. However, there is a far smaller selection of Zune-compatible devices from third parties, and Microsoft isn't offering any discounts on its cable prices. While you can buy third party cables for the iPod, there aren't many companies still interested in selling Zune cables after its disappointing launch last year.
Unlike the custom built Nano, the Zune looks like the cheap work of Chinese duplicators, with simple square corners and unfinished looking edges. The problem is that Microsoft isn't pricing the Zune like an import knockoff; it's the same price as the iPod Nano despite doing a lot less and looking a lot cheaper.
The mirror finish on the back of the Nano is destined to scuff up over time, while the Zune's back has a flat finish (below). However, the pad controller on the front of the Zune looks like it will age poorly. In stores, the display models that have only been out for a month or less already look discolored with a worn texture. You can protect the back the Nano with one of several cover kits or holsters, but there's no way to prevent the Zune's pad from wearing out apart from not ever using it.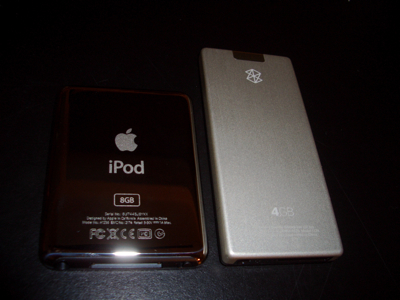 Music and Accessory Features
The iPod Nano, along with the iPod Classic released this year, has a revised new animated interface that directs more attention to cover art and graphics, but it maintains the features of previous versions:
• a graphic equalizer for adjusting music playback to suit the listener's preferences or to best match the music or headphones being used
• mini applications such as a world clock, calendar and contacts, stopwatch, and reminder alarms
• compatibility with Apple's Nike+ sport kit as a distance counter and fitness coach for runners
• and like all of the iPods, it also supports Audible audiobooks and can play readings back at a speed selected by the user.
The Zune has no audio equalizer, no organizer or accessory features, no sports kit, and no support for Audible audiobooks. Instead, it supplies an FM radio for listening to commercial radio (but not for playback through an FM car stereo) and it advertises WiFi wireless sharing and syncing features. The problem is that the Zune's wireless features aren't really useful or practical.
The Zune's radio only worked well when I held the headphone cable and the unit in a certain position, different for each station. Even when attempting to listen to strong stations that other radios have no problem receiving, the Zune cut in and out of static and hum. Despite the hardware issues, the Zune offers a good radio user interface that is easier to use than its MP3 playback features.
Of course, most users who pay $200 for 8GB of RAM do so to listen to their own music, not to commercial radio stations. Decent portable radios can be had for a quarter of the Zune's price, will last much longer on a battery charge, and offer better reception. They can also pull in AM stations, something the Zune doesn't offer. It seems puzzling that the Zune makes more of an effort at being a good radio than a good MP3 player.
Most of the interest and marketing of the Zune isn't about old fashioned radio but rather its new WiFi features. There's problems there too, however. A CNET review of the Flash-based Zunes–which ranked it as 6.6 out of 10–stated: "As any laptop owner knows, a Wi-Fi antenna sucks a lot of juice and can wreck battery performance. To optimize the Zune's battery life in spite of its Wi-Fi capabilities, Microsoft decided to ditch the built-in audio equalizer found on the first-generation Zune."
In other words, while Microsoft added wireless sync to last year's Zune model, it removed others, such as the graphical equalizer. Going forward, Microsoft reserves the rights in its Zune user agreement to automatically add and remove features on the Zune without any user input. That's not very cool, especially considering that the company is quick to delete useful features on a whim.
Last year, Zune users expected Microsoft to roll out a variety of fixes and add new features, including more practical uses for its WiFi antenna. A year later, Microsoft still hasn't addressed significant flaws in the Zune, and has instead yanked features. Microsoft's latest decisions have left the new Zune models with fewer of the features that matter to most consumer–and which have made the iPod popular–while adding on frivolous features that don't really contribute toward making the Zune a good portable audio player at all.

Wireless Features?
The 'wireless features' in the Zune only include the ability to advertise a song to another Zune user (which subsequently deletes itself after three full or partial plays, and only works with about half the music Microsoft sells) and the ability of the new Zunes to wirelessly sync with the music library of a PC.
The problem is that there are far more practical ways to share music interests with friends than arranging a clumsy WiFi pairing session, and the Zune's WiFi really doesn't offer any real advantages in music library syncing, either.
Using a standard USB cable, music library sync is around twenty times faster than when syncing over WiFi. Additionally, when using wireless sync the Zune drains its battery fast enough for Microsoft to insist that the user typically perform "wireless sync" while plugged into power. The process is also a bit convoluted, as reader Nat noted:
"According to Zune.net, to set up wireless syncing, you first have to 1) plug the Zune into the computer. Once you've 2) finished setting it up yourself (this is not an automatic process), 3) disconnect the Zune. For wireless auto-sync, 4) plug the Zune into either your computer or a power outlet. Now 5) leave Zune alone for one minute as that's how long it will be before the Zune even starts syncing wirelessly.
"If you disconnect the Zune from its power source at any time, syncing stops. If any media is playing on the Zune, no syncing will occur. If the battery is below 10%, even though its plugged into the wall, syncing will not occur. Zune only syncs videos that you specifically choose because they're often large and take a long time to sync. If you have multiple PCs, a desktop and laptop for example, the first one you set up the Zune on will be the only computer it syncs with."
Remember that the Zune–like the iPod Nano–does not ship with a wall plug adapter. That means that "automatic wireless sync" on the Zune really involves the same USB cable as the Nano, it's just much slower! That's absurd.
Also note that the only thing the Zune syncs is audio and specially selected video content. There's no contacts or calendar data and no Nike+ run data that might be useful to keep in constant sync, so how often will users update their PC music library in a way that needs to be synced? And how does doing this update twenty times slower and with a high battery drain constitute a feature?
Neither the iPod Nano nor the Classic have a WiFi antenna. The iPod Touch does have WiFi features, but they're not used for library sync or beaming song ads to other users. Instead, the Touch uses its WiFi to enable users to browse the iTunes Store, listen to new tracks, and buy new downloads. It's also used to allow mobile Safari web browsing of the full Internet, which includes the ability to play music and video from web pages or via live RSS podcast feeds, something the Zune can't do.
Those are real, practical features for WiFi. Apple's iPod Touch is also based upon the proven technology in the iPhone, and offers far better power management than Microsoft's Zune when using WiFi. On the Zune, WiFi is simply best left turned off, which is ridiculous given that so much of the Zune's marketing revolves around its supposed WiFi features.
Battery Life.
Despite being more compact and thinner, the iPod Nano has about a 25% longer rated battery life than the Zune, both in music and video playback, even when WiFi is turned off on the Zune. For users who don't realize the need to turn the impractical WiFi radio off, the Zune will offer a much shorter lifespan.
In general, the Zune's power management is poor. The Zune is built upon Microsoft's WinCE platform, which is also behind Windows Mobile phones and Pocket PC PDAs. While this software has been in use over the last ten years, it is still notorious for offering clumsy and ineffective power management. The Zune doesn't escape that fate.
After going to sleep during a period of inactivity, the Zune appears to turn off; when sleeping, touching its buttons can result in nothing happening for several seconds. After an awkward pause, the screen lights up and displays a loading bar, indicating that it's now coming out of hibernation. After another pause it actually starts working. Sometimes the Zune wakes up faster, but it isn't faster at wake than the iPod Nano despite eating power faster, nor is it any more efficient in deep hibernation mode.
In contrast, the iPhone and iPod Touch running Apple's OS X always wake instantly. That means Microsoft's latest WinCE operating system is no better at power management than the classic iPods, and is nowhere close to Apple's leading edge in portable products. This isn't an issue of "room for improvement," but rather Microsoft simply being outclassed by a wide margin in technology.
In addition to the battery-killing WiFi, Microsoft also decided it would be a good idea for its music player to display "wallpaper," so users could look at a picture while listening to their music. However, the obvious problem with lighting the screen to admire a picture is that it further decreases the battery life, comparable to watching a video. Lighting the screen effectively drops the maximum battery life from 20 hours down to about four, according to Microsoft's estimates.
The Zune's screen lights up and stays lit longer by default. The Nano's backlight time can be adjusted by the user, but Apple's iPods have always automatically dimmed the screen whenever possible to save power. Those types of design decisions result from the fact that the iPod is designed to listen to music, not just act as a placeholder product to be sold to unsuspecting consumers.
Apple has earned sales by making the iPod a well designed music player; Microsoft seems to be trying to take over the market without delivering anything worth buying, or even offering users a discounted price. The Zune hardware just isn't compelling on any level, but hardware is only half of the problem with the Zune.
Sync Software Features
With both the iPod and the Zune, a large part of the ownership experience will relate to the music library software it is used with; the iPod uses iTunes, while Microsoft delivers custom Zune software for its player.
When the first generation of Zune software arrived, Windows users found it familiar because it was a tweaked version of Microsoft's existing Windows Media Player and the URGE music store Microsoft operated in partnership with MTV. Side by side, they nearly appeared to be the same app with a different skin (below).
However, the first Zune software was still full of bugs, offered problematic installation, and–similar to the Zune's missing hardware features–it failed to match the software features of Apple's iTunes. Things haven't gotten better.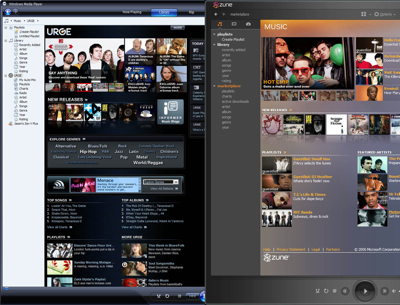 This fall, MTV backed out of its URGE partnership with Microsoft and WMP to align with Real Networks. The URGE service is now part of Real's Rhapsody package. In its place, Microsoft delivered a new release of Zune software that is no longer based on either WMP or Urge. That means the new Zune software has a whole new set of problems and won't be familiar to users at all.
It appears that the new software is intentionally quirky and opaque in an attempt to look fashionable and novel. The interface of the latest Zune software, as detailed below, is really, truly, deeply horrible in a way that is hard to imagine possible.
In contrast, iTunes wasn't hastily written from scratch over the last year, but instead has been regularly updated and refined over the last seven; it is now at version 7.5. It doesn't attempt to trump functionality with frivolous fashion ideas like the Zune software, but rather lays out everything in an easy to use and familiar interface.
Apple's iTunes is perhaps the company's most important desktop application. Apple revamped the Finder in Leopard to match iTunes' appearance, and similarly borrows ideas from iTunes for Mail and other applications. iTunes also works on both Macs and Windows, unlike the Zune software that only runs on Windows. On both the Mac and Windows, iTunes acts like a Mac application designed to function as a floating window or collapse into a mini player.
With iTunes, Apple also includes QuickTime 7, which enables iTunes to convert a wide variety of audio and video formats for mobile playback on the iPod. QuickTime can even be extended with freely available codecs for converting everything from DIVX to Ogg media file formats.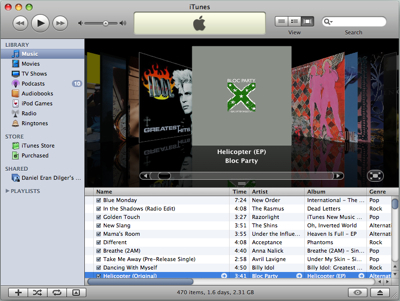 The Zune software doesn't borrow any familiarity from Microsoft's Windows or the company's Office products. Instead, Microsoft appears to be positioning the Zune independently from its Microsoft brand entirely. That means the Zune software even fails to benefit from Microsoft's core competencies in software development and integration. The result is an unfamiliar oddity that works like a quirky web application designed using Adobe Flash.
Also unlike iTunes, the Zune software works like Windows, where most applications are designed to be run full screen. This makes the Zune software less usable than iTunes when used as a floating window, because it displays data without any regard for a limited window size. There's also no mini player view like iTune's (below). The following is a look at the Zune package and software installation.


Packaging, Setup, and Installation.
Compared to the two to four year life span of a music player, its unboxing experience is a brief and minor contribution overall. However, the packaging of the iPod and Zune–together with the setup required–offer a first impression in line with everything else you can expect over the lifetime of the two products.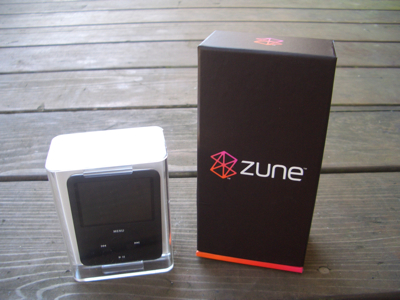 The Zune comes in a box twice as big (above) and includes twice the packaging (below). However, the components themselves are less impressive. The headphones are very cheap with thin wires that feel like they belong in a box with a $9 radio bought in a drugstore, not in a $200 package. Microsoft provides three sets of ear piece covers in the black, orange, and hot pink colors of the Zune packaging, along with a sync cable and a leaflet that tells you to visit www.zune.net/setup to start. Until it is configured, you can't use or even browse the features on the device.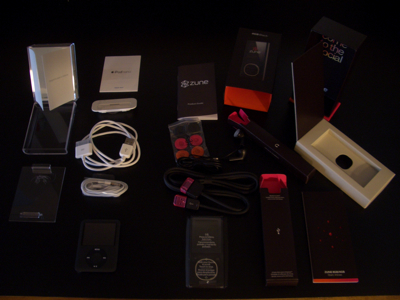 The iPod comes in a small, clear plastic case with higher quality headphones, the same USB sync cable, a dock tray, and a brief but more complete graphical guide to using the device with simple instructions on how to plug it in, download iTunes, and get started.
The Nano is ready to play with out of the box; it comes with three installed games and a variety of mini apps you can test drive in the store before buying it. The Zune won't do anything–even radio–until to install the PC software and sync it first.
Zune Software vs iTunes.
Using either device involves a software download and installation; neither ships with a CD. Running Windows XP within Parallels Desktop on Mac OS X, I downloaded and installed the Zune software.
As with any modern software, the Zune installation rolls out a bunch of legalese that nobody reads through. However, there is at least one passage that departs from convention enough to be worrying: Microsoft reserves the right to automatically install software updates on your computer and on the device every time you plug it in. Apple offers regular iPod and iTunes software updates, but always allows the user to chose whether they want to actually install the update or delay the install until they are familiar with what it actually does.

Running the Zune software within Parallels resulted in a warning that my virtual hardware couldn't support "video enhancements," including "ornamental on-screen animation." This was probably because I had set up a limited amount of video RAM within Parallels.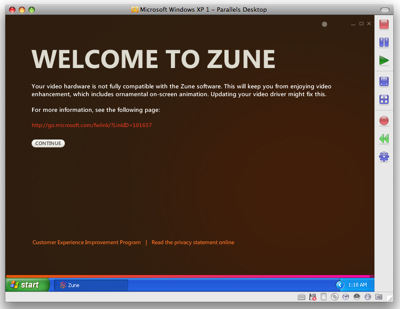 Setup options are buried behind the automatic, default step to "go right to my collection" (below). If you want to set up anything differently, you need to "customize settings first," using this oddly brown, full screen wizard box with non-obvious links. This is a harbinger of things to come.
Interestingly, among the settings buried in the automatic details are "retrieve media use rights automatically" and "send Microsoft anonymous usage data." The latter spyware bit is obvious, but former automatic DRM option is not, and is never clarified in the custom settings options.
Some iTunes users were upset when Apple introduced a "mini store" feature that recommended purchases based on music in the user's library. The complaints were loud enough to where Apple turned the feature off by default. There aren't enough people to complain that Microsoft's automatic dummy settings turn on spyware and take other liberties that aren't even defined.
As with most Windows software, you're expected to outthink the problems yourself. I attempted to do this this by selecting the custom settings. Click to enlarge any of the graphics below.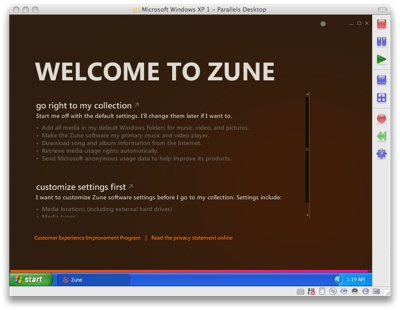 Selecting a custom setup presents another wizard process that leads you thorough pages of a paisley printed interface that manages to violate all human interface ideas conceived to date, while also borrowing from the button style familiar to iTunes users (below). There's no further mention of what "retrieve media use rights automatically" is all about.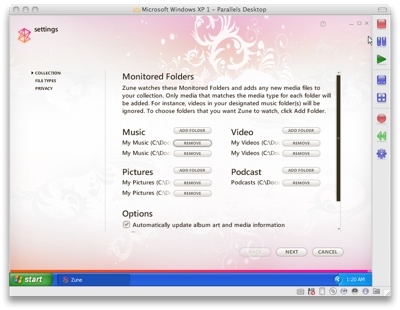 Zune software then takes ownership of various file types, apart from wma and wmv, which are left to Windows Media Player. That's probably because the Zune software can't play Windows Media branded DRM, such as anything purchased from PlaysForSure stores like URGE, WalMart, Amazon, or Napster.
Instead, it originates its own artificially incompatible DRM (its the same Microsoft technology underneath) to shield the Zune from direct competition with PlaysForSure hardware. This creates confusion and frustration for Windows users who decided against getting an iPod, as if Microsoft is purposely punishing its own customers for not being more numerous from the start.
The Zune software does not take ownership of m4p, the file type related to audio purchased from the iTunes Store, but does assume m4v, which is the file type shared by iTunes purchased video. The Zune unit and software can't play back iTunes purchased video content however.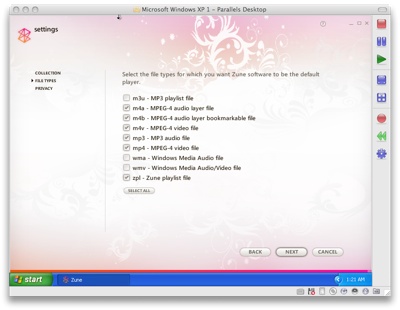 You can opt out of the "customer experience improvement process" using a custom install (below) or afterward within settings. Either way, the customer experience isn't ideal. Obviously, Microsoft wants users to participate. The easiest way to ensure they do is to install the spyware "on by default."
It's less obvious why Microsoft even bothers to suggest a choice: its other spyware programs bundled in Windows, including Alexa and Windows Genuine Advantage, don't offer the user any real options to turn them off; even worse, in circumstances where Microsoft gives users the illusion of control, such as in choosing to turn off Windows Software Update, the company is quick to violate that trust by overriding user's preferences and installing new software without the user's permission anyway. Is turning off Zune spyware effective? Based on Microsoft's past actions, it's impossible to know for sure.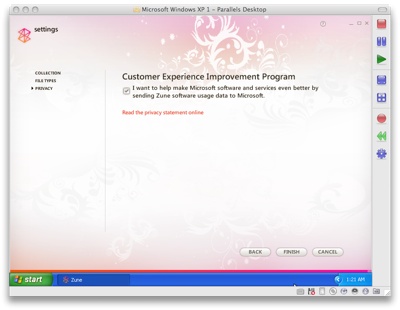 The next step is updating your device firmware. This isn't a choice unless you don't plan on using it. In the Zune software agreement, Microsoft reserves the right to update your device anytime it is plugged in. In previous updates, Microsoft has even removed significant features in its software updates.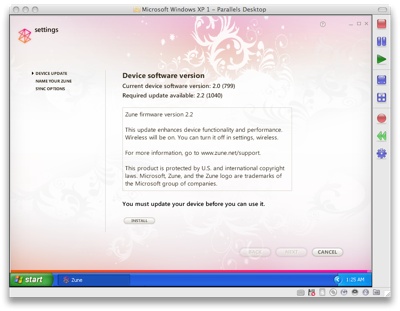 For the iPod, Windows and Mac users install the native version of iTunes. Registering and setting up an iTunes account are both optional with the iPod Nano. I skipped both, assigned my new Nano a name, and started syncing. It was ready to use immediately with the music in my library. Doing the same tasks on the Zune is more complicated.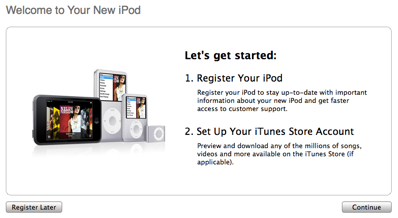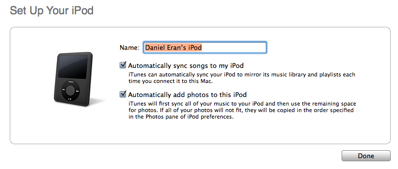 Using Zune Software.
After setting up your hardware and performing a device update using the Zune software, you then name your device and optionally link it to your online account name with Microsoft.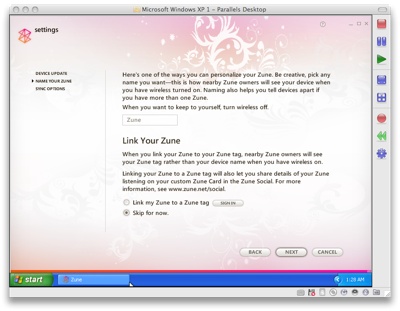 You then select what you want to sync in music, video, pictures, and podcasts. Unless you're upgrading from last year's Zune, you're unlikely to be using the Zune software to manage a media library in the first place, so this step seems a bit confusing. The default option is to "let me choose."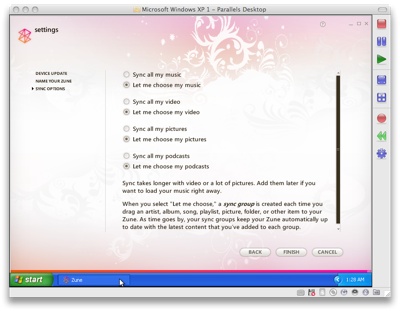 For anyone familiar with iTunes or Microsoft's WMP, the Zune software is a puzzle. Your PC music library is presented in columns; there are strange spaces in the display that can't be removed, forcing the end of nearly every bit of text on the screen to trail off into a blur (below). This happens even at full screen in a 1024×768 resolution. The Zune software simply consumes space frivolously, making it difficult to use in a floating window.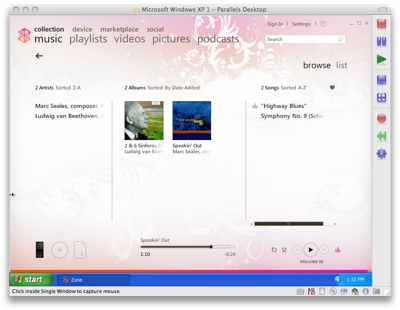 The two songs included with the Zune software are a classical piece and what sounds like a song from the soundtrack of Sim City; hardly something that might appeal to the demographic Microsoft is targeting, but a good demonstration of the confusing sync procedures required by the software.
To copy music to the Zune, you have to select it and drag it down to the brown player icon at the bottom. The CD icon next to it is used to "play, burn, or rip a disc." There is no obvious way to simply sync music as you would in iTunes. If you tell it to sync, it appears to do so, and reports everything is up to date despite nothing happening (below).
What you actually have to do is set up "sync group" playlists or change all the defaults when installing it. Return to Settings, Device, Sync Options. Sync is not something that just works.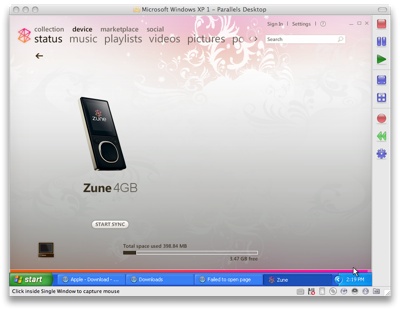 If you click on the Zune icon in the lower left, you go into device mode, which shows you what's on the Zune (below). Here you can manually copy items from it to the PC using the brown PC icon. Microsoft ships the Zune with ten songs on it from ten artists, along with nine videos, one of which is a Zune advertisement. However, until you set up the Zune software, a freshly bought Zune doesn't do anything.
After syncing, your music is still only on the Zune and the songs from the Zune software are not copied to the device, making the idea of sync somewhat confusing for users who haven't yet learned that in the Zune world, synchronization means manually copying things around or setting up special groups.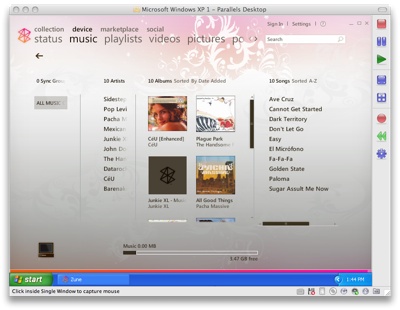 As with the device itself, the Zune software displays its list of options as text in a font too awkwardly large to fit in a floating window, requiring arrows to view the end of the word "podcast" (above). Actually, you have to click the arrow twice to scroll to the end of the word: once to reveal "podcas" and the second to find you've only scrolled to the end of the word and that there are no other options.
Compare how little information is conveyed in the cluttered, flowery menus of the Zune software compared to iTunes (below). While iTunes acts like a standard application window on both the Mac and Windows, the Zune software appears to be a web page yanked out of a browser. There are no standard window edges, no menu bar, and the close icons appear without buttons.
Despite being odd, there's nothing gained by the quirky interface. It really looks like an Adobe Flash app, a Java web applet, or–wait for it–a DOS application. I have a liberal outlook for taking fresh liberties with human interface guidelines when the result is smarter, more efficient, or just really cool looking, but the Zune window isn't any of those things.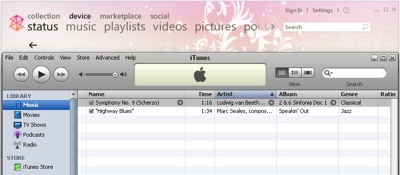 The Zune software is simply tragic both as a PC library management tool and as a device sync tool. It's also ugly, impractical, illogical, and frustrating. It isn't mildly flawed with some rough edges, but rather simply among the worst modern applications I've ever tried to use. The strange part is that it really doesn't do much; it just presents its few features in a bizarrely convoluted interface, just like the Zune hardware. If you're thinking things can't get worse, it's time to take a look at the Zune music store.
Online Music and Video Store.
The Zune marketplace presents music you can buy, free podcasts, and a download listing of your purchased tracks. Presentation of the available music hides behind a scroll window, which ensures you'll be clicking and dragging lots just to see the limited selection available. The store is actually worse than the the rest of the Zune software.
Even at the full width of a 1024 pixel display, the Zune store interface is cluttered without showing much, while it eats up inches of dead space at the top of the window to show off the flowery background (below top). The iTunes Store lays out more merchandise, but does so in a less cluttered arrangement that lets users browse their own interests (below bottom).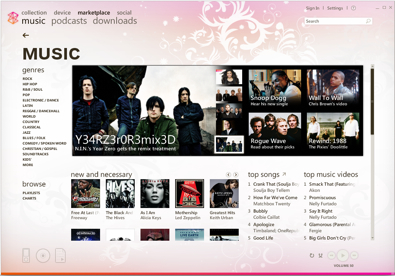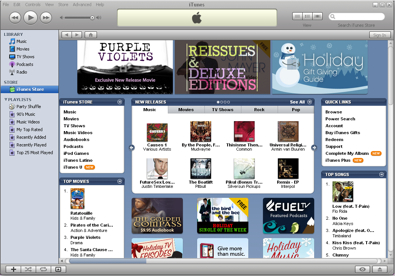 It's interesting to point out that both stores display nine content banner ads: the top section of the Zune Marketplace makes five visible and alternates through four other smaller items. In iTunes, there are three banner blocks at the top, and six more at the bottom. Visible in between is a listing of top movies and songs, store navigation links, and quick links to other features. In the middle are eight new releases, in a control that allows users to browse between 32 items total.
That center control also presents four other tabs, which present 4 x 32 = 128 album art titles to browse through, all in the center of the front page of the store.
In contrast, the Zune store presents three subtly hidden pages of ten album art items. To keep looking, you have to search or click the text links. That makes iTunes feel like it is run by music store employees with experience in presenting and recommending content , while the Zune Marketplace is presented like a bad webpage that offers no indication of suitability for anything.
In a smaller than full size window, the Zune store quickly becomes worthless, while iTunes remains usable.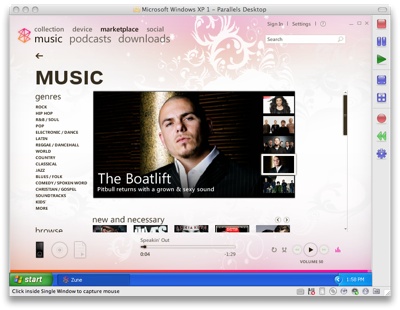 Paging between genres or clicking other links in the Zune Marketplace often involved a painful wait (below).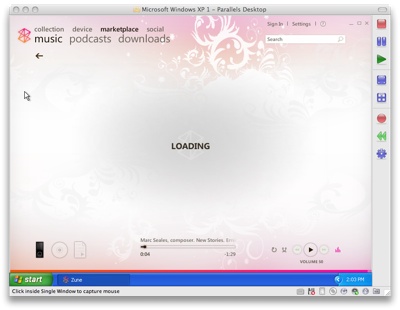 It eventually resulted in an all caps notification that the store was unavailable (below). This might improve in the future, but Microsoft's past experiences in developing online media stores with its PlaysForSure partners does not give much reason to be optimistic.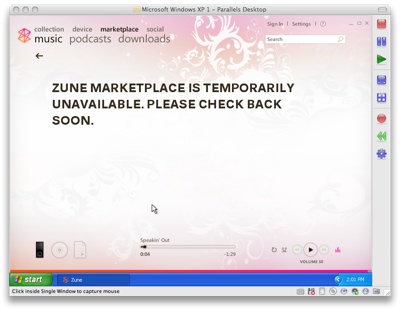 Both Apple and Microsoft are constrained by the territorial markets of the studios and labels, which prevents both companies from operating a single worldwide store. Apple has stores in 21 different regions, while the Zune store is only available in the US. However, Microsoft's approach to letting consumers know they're unable to purchase from the store is a bit bizarre.
Elppa, a reader from the UK, reported an attempt to view the "Zune Originals" artwork ads on the Zune site and was stopped by a similar all caps warning: "ACCESS DENIED."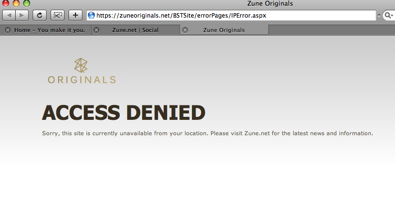 Online Media Availability.
Apple's iTunes store allows you to buy music, TV, movies, and games online. Apple distributes the vast majority of music downloads, over 90% of TV downloads, and continues to sell the majority of movie downloads on the Internet, despite the fact that it hasn't yet started offering HD content or movie rentals.
Microsoft doesn't offer any TV downloads, movies, or games that can be used by the Zune, and a far smaller library of music. Microsoft's online media sales–even when including its Xbox video sales that aren't compatible with the Zune–don't place it anywhere near the top four vendors, which collectively sell 97% of the online downloads. Microsoft simply has no expertise in online media sales, despite its powerful control over other markets. The Zune doesn't offer any reasons for thinking this will change.
Part of the reason Microsoft isn't cracking into online downloads is that it requires users to sign up with a prepaid account that converts their cash into a special points currency only good for its media downloads. The company also pushes rental music, which has repeatedly been proven to be an unpopular model with the majority of consumers over the last ten years of failed attempts. The Zune marketplace doesn't look like it is going to help the company make any headway in selling expiring music rentals, either.
Digital Rights Management.
Music and video purchased through iTunes is protected by DRM, although Apple has also created a library of two million DRM-free songs in its recent partnership with EMI. Additionally, protected iTunes music can also be burned to CD for use on other devices, including the Zune and PlaysForSure devices.
In contrast, Microsoft intentionally and artificially broke compatibility between its existing PlaysForSure DRM and the new Zune DRM. That means users of existing music players with software designed by Microsoft can't use the music they've already bought with the Zune. Unsurprisingly, Zune users also can't use their points-purchased music with other devices from Creative or SanDisk which also use Microsoft's software.
They also can't burn purchased music to CD with the same liberal use rights that Apple negotiated with the labels and studios. Microsoft has even shoehorned in a "piracy tax" into the Zune to pay off Universal, which is a disappointing trend for advocates of fair use rights in digital downloads.
This leaves the Zune as a roach motel for purchased music, because Microsoft's DRM is designed to be impossibly difficult to remove. Microsoft has recently followed Apple in offering some DRM-free downloads, about a third of its library, and about half the number of DRM-free songs in iTunes. Microsoft's efforts seem to be more of a catch up, designed to check off feature lists rather than actually deliver a good product with complete, honest, and fair services.

Podcasting.
Podcast support is an increasingly popular feature among music players. Microsoft recently added support for podcast management in its new Zune software, but Apple has led podcasting for far longer, and has built up an impressive library of podcast feeds that number above 100,000, ranging from professional productions by HBO, ESPN, NPR, and the New York Times to indie podcasts covering a variety of eclectic subjects.
Microsoft's podcast support is tepid at best. Its podcast listing was only officially launched in November with 1,000 podcasts. The company expects users to populate its podcast listing for it. Anyone interested in using podcasts will be disappointed by Microsoft's perfunctory efforts to match the iTunes' features. There's really no reason for podcasters to list with the Zune service, and users aren't likely to put the effort Apple has into podcasting, so again it's hard to see how things are going to improve.
With the Zune software, there's no obvious way to preview a podcast episode online, most podcasts lack cover art, and Microsoft's "big font, all caps" style really hampers the usability of its podcast listings (below). In addition, the Zune software treats podcasts as an entirely different entity than other audio files, which among other things prevents you from adding a podcast episode to a music playlist.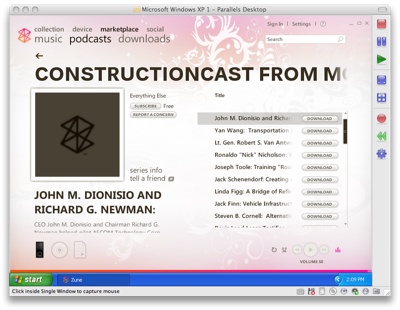 While you technically can download episodes or subscribe to a podcast, the Zune's podcast support is nothing even remotely similar to that found in iTunes. It's also extremely slow to navigate around in the listings, making them nearly worthless.
Despite having a WiFi radio, the Zune also can't download podcasts episodes live from the web like the wireless iPhone and iPod Touch.
The Wrap Up.
There are many other iTunes features missing in the Zune software: no Internet radio, far more limited music ratings (you can only tag your music as 'like it' or 'don't like it' in the Zune software), no gapless playback, no smart playlist features for organizing music automatically, no sound processing, no sound check volume balancing, no equalizer settings, no sophisticated metadata editing or searching, no wireless AirTunes, no music visualizers, no mini player, and so on. There's also no disk mode for using the Zune as a Flash drive, and no sync integration with Microsoft's mobile phone platform or its video extenders. It can share the PC music library with an Xbox 360, but not with other local PCs as iTunes can.
In short: it's a lot of sizzle with no steak that's trying to compete with the iPod at the same price. Somewhat ironically, last year's rumors suggested Microsoft would give away players at devastatingly low prices, offer all sorts of unique hardware features such as Sirius radio support, and leverage gaming with Zune models tied into the Xbox. Pundits also suggested Microsoft would give away Zune music for free to users who had already purchased music from iTunes, or give away Zune players for free to users who bought music subscriptions. None of those fantasies materialized.
In reality, the Zune doesn't really offer anything new and useful. It lacks a lot of features on the Nano including games and video output, but Microsoft expects users to pay full price for it and for its music downloads, even if they've already purchased the songs from a Microsoft PlaysForSure partner store. The Zune software is a minimal effort designed to copy enough of iTunes' features to allow it to compare on a simplistic checklist review. But it's difficult to use, it looks silly, it's impractical, and has severe limitations.
These are serious problems for the Zune itself, because much of value of the iPod comes from iTunes and its role as:
a central media library that provides smart and flexible organization for music, movies, TV, games, podcasts, and other content
a way to plays content on a PC and synchronize it with mobile players, phone, and TV products
a consistent interface that is familiar and easy to use, rather than being quirky and impractical.
On the hardware side, the Zune feels cheap and awkward. The user interface behind the tall screen with oversized text navigation is both quirky and erratic, not fluent and professional looking. Menu navigation is overloaded rather than simple and intuitive. Having to flip the device horizontal to watch video is clumsy. The touch sensitive button is interesting, but feels poorly integrated into the device, and its stuttering and inconsistent behavior distracts from its usability.
Overall, the hardware feels like a collection of bad ideas that usurped the position of more practical ones. Combined with the truly awful Zune software, it's not a pretty package. Collectively, these factors make it impossible to recommend the Microsoft Zune flash-based players as an alternative to the iPod Nano for anyone. Even people who want to go out of their way to avoid Apple have may other options that are far superior to the Zune, often at a much lower price.
A good example is the SanDisk Sansa View, which offers a larger 2.4" display, claims a longer battery life, and includes a voice recorder and twice the RAM at the same price as the Zune 8 and iPod Nano. It lacks some of the Nano's polish, its iTunes integration, and is significantly larger, but simply tramples the Zune.
The Zune is a bad product that deserves to fail. If it does, perhaps Microsoft will get serious about delivering a high quality, competitively priced product next year and introduce it with software that's a real match for iTunes, not just a sloppy placeholder. In the meantime, perhaps Microsoft will drop the facade of its Zune brand masquerading as a counterculture art brand, because there really isn't anything counterculture about financing an astroturf campaign in a bid to acquire monopoly control of media playback.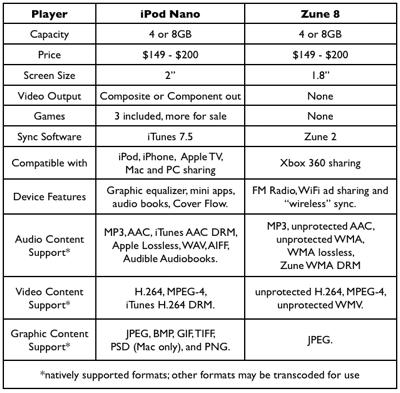 Amazon links: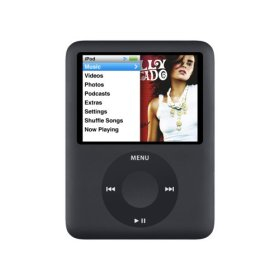 Apple iPod Nano
New iPod Reviews: 3G iPod nano, iPod classic, iPod touch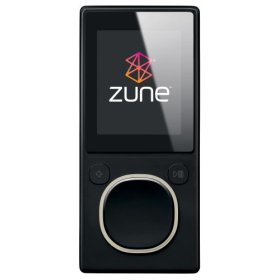 Microsoft Zune 8
iPod vs Zune: A Buyer's Guide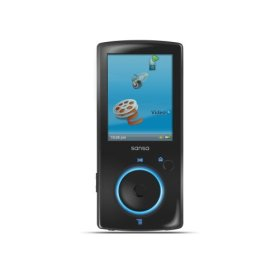 SanDisk Sansa View


What do you think? I really like to hear from readers. Comment in the Forum or email me with your ideas.
Like reading RoughlyDrafted? Share articles with your friends, link from your blog, and subscribe to my podcast! Submit to Reddit or Slashdot, or consider making a small donation supporting this site. Thanks!