iPhone Grabs 27% of US Smartphone Market
November 21st, 2007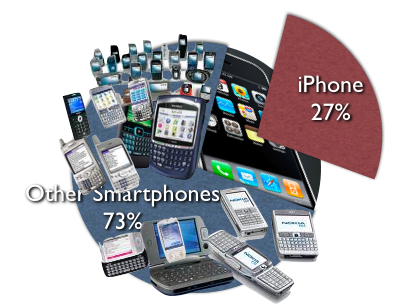 Daniel Eran Dilger
Last month, after Apple beat its announced goal of selling a million iPhones by the end of September a couple weeks in advance, Dan Frommer of Silicon Alley Insider announced that Apple was convolutedly "below plan" for meeting its 90 day goal in 74 days, and figured that Apple would only be able to sell about half of its longer term 2008 goal of 10 million phones. A month later, Frommer is now pointing out that Apple has 27% of the US smartphone market.

The Problem with Statistics.
Why the dramatic reversal? Back in September, Frommer calculated a fixed "run rate" for the iPhone that suggested sales would continue at the same pace as its first full quarter of sales. Of course, that's not the pattern set by iPods, or game consoles, or really any other consumer device that has ever gone on sale.
Frommer arrived at his "run rate" number by subtracting the 270,000 iPhones sold in a day and a half in June from the million units Apple reported sold in early September, and concluded that Apple must have only 700,000 new phones over the previous 74 days, or about 10,000 iPhones per day.
Apple subsequently reported sales of 1.12 million iPhones for that quarter. If Frommer was right in his calculations, that means Apple sold another 420,000 iPhones in the remaining 18 days of the quarter, reaching a new pace of 26,250 iPhones per day, no doubt assisted by the price drop in early September.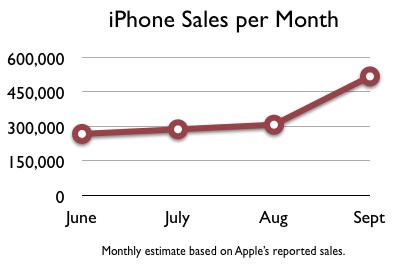 Why Dan Frommer and Scott Moritz Are Wrong on iPhone Sales
How Many iPhones?
Apple's iPod sales historically tripled with every winter quarter. It seems hard to believe that Apple's iPhone sales would triple this winter quarter, but it is obvious that Apple will sell more iPhones this winter and the next than it did in the previous quarter and that it will in each and every other quarter in between.
That inevitability has resulted in hot anticipation for finding what kind of sales Apple will earn this winter. Based on retail sales reports from NPD, Analyst Gene Munster of Piper Jaffray estimates Apple will sell 25 million iPods, eclipsing last year's record of 21 million iPods sold in the winter quarter.
Apple doesn't announce weekly sales results, and groups like NPD only factor in retail sales from outlets they obtain data from, which excludes Apple's retail stores and online sales, the primary channel for iPhone shipments. NPD does calculate in estimates for other retailers it does not track, including WalMart and specialty vendors.
Those statistics provide a general overview of how large markets are, and how well individual vendors are competing in the market. They can't provide accurately detailed monthly figures for the iPhone however, because NPD simply doesn't have a first hand report of Apple's sales until they are released on a quarterly basis.
Apple on track to sell 25 million iPods this quarter – AppleInsider
Frommer: iPhone Grabs 27% of the US Market.
For the last July to September 2007 quarter, NPD reported US sales of 4.2 million smartphones, a 180% increase over the same quarter last year, when only 1.5 million were sold. Of those 4.2 million units, Apple sold 1.12 million iPhones, representing 27% of the US market, Frommer noted. In other words, more than one in four smartphones sold in the US were iPhones.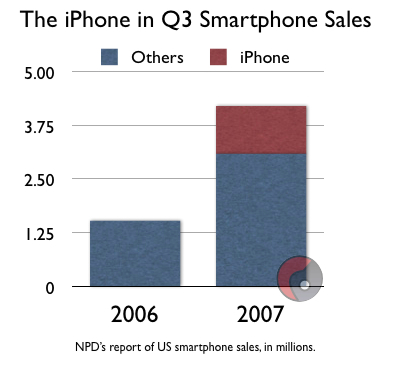 It's also interesting to note that a large chunk of the new growth in smartphones can be attributed to Apple. It's hard to say whether that's because the iPhone attracted a new audience to the smartphone market by offering an approachable product, or if Apple simply gobbled up a large portion of the existing demand that would otherwise have resorted to smartphones using software from Palm, Symbian, RIM, or Microsoft.
In either case, it makes it more obvious why competing phone vendors and service providers are attacking the iPhone in a frothy foam war that seeks to artificially associate it with all sorts of problems, from security to price to the recent meme that tries to suggest that the iPhone's onscreen keyboard somehow injects typing errors that flummox users with calamitous troubles.
Smartphone Sales Soar, iPhone Grabs 27% Of Market – Silicon Alley Insider
UnWired! Rick Farrow, Metasploit, and My iPhone Security Interview
It Keeps Getting Better.
Overall, NPD counted 38 million mobiles sold in the US in the same quarter, which gave Apple almost 3% of all of the nation's new phone sales in its first full quarter of sales. Incidentally, in just a day and a half of sales in June, Apple sold over 1% of the phones in the previous quarter.
Apple's 3% US market share among all phones means the iPhone already has three times the penetration in the US, its first market, as the public 1% goal Steve Jobs set for worldwide iPhone sales by the end of 2008, even before heading into its important first holiday quarter.
Sales outside the US will likely be more difficult, as the competition is more credible in Europe and Asia, and the service expectations are different. As Apple attempts to break the stranglehold service providers have over the mobile market, challenged providers are fighting back.
Vodafone Attacks the iPhone.
After Vodafone refused to meet Apple's demands for reduced service fees in order to become the exclusive provider of the iPhone in Germany, Apple teamed up with T-Mobile. Vodafone–which owns half of Verizon Wireless in the US–has since attempted to force Apple to give it access to iPhone users without lowering its prices by suing T-Mobile in court to stop sales of iPhones tied to its rival provider in Germany.
The result is that T-Mobile now sells the iPhone in Germany without a service contract for an additional premium of 600 Euros, or about $885. That's the same unlocked price premium that will be offered by Apple's partner Orange in France, according to sources familiar with Apple's plans for dealing with mobile regulations in France.
Customers are unlikely to volunteer en mass to pay such a premium just to use the iPhone on other carriers, allowing Apple to continue to leverage its partnerships with providers that will agree to offer lower service plans, customized mobile features, and to subsidize the hardware cost of the iPhone in order to gain new subscribers.
Industry attacks iPhone sales strategy – Heise
The iPhone Engine.
Combined with the fact that iPhone users consistently report high satisfaction ratings, Apple's early strong entry will mean that the iPhone will sail into the winter quarter with hot word of mouth advertising. Existing buyers purchased the iPhone based on its advertised features; iPhone users are now talking to their friends about it, which will result in snowballing sales.
According to market research by Changewave from last month, RIM's popular Blackberry was the only other mobile besides the iPhone with more than 50% of its customers reporting they were very satisfied with their phone. Apple earned a very satisfied rating from 82% of its users, up from 77% in August.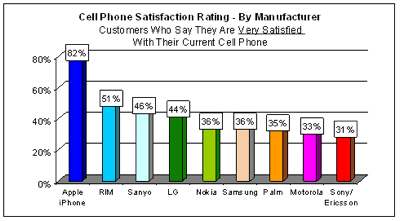 Apple Doesn't Disappoint – Changewave
Early iPhone Adopters Extremely Satisfied – Seeking Alpha
Add in the new iPods and phenomenal growth in Mac sales, and Apple has three hot engines to attract shoppers, each of which acts as an advertisement for Apple's other products. And the competition? There is no standout competitor to the new Nano and Touch, there are few strong competitors to the iPhone, and PCs running Vista are looking more like a Mac advertisement than a competitive factor.

What do you think? I really like to hear from readers. Comment in the Forum or email me with your ideas.
Like reading RoughlyDrafted? Share articles with your friends, link from your blog, and subscribe to my podcast! Submit to Reddit or Slashdot, or consider making a small donation supporting this site. Thanks!