Road to Mac Office 2008: an introduction
November 12th, 2007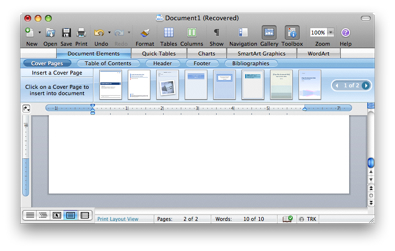 Microsoft's Office for Mac 2008 adds new features and a revised user interface to the standard suite of productivity applications including Word, Excel, PowerPoint, and Entourage. Scheduled for release in January 2008, the upgrade will be the first new release for the Mac since 2004, back in the days of Mac OS 10.3 Panther.
Ten years ago, Steve Jobs took the stage at the summer 1997 Boston Macworld Expo to announce plans to restore confidence in Apple. Key among those plans was a deal with Microsoft to deliver the first new edition of Office for Mac since Microsoft had halted development back in 1994, prior to the release of Windows 95.
Microsoft recently announced new plans to again introduce a new version of Office for Mac after delays led to a four-year development process.
This time, however, Microsoft faces new competition from Apple itself, which has impacted Microsoft's Office 2008 pricing and features. New competition between the two firms in the productivity application arena is great for consumers; here's how the two companies have acted as both rivals and partners over the last three decades in productivity applications, leading up to renewed competition today.
AppleInsider | Road to Mac Office 2008: an introduction

Technorati Tags: Apple, History, Mac, Microsoft, Software, the Media