Why Leopard's Time Machine Doesn't Support AirPort Disks.
November 8th, 2007

Daniel Eran Dilger
In the previous article looking at what's new in Leopard, I identified three missing features that some had expected to see. The most obvious was using Time Machine to back up to shared AirPort drives. Mention of the feature on Apple's site was removed, indicating that the company wasn't bluffing when it warned that "features are subject to change." So where did it go, and why?

When I wrote the article, I didn't really know. I suggested the problem was likely either related to WebDAV support or to feasibility problems in using disks over WiFi. The former sounded like something that could be fixed, while the latter might result in the whole idea being abandoned.
Reader Alex Curylo wrote:
This was explained on one of the developer lists a couple weeks back. The problem is that integrity cannot be guaranteed — the AirPort acknowledges receipt of the data before it's actually written, and if power is interrupted, the disk disconnected, yadayadayada in the window between the Airport acknowledging receipt and the data actually getting written out to disk, it's gone forever with no way to recover it or even realize it's gone missing.
That, Apple felt, is a big enough problem to disable the feature for initial release. Quite reasonably so, I think most of us can get behind.
Unfortunately, to fix this issue requires firmware upgrades on the AirPort side so that there's some way it can send back "Yes, your data is now
written and safe on disk, I guarantee it" rather than simply "Yep, gotcher data, right here in RAM, looks good, trust me." So that'll take, well, however long it takes, and if/when that happens wireless Time Machine backup will be back, no doubt.
That sounds like good news for Mac users who bought an AirPort Extreme with the idea of using it for Time Machine backups. Support may come as soon as 10.5.1, which is noted to address issues with both Time Machine and AirPort.
AppleInsider | First builds of Mac OS X 10.5.1 pack over two dozen fixes
A base station firmware update is also due, which will likely link the AirPort Extreme's "wide-area hostname" and "advertise globally using Bonjour" features with the Back to My Mac marketing name used in Leopard and automate integration with .Mac authentication.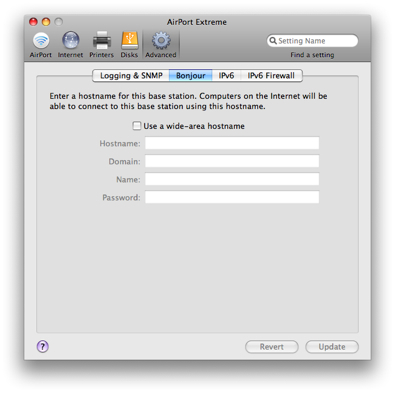 What do you think? I really like to hear from readers. Comment in the Forum or email me with your ideas.
Like reading RoughlyDrafted? Share articles with your friends, link from your blog, and subscribe to my podcast! Submit to Reddit or Slashdot, or consider making a small donation supporting this site. Thanks!