Ten Myths of Leopard: 7 Premature Death for Existing Macs!
November 7th, 2007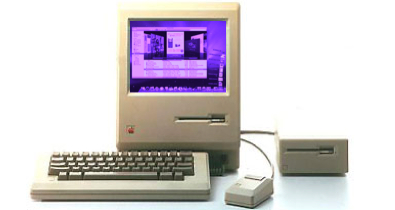 Daniel Eran Dilger
Myth 7 in the Ten Myths of Leopard.
Ten Myths of Leopard: 1 Graphics Must Be Slow!
Ten Myths of Leopard: 2 It's Only a Service Pack!
Ten Myths of Leopard: 3 Nothing New for Developers!
Ten Myths of Leopard: 4 Java 6 Abandonment!
Ten Myths of Leopard: 5 "Back To My Mac" Security Panic!
Ten Myths of Leopard: 6 Time Machine Eats Hard Drives!
Ten Myths of Leopard: 7 Premature Death for Existing Macs!
Ten Myths of Apple iPhone
Ten Myths of the Apple TV

Myth 7: Leopard Prematurely Cuts Support for Existing Macs. Writing for the LowEndMac.com, Ted Hodges wrote that Mac OS X 10.5 Leopard's "system requirements are ridiculous," and described the culling of 60 older Mac models from official support under Leopard as "an outrage."
I happened to have recently written about the history of Mac support in operating systems just a couple weeks prior, so the actual figures are still in my head. In "Leopard and the History and Future of Mac OS X on PowerPC," I actually presented why it was unlikely that Apple would drop support for PowerPC Macs even in the next generation of Mac OS X.
Leopard Pales Before Mac OS 8.5 for Macs Left Behind, Dual Processor Benefits, and More
60 Mac Models Left Behind: The Ridiculously High Cost of Leopard
Why Too Much Backward Support Is a Bad Thing.
However, I also laid the blame for Apple's software stagnation in the mid 90s in part upon setting unreasonable expectations that its latest software would run on ancient machines. Mac System 7.5.5 in 1996 was officially supported on the decade old Mac Plus from 1986. Was this a feature?
Hardly. The Mac Plus was functionally obsolete. It was painfully slow in 1991 running the then new System 7. Using one could be described as an exercise in nostalgia long before the mid 90s. Should Apple really have maintained official support for a machine nobody was using in a serious fashion in 1996, while the company was going down in flames?
Remember that in 1990, Apple basically reintroduced the 1987 Macintosh II in a smaller case as the "new" consumer-level Mac LC. That machine was no speed demon when it arrived, so even supporting it five years later was a stretch, not to mention a system like the Mac Plus that had long outlived its usefulness in running the latest software.
Leopard and the History and Future of Mac OS X on PowerPC
The March of Mac OS X.
Since the release of Mac OS X 10.0, which limited support to the G3 desktops introduced in 1997, Apple has maintained about five years of official support. Using hacks such as XPostFacto, users can support even older machines.
Leopard maintains a similar window of support for five to six year old Macs. This is very reasonable, particularly since the existing Tiger still supports Macs released before Mac OS X, models which are now eight years old.
The new features of Leopard don't offer a lot to users with aging machines that lack modern video hardware, so demanding that Apple officially support those models with Leopard is unreasonable. In contrast, PC users don't expect to run the latest version of Windows on machines that are more than a year or two old.
Running Leopard on Unsupported Macs.
Even so, Carl Howe of Blackfriar's notes that he installed Leopard on a dual 800 MHz Quicksilver G4, which doesn't match the official system requirements. He described it as "quite responsive." However, there are other support issues he highlighted.
First was the lack of support for AirPort devices from older models. Howe specifically noted this on a 1GHz PowerBook G4. [Update: I cited this wrong. The problem isn't unsupported AirPort on this supported model. In reality, it appears the problem has to do with a Tiger AirPort driver being left in place. Michael Lafferty notes on the Apple Support discussions that:
"Some users have determined that an artifact left over from Mac OS X 10.4.x interferes with wireless connections after Mac OS X 10.5 is installed. As explained in this thread, the issue can be dealt with by finding and removing the AppleAirPort2.kext file from your Extensions folder, located here: Macintosh HD/System/Library/Extensions."]
Apple – Support – Discussions – G4 PPC and wireless
The second issue was indexing and backing up files using Time Machine. Older machines have the same million and a half files to manage, but much less horsepower to handle touching them all in the initial backup session. After that completes, there is less demand for subsequent backups.
Howe also noted that it appeared Leopard makes more aggressive use of SATA disk controllers. He reported a four-fold increase in file transfer speed over Tiger on his system, but also ran into intermittent problems with an add-on USB card he chalked up to a difference in timing issues.
[Update: Howe corrected my comments, pointing out that "Leopard is actually *more* reliable on my dual 800-MHz Quicksilver than Tiger. Yes, the timing is different, but that different timing has eliminated a significant kernel panic caused by the interaction between the SATA and the USB 2.0 PCI controllers on Tiger. So this is a plus in the Leopard column, not a minus."]
As systems age, the number of people interested in upgrading rapidly declines and the number of potential problems–caused by running more aggressive system software on older variations of hardware components–begins to increase substantially. It appears Apple did a pretty fair job of supporting what users could expect, while not wasting resources in trying support machines that are increasingly irrelevant.
Blackfriars' Marketing: Upgrading to Leopard, ancient hardware edition
What do you think? I really like to hear from readers. Comment in the Forum or email me with your ideas.
Like reading RoughlyDrafted? Share articles with your friends, link from your blog, and subscribe to my podcast! Submit to Reddit or Slashdot, or consider making a small donation supporting this site. Thanks!