Troy Wolverton Digs Up Rob Enderle In Desperate Apple Attack
November 5th, 2007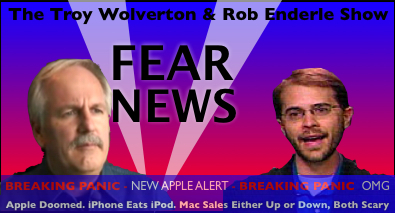 Daniel Eran Dilger
Seething Apple critic Troy Wolverton sifted through the company's latest stellar earnings reports in a desperately transparent bid to find something bad to say about the company. He ended up complaining that "iPod sales grew just 8.2 percent last fiscal year to $8.31 billion." Yes, what's a half billion dollar revenue increase, 31% unit growth, and industry leadership in a market that wags like Wolverton tried to concede to giant Microsoft, which is losing billions?

The Bottomless Depths of Wolverton's Shamelessness.
Wolverton even dug up industry joke Rob Enderle, who commented that the iPhone "signaled the potential end for the stand-alone iPod." Earlier in the year, Enderle said that 2007 "will be a difficult year for Apple, and the iPhone could be more of a drag on earnings than a help."
Clearly, Enderle's one-man consulting corporation has his finger on the pulse of reality and deserves frequent attention by serious journalists such as Wolverton. Either that, or Enderle is just a broken record of doom that Wolverton must pull from the archives in order to have more noise to inject in his shrill broadcast of non-stop, uninformed panic mongering.
Wolvertons' story can't be that Apple has jumped into third place among all PC makers in the US, or that it now has a huge share of the US retail market for both PC laptops and consumer electronics products from flash to hard drive music players and mobile phones, but that "iPod sales have started to look a bit anemic." Anemic? Compared to what, the Zune? The entire gamut of PlaysForSure devices? Sony's fallen Walkman brand? What other music player brand are consumers happy to throw another new half billion dollars at?
"Anemic" refers to a sickly and weak appearance from a lack of healthy blood flow. Using this to describe iPod sales is the most absurdly disingenuous and fraudulent thing Wolverton has ever written about Apple, and that's saying a lot. Wolverton has carved out a reputation for absurdly negative spin on everything related to Apple for years, but calling the iPod anemic is even outside of his typical arm-flailing, knee jerking, fact contorting spams.
Like other anti-Apple flacks, Wolverton has long complained that Apple was making too much of its money from sales of the iPod, a circumstance which has been fashionable to interpret as an impending doom for the Mac platform. Now that Apple's Mac sales are hitting new sales records of their own, the obvious response is to complain about doom for the iPod. According to Wolverton, "the best of times for the iPod may be past."
Wolverton's Weaselly Writing.
Considering that the iPhone itself is an iPod, this bit of schadenfreudewunsch (yes I just coined that word) posing as feigned nostalgia is as hard to swallow as everything else Wolverton has written about Apple over his career, spanning from his attack pieces generated for the Street to his new position as a so-called journalist for the San Jose Mercury News, where he outputs a bottomless pile of false information as news stories and fails to correct major errors until long after they've fallen out of print.
What's Wolverton's motivation? That's hard to say. He refused to answer my previous criticisms related to his attacks upon the iPhone, even after initially promising to explain why he'd printed a veritable blizzard of misleading coverage full of inaccuracies in the weeks leading up to and immediately following the iPhone's release. In the face of facts, Wolverton turned tail and ran.
In private emails to readers, Wolverton cowardly attacked me using personal smears instead of actually addressing the facts I presented. Why is Wolverton such an enemy of the truth about Apple? Perhaps he needs a Zoon Award for his efforts. Blam: Troy Wolverton gets a Zoon.
Troy Wolverton Documents Faux Apple Shareholder Outrage
More on Troy Wolverton, the Street, and Apple Scandal
10 FAS: 9 – Troy Wolverton, Neil Cavuto, and the Apple Stock Scandal
What do you think? I really like to hear from readers. Comment in the Forum or email me with your ideas.
Like reading RoughlyDrafted? Share articles with your friends, link from your blog, and subscribe to my podcast! Submit to Reddit or Slashdot, or consider making a small donation supporting this site. Thanks!
Technorati Tags: Apple, Bloggers, iPhone, iPod, Mac, Microsoft, the Media, Zoon Award