Ten Myths of Leopard: 6 Time Machine Eats Hard Drives!
November 5th, 2007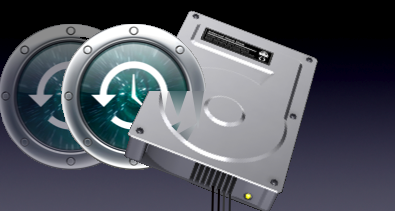 Daniel Eran Dilger
Myth 6 in the Ten Myths of Leopard.
Ten Myths of Leopard: 1 Graphics Must Be Slow!
Ten Myths of Leopard: 2 It's Only a Service Pack!
Ten Myths of Leopard: 3 Nothing New for Developers!
Ten Myths of Leopard: 4 Java 6 Abandonment!
Ten Myths of Leopard: 5 "Back To My Mac" Security Panic!
Ten Myths of Leopard: 6 Time Machine Eats Hard Drives!
Ten Myths of Apple iPhone
Ten Myths of the Apple TV

Myth 6: Leopard's Time Machine is Just Like Windows And Eats Hard Drives. I've already deflated the Time Machine Is Like Something In Windows Myth. The short version: try to do a system wide search of your desktop environment from two weeks ago. Is Shadow Copy any help? Windows XP and Vista can't even search your current files rapidly, let alone search the archives they don't really keep on a regular basis.
Next, try to restore a photo from your album database. Or a contact from your address book. In Windows, you'll have to restore an entire database, then plug it in to see if you can find what you were looking for. Time Machine lets you search collections, something no other backup system makes even remotely easy.
WWDC Secrets Paul Thurrott Hopes You Miss
Backups Ate My Hard Drive.
The obvious other complaint leveled against Time Machine is that backing up all your files… takes up hard drive space. Rob Mead, who earlier complained about the supposed security problem in Back to My Mac, worries that users will have to start over with new hard drives when they fill theirs up. Oh the troubles of paradise. Imagine having so much of your data backed up that you need stacks of hard drives just to feed Time Machine's addiction.
Back in reality-land: if you look at how Time Machine works, it was designed to rapidly chow up space to keep hourly backups as long as you keep your Time Machine backup drive plugged in. However, every day it drops the hourly snapshots of the previous day to keep just one good record set per day. That means Time Machine will rapidly eat up hard drive space, then level off after the first 24 hours as it starts shuffling less important archives out to save new sessions.
It similarly eats up a week's worth of daily backups, but then slows down by dumping daily backups as they become older than a week. Time Machine also intelligently thins out older copies of files, so you don't end up with too much junk. The more disk space you give it, the less thinning does. The option to "Warn when old backups are deleted" is on by default.
This design allows you to choose what kind of backups you want to perform, without having to become an expert in data archival rules and scheduling. Word to the wise: nobody ever died from having too many backups. With Time Machine, you end up with a balanced set of backups without having to think about the details. That means your backups will actually get done, and will be available when you actually need them.
Road to Mac OS X Leopard: Time Machine – AppleInsider
What do you think? I really like to hear from readers. Comment in the Forum or email me with your ideas.
Like reading RoughlyDrafted? Share articles with your friends, link from your blog, and subscribe to my podcast! Submit to Reddit or Slashdot, or consider making a small donation supporting this site. Thanks!