Ten Myths of Leopard: 1 Graphics Must Be Slow!
October 30th, 2007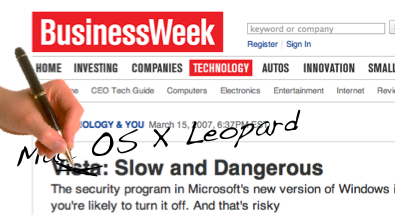 Daniel Eran Dilger
Are you ready for an all out assault on Mac OS X Leopard by Windows Enthusiasts? Earlier this year, I compiled a listing of complaints related to the iPhone before they could even think them up, although self-styled analysts kept trying to perpetuate them for months after I debunked them. I later outlined a similar series exposing some reality related to Apple TV. Before the trolls really get going on Leopard, let's clear the air there, too. Of course, there are also real issues related to Leopard users should take into consideration. Here's an honest look at Mac OS X 10.5 against the myths being reported.
Ten Myths of Apple iPhone
Ten Myths of the Apple TV

Myth 1: Leopard's Visual Effects Slow Everything Down. This myth is borrowed from a common Windows Vista complaint; while Windows XP (and earlier versions) used the simpler GDI graphics engine modeled after Apple's QuickDraw from the original Macintosh, Vista introduced Avalon, a brand new compositing graphics engine now described as part of the Windows Presentation Foundation.
The result is that PCs running Vista have to do a lot more work to host the new Aero graphics effects and the general overhead of WPF that they didn't have to do under Windows XP. There is no way Vista could have been faster than XP in graphics, because it's simply doing a lot more.
When Mac OS X's Quartz debuted back in 1999 as the first modern compositing graphics engine in a desktop operating system, it was similarly visibly slower than Mac OS 9's less sophisticated QuickDraw-based graphics. Mac OS X also had to incorporate support for legacy software designed to use QuickDraw, just as Vista is hampered with supporting software created to run on earlier versions of Windows.
Road to Mac OS X Leopard: QuickTime, iTunes, and Media Features – AppleInsider
Why Leopard Isn't Slower.
The difference with Leopard is seven years of optimization. Mac OS X's graphics compositing engine has been in use for half a decade now. Every major new version of the system has significantly updated the underlying Quartz, also known as Core Graphics. In addition, Apple has also delegated more and more of its graphics effects into dedicated video hardware. Jaguar introduced Quartz Extreme for hardware-accelerated compositing, Tiger introduced Core Image for hardware accelerated filters and effects, and now Leopard applications can activate Quartz 2D Extreme (now called Quartz GL) for hardware-accelerated drawing as well.
In addition, Leopard supplies a variety of prebuilt graphics technology for developers to use, including the new Core Animation and new additions to the Image Kit. Using these will enable developers to optimize the performance of their applications, but existing software already looks and feels much faster because of other under the hood improvements.
While Windows Enthusiasts would love to associate the problems of Vista with Mac OS X Leopard, they will simply look foolish in saying that Leopard drags down Macs that were running Tiger the way Vista taxes the performance of PCs that were usable running Windows XP. Apple's significant new improvements to Core Graphics is a major reason why.
Slow Areas In Vista.
In contrast, reviewers have pointed out that Vista is slower across the board, in large part due to its graphics, but also due to other factors. Windows Enthusiast site Tom's Hardware noted in its Vista vs XP benchmarks:
"Windows Vista clearly is not a great new performer when it comes to executing single applications at maximum speed. Although we only looked at the 32-bit version of Windows Vista Enterprise, we do not expect the 64-bit edition to be faster (at least not with 32-bit applications). Overall, applications performed as expected, or executed slightly slower than under Windows XP."
One aspect of Vista's graphics slowdown is Microsoft's political opposition to the OpenGL standard; the company has pushed its own proprietary graphics technology since Windows 95's DirectX in an effort to tie video games to Windows (initially to kill DOS gaming, but now to prevent Linux gaming from taking over). The result is, as Tom's Hardware observed:
"Unreal Tournament 2004 and the professional graphics benchmarking suite SPECviewperf 9.03 suffered heavily from the lack of support for the OpenGL graphics library under Windows Vista. This is something we expected, and we clearly advise against replacing Windows XP with Windows Vista if you need to run professional graphics applications."
Even general CPU encoding functions were slower in Vista:
"We are disappointed that CPU-intensive applications such as video transcoding with XviD (DVD to XviD MPEG4) or the MainConcept H.264 Encoder performed 18% to nearly 24% slower in our standard benchmark scenarios. Both benchmarks finished much quicker under Windows XP."
"Our hopes that Vista might be able to speed up applications are gone. First tests with 64-bit editions result in numbers similar to our 32-bit results, and we believe it's safe to say that users looking for more raw performance will be disappointed with Vista."
Three Reasons to Excuse Vista's Slow Performance.
Tom's offered three excuses to consider in upgrading to Vista:
"Vista runs considerably more services and thus has to spend somewhat more resources on itself. Indexing, connectivity and usability don't come for free."
Of course, Leopard runs new services as well. However, it's based on Unix, which is designed to run multiple processes without bogging down. Windows and its NT kernel is not. I identified this as one of the top five most significant architectural problems in Windows. Microsoft will not be able to resolve this problem without entirely redesigning how Windows works, breaking all applications in the process or emulating them in a compatibility environment on top, as Apple did with Classic applications. Of course, one can already do that on Mac OS X. Perhaps Microsoft will simply license Mac OS X and Parallels as the basis for Windows 7.0.
Five Windows Flaws – 5 Windows' Expensive Processes
The second excuse to consider for Vista's lackluster performance:
"There is a lot of CPU performance available today! We've got really fast dual core processors, and even faster quad cores will hit the market by the middle of the year. Even though you will lose application performance by upgrading to Vista, today's hardware is much faster than yesterday's, and tomorrow's processors will clearly leap even further ahead."
Solve Microsoft's problems with hardware! That's always been the solution in the past, as Tom's Hardware notes in its follow up point:
"No new Windows release has been able to offer more application performance than its predecessor."
Windows XP vs. Vista: The Benchmark Rundown | Tom's Hardware
In contrast, every version of Mac OS X has offered a leap in usability and performance. Leopard is no different. Of course, there are more insidious myths that need debunking related to Leopard. The next is coming up tomorrow.
What do you think? I really like to hear from readers. Comment in the Forum or email me with your ideas.
Like reading RoughlyDrafted? Share articles with your friends, link from your blog, and subscribe to my podcast! Submit to Reddit or Slashdot, or consider making a small donation supporting this site. Thanks!
Technorati Tags: Apple, Development, Mac, Microsoft, Software