Apple Offers $110 Leopard Rebate for Early Mac Buyers
October 16th, 2007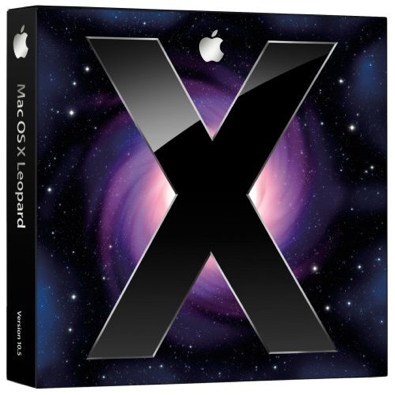 Daniel Eran Dilger
In a move that echoed the $100 iPhone rebate that Apple extended to early adopters who bought the phone in June and July, the company has announced that it will be giving those who bought a new Mac this month a $110 $120 rebate on the price of Mac OS X 10.5 Leopard, which will ship October 26, 2007.

The rebate applies to all new Macs, but not certain refurbished discount models or the Apple TV, which while technically being a Mac, lacks the ability for users to install their own operating system. Apple lists qualifying models on its website.
Apple – Mac OS X Leopard – Up-to-Date – Qualifying Computers
Qualified users can request the rebate as part of Apple's Up to Date program. With the $110 $120 rebate, the Leopard product is $9.95.
Amazon Rebate with Parallels.
Leopard is also available for preorder from Amazon for $109. It is currently offering other discounts for users when they buy Leopard along with iWork, iLife, Fusion or Parallels, and other companion products.
Education Pricing.
Apple is also offering Leopard to students and faculty at discounted price of $69.
Leopard's "300" Features.
Apple's standard $129 pricing of Leopard covers the entire range of advertised new features, which Apple describes as "300 + New Features." With this release, Apple actually outlined what those 300 new features are. The listing is actually quite conservative.
Apple – Mac OS X Leopard – Features – 300+ New Features

Leopard vs Vista.
In contrast, Microsoft has leveraged its monopoly grip over PC makers by floating out minimalist versions of Windows Vista, hoping that PC users will upgrade to the Home Premium or Ultimate editions of Vista for hundreds of dollars more.
What about PC users who don't want Windows Vista? Dell asked users to pay an extra $45 to replace Windows Vista Home with Windows XP Home on its new PCs!
Upgrade Pricing?
Windows Enthusiast bloggers celebrate Microsoft's "upgrade" pricing, which discounts new retail prices for users who already have Windows. However, the upgrade price for Home Premium, Business, and Ultimate editions of Vista are more than Apple's standard price for Leopard.
The Windows Vista Home Premium upgrade costs $160 from Amazon, while the Vista Ultimate Upgrade costs $250, nearly double the full price of Leopard. The standard retail price for Ultimate is $399, with Amazon offering it for a discounted price of $329, over three times its price for the comparable Leopard edition from Apple.
Technorati Tags: Apple, Bloggers, Mac, Microsoft, Software, the Media