Using iPhone: Camera Photo Quality and Viewing: Part 3
August 16th, 2007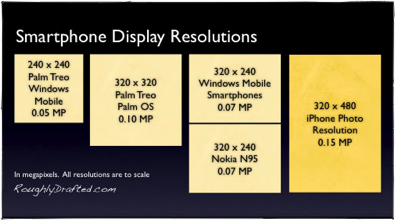 Daniel Eran Dilger
Taking photos in dim conditions is tricky, but bright light poses its own troubles.
[continued from part two: Using iPhone: Camera in Low Light Conditions; CMOS vs CCD: Part 2]

Taking photos in dim conditions is tricky, but bright light poses its own troubles. This morning shot of Kearny Street (left) has good contrast, but as the more of the bright sky enters the picture, the detail of the street fades (middle) then disappears into shadows (right). The all-automatic iPhone camera makes it difficult to capture both the detail of the street and the foggy sky obscuring the top floors of 555 California.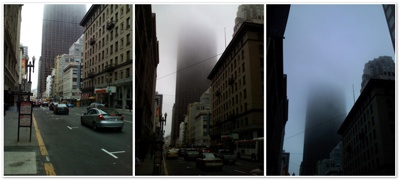 In this example inside San Francisco City Hall, the bright skylight (left) overwhelms the interior scene, leaving the lamp appearing to hang in a dark cave. Pulling the frame lower (middle), the skylight, lamp, and interior are all kept in balance. In the third shot (right), bright light entering the doorway threatens to overwhelm the floor.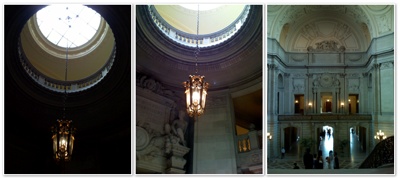 iPhone Performance vs the Samsung BlackJack.
Despite the iPhone's challenge with bright light, it does better than the Samsung Blackjack, which delivers one of the best camera implementations of any Windows Mobile smartphone.
The Blackjack consistently delivered washed out bright spots. Looking through tree branches at the deck, the Blackjack (left) bleached out the photo's subject entirely, while the iPhone (right) properly exposed the deck. Its fixed focus lens still had trouble keeping the depth of the entire photo in focus however.

In this example, the Blackjack (left) captures a decent shot, but the iPhone (right) still delivers richer colors, better capturing the yellow of the weeds' flowers and the pale green paint of the fence.
Another nice feature of the iPhone is the wider aspect ratio of its display, which makes it easy frame photos in either a wide or tall orientation. This iPhone shot (right) not only offers better color, exposure, and detail than the Blackjack picture (left) but also delivers a nicer composition using a tall orientation.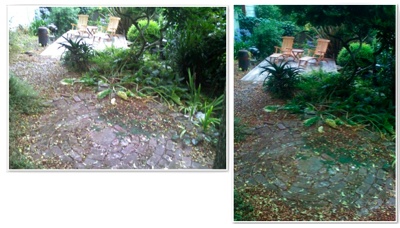 iPhone Photo Viewer vs Windows Mobile and other Smartphones.
Windows Mobile smartphones all have the same tiny square display, which makes it hard to see much of what's being captured. Their user interface is also annoyingly slow. Viewing photos–including zooming in for a more detailed look–is possible, but frustratingly delayed with the regular appearance of a wait cursor. The screen is so small that serious examination is not really possible.
The iPhone's hands on photo viewer makes browsing images a breeze, and is a far nicer photo viewer interface than anything I've ever seen on a mobile device before. Photos can be zoomed in with a finger pinch, and panning around is as easy as dragging around a finger tip.
Even imperfect photos look good on the crisp, high density display, which is both twice the size and twice the resolution of most phones.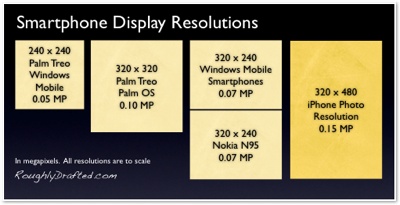 Palm Treos running Palm OS have a 320 x 320 display.
Palm Treos running Windows Mobile have a 240 x 240 display.
Windows Mobile Smartphones have a 320 x 240 non-touchscreen display.
The Nokia N95 also has a tiny 320 x 240 display.
Apple's iPhone has a 320 x 480 display, with a capacitance sensitive touchscreen.
The iPhone makes it effortless to delete unwanted photos with a single touch, and offers no delay in flicking between photos. It's also uniquely designed to accommodate uploading libraries of thousands of photos from a desktop computer, making it a great way to show off photos.
I uploaded over 5000 vacation photos on my iPhone, and it didn't even flinch. It lets me scream through my pictures about as fast as my fingers can move. Zooming in and around inside a photo is also instantaneous.
Most mobiles not only lack any great way to sync photos with a desktop, but also lack enough RAM to hold any number of photos taken elsewhere. The iPhone makes it not only possible, but fun.
What's Next for the iPhone's Camera?
I sure hope the iPhone gains the capability to capture video soon; it's currently a significant missing feature. Others have complained about the iPhone lacking MMS picture messaging, but I'd prefer to send photos by email for reasons I've already outlined. That's no solution for users hoping to send and receive pictures with phones unable to get or send standard photo emails, but I'd rather see other phones get smarter than have Apple dumb down the iPhone.
[Using iPhone: File Sync Via USB, Wireless, and Over the Air]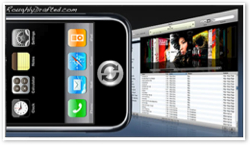 Other photo capture features that would be nice to see:
photo capture effects – I'm not sure if the iPhone has the horsepower to handle Quartz Composition filters, but it would be fun to see Photo Booth features make it to the iPhone.
manual control – It'd be great to have a way to set the brightness balance for taking photos of a scene with a bright sky or background.
EXIF and tagging – the iPhone currently only records the capture date and time in the photo's EXIF metadata. It could capture more info, including user defined tags.
self timer – handy for setting up group shots and putting yourself in the action, although the wags might worry about additional iPhone thefts causing problems for users who stepped too far from their phone.
close up mode – it may be a limitation of the fixed focus lens, but it would be great if the iPhone had a macro focus mode for capturing documents and other close up subjects. It's difficult to capture extremely close subjects, but not entirely impossible. I snaped these detailed carvings on the Palace Hotel (below left) and these circuit boards lining the recycled bandshell in the Golden Gate Park Panhandle (below right).

Update: Ron Hipschman of the San Francisco Exploratorium pointed out, "If you want macro on your iPhone, just hold a magnifying glass in front of the lens! Feel free to use the photo below."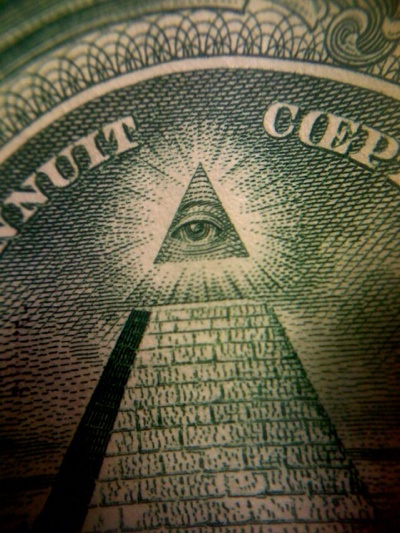 What do you think? I really like to hear from readers. Comment in the Forum or email me with your ideas.
Like reading RoughlyDrafted? Share articles with your friends, link from your blog, and subscribe to my podcast! Submit to Reddit or Slashdot, or consider making a small donation supporting this site. Thanks!