Troy Wolverton Documents Faux Apple Shareholder Outrage
August 11th, 2007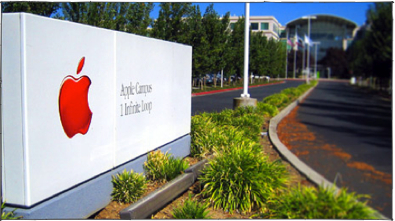 Daniel Eran Dilger
Troy Wolverton must be back from vacation, as the Mercury News has resumed publishing slanted reports designed to cause panic about Apple under his name. The latest are particularly galling.

What's Up With Wolverton?
When asked about his record of erroneous and sensationalist Apple coverage that I documented in a series of articles, Wolverton insisted to a third party that "much of what he [RoughlyDrafted] wrote is wrong, inaccurate, misleading or unfair," and that "almost every reference to my work is a mischaracterization," without supplying any explanation as to how I got the story wrong.
Those are strong comments to make without any explanation. I believe I backed up my criticism of Wolverton's reporting and journalistic integrity with a documented string of inaccuracies, misrepresentations, and facts presented without appropriate context.
[More on Troy Wolverton, the Street, and Apple Scandal]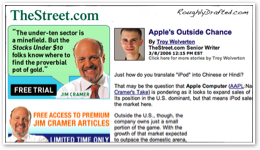 The Shady Street.
I also raised serious questions about Wolverton's association with the Street, a site run by Jim Cramer, who shamelessly admits on video that he intentionally seeds false information to misinform competitors and to illegally foment fear and uncertainty for specific companies including Apple. These are not accusations, they are words from Cramer's own mouth.
Cramer also subsequently praised Street writers on camera for publishing questionable data and disseminating unfounded speculation with the intent to create a false outlook to negatively impact Apple. Cramer specifically referred to it on camera as "self fulfilling" reporting.
Until Wolverton offers an explanation that clears all of this up–including his commercial connection to a purposely false information source–his reporting in the San Jose Mercury News will linger under a very dark shadow.
[More on Scott Moritz and the Jim Cramer Misinformation Engine]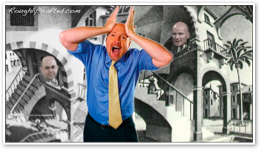 More of the Same.
This week, Wolverton printed a story in the Mercury News decrying "Apple shareholder discontent," based on votes from Apple's shareholder meeting back in May.
"Investors owning large chunks of the iPod maker cast a symbolic no-confidence vote on nearly all of the company's directors and urged Apple's board to reform its executive compensation practices," Wolverton wrote.
"Nearly half of the shares voted, for instance, were cast in favor of a shareholder proposal that would essentially bar the company from backdating stock options," he continued, failing to mention that the proposal was just meaningless posturing. At the same meeting, Steve Jobs had already stated that the company no longer uses option grants as part of its compensation plan, mirroring a trend across the entire tech industry.
Wolverton also forgot to mention that the main reason why anyone is even aware of Apple's options backdating from half a decade ago is his own reporting, which has tenaciously whipped up headlines that equate the investigation with a major scandal, while ignoring similar events at similar companies from the same time period.
Not Necessarily the News.
"For shareholders to vote against a company in such large numbers is unusual," Wolverton claimed, "especially considering Apple's financial performance." In reality however, any company that can generate headlines is badgered by political minority groups seeking to promote their causes.
Last year it was Greenpeace and the SVTC, which used Apple's shareholder meeting to stage a demonstration for the press while distributing false information that accused Apple of a variety of environmental infractions that were simply not true. Both groups tied unrelated social issues around Apple as a way to drive their fundraising.
Both were smear campaigns of Iza Kruszewska, who has demonstrated little comprehension of real environmental issues, instead favoring meaningless political posturing from corporations.
[The SVTC's "Toxic Trash" Attack on Apple]
[Top Secret: Greenpeace Report Misleading and Incompetent]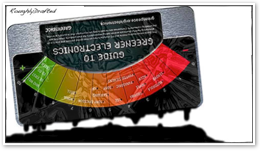 This year, Apple was tag teamed by union groups, which used the shareholder meeting as a vehicle to similarly draw attention to themselves.
While allowed to dramatically feign outrage over events that had already been resolved and present shareholder proposals, none of those proposals passed. Among the proposals was one that would give shareholders a meaningless non-binding vote on executive's pay packages.
[Answers from Steve Jobs at Apple's Shareholder Meeting]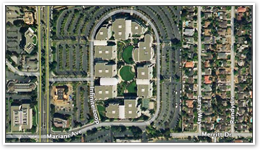 Wolverton Fails to Beat The Street.
Wolverton's report misrepresented the character of the shareholder meeting and conflated voters who held "large chunks" of Apple with the actual votes of a "large chunk" of shareholders.
He simply dismissed the majority shareholder opinion by throwing out a concluding comment that "not all shareholders are up in arms."
The Street picked up the same story; somewhat ironically, reporter Daniel Del'Re presented a far more balanced and informative piece than Wolverton did. For example, Del'Re noted:
"Other tech companies, including Hewlett-Packard, have faced votes on executive compensation this year, though in most cases they fail to win majority support."
"Apple is one of about 140 companies found to have backdated option grants."
"The company also said the proposal on options backdating was unnecessary because it has ceased granting options and instead grants restricted stock."
"Critics of the type of proposals that Apple faced amounted to shareholder attempts to micromanage executives and boards."
[Apple Shareholder Vote Shows Growing Governance Focus – Daniel Del'Re]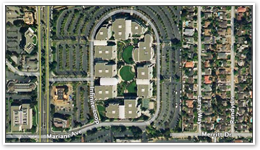 When the Street is outperforming your coverage on Apple, it signals that you've written something really bad.
Having stated that, it also appears that Del'Re has a much better track record as a reporter presenting news fairly, rather than more of the same slanted hit piece garbage suited to create unfounded panic or suit the needs of professional misinformation sources like Scott Moritz' Verizon wag, Roger Entner of IAG Research.
[The Street's Flaccid Campaign Against the iPhone]
Good job, Del'Re.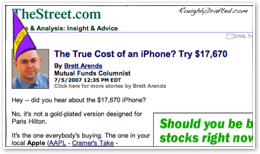 What do you think? I really like to hear from readers. Comment in the Forum or email me with your ideas.
Like reading RoughlyDrafted? Share articles with your friends, link from your blog, and subscribe to my podcast! Submit to Reddit or Slashdot, or consider making a small donation supporting this site. Thanks!