4th Annual Great Mac Mod Challenge 2007
August 11th, 2007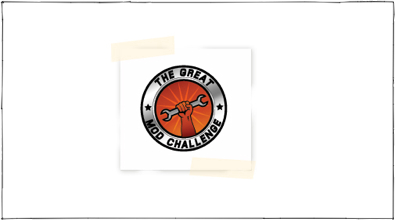 Daniel Eran Dilger
MacMod.com, a website offering news and advice on the latest techniques and products for upgrading and modifying Apple products, announced the rules and entry requirements for its annual Great Mac Mod Challenge.

The competition recognizes the efforts of hardware hackers in various categories for the creativity and ingenuity in building upgrades and modifications to improve performance, appearance, and functionality. Coinciding with the contest, which began taking entries August 1st, the entire month of August has been designated "Modify Your Mac Month."
The MacMod site lists a variety of contest categories including:
• Internal Mods – Modification of motherboards, graphics cards, overclocking, etc.
• External Mods – Modification to appearance through lighting, painting, remolding, recasing, etc.
• Lighting Mods – If it emits a glow and its been changed then it qualifies so long as it is Apple related.
• Peripheral Mods – modifications to mice, base stations, etc.
• iPod Mods
• iPhone Mods
• Software Mods – System level modifications such as custom OS install, supporting unsupported hardware, etc.
• Miscellaneous Mods – Anything from a robot controlled by a Mac to a carputer system.
This year's competition features major prizes for the top three designs plus participation gifts for all the modders. While some prizes are still being planned, the first place mod will be showcased at MacWorld Expo 2008, receive the Mod of The Year trophy, a MacMod.com Tee, a roundtrip ticket to MacWorld Expo 2008, and an All-Access Super Pass to MacWorld Expo 2008 including priority keynote seating.
Previous winning entries included the remote controlled Mobile Mac Mini and a Wallstreet PowerBook fit into the shell of a Bang & Olufsen Beocenter 4600 record player.
For more information on entering and other contestants visit: [MacMod.com – Your Mac Modification HQ]
Anthony King
+1-478-390-8967
Anthony@macmod.com
Jacob Thomason
+1-478-361-1263
Jacob@macmod.com
What do you think? I really like to hear from readers. Comment in the Forum or email me with your ideas.
Like reading RoughlyDrafted? Share articles with your friends, link from your blog, and subscribe to my podcast! Submit to Reddit or Slashdot, or consider making a small donation supporting this site. Thanks!