What's New in iWork 08
August 8th, 2007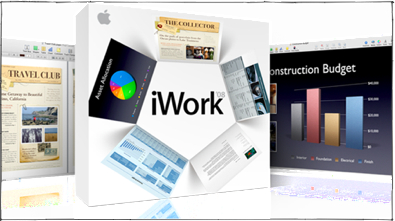 Daniel Eran Dilger
The new iWork adds the long rumored Numbers for spreadsheets to an updated Pages and Keynote.

[What's New in iLife 08]
[What's New in iWork 08]
[New Apple Hardware: iMac, Mac mini, AirPort, RAID]
[New in .Mac: Web Gallery, Disk Size, Bandwidth]
What New in iWork 08.
Apple's various applications are trading and sharing features. They all incorporate consistent image handling tools and the media browser for selecting iMovie videos, iPhoto graphics, and iTunes sound. One thing new in 08 is the Format Bar, which puts contextually relevant settings from the inspector along the top of the document window.
Hardware Requirements:

Apple recommends 1 GB RAM. All Mac OS X users should have that much to get decent performance anyway.
Processor requirements are a G4 500 MHz or better.
iWork 08 takes 3 GB of disk space, versus the 1 GB required by the previous 06 version.
Mac OS X 10.4.10 Tiger and QuickTime 7.2 required.


Numbers 08 – Apple didn't just deliver an Excel clone, although Numbers can import and export Microsoft Office formats, including the XML format of Office 2007. It looks a lot like Apple has delivered the first real rethinking of a VisiCalc style spreadsheet since the late 80s, when Informix introduced WingZ.
In a world full of Excel, WingZ couldn't take off, particularly since it wasn't compatible with Excel documents, but also because it was priced at over $300. It did introduce in-cell editing and fancy graphing, as well as HyperTalk scripting from HyperCard for creating smart macro functions.
Apple's Claris software subsidiary later bought WingZ and sold it Claris Resolve, but by that time, it had little impact, and continued to be marginalized by incompatibility with other document formats.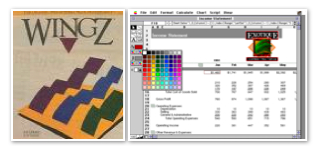 Throughout the 90s, Microsoft pushed along Excel as a big sheet of cells. Numbers gives users a canvas that any number of intelligent tables can be placed on. Like Apple's other apps, it is template driven, so users can start with a a dozen and a half professionally designed frameworks, as I had hoped for in my January article.
Intelligent Tables: Rather than trying to format sections of a spreadsheet for different purposes like Excel, Numbers gives you a canvas where any number of independent, functional tables can be laid out.
Intelligent Labels and Formulas: Rather than only offering a 1970's grid of numbers and letters, Numbers sets up readable header cell labels from data dragged in, including contacts from Address Book. Formula functions can be dragged in and assigned using readable cell names.
Print View: Gives a dynamic layout preview, showing how content will fit on printed pages. Scaling data to fit on a page is as easy as dragging a slider.
Data Analysis: Fields can be given a slider or stepper control to visualize changes.
Flexible Canvas: Create a spreadsheet presentation with photos and movies; guides align placed objects just like Pages, Keynote, and iWeb.
2D and 3D charting: Like Keynote.
Compatible with Excel 2007

Keynote 08 – New effects and build tools make it even easier to create original looking presentations.

Smart Builds: Using drop zone tools similar to iMovie, Keynote will create presentations pages with animated graphics.
Instant Alpha: Lets you drag over an image to remove its background.
New Transitions and Effects: Assign transitional, animated effects to text and objects.
Object Animations: set up Motion style programatic animations.
Record Voiceover Narration
Compatibility with PowerPoint 2007


Pages 08 – Apple previously seemed to shy away from calling Pages a word processor, but not anymore. Now Apple seems to describe Pages as both a word processor and page layout tool. Both sides of the fence are getting significant upgrades.
Page Layout Mode: flow text between linked text boxes.
Proofreading: offers style, punctuation and word use suggestions for writing.
Contextual Format Bar: presents inspector controls in a bar along the top of the document.
Automatic List Formatting
Track Changes: collaboration tools for multiple editors
Compatible with Word 2007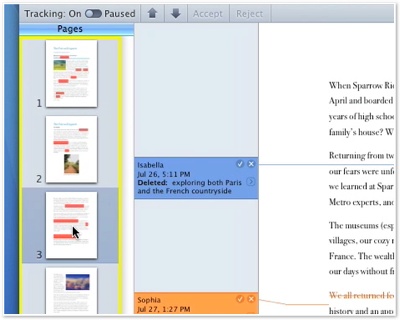 What's Missing?
Back in January, I suggested Apple should start bundling iWork 06 on new Macs and sell the new version as an upgrade. That would still be a good idea, as it's hard to see how good Apple's apps are without being able to play with them. At $79, iWork is a fraction of the price of Office, and now delivers most of its features, better integrated. If you buy a copy online, consider clicking through my Amazon links to throw me a commission.
[Macworld 2007 Wishlist: iLife, iWork and .Mac]
Continues: New Apple Hardware: iMac, Mac mini, AirPort, RAID
What do you think? I really like to hear from readers. Comment in the Forum or email me with your ideas.
Like reading RoughlyDrafted? Share articles with your friends, link from your blog, and subscribe to my podcast! Submit to Reddit or Slashdot, or consider making a small donation supporting this site. Thanks!