New in .Mac: Web Gallery, Disk Size, Bandwidth
August 8th, 2007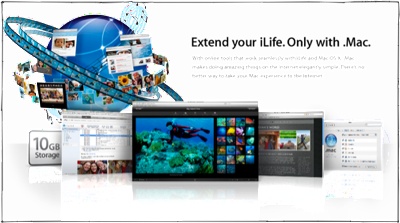 Daniel Eran Dilger
Apple gave its .Mac online service a much needed hardware and software upgrade, adding a rich new way to publish photos and bumping up both disk space and bandwidth by a factor of ten.

[What's New in iLife 08]
[What's New in iWork 08]
[New Apple Hardware: iMac, Mac mini, AirPort, RAID]
[New in .Mac: Web Gallery, Disk Size, Bandwidth]
The Good and the Bad.
Apple's .Mac is very useful to syncing data across multiple Macs, and works well as an email host. Its big problems relate to features other companies deliver much better, commonly at a lower cost. These include:
Web hosting: Apple only offered 10 GB of monthly bandwidth for users, which is easy to exhaust in a day on a simple website like mine. Apple encourages users to host lots of photos and movies, making that limit even more absurd.
Online Storage: .Mac's iDisk feature lets you copy files over to Apple's servers for backup or remote access. The problem is that that service is both slow and too small to be very useful. Apple provided 1 GB of space, which is fairly easy to eat up by itself; using .Mac email shares that same pool of storage.
The .Mac service was enough of a problem to make the top of my short list of questions for Steve Jobs back in May.
[Answers from Steve Jobs at Apple's Shareholder Meeting]
Ten Times More.
Today, Apple announced a free upgrade to 10 GB of disk storage and 100 GB of monthly bandwidth. That should make .Mac a reasonable alternative for hosting, and decent for casual file sharing. It's certainly no way to backup for all your files, but it's not really wise or practical to back files up across the Internet anyway. Using a local disk attached to a AirPort Bast Station makes a lot more sense, and offers as much storage as you can plug in.
While .Mac appears to compete with free services such as Google's 1 GB Gmail service, it offers a very different mix of pros and cons. Gmail can only be tricked into use as a file storage service, and its far more difficult to set up and use for non-technical users. Mac OS X sets up chat, hosting, mail, and iDisk automatically.
After this upgrade, .Mac may be able to serve as a reasonable hosting alternative. Tight integration with iWeb and iPhoto help make it more attractive, and the latest version of iLife 08 builds more new features on .Mac.
The new Web Gallery.
Apple first experimented with easy to use web hosting with HomePage in iTools, a free service that eventually became .Mac. It then added web publishing features to iPhoto and iWeb, which made it easier to publish content compared to manually uploading pictures and editing things from a web page interface.
Web Gallery is a new .Mac web service managed from iPhoto and iWeb. Upload photos by event, and Web Gallery builds them into an interactive, cross platform gallery that presents your pictures in an iPhoto-like interface, with:
instant resizing of thumbnails in a gallery view.
the ability to skim through an album of photos by scrubbing the mouse over the preview photo.
a carousel flip through interface similar to Cover Flow.
the ability to subscribe to a photocast.
the ability to for users to upload their own photos from the web or via email, even from the iPhone.
the ability to download full size images suitable for printing.
Web Gallery even works for movies, allowing you to post a video in multiple sizes that the user can download based upon their bandwidth. It even has a tiny preset for the iPhone suitable for downloading over the pokey EDGE data network.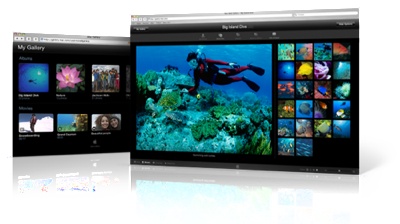 What's Missing?
Apple didn't deliver my .Mac ideas, but the upgrade and new photo and video publishing features should make the service much easier to recommend. I'll do some publishing tests to see how things have changed on the speed front, if any. If you have plans to buy .Mac online, consider clicking through my Amazon links to throw me a commission. It's also significantly less expensive online than at retail.
[Macworld 2007 Wishlist: iLife, iWork and .Mac]
[Fixing .Mac – Idea 1: Hyperblog the Web]
What do you think? I really like to hear from readers. Comment in the Forum or email me with your ideas.
Like reading RoughlyDrafted? Share articles with your friends, link from your blog, and subscribe to my podcast! Submit to Reddit or Slashdot, or consider making a small donation supporting this site. Thanks!