More on Troy Wolverton, the Street, and Apple Scandal
August 5th, 2007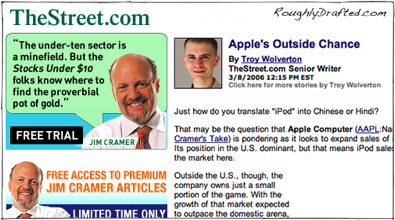 Daniel Eran Dilger
Responding to two recent articles, one on the San Jose Mercury News associating Apple with an unrelated scandal and the other on manipulation of Apple's stock prices using manufactured news, Troy Wolverton wrote me to correct the record.

Unfortunately, rather than explaining how he managed to come up with years of consistently negative headlines about Apple writing for the Street, or offering an explanation for a month of inaccurate, negative reporting on the iPhone, Wolverton only had one thing he wanted me to set straight.
[FAS: 8 – San Jose Mercury News' False Apple Scandal]
[FAS: 9 – Troy Wolverton, Neil Cavuto, and the Apple Stock Scandal]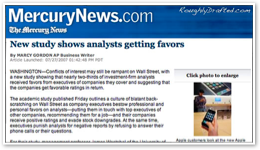 I Will Not Be Ignored.
Wolverton asked me to "acknowledge in your FAS 9 [article on the Apple Stock Scandal] that I am in fact a real person, not an 'illusion' or a 'made up avatar.' Of course, you would have known that already if you'd done some basic reporting in the first place."
What Wolverton was upset about was a paragraph under the heading "The Wolverton illusion" which stated:
It's tempting to think that Troy Wolverton is simply a made up avatar the Street invented as a humorous allusion to a small town apple festival. Unlike the veiled identity of Fake Steve Jobs, nobody seems to question who Wolverton actually is. This makes such an elaborate joke unlikely to be true.

A less entertaining alternative possibility is that Wolverton is actually a pawn of the Street used to disseminate false information to exploit Apple investors who might believe things written in an actual newspaper like the San Jose Mercury News, despite his shoddy accuracy and the consistently wrong outlook he presents.
I would have assumed Wolverton would be more interested in explaining his association with the Street, which candidly presents itself as a false information source designed to tear down companies valuation and subsequently profit on short term stock price manipulations its fake news causes.
Instead, Wolverton insisted in emails that–had I called him–he could have proven that he was a real person. Unfortunately, that was not ever a fact in question. I wasn't seriously questioning Wolverton's existence, I was seriously questioning his credibility as a reporter.
The Trouble with Wolverton.
There are two major reasons for this that I outlined. First, Wolverton's reporting on the iPhone was beyond being merely negative; anyone has the right to give a product a bad review. Wolverton however, reported confusion over how Apple could have sold 270,000 iPhones during its opening night and the following day, while AT&T reported only activating a smaller number.
"It was unclear how to reconcile Apple's sales numbers with the [activation] data AT&T released Tuesday," he wrote. It really wasn't though, especially for a reporter who had been printing letters from readers who gushed over the phone but complained of days-long delays in activation troubles with AT&T.
I also called out Wolverton over reporting iSuppli numbers as fact, when they are known to be guesswork and provided without any context. I also questioned why Wolverton would report false information about the iPhone's battery, then take a week to correct the error. I also noted his inability to correctly report iPod sales.
[Kevin Chang, iSuppli and The iPhone Nano Myth]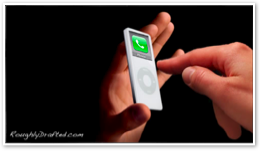 In short, pretty much every article he has written about the iPhone has been slanted, misleading and full of errors that are so sloppy they suggest either incompetence or an ulterior motive.
That's a serious problem because Wolverton's association with the Street provides more than a casual correlation with powerful reasons to dog the iPhone. That's the second, and most troubling problem.
Wolverton is currently on vacation, but he has promised to offer a full explanation of why his articles in the Mercury News are echoing ideas originally presented by the Street as if they were anything more than made up, false reports designed to manipulate Apple's stock price.
While Wolverton relaxes with his family, I'll put together information on the Street and its regular reports of invented news so as to have something to compare with his explanations when he returns.
[The Street's Flaccid Campaign Against the iPhone]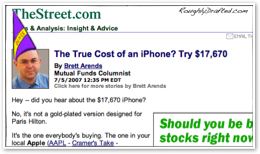 The Photo That Said Too Much.
The other issue I related to Wolverton's questionable reporting on the iPhone was the Mercury News' decision to publish a photo and blurb related to analyst forecasts for the iPhone next to an Associated Press story about a conflict of interest among financial analysts' coverage of poorly performing companies.
The suggestion of such a juxtaposition was clear, even if it was non-sensical: Perhaps Apple sent iPhones to analysts so they would release exaggerated sales estimates and fool users into sheepishly buying them because other people are… Oh wait, that makes no sense at all.
After the Mercury News article was picked up by Google bots as 'Apple news' and posted under its Apple finance section, I called out the paper for widely publishing a false story. "A newspaper on its last legs shouldn't really be lighting its own credibility pants on fire."
The Mercury News' regularly presents Apple in the worst possible light, and almost all of this is the work of a single person–Wolverton. "Wolverton's anti-Apple coverage is so bad that it is a scandal in itself," I wrote. "While uncredited for writing the caption that affixed a story relating to investment companies to Apple's iPhone, circumstantial evidence suggests his DNA could be all over it."
It's Not Just the Mercury News.
A staffer from MediaNewsGroup pointed out that the fault for writing the iPhone caption and tying it to the unrelated story by Marcy Gordon was the fault of the Associated Press, not Wolverton or the Mercury News.
However, if the Mercury News wants to retain its credibility, it has to exercise some editorial control over what it prints, both for AP stories and Wolverton's.
While I can't give the Mercury News a pass for printing a false story, I can spread the blame to other newspapers who also printed the financial analyst story with the iPhone photo and caption. A Google search reveals at least this many other other guilty parties:
The Washington Post – which is still hosting the article with the iPhone photo.
The Boston Globe – hosted next to a full size iPhone photo and caption.
The Olympia, WA Olympian – still hosting the iPhone photo.
The Charlotte, NC Observer – still hosting a prominent iPhone photo.
The San Francisco Examiner – still hosting the iPhone photo.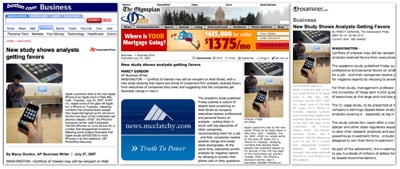 The only paper I can speak about from experience is the Examiner, which was once a great paper but is now an embarrassing joke after the former Examiner staff became the San Francisco Chronicle, and the Examiner name was sold off to the Fang family to preserve the illusion of competition among San Francisco papers. The Examiner is now a tabloid sized paper with a tabloid sized reputation suitable for lining bird cages.
Notably, a variety of other newspapers–including the AP website itself–printed the story without the unrelated iPhone photo at all, a point I made in the original article.
It Wasn't Me, It Was the One Armed Man.
Wolverton forwarded me an explanation of how it was that the Mercury News printed the article and photo together from Johanna Hoadley, the senior producer of the Mercury News web site.
Hoadley wrote, "AP content on our site comes in an automatic feed from the wire. At the same time photos from AP come in via a similar automatic feed. Based on slugs (brief descriptions), photos and stories are automatically associated with each other. We did request that the image (Daniel) sadly screen grabbed be removed once we knew that it had hiccuped, but apparently didn't beat (him) to it.
"I didn't get a direct answer on if AP mis-slugged the photo, or if the automated computer system hiccuped — it could've been either. It was an unfortunate error of automation which has many flaws (and many benefits). One to chalk up to a 'technical error.'"
The Mercury News removed the iPhone photo from the story, although there was no admission of the correction visible. There were ten critical comments posted on the story flagging the article's photo as inappropriate on the day it appeared. It wasn't corrected until my article generated enough embarrassment to take the photo down. That's too bad, as by that time the damage has been done and Google had already published it widely.
The Associated Press deserves the blame for distributing the copy in error, but the Mercury News is culpable for publishing it, then ignoring readers' comments on it. It was not simply a technical error in the Mercury News' publishing system, it was a bad story AP published across many papers. Wolverton seems to prefer to blame me for pointing the problem out.
Blame the Messenger.
"There was no nefarious plot," he wrote me. "Bill and Melinda Gates weren't calling the shots. We weren't trying to discredit Apple. It was a simple technical error, one that was corrected by the MercuryNews.com staff as soon as they recognized it… Will you retract your piece?" Wolverton asked.
Well, had I actually written that the article was a "gigantic conspiracy involving the Merc, Bill and Melinda Gates, MediaNews, AP and me all in cohoots [sic] to discredit Apple," as Wolverton described, I would need to retract it.

However, that misplaced photo was not a solitary blemish on an otherwise brilliant stretch of professional reporting on news related to Apple in the Mercury News. What I pointed out–and what remains true–is that MediaNews did buy the Mercury News with a loan from Bill Gates' foundation, and is in the process of paying back that loan by publishing information without much journalistic or technical integrity.
Specifically, I wrote "One might think that the San Jose Mercury News, being located in Apple's backyard, would tend to trumpet the company's success. One would be wrong… Apple's corporate proximity to San Jose is trumped by the Mercury News' need to publish low cost, highly sensational news to make enough money to pay back Bill Gates for the favor of his humanitarian loan."
No conspiracy theory, just the outlining of a series of inconvenient truths. While I labored through several paragraphs that explained–in perhaps too much detail–why publishing the iPhone photo next to the story was unprofessional, the balance of the article outlined Wolverton's own career as an Apple naysayer of questionable credibility, a far larger problem than the iPhone photo, even if it had been intentional.
[FAS: 9 – Troy Wolverton, Neil Cavuto, and the Apple Stock Scandal]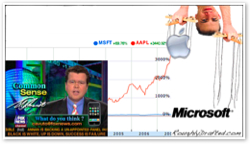 A Dvorakian Mind.
Wolverton's documented, negative position on all things Apple–from Macs to iPods to its retail stores and music business–has managed a near zero accuracy rate that rivals John Dvorak. His reputation across the web on matters related to Apple isn't something I invented; it's only something I documented. I drew out a thread of inaccuracy and misrepresentation common to every article he wrote about the iPhone over the last month.
I understand mistakes, and I have no reason to beat anyone up over a single error. However, the pattern of spin and misinformation hurling from Wolverton about anything related to Apple is concerning, not because I am weakened from my first encounter with a journalist of anti-Apple fervor, but because Wolverton is also connected the Street, which operates as a sensationalist outlet for seeding false information designed to intentionally manipulate Apple's stock price for profit.
That's a serious problem, because unlike that AP iPhone photo that most people have since forgotten about, Wolverton will continue to publish stories about Apple, and without clarification on his association with the Street, his reputation as a journalist–and that of the of the Mercury News for printing his work–is in serious question.
After Wolverton enjoys his vacation, it will be important to find out his side of the story, because so far the only explanation is disconcerting and very unflattering.
10 Fake Apple Scandals: 1 | 2 | 3 | 4 | 5 | 6 | 7 | 8 | 9 | 10
What do you think? I really like to hear from readers. Comment in the Forum or email me with your ideas.
Like reading RoughlyDrafted? Share articles with your friends, link from your blog, and subscribe to my podcast! Submit to Reddit or Slashdot, or consider making a small donation supporting this site. Thanks!