10 FAS: 6 – Apple's First Generation Hardware Tainted!
July 28th, 2007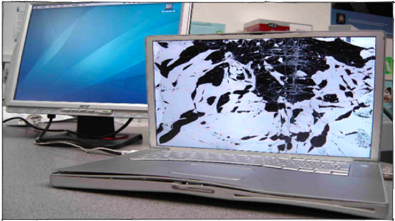 Daniel Eran Dilger
While the fake Apple scandals so far have all been invented for the iPhone, the sixth is trotted out for nearly every Apple product release. It's the warning to not buy the first version of anything from Apple, because it's always plagued with all manner of problems. But is that true?

Fake Apple Scandal 6: Apple's First Generation Hardware Tainted!
Pundits' desperate bid to generate unprecedented amounts of fear, uncertainty, and doubt about the iPhone ended up doing more damage to their own credibility than to Apple's product launch, as its spectacular showing indicated.
What is really interesting about the numbers released for sales on the last day and a half of June is that those 270,000 iPhones were sold to individuals who:
hadn't ever touched the device before.
hadn't read extensive hands-on reviews about it; only a half-dozen writers had obtained a unit in advance.
hadn't consulted Consumer Reports-style ratings or reliability profiles.
had heard no feedback from other iPhone users.
were exposed to months of imagined potential problems reported about the iPhone prior to its launch.
Despite all that, over a quarter million units were immediately sold directly to end users, not just pushed into retail inventory channels to await the potential for sale.
Lots of New Buyers of the First Generation iPhone.
As reader Marc Zeedar noted, AT&T reported that 40% of new iPhone buyers changed their service provider just to buy the iPhone. Apple also reported that more than 50% of its record sales of 1.7 million Macs last quarter were to customers new to the Mac platform.
"Convincing people to leave their cell carrier or switch computing platforms is a mammoth task," Zeedar observed. "Combine that with the 90% satisfaction survey for iPhone buyers and you've got some huge momentum that will translate into a veritable upheaval in the marketplace."
Zeedar also noted "Apple's 270,000 iPhone sales were really in about 20 hours, not 30 hours. The '30 hour' number came from AT&T's activation processing which happened even when stores were closed.
"Apple Stores were open 6 PM to midnight on Friday, and 9 AM to 9 PM on Saturday, with the exception of the New York City store which is open 24/7. Online sales were not included in the sales figures. I'm not sure what hours the AT&T stores had, but most were not doing extended hours like Apple did. This just makes the achievement even more amazing."
First Time's A Charm?
Were all these iPhone buyers duped into buying a problematic first generation boondoggle? This was a brand new device category for Apple and the first mobile phone it has ever developed.
It's also a wild jump beyond the iPod in terms of features, and a very new direction for Apple's operating system, which its calls OS X 1.0. The iPhone also incorporated new, industry leading hardware technologies including the largest, highest resolution capacitance touch screen on any consumer smartphone.
Still, iPhone users report being overwhelmingly happy with their purchase. Not just the first wave of buyers on Friday night and Saturday, but the hundreds of thousands who kept buying iPhones over the last month. Unlike the Zune debut, iPhone sales and interest have maintained well beyond an initial first week rush.
First Generations of Apple Gear.
There have been no show stopping problems reported, and really not even any significant glitches, apart from a temporary delay for some of AT&T's activations.
It is perhaps a myth that Apple can't deliver a functional product on first launch? I have personally purchased or handled the requisition of lots of Apple products from their first version or major revision including:
The first version of the all new Titanium PowerBook in 2001
The first Power Mac G5 in 2003, using an all new design and processor.
The revised third generation iPod in 2003.
The first Intel iMac in 2006, using a new processor and revised design.
The first Intel Mac Books in 2006, an all new design and processor.
The revised 5G iPod in 2006.
The first Intel Mac Book Pros in 2006.
None of these had significant or extraordinary usability problems, although a few of the roughly 200 Mac Books I bought did have either a startup problem or were part of a battery recall.
Compared to enterprise Dell products, the Mac Books performed as well with a similar percentage of defective units that required some type of service. Compared to HP business products, Apple's laptops were considerably more reliable. There is no comparison to Sony products, particularly its laptops, which I've found to be acutely problematic to the point of revulsion.
The most problematic Mac I've personally owned in the last five years was one of the last models of the PowerBook, a mature design that had been speed bumped and revised several times. Part of the problem was that I'd bought it refurbished from Apple; I found it had the white spots screen problem, which it offered to replace under warranty.
It was then involved in a motorcycle accident and never seemed to work properly since. I'd say I am personally far more reliable than a PowerBook, although my warranty is also significantly more expensive.
The First Generation Myth.
Certainly any product that is continually improved upon should refine over time. The iPod has grown in both capacity and features over the last six years, and Macs keep getting faster, thinner, and better equipped. Any manufacturer will also have to deal with component failures and problems, like the Sony batteries that nearly every major laptop maker had to recall due to large batches of problematic units.
The idea that first generation hardware is some special problem for Apple certainly seems to be an invention. One thing fueling that idea is the immediate and detailed reports of any and all problems for Apple products. Within hours of a software update, various Mac sites will immediately outline all potential problems anyone reports. Hardware failures are also immediately published.
We don't hear reports of the millions of users who have zero problems. We also rarely hear about the problems related to specific models and brands of PCs, because nobody keeps track of them. Working with large numbers of PCs, I regularly discover significant and outrageous problems that go unreported and have no easy solution.
The Hardware Double Standard.
Remember the reports of discoloration on Mac Books caused by oils from users' hands? I didn't see that on the models I purchased, but I did see similar problems with HP laptops that similarly developed stains. That problem wasn't reported anywhere, because nobody cares about HP's business laptops, or at least nobody has any expectations for them.
Another issue I couldn't find reported was that the HP laptops would not allow a standard hard drive upgrade. They simply wouldn't recognize a larger disk. When I called HP, the company told me I could try ordering an HP specific disk drive. After lots of phone time, it was finally admitted that the models we'd bought weren't designed to be upgraded from a 40 GB disk to an 80 GB disk.
Can you even imagine the rage in headlines if Apple were to artificially prevent users from upgrading their laptop hard drives, or if it suggested that users buy only an expensive Apple branded disk? There would be petitions and perhaps flaming effigies on the Cupertino campus. Mac users have no idea what contempt and problems PC users blithely accept as standard behavior.
PC users simply have extremely low expectations and blame themselves when bad things happen. Mac users expect and demand perfection, complain loudly when anything isn't ideal, and record their complaints for posterity. No wonder we hear more about Apple hardware issues.
Apple's ability to consistently deliver popular, profitable hardware is often taken for granted. In comparison, the struggling efforts by Microsoft really outline how difficult it is to execute in consumer electronics hardware. The next article takes a look.
[Nearly-Invincible Powerbook – Theocacao]
10 Fake Apple Scandals: 1 | 2 | 3 | 4 | 5 | 6 | 7 | 8 | 9 | 10
What do you think? I really like to hear from readers. Comment in the Forum or email me with your ideas.
Like reading RoughlyDrafted? Share articles with your friends, link from your blog, and subscribe to my podcast! Submit to Reddit or Slashdot, or consider making a small donation supporting this site. Thanks!
Technorati Tags: Apple, Bloggers, iPhone, iPod, Mac, the Media