10 FAS: 5 – iPhone Sales vs Zune, Palm, RIM, Symbian, Windows Mobile
July 27th, 2007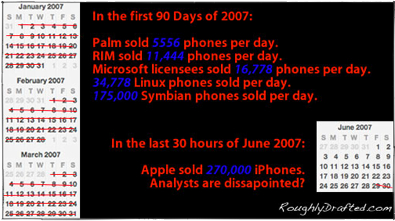 Daniel Eran Dilger
Fake Apple Scandals keep getting more bizarre. The fifth says that the iPhone's launch greatly underwhelmed. It tries to leverage the myth that everyone–including Apple–expected the iPhone to sell a million units in the opening weekend. The truth is more spectacular than the faked disappointment however.

Fake Apple Scandal 5: the iPhone's Sales Disappointed!
Apple's stock price dipped dramatically on July 23 after AT&T announced in its quarterly earnings reports that it had activated 146,000 iPhones by June 30. This caused concern among investors, as estimated sales had ratcheted up expectations at or above a half million.
• Bloomberg analyst Connie Guglielmo had forecast sales of "150,000 iPhones on June 29 and June 30," but said Apple may sell as many as 200,000 iPhones in the product's first two days on the market."
• Piper Jaffray's Gene Munster gave an original estimate of 200,000 units, but later raised it to 500,000.
• David Bailey of Goldman Sachs originally projected sales of 350,000, but later said "shoppers may have bought as many as 700,000 units over the weekend."
• The Street worked hard to spin a tale that everyone had really set silent expectations of a full million units, and apparently had only communicated estimates of around a quarter million to dupe their clients. Those who bought into Jim Cramer's game to sell off Apple before it reported earnings were forced to buy back the stock at a higher price. Apparently the Street likes to buy high and sell low. That can't be good in the long run.
[10 FAS: 3 – Apple's iPhone Kickbacks: No Information? The Street Has Anonymous Sources!]
How Many iPhones?
Apple's stock rebounded after the company announced its own earnings, including the report that it had sold 270,000 iPhones in its third fiscal quarter, ending on June 30th. Apple actually sold more iPhones in the last two calendar days of the quarter than most analysts had initially estimated.
Goldman Sachs' Bailey referred to 'sales over the weekend,' but we don't know how many iPhones Apple sold on Sunday. Apple's quarterly reports only included units sold Friday night after 6 PM, and during Saturday, the last day of June.
Even without making any external comparisons, the iPhone launch blew past what most analysts originally figured. Apple also exceeded expectations on Mac sales–which hit a new record high of 1,764,000 units, representing 33% growth over the same quarter last year–and sold 9,815,000 iPods, a 21% growth over the previous years' quarter.
After reporting the highest revenue and profit in Apple's history for the third quarter ending in June, headlines still complained that it was all darkened by disappointing sales of iPhones.
[Apple Reports Third Quarter Results – Apple]
How Disappointing Were They?
Symbian advertises marketing numbers published by Canalys for worldwide smartphone sales to point out that it maintains an overwhelming majority of the smartphone market, a share that has been increasing. Here's the numbers reported for smartphones by operating system in Q1 2007: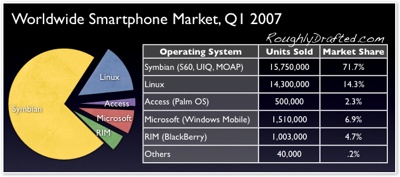 Apple sold 270,000 iPhones in its first day and a half of sales.
• Palm sold 500,000 Palm OS Treos in the first three months of 2007. That's less than twice as many units across 13 weeks, compared to Apple's day and a half of iPhone sales.
• RIM sold 1,030,000 Blackberries in 90 days, less than four times as many phones as Apple's day and a half.
• All of Microsoft's Windows Mobile licensees–including Palm's WinCE based Treos–added up to 1,510,000 units. In a sales period 45 times longer than Apple's iPhone debut, that's only 6 times as many phones.
Linux phones, including the closed phones Motorola sells in China, totaled 3.13 million, and various licensees of Symbian sold 15.75 million.
Millions in Perspective.
Remember these are worldwide figures; Apple only offered the iPhone in the US, and only through one carrier. All of these other smartphone operating systems are available on multiple carriers in both Asia and Europe. The Symbian MOAP phones only work in Japan, for example.
There are also far more stores selling other smartphones worldwide; there are tens of thousands of retail stores just in the US, and there are significant phone sales through online stores. Apple's 270,000 iPhones didn't include any online sales, and were only sold in the 2,000 retail stores operated by AT&T and Apple.
In Apple's earnings conference call, COO Tim Cook stated: "AT&T said that more iPhones were sold in the first week than they have sold in the first month of any other wireless device in their entire history."
Of course, Apple's first day was met with fans who camped out overnight and throughout Friday just to get an iPhone, and are not representative of the daily sales going forward. However, Apple's earnings statements reported that the company expects to sell a million by the end of the current quarter in September.
Meeting that goal would launch Apple past Palm and closely tie RIM in sales in the iPhones' first full quarter on the market. It would also position Apple as a close rival to all of Microsoft's Windows Mobile licensees combined. One would have to be remarkably blind to see the iPhone's launch as "disappointing."
[Apple execs talk product transitions, iPhone expansion, more – AppleInsider]
Zune vs iPhone.
Note that none of the smartphones sold earlier this year were sold in direct competition with the iPhone. How many Palm Treo and Windows Mobile buyers will abandon the platform to buy iPhones instead? We don't know yet. We do know that despite lots of competition for the iPod, it has maintained both growth and its dominant share of the market. Last fall's introduction of the Microsoft Zune certainly had no impact.
While the Zune doesn't share much in common with the iPhone, it was vaulted in the press as an iPod killer last fall to hype that was comparable to the iPhone's. Celebrated by CNET and ZDNet columnists and various newspaper writers as Microsoft's inevitable power play to wrestle the MP3 market away from Apple, the Zune did have a blip of an opening weekend. It then fell flat.
After the Zune hype crashed, Microsoft tried to regain some attention by promising to stuff the channel with a million Zunes in a year. Company flacks excitedly published this figure as if it would be a crowning achievement. Microsoft's sales since have been embarrassing, despite the fact that Microsoft already owned a 5% share of the market in partnership with its PlaysForSure licensees, including Samsung and Creative.
[Market Share Myth 2007: iPod vs Zune and Mac vs PC]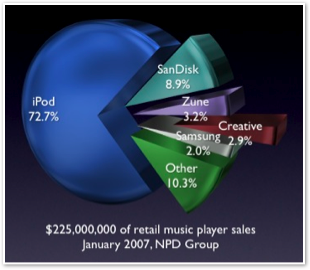 Lie for the Social.
Microsoft's entry of the Zune only ate into the back of its own partners' products. In January, when asked about the iPhone, Steve Ballmer changed the subject to talk about the Zune and claimed it had taken a 20-25% share of the music player market.
That was simply a lie; NPD reported a 3.2% retail share of the music player market for Microsoft's Zune in January 2007, compared to 72.7% for Apple, 8.9% for Sandisk, 2.9% for Creative, and 2% for Samsung.
Microsoft and its Zune fansites then began reporting around 10% of "the US market for hard drive players." It had earlier advertised market share figures for its debut week.
Microsoft's ability to carve the abject failure of the Zune into something resembling a fair showing was remarkable, but no other company reports market share numbers by the week. Apple doesn't advertise Mac market share "among home users" or "among PCs above $750."
Even so, various Microsoft enamored bloggers kept passing off manufactured statistics to pretend that the Zune wasn't a bomb, and continue to do so.
Winning in a Tilted Market.
It's therefore telling to examine the accounting of those who criticize the iPhone's blockbuster debut, despite being a device priced at the high end of the consumer electronics market–the same price as the PlayStation 3 and at least twice the price of the Zune–and in direct competition with phones sold in the mobile subsidy shell game which appear to be much less than they truly are.
Frauds kept positioning the iPhone as "really costing $2000" while comparing it to Treos and BlackBerrys that appear to cost $300, or to junk phones running Windows Mobile or Symbian which are commonly either free or around $99 bundled with a plan. Consumers trudged through the FUD and hypocrisy and bought over a quarter million iPhones in its 30 hour debut anyway.
Reviews and early feedback from buyers has been overwhelmingly positive. Analysts are reporting that iPhone sales are maintaining their momentum. The only thing disappointing about the launch of the iPhone is the non-stop false information shoveled out in a desperate bid to coat headlines with misleading suggestions of fear, uncertainty, and doubt.
Imagine if anyone had reported that Apple grabbed 1% of the entire worldwide smartphones market for Q3 2007 in just a day and a half, or that Apple had bitten off around 15% of "the week's market share," that it shipped 100% of the smartphone market "for mobiles with more than 128 MB of Flash."
Such contortionist numbers aren't necessary because there's no shame to hide in the iPhone's launch, at least not on Apple's side.
10 Fake Apple Scandals: 1 | 2 | 3 | 4 | 5 | 6 | 7 | 8 | 9 | 10
What do you think? I really like to hear from readers. Comment in the Forum or email me with your ideas.
Like reading RoughlyDrafted? Share articles with your friends, link from your blog, and subscribe to my podcast! Submit to Reddit or Slashdot, or consider making a small donation supporting this site. Thanks!
Technorati Tags: Apple, Bloggers, iPhone, Microsoft, Software, the Media